This article will help you plan your holiday in Albania on your own. What you may call «turnkey»: from air tickets to mobile data.
We will tell you where you may find accommodation, how to rent a car, whether it is worth using a taxi and how things are with transport in general, which resort to choose for recreation, etc.
How to travel to Albania? The most important things
We understand that not everyone has the time and desire to read such a long article. Therefore, we will tell you all the most important things as briefly as possible:
Who shouldn't fly to Albania?
It is important
to rent a car
in Albania (we recommend
Localrent.com
website). If you don't drive a car, then you should think hard about whether you should go to Albania at all. It's very difficult here without a car.
Is it safe in Albania?
Quite so. The country consistently ranks high in all sorts of security ratings. And this is no coincidence. It's calm here.
In Albania, you don't have to wear a paranja. And no one pays attention to the girls in swimsuits who sunbathe on the numerous Albanian beaches.
In general, the locals are very friendly to tourists.
When to fly here?
The tourist season in Albania lasts approximately from May to October. The country has excellent beaches and two seas: the Adriatic and the Ionian.
Also there are beautiful mountains in Albania, several interesting fortresses, many historical sights and cool waterfalls.
Where to buy air tickets?
There is only one airport in Albania. Located in Tirana. Designated as TIA. You may look for air tickets at
Aviasales.com
website.
How to book a hotel or apartment?
You should look for a place to stay immediately after you purchase your air tickets. There aren't enough good apartments and flats here. Some tourists even have to live without air conditioning.
It is best to look for hotels on Booking.com. But it will be useful to double-check the price through the Hotellook.com site. Sometimes you can find a small discount there.
How to rent a car in Albania?
What is the best way to get from the airport?
Which resort to choose
TOP 3 resorts in Albania in order of our preference: Saranda, Vlore, Durrës. If you are looking for peace and tranquility, you can also consider very small towns.
Here is a list of them
.
Is it worth it to go to Albania? Pros & Cons
If you are considering Albania for a vacation, first you need to think very carefully: "Is it worth it?" The country is wonderful, but not very popular among tourists. It have both pluses and minuses.
Pros of holidays in Albania
Few tourists.
Friendly locals.
It's very safe here.
Good restaurants.
Beautiful beaches with warm water.
Great mountains.
Interesting historical places.
Good roads that are pleasant to drive.
There is no "religious question". Albania is NOT a Muslim country.
Cons of holidays in Albania
Low-developed infrastructure. Do you want a lot of excursions? There are almost none. Convenient transport? This is not about Albania. Comfortable hotel? There are only few of them.
It's not cheap. If you do not pay attention only to low prices in restaurants, but carefully calculate the vacation budget, Albania will not be budget.
You need a car. You almost can't do without car rental in Albania.
How much does a holiday in Albania cost?
Perhaps we should talk a little about prices. Many people associate Albania with amazingly low prices and holidays for almost a penny. Many bloggers, tour operators and "experts" on the forums present it in this way.
It's not quite like that in real life. Or rather not at all…
What is cheap in Albania?
Albania has inexpensive food. Lots of delicious restaurants with reasonable prices.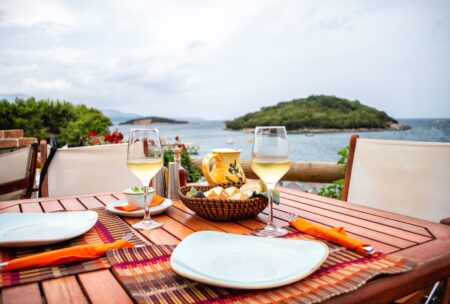 Hotels on the coast don't charge outrageous prices. All this, of course, is subjective. But a more or less similar number in Albania will cost about 20% cheaper than in neighbouring Montenegro and Greece or Cyprus.
That is, the prices here are like in Bulgaria or Georgia. But you get a great Ionian Sea. It's clean, beautiful and warm. Even better than in Montenegro.
I would like to say that the cost of hotels in Albania is about the same as in Turkey. But here it's hard to compare. The hotels are very different. And people fly to Turkey via tour packages, whether they go to Albania usually on their own, without tour operators.
But then there could be problems. The country is not the most popular. This means that flights from your city may cost more. You can save a little on a hotel and immediately overpay double or triple for air tickets.
You can't do without a car here. You can, of course, order a transfer to the resort through the KiwiTaxi.com or intui.travel websites. But it will be expensive. Depending on where you are staying, you'll pay from 100 € ≈ 105 $, 86 £, 386 Dh, 1824 ₺ to 400 € ≈ 420 $, 344 £, 1544 Dh, 7296 ₺ for the round trip.
Therefore, tourists prefer to rent a car through Localrent.com, Rentalcars.com or Economybookings.com. This makes it cheaper. But still, gasoline and car rental in neighboring Montenegro are 20% cheaper.
Albania has its own currency. You can pay in euros in some places. But still, you need to change some amount from euros to lek. This is also a loss on the exchange rate.
Weekend in Albania:
Arrive for 4 days, see Tirana and swim in Durrës.
Rooms in 3* hotels:

200 €

≈ 210 $, 172 £, 772 Dh, 3648 ₺

.
Meals in restaurants:

125 €

≈ 131.25 $, 107.5 £, 482.5 Dh, 2280 ₺

.
Car rental for 4 days:

120 €

≈ 126 $, 103.2 £, 463.2 Dh, 2188.8 ₺

.
Gasoline for car:

25 €

≈ 26.25 $, 21.5 £, 96.5 Dh, 456 ₺

.
A few souvenirs:

50 €

≈ 52.5 $, 43 £, 193 Dh, 912 ₺

.
Regular insurance:

15 €

≈ 15.75 $, 12.9 £, 57.9 Dh, 273.6 ₺

.
Holiday cost:
535 € ≈ 561.75 $, 460.1 £, 2065.1 Dh, 9758.4 ₺
excluding air tickets

Budget vacation:
A week of rest in budget 3* hotels with trips around the country.
Rooms in 3-4* hotels:

500 €

≈ 525 $, 430 £, 1930 Dh, 9120 ₺

.
Meals in restaurants:

250 €

≈ 262.5 $, 215 £, 965 Dh, 4560 ₺

.
Car rental for 7 days:

230 €

≈ 241.5 $, 197.8 £, 887.8 Dh, 4195.2 ₺

.
Gasoline for 500 km:

70 €

≈ 73.5 $, 60.2 £, 270.2 Dh, 1276.8 ₺

.
A few souvenirs:

70 €

≈ 73.5 $, 60.2 £, 270.2 Dh, 1276.8 ₺

.
Regular insurance:

24 €

≈ 25.2 $, 20.64 £, 92.64 Dh, 437.76 ₺

.
Holiday cost:
1144 € ≈ 1201.2 $, 983.84 £, 4415.84 Dh, 20866.56 ₺
excluding air tickets

Interesting vacation:
Two weeks in Albania with a tour of the main attractions.
Rooms in 3-4* hotels:

1000 €

≈ 1050 $, 860 £, 3860 Dh, 18240 ₺

.
Meals in restaurants:

500 €

≈ 525 $, 430 £, 1930 Dh, 9120 ₺

.
Car rental for 14 days:

490 €

≈ 514.5 $, 421.4 £, 1891.4 Dh, 8937.6 ₺

.
Gasoline for 750 km:

100 €

≈ 105 $, 86 £, 386 Dh, 1824 ₺

.
A few souvenirs:

100 €

≈ 105 $, 86 £, 386 Dh, 1824 ₺

.
Regular insurance:

48 €

≈ 50.4 $, 41.28 £, 185.28 Dh, 875.52 ₺

.
Holiday cost:
2238 € ≈ 2349.9 $, 1924.68 £, 8638.68 Dh, 40821.12 ₺
excluding air tickets

We didn't take into account price for air tickets here. It depends on when and from where you will fly. Maybe there are no "direct" flights from your city at all.
We also didn't show lowest prices possible. On the contrary, we calculated everything with a margin. If you strictly follow the instructions and book everything in advance, you will spend even less.
So what are the reasons to go to Albania?
Whether it's worth it or not, it's up to you. We would recommend starting your vacation planning with a travel idea. Just try to answer yourself one very simple question: "I'm flying to Albania on vacation in order to …":
… change my view of the world. Albania may surprise me.
… immerse in a simply unique culture.
… visit a country that has not yet been spoiled by tourists.
… make some unique photos for my Instagram.
… enjoy the sun and the warm sea.
… ride through the beautiful mountains with my loved one.
… take a break from the city hustle in a country where no one is in a hurry.
… sit in a colorful restaurants in the evenings looking at the sunset.
… add another country to my list.
Did you answer? Well, now ask yourself the second question: "But maybe I will get everything the same, but cheaper, bigger and more interesting in neighboring Montenegro or Greece, Georgia, Cyprus or Turkey?"
It also happens that after thinking everything over, people decide to change their destination. And this is okay and even good. You need to rest where you will get the maximum of new experiences, comfort, service and entertainment for your money.
Step-by-step instructions for holidays in Albania
Lets assume, that having weighed all the pros and cons, you nevertheless decided to go to Albania. Where to start planning your vacation? What to pay attention to?
Here is a simple and understandable step-by-step instruction:
It is very simple. Follow the plan and everything will turn out for the best.
Resorts of Albania: where will you stay?
I would like to tell you about which Albanian resorts are popular, and which ones are not yet. But information varies greatly from source to source. Especially if you read blogs. If anyone go to a specific resort, they say it is the most popular.
In fact, Albania is generally not very popular yet. If we discard those who came on an excursion from Montenegro or Italy and those who live here, then the number of tourists will be considerably less then in countries around Albania.
Most prefer to visit Italy and Greece, but for those who want to experience something new and visit this exotic country, we will briefly tell about the main resorts of Albania.
Tourist cities that do not have a sea:
Well, now let's get to the best part. I'll tell you about the resorts by the sea:
There are many very small villages near the sea in Albania. But we have listed only the main resorts.
If you don't plan to drive a car, pay attention to the distance to Tirana when choosing a resort. Sarandë may be better than Durrës. But getting there by taxi will cost 150 € ≈ 157.5 $, 129 £, 579 Dh, 2736 ₺ more. And you'll have to pay a lot for the ride back.
But in general, it is very desirable to rent a car in Albania. It's hard without a car here.
Air tickets to Albania
In short:
It's easier to find tickets on Aviasales.com. It's better to buy in advance, checking neighboring dates as well. Albania's main airport is located in Tirana.
Albania has one international airport. It named after the Mother Teresa, is designated TIA and is located near Tirana (17 km to the center, Google Maps).
Here are flight schedules to Tirana from popular cities:
Since the direction is clearly not the most popular, sometimes you have to fly with a transfer. For example, in Belgrade (Serbia) or Istanbul (Turkey).
Interesting 2 in 1 Idea
Holidays in Albania are very popular with Italians. And where there is a lot of demand, competition starts and prices fall. Therefore, tickets from Rome, Venice or Milan to Albania are relatively inexpensive. You can easily find tickets under 100 $ ≈ 95 $, 82 £, 367 Dh, 1736 ₺.
The idea is to combine a vacation in Albania with a visit to Italy for a few days. I made such journey myself. I won't say that I saved money, but 3 days in Rome cost me mere pennies compared to a "direct" flight to Albania.
Also, some tourists fly to neighboring Montenegro and get to Albania by a rented car (it is cheaper in Montenegro) or by public transport – also a suitable option.
---
It is better to buy tickets in advance. As I can remember, they have never been cheaper a few days before departure. They always go up in price. Often by a good margin.
Since the direction is not the most popular, most likely only one, or a couple of airlines will fly from your city to Albania. And that's not every day. Therefore, if you plan to fly, for example, on August 15th, it is important not to be lazy and look at prices for all days from the 10th to the 20th. Sometimes prices will differ very much.
Search tickets on Aviasales
Hotels and apartments
In short:
Hotels are best to look on Booking.com. It's worth checking the price on Hotellook.com, even though it doesn't help that often in Albania.
To begin with, some differences between different options for settling in Albania:
The apartments will have a kitchen. In fact, this is an ordinary apartment.
The hotel will have a reception and other typical services: restaurant, laundry, cleaning…
Apart-hotel combines the advantages of hotels and apartments, but is more expensive.
Most tourists live in apartments. Ordinary hotels are in second place.
Features of housing in Albania
As we've said, Albania is not a rich country. Moreover, there are no crowds of tourists here, so no hundreds of modern hotels. Therefore, there will be some peculiarities:
Air conditioning is not always available. Electricity is expensive. 5* hotels will definitely have air conditioners. If you have a four star hotel you better check it out.
Air conditioning in Albania is more of a luxury than an ordinary thing.From personal experience, this is not a problem if the room is large in size. Just ventilate it, close the windows, hung the curtains and everything will be fine. It's the best thing to survive the peak of the daytime heat. But if the room is tiny, then it will be stuffy without air conditioning.Also, air conditioning is needed if you arrive in early spring, late autumn or winter. Because there is no heating in the country either.
Almost no microwaves. Gas (cylinders) or electric stoves are used. We've seen microwaves literally a few times.
Tiles on the floor. In all rooms. Because it is cheap, easy to clean and such a coating lasts almost decades without any significant wear.
In summer, it's even good – tiles are pleasantly cool. The rest of the time you should take warm slippers or thick socks with you.Also, tiles are bad if you are relaxing with small children or elderly parents. It is very firm. Falling on tiles is many times more dangerous than on laminate, linoleum or carpet. Even asphalt is safer in this regard.That is, if a child falls often, it is more likely to get a serious injury on the tile. If you drop a modern smartphone – the same thing. Nothing will happen to your phone on the laminate, but on the tile – absolutely another story.
No central heating. Everyone use everything they can for heating, even firewood. Many Albanians walk around dressed and sleep under a couple of blankets in winter.
This usually does not affect tourists, since people come mainly in the summer.
Small boilers. Electricity is expensive, so they put a small boiler. There are no baths, you have to take a quick shower. If the family is large, then you often have to wait until the water heats up after one person.
No All Inclusive system. Because there will be a very tasty, inexpensive and colorful family restaurant on every corner with excellent service.
Albanian cuisine is very tasty and familiar to us. Dishes are not too spicy, not too greasy, salty or peppery. They eat mainly meat, cheese, vegetables and fruits. They cook delicious food and you can see that they are trying. Because the restaurant is a family business.
Old buildings. Most of the hotels in Albania are more than a dozen years old. Of course they have been renovated. But the building is old. With all the consequences: layout, size and shape of rooms, balconies, etc.
From personal experience, almost all decent hotels and apartments can be found on Booking.com. We use this site 90% of the time. Because each hotel has a rating, reviews, detailed descriptions and photos of rooms there.
If you want to save as much as possible, you can first choose a hotel on Booking, and then check the price through Hotellook. Service will look for hotel through different reservation systems. Sometimes it turns out to find the same room slightly cheaper.
You can search for apartments both on Booking and AirBnB, but you need a 100% prepayment by credit card, which is not always convenient.
I want to warn against booking accommodation through all kinds of ad sites and "girls" on Instagram / WhatsApp / Telegram / Facebook. There are cases of housing fraud. Generally it is not the Albanians who do this. People pretend to be Albanians, and sometimes even "locals".
There are three common scams:
After making an advance payment, the "assistant" simply disappears.
They promise you "mansions", and then they put you in a rather mediocre room. Or in general, "something happened to your apartment", so you get completely different one. In much worse condition.
An apartment is booked with an extra 20-50% charge compared to Booking.com.
If you want to book accommodation in advance, use a trusted website:
Search accommodation on Booking.com
Car rental or airport transfer?
In short:
If you drive a car, rent a car directly at the airport through the Localrent.com website.
If you do not drive, you will have to take a taxi or transfer from KiwiTaxi.com or intui.travel. But it will be quite expensive. Bus is not an option.
You have to get there from the airport somehow. If you plan to walk around Tirana for 2-3 days, book a transfer in advance or study the article about a taxi in Albania.
In any case, it is unlikely that you fly to Albania just for the sake of Tirana. There are no unique sights there. So, it will be necessary to somehow get to the resorts by the sea. That's where the difficulties begin:
The most interesting resort in the country is Saranda. And this town is located as far as possible from Tirana – 275 kilometers (171 miles). There is public transport in Albania, but it is very inconvenient and not suitable for tourists.
So you really only have two options:
To pay around

200 €

≈ 210 $, 172 £, 772 Dh, 3648 ₺

for a one way taxi ride. Roundtrip will cost about

400 €

≈ 420 $, 344 £, 1544 Dh, 7296 ₺

. Negotiate with the driver for a fixed price. The bill will cost even morewith a taximeter. Or book a transfer using KiwiTaxi.com or intui.travel.
Starting from

40 €

≈ 42 $, 34.4 £, 154.4 Dh, 729.6 ₺

per day you may rent a car through Localrent (my favourite), Rentalcars, Economybookings, Discovercars or any other site you trust.
If you arrive out of season and you don't care what the car will be, you can rent it for a very cheap price. I once took a Mercedes E class for

14 €

≈ 14.7 $, 12.04 £, 54.04 Dh, 255.36 ₺

per day.
You may find it useful: detailed instructions for renting a car in Albania.
Pros if you have a car:
The car allows you to diversify your vacation a little. Not only to go to see some sights, but also to live in different towns.
Believe me, a holiday in Durrës will be very different from Vlorë. And, in turn, it is not the same as Sarandë. Different resorts give different impressions: beaches, their type, sights and even the sea you will swim in are different. In the north of Albania, the Adriatic Sea, in the south – the Ionian Sea.
---
So it turns out that if you have at least ten days to Albania, it is most reasonable to live a few days in Durrës and go south. An hour or two in the car and you are already in Vlorë, then in Dhërmi, Himarë or Borsh, further in Sarandë, where my favourite sandy beach Ksamil is located.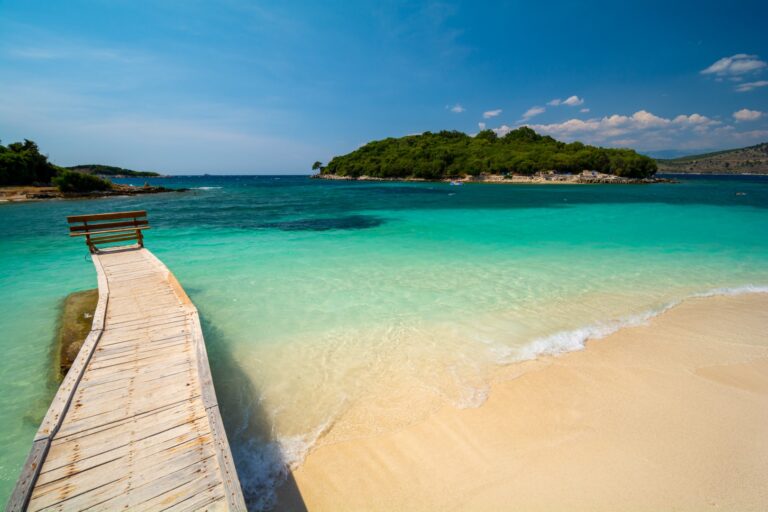 Such a vacation gives more amazing experiences. But it cannot be organized without a car rental. That's why I say that in Albania you can't go anywhere without a car.
If you want to know my opinion, then there is nothing to do in Albania at all if you do not plan to take a car and at the same time are not ready to "overspend" by riding a taxi everywhere. All interesting places are located outside the city.
I once went by bus to Vlorë and cursed everything in the world. Bus station in Tirana located outside of the city. There is a stupid asphalt platform under the scorching sun. The heat is incredible. The bus was old, without air conditioning.
We had to drive only 150 kilometers, but the bus spent more than 4 hours on the way. Constant stops. I didn't even go to the beach that day. For the way back I had to take an expensive taxi. So I did not want to repeat this depressing bus experience.
Do I need insurance to travel to Albania?
If you read some forums and blogs, many people write that insurance is not needed in Albania. They say "they didn't check me, I paid for nothing."
This is a rather strange and stupid position. They didn't check someone. And you may be asked to show an insurance policy. And what then, vacation ended?
Why do we always buy insurance?
Legally, you need insurance. Without it, they may not be allowed into the country. But even this is not the main thing. What will you do if you suddenly get sick? No one will treat you for free. Medicine isn't cheap this days.
And in general, how to find a hospital if you don't know the language, you don't have the strength for anything, there are no apps for a taxi, and it can be 50 km to the nearest taxi driver?
Therefore, we always buy insurance for any trip. It pays off with the first accident. Just call the insurance company, and then it's their problem. No need to run somewhere, fuss and worry. The company will organize everything.
Tours to Albania: pros and cons
Objectively speaking, everything isn't so obvious with package tours to Albania. More than once, tour operators have tried to promote this direction. But they didn't do very well. But recently, Albania is becoming more popular.
Features of tours to Albania
There is almost no buffet option here. There are very, very few five-star hotels. Most tourists live in 3* hotels and with breakfast included at maximum.
This is not a problem, as even the smallest town will have several first-class restaurants that will easily outperform any canteen in the hotel.
We have nothing more to say about tours from tour operators. Albania is more suitable for independent travelers who buy their own ticket on Aviasales.com, for example, and then book accommodation on Booking.com.
It will turn out cheaper, more reliable and it will be possible to plan a trip according to your needs: live in different resorts, go wherever you want, etc.
Slightly separate are the author's tours. This is not at all what the tour operator sells. This is when an experienced guide who knows Albania very well develops the route himself and recruits a small group and gives them a real adventure: with different cities, unique places and activities.
Such tours often cover several countries at once. For example, you may see all the Balkans in two weeks. But they can also concentrate only on Albania. See examples on the Tripsider.com website.
Will I be able to get to Albania?
Yes. Usually the organizers help you find profitable flights, help with insurance and other paperwork, with logistics. And then they meet you right at the airport and in the near future are fully responsible for your comfort.
It turns out not much more expensive for the price, and often cheaper than if you tried to organize exactly the same trip on your own.
Why is that? Because traveling in a group is always more profitable: transport costs are lower, hotels are cheaper for groups, the cost of many entertainments is shared by everyone and, based on "per person", it turns out to be cheaper. At the same time, the guide knows these places and hotels well. He also knows how to save money.Watch excursion tours on Tripsider.com
Holidays in Albania: answering some questions
We will answer the most popular questions that are people ask about holidays in Albania most often. We'll talk about security, language, currency and everything else.
If suddenly something is not clear from the article, feel free to ask in the comments. We don't bite and try to respond to everyone.
Is it safe to travel to Albania?
Sure it is. Albania consistently ranks high in terms of security in various ratings. And this is a thing you could feel in practice:
The locals are very friendly and helpful to tourists.
Even taxi drivers do not cheat here! Just a miracle.
They don't rob, rape, don't sell tourists for organs in Albania. These are all clichés from some Hollywood action movies.
There are no religious problems in the country. This is not Islam, you don't have to wear a hijab.
Even pickpockets are not so common here.
Is it true about organ harvesting in Albania?
I don't even know where it all came from. The country is very safe. And tourists are treated almost like some kind of deputies. Nobody will touch you.
Mafia, racketeering, criminal gangs – all this remained in the nineties. Now there is none of that. They don't even steal cars.
Isn't this a Muslim country?
No. Albania is a secular country. I would rather describe it as "the land of all religions". A mosque, a Catholic church and an Orthodox church can stand right across the street. And no one bothered by this fact.
There can easily be an advertisement with a pretty girl without some clothes on billboards. And that doesn't bother anyone either.
How do Albanians treat girls?
Fine. They do not stare at them, don't show aggression, they have nothing against even the most revealing swimsuits if you wear them on the beach. Although local girls do not wear very open swimsuits with thongs and purely symbolic tops.
In cities, it is not decent to wear swimwear (everywhere, not only in Albania), but the locals are rather condescending to this. No one will arrange a "showdown", as happens in other countries with a predominantly Muslim population.
How are things with the language in Albania?
Unfortunately not very good. Albanian is a state language. Totally not understandable if you know English. Many locals speak Italian, Greek, Serbian, Romanian or some other language from neighboring countries. But not all of them.
Everything is better in the tourism sector. In a hotel, in a taxi, having an excursion or when renting a car, they will speak English with you.
Many websites advise to get phrasebooks. But somehow we couldn't use them. It is much better to download the Albanian language in Google Translate in advance. This way you can even communicate by voice.
what currency to take to Albania?
Albania has its own currency. It's called "lek". Exchangers are located in major cities.
We would recommend taking euros or, in extreme cases, dollars. They can often be used in hotels, restaurants, cafes or taxis. Surprisingly, the exchange rate is usually quite adequate. Not like in «the best exchanger», but you wouldn't have the feeling that you are being robbed.
Nobody really needs other currencies here. Change is almost impossible, the only way is to find the fellow citizens who live here. And the exchange rate will not be optimal – you'll lose at least 30%.
How is card payment work in Albania?
More or less decent. There are many places where they are accepted in tourist places. But still, we regularly encounter situations where cash is needed. Somewhere they accept the euro, in other places it is the Albanian leks that are needed.
Therefore, take both bank cards and cash in euros or dollars.
How to enjoy your holiday in Albania?
You must admit that you are not going to a tourist country, where everything is already arranged for you. This brings its limitations. For example:
You need to rent a car in Albania. You have almost no options. As has been said earlier, there is nothing to do here without a car. The trusted website is called Localrent.com, and Mary wrote instructions for renting a car.
Be sure to alternate a purely beach holiday with car trips to the nearest attractions.
Albania is not only about "two seas in one vacation". There are stunningly beautiful mountains, many waterfalls and other natural sights.
Albanian resorts are mostly small. If you want variety of choice, try to move from one resort to another from time to time. Did you spend a few days in Durrës? Great. It's time to see what kind of beaches are there in Vlorë or Sarandë. Break your vacation into several such «pieces».
In Albania, as elsewhere in the Balkans, there is a lot of garbage. Bags, plastic bottles, etc. are scattered everywhere. At the same time, hotels are always very clean. Even in Europe, I did not come across such perfectly-clean numbers.
There are many smokers in restaurants and on the streets. Also purely Balkan feature. I saw exactly the same problem in neighboring Montenegro, for example.
Holiday in Albania isn't like "if you have 100 dollars, you are already rich", as it is sometimes presented in travel shows and films. Yes, the country is poor and it is a little cheaper here. But just "a little".
What about Internet speed in Albania?
We travel quite often. That is why we've acquired tourist SIM cards long ago. Most of all I like DrimSim. Another good company is OnlyInternet. Both options provide Internet with payment "for traffic" and literally for a penny.
This is a solid option if you do not plan to watch YouTube or scroll through Instagram | Facebook.
It's enough to see the rating of the restaurant, chat in messengers, get directions, find out the schedule of attractions or use a translator. We spend up to 5 € ≈ 5.25 $, 4.3 £, 19.3 Dh, 91.2 ₺ per trip.
The main "trick" of such SIM cards is that they are convenient and allow you to save time, money and nerves:
You buy and set up a SIM card in advance and you will have Internet at the airport of any country. It's convenient, this way you may write to relatives, call a taxi or contact a car rental manager.
No need to look for a local operator's office, buy and set up a SIM card.
It's incredibly convenient to travel to neighboring countries. With a tourist SIM card, you can go to Montenegro or Greece. And she will work there too.
After the trip, the SIM card is not thrown away. It will serve you more than once on future trips, which is quite convenient in practice.
If you need a lot of mobile Internet, it's better to get a local SIM card. There are three mobile operators in Albania: Albania Telecom (ALBTelecom), One and Vodafone. They differ slightly in price and quality of coverage. They have no particular difference, so choose whatever you like.
On average, 15 gigabytes of internet will cost you about 15 € ≈ 15.75 $, 12.9 £, 57.9 Dh, 273.6 ₺. You can buy a SIM card only with a passport. To do so, go to the operator's office, they will help you set it up.
Tourist SIM card or local one?

It all depends on how much internet you need. My DrimSim is currently 0,01 € ≈ 0.0105 $, 0.0086 £, 0.0386 Dh, 0.1824 ₺ per megabyte. That is, for 15 € ≈ 15.75 $, 12.9 £, 57.9 Dh, 273.6 ₺ they give me 1 GB. But in practice, I usually do not spend such amount it. I don't need much internet.

The conclusion is very simple:

If you need more than 1 GB of Internet and are ready to spend time walking to the operator's office, take a local SIM card.
If the Internet is needed purely to plan the route and occasionally watch something, it is better to take a tourist SIM card. You'll save around

10 €

≈ 10.5 $, 8.6 £, 38.6 Dh, 182.4 ₺

. It is especially profitable if you plan to travel to countries neighboring Albania.
Throughout Albania, even in the mountains, 4G works well. It doesn't even matter if you have a local SIM card or a tourist SIM card. They operate on the same bands.
Free internet in Albania
Decent apartments, and hotels almost always (in 80-90% of cases) have free Wi-Fi. Even in the mountains. With adequate, as for the terrain, speed.
In restaurants and cafes, on the contrary, it is not customary to give free Wi-Fi for the guests. This happens, but quite rarely. Approximately in every fifth one.
In the center of Tirana, in the most popular places you can get the Tirana Free Wi-Fi network. Free, "without registration and SMS". It does not always work well, but you can usually check mail or reply with text in the messenger. Videocalls doesn't work.
Albanian airport also has free internet. But there is no guarantee that it will definitely work. Subjectively, the chances are about 50/50, but since we don't go there every day, we don't have a right to say anything.
Speaking from personal experience, I always take DrimSim with me. Convenient thing, to be honest. And if suddenly I need a lot of Internet for work, then I additionally buy some kind of local SIM card.
I think that you should always have mobile Internet when traveling. At least on one phone (if you travel with family). Better yet, for each mobile phone. It is not expensive, but it solves a lot of problems from "where can I find …" to "darling, I got lost …".
Ionian or Adriatic Sea?
Here you have to choose according to your taste. The Ionian Sea is usually warmer and visually more beautiful. But the beaches there are mostly pebbly and small. Only one large sandy one comes to mind: Ksamil next to Sarandë.
There are more huge sandy beaches on the Adriatic Sea. In the Durrës, for example, the coastline is about ten kilometers. And the sea is also very good. The water is more transparent, and therefore warms up a little worse.
We prefer to rent a car for the whole vacation and thanks to this we manage to swim in two seas and visit 5-6 beaches in one trip.