Hi! We are Valentine and Angela. We rest in Montenegro on a regular basis. We visited almost all the excursions, we're familiar with most of the local guides, we've traveled everywhere possible and even a little bit of impossible.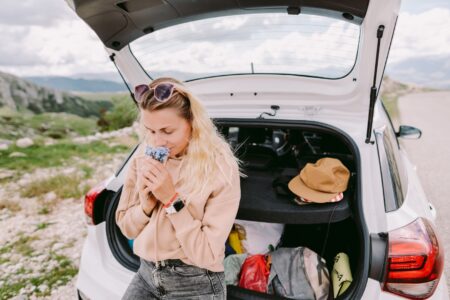 We flew on vacation to Montenegro even when our daughter was very young. Now she has grown up and traveling together has become even more convenient. And it's also not expensive to travel by car – much cheaper than excursions, buses or anything else. For only 40-50 € ≈ 42 $, 34.4 £, 154.4 Dh, 729.6 ₺ three of us can travel around the whole country. This is already taking into account the payment for the car and the cost of fuel. Well, where else can you find such a deal?
Montenegro was created for car travel. Here it is easy to take a car, fill up a full tank and go for a drive through the mountains and hidden beaches. Sounds great? Do you want the same? Then we will tell you how to organise it!
Where and how to rent a car in Montenegro?
Not everyone is ready to read such a long, detailed article. Yes, it's useful. But it takes so much time! Therefore, we save your time and tell you all the most important things right away:
Is it safe to rent a car in Montenegro?
If you don't get involved with scammers and don't fall for inadequately low prices, then everything will go well.
It's not customary to deceive tourists here. Car rental companies often close their eyes if you scratch the car a little. The traffic in the country is calm, the roads are good, almost no "strange" drivers. The only problem is with parking on the coast.
Where to rent a car in Montenegro?
We've been regularly flying on vacation to Montenegro since 2009. We tried a lot of rentals and chose two best.
This is: Localrent.com (cheaper, more cars, user-friendly website, great support) and Sitngo.me (no prepayment, no deposit, minimum surcharges).
You can also rent a car from international companies. Search on Rentalcars, Economybookings, Discovercars. But it's usually more expensive there and a deposit from 500 € ≈ 525 $, 430 £, 1930 Dh, 9120 ₺.

In which cities can you get a car?
If you do not want to pay for delivery, take a car at the airport in Tivat, Budva, Becici or Sveti Stefan.
In general, the distributors are ready to give you the car in any village. But it will cost you additional money. Sometimes it's just 5-10 € ≈ 5.25 $, 4.3 £, 19.3 Dh, 91.2 ₺, but if you live far from Tivat or Budva, they can ask for 50 € ≈ 52.5 $, 43 £, 193 Dh, 912 ₺. It is often more profitable to rent a car at the airport for the entire vacation. Save some money on car and taxi delivery to your resort.

How much does car rental cost in Montenegro?
The real price depends on the desired car, the season (June-August is more expensive), the rental period, the necessary insurance and equipment.
I'll give you a guideline: an economy car from 19 € ≈ 19.95 $, 16.34 £, 73.34 Dh, 346.56 ₺ per day, a middle-class car from 25-40 € ≈ 26.25 $, 21.5 £, 96.5 Dh, 456 ₺, crossovers from 32 € ≈ 33.6 $, 27.52 £, 123.52 Dh, 583.68 ₺ for Nissan Juke and from 45 € ≈ 47.25 $, 38.7 £, 173.7 Dh, 820.8 ₺ for SUVs, premium cars from 50-60 € ≈ 52.5 $, 43 £, 193 Dh, 912 ₺. There are minivans, motorcycles and even buses!
See the sites that we gave you above for exact prices.

Which car to choose?
Depends on where you plan to go and with whom. For traveling around the country, a fresh small car is enough. Do not take old cars with small engines – the air conditioner does not work as you'll want to. Especially in the mountains.
If you plan to travel a lot and far, take a bigger car. It would be ideal to rent a convertible for trips along the sea. It's just an unforgettable experience. It makes sense to take an SUV only if you know for sure that you will need it. The roads are decent in all tourist places.

What is required for rent?
Driver's license, passport and money. Local car rental companies also have requirements for your age and experience. But they aren't that bad.
You can take the car if you 21-22 years old and have a driving experience above two years. Most sites ask for an advance payment (a credit or debit card is needed), international brands "freeze" the deposit (a credit card is needed). But there is also Sitngo.me, it gives the cars without prepayment and deposit at all.
When is the best time to book a car rental?
Want to save? Then book a car as soon as you know the vacation dates. More choice, promotions, discounts. People take first the most profitable cars. If you do not book in advance, you will have to take what is left. And it's either expensive or bad.

Do I need to rent a car in Montenegro?
Let me start by saying that renting a car is the cheapest way to see Montenegro. Especially if you are traveling as a family with children. But even fro one or two it still turns out to be quite profitable.
I'll show the difference in prices using the example of the most popular route in the country: "Canyons of Montenegro". Let's count:
Car rental. On Localrent.com you can rent a car from

19 €

≈ 19.95 $, 16.34 £, 73.34 Dh, 346.56 ₺

per day even in summer. On Sitngo.me prices start from

30 €

≈ 31.5 $, 25.8 £, 115.8 Dh, 547.2 ₺

, but there are many "goodies" already included in the price. In winter you can find a car even for

9 €

≈ 9.45 $, 7.74 £, 34.74 Dh, 164.16 ₺

.
The route is about 400 kilometers long. Gasoline and diesel in 2022 cost about

1.5 €

≈ 1.575 $, 1.29 £, 5.79 Dh, 27.36 ₺

per liter. It's also

30-50 €

≈ 31.5 $, 25.8 £, 115.8 Dh, 547.2 ₺

for fuel.
Total: from

50 €

≈ 52.5 $, 43 £, 193 Dh, 912 ₺

for the whole family trip (up to 4-5 people).
Tours. There is a good site GetYourGuide. A ticket for canyons costs

54 €

≈ 56.7 $, 46.44 £, 208.44 Dh, 984.96 ₺

. Or you can use Viator and get almost the same excursion for same price. 
Individual tours are even more expensive. The price depends on the guide, car and route details, but on average it is

250-350 €

≈ 262.5 $, 215 £, 965 Dh, 4560 ₺

per trip.
Total: from

108 €

≈ 84 $, 68.8 £, 308.8 Dh, 1459.2 ₺

for a family of 2 adults and from

150 €

≈ 105 $, 86 £, 386 Dh, 1824 ₺

, if with a child.
Public transport. You can go to Zabljak by regular bus. The route through not very interesting places and without stops. There will be no canyons, no Đurđevića Tara Bridge, nothing. A couple of hours there and back.
If without an overnight stay – there is no point at all. If you plan to live in the mountains for 3-4 days, then you can consider such transport.
Such a ticket costs

15 €

≈ 15.75 $, 12.9 £, 57.9 Dh, 273.6 ₺

per person one way.
Total:

60 €

≈ 63 $, 51.6 £, 231.6 Dh, 1094.4 ₺

for a family of 2 adults and from

90 €

≈ 94.5 $, 77.4 £, 347.4 Dh, 1641.6 ₺

if with a child.
---
Well, now about other benefits. Montenegro is really created for traveling by car. We went on excursions with the most famous local guides, but we still liked it better by car. Because of freedom – you can go wherever you want and stay in any place you like.
Don't want to go to the mountains? Are you afraid of serpentines and tunnels? The car will still come in handy: you can drive to cool beaches outside the city, go along the sea in a convertible or drive around the most beautiful sea bay in Europe.
Are you with a child? But still want to see something? Well, then to take the car is  your best option. Why? If a child gets sick on a sightseeing bus, no one will stop. Exactly the same with the toilet. And there are no such problems on the car. And you can fill at least half of the salon with toys.
Is it dangerous there to drive: serpentines, roads, accidents, other drivers
The roads in Montenegro are good. At a minimum, all the main ones, where tourists go. There are all markings that you'll need, signs are normal, regular areas for recreation and to admire the surrounding beauty. The police are on guard too.
Everyone writes that the roads are very difficult, but I drove everywhere even with a real driving experience of 3-4 months. Yes, I didn't speed up, but I also drove to Ostrog, and rode through the highlands and the Prevoj Sedlo (Sedlo Pass), and looked at the Bay of Kotor with my wife. It was even easier than in my native metropolis with its traffic jams.
A typical accident in Montenegro is someone hitting a car in a parking lot with a door. There must be something going on in the mountains. But in my years of traveling around this country I have not come across it. For example, I was in Georgia for only a week. And I saw 5-7 wrecked cars. In Montenegro, the whole driving experience is quite calm.
Most of the drivers here are quite adequate. They don't rush, if anything – they will help. Of course, there are also inadequate people who overtake in tunnels or drink brandy in restaurants near the Sedlo Pass. But most often it is other tourists. And there are relatively few of them.
I will write a few minuses so that the country does not seem completely ideal:
serpentines – do not drive in the rain;
small rockfalls – in summer they almost never happen, but be careful not to run your wheel on a sharp stone lying on the road;
tunnels – personally, my eyes get very tired, but I have been wearing lenses since I was 5 years old;
parking – there are few places in the centre of Budva, Herceg Novi or Becici. In the mountains there are almost no such problems.
How much does it cost to rent a car in Montenegro?
There are no fixed prices for car rental. It all depends on many factors: the car itself, the rental period, whether you need a car in the summer or not. Insurance, the need for a child seat, etc. are also taken into account.
That's why look for the exact prices only on booking sites: Localrent.com, Sitngo.me, Rentalcars, Economybookings, Discovercars or others.
I can only give approximate prices for car rental in the summer. At the same time, I will advise you cars that really pleased my in my car renting experience:
The cheapest car. From

19 €

≈ 19.95 $, 16.34 £, 73.34 Dh, 346.56 ₺

per day. I took Mazda 2 and Hyundai i20. Both are worth their money. Comfortable and good to drive through narrow streets. I also like Toyota Yaris, but only if it's not older than 5 years. Otherwise, it struggles to go up hill.
The cheapest with the manual gear. From

22-25 €

≈ 23.1 $, 18.92 £, 84.92 Dh, 401.28 ₺

per day. The range is the same, just manual gear are a little cheaper than automatics.
Good economy car for two. From

25 €

≈ 26.25 $, 21.5 £, 96.5 Dh, 456 ₺

per day. Here everything is the same, just newer and with a more powerful engine. And the new car goes uphill better, and air conditioner works better.
In addition to the above, I once took a Ford Fiesta. It turned out to be a good car. Mine was in red. Volkswagen Polo also seemed to me a good option in this budget. But I am a fan of the German car industry.
Comfortable vehicle. From

30-40 €

≈ 31.5 $, 25.8 £, 115.8 Dh, 547.2 ₺

. There is a clear leader – Hyundai i30. Parking in the city is still convenient, but the car is more spacious and the trunk is large. I also took a Hyundai Elantra. The same, but in the form of a sedan. Lots of Renault and Skoda cars, but I didn't rent them. I'll try next time.
The second most popular option is the Volkswagen Golf. Cool car and in many local rentals it is not expensive.
If you have a budget, check out something from Mercedes. I took A, B and C classes. As for me, A is still small, but the B-class was a pleasant surprise. Soft, comfortable car. Mine even had a sunroof. Bad side – it is not convenient to drive onto the curb.
Also pay attention to Renault Megane. I didn't rent one in Montenegro, but in general the car is good. Especially if it's not older than 3-5 years.
To travel with a child. From

35 €

≈ 36.75 $, 30.1 £, 135.1 Dh, 638.4 ₺

. These are the same machines that I listed above. You just have to pay extra for a child seat or booster.
Also look at minivans. They do not look so impressive, but it is very convenient to sit with the child in there. I especially liked the Volkswagen Touran and Peugeot 5008 (mine was with a panorama and it's a thrill).
Cabriolet. From

30 €

≈ 31.5 $, 25.8 £, 115.8 Dh, 547.2 ₺

, but the adequate price is closer to

50-70 €

≈ 52.5 $, 43 £, 193 Dh, 912 ₺

. There are few of them at the office. And they aren't so "used" as much as small cars. Therefore, a lot of old cars, but in good condition. I liked the Peugeot 308 CC and Audi A3 cabrio. Nice cars.
Crossover. From

32 €

≈ 33.6 $, 27.52 £, 123.52 Dh, 583.68 ₺

for Nissan Juke and from

45-50 €

≈ 47.25 $, 38.7 £, 173.7 Dh, 820.8 ₺

for real SUVs. I don't see much point in taking an SUV in Montenegro. Asphalt almost everywhere. It's not convenient to drive in it around the city, and it's not comfortable on serpentines. SUV rentals are even smaller than convertibles.
For companies with more than 5 people. From

32 €

≈ 33.6 $, 27.52 £, 123.52 Dh, 583.68 ₺

per day for something old and from

45 €

≈ 47.25 $, 38.7 £, 173.7 Dh, 820.8 ₺

for a good car. There are many minivans like Volkswagen Caddy Maxi or Peugeot 5008. The back row of such cars is cramped, but it's okay. There are also premium crossovers for 7 seats, but I have never taken one of these.
If the driver's licence allows you, there are minibuses for 9 people at the rentals. Prices from

65 €

≈ 68.25 $, 55.9 £, 250.9 Dh, 1185.6 ₺

for the simplest ten year old Ford Transit.
Premium. From

50-60 €

≈ 52.5 $, 43 £, 193 Dh, 912 ₺

. There are Audi, Mercedes, BMW. I drove all the cars of the big German manufacturers. And basically I liked everything. They're just different. Just try it for yourself.
By the way, I even saw an S-class on Localrent.com. But it is not always available for rent and costs

400-500 €

≈ 420 $, 344 £, 1544 Dh, 7296 ₺

per day. A real premium in Montenegro is always a piece of history. You have to catch such cars and book them in advance.
---
The prices above are fair only if you take the car in advance. Otherwise, you can end up in the same situation as me in 2021. During the pandemic, Montenegro allowed travellers without vaccination and tests. There was a lot of people. And the majority decided that it was safer to travel by car. Prices skyrocketed. I had to overpay 3 times. Took a small car for the price of a good car.
And you should not rent a car at a hotel, through a tour operator and from various muddy offices. I came across two or three times and now I can say with confidence that there is nothing good there.
Where to book a car: the experience of our 11 rentals
We often fly to Montenegro and understood long ago that it is very profitable to rent a car here. Excursions are also okay, but more expensive and not so interesting.
We share a list of our favourite rentals:
Localrent.com. We rent car here most of the time. They have a lot of cars, very favourable prices, understandable conditions for insurance and deposits. The trick is that you book a specific car. You receive it.
In short: Don't want to praise this company, but I almost always book here.
Sitngo.me is another Montenegrin company. I would describe this rental as "comfortable". No prepayment, no deposit, no extra charge for a second driver or green card. No mileage limit, free cancellation.
Sounds great? On the one hand, yes. But on the other hand, all this is already included in the price. Therefore, their cars are usually more expensive than on Localrent.com. And the site is far from convenient.
In short: you can search here if you didn't find anything on LocalRent.
Rentalcars, Economybookings, Discovercars are brokers. They search in databases of international companies. Differ in the range and size of the discounts that they give.
In short: I rarely use it. It's expensive and they want big deposits.
---
Booking a car for the first time and afraid to click on something wrong? Let's show everything step by step. With pictures and helpful tips.
LocalRent – rent through local companies
This is something like a marketplace where various Montenegrin distributors place their offers. In general, there are cars from people and companies that you will not find on the spot. With offices in the back alleys and stuff like that.
Localrent.com is my favourite car rental website in Montenegro. And that's why:
Low prices. In 95% of cases it is cheaper here than anywhere else. I once rented a three-year-old car here for

14 €

≈ 14.7 $, 12.04 £, 54.04 Dh, 255.36 ₺

per day.

14 €

≈ 14.7 $, 12.04 £, 54.04 Dh, 255.36 ₺

, Carl!
The owners of the site are very attentive to prices. It comes to the point that it is cheaper at Localrent than at the same car rental company directly. I checked twice. Once I rent a car through Localrent for

30 €

≈ 31.5 $, 25.8 £, 115.8 Dh, 547.2 ₺

per day. I liked the car and the guy who gave it to me. The next year I wrote to him directly on WhatsApp and he asked for

45 €

≈ 47.25 $, 38.7 £, 173.7 Dh, 820.8 ₺

per day for the same car. And on Localrent the same car is free and costs only

28 €

≈ 29.4 $, 24.08 £, 108.08 Dh, 510.72 ₺

. Wildness? Yes. But this is how it is in Montenegro.
Clear terms. Look at any car and everything is clear. What year of manufacture, what kind of air conditioner is there, are there parking sensors, what engine is inside and what is its fuel consumption. Literally everything is described. Up to the volume of the tank and the number of airbags. There is even a photo.
Exactly the same with prices for additional options and insurance. It is immediately clear that the car comes for free and how much you have to pay extra for cool insurance.
Reliability. I used this site 15 or 20 times. Not only in Montenegro. And it never let me down. When booking here, you can be sure that the car will be provided for sure or a profitable replacement will be offered.
Strict selection. You need to go through a very strict selection process to place your cars on this website. They throw out inadequate and various muddy personalities, and there a lot of them in this business. Therefore, it is safer to book here than in other places. You can be sure that you will not be deceived.
Customer support in English. This is important if something happens. Accidents, for example. Or you can't find your distributor. Or a wheel has been broken. They answered me within 5 minutes at the most. In English, on the matter.
They also have support some other languages.
---
Angela and I are planning to spend the end of May and the beginning of June in Montenegro. The very time when the weather is already cool, the sun is still not burning and there are few tourists. We'll just ride around the country, live in the mountains and have a normal rest. Minus only in the sea – the Adriatic at this time is usually still cool.
So, we need a good car from May 27 to June 4. We will get it in Kotor (plan to order a transfer), and return it at the Tivat airport. There are no special requirements for the car. But I would like something small. So it will be easy when it comes to parking.
Let me show how Angela and I were looking for a car:
Dates and place of rental. Filters. I go to Localrent.com. I put the pickup locations as Kotor, and return place as Tivat. In additional filters I set "the second driver in the contract" – we like to steer in turn.
It is important not to forget to choose the right rental dates. Otherwise, the website will show cars available for the next week. But I need it at the end of spring.

You can select a gearbox, insurance, and various other bells and whistles in advanced filters. From useful – engine. If you didn't have time to ride on different cars, take at least 1.5 liters for trips in the mountains. If you plan to go only to the beach, a small car like 1.2 liters is enough.

Choosing the right car. The website will automatically sort all offers by price from the cheapest to the most expensive. They take shipping costs into account as well. You just have to scroll down and see what you like.
Angela and I have choses the Citroen C4 Cactus. My wife has long wanted to ride such a little funny vehicle. I'm not against it. I can tolerate mechanics.
This is how the description of our car looks like:
Pickup and contact details. Now the site will ask where exactly you want to pick up the car. Offers a choice of about a dozen parking lots in Budva.
Then you will need to enter your personal information. This is necessary so that the distributor prepares a contract and can find you on the day the car is delivered.
I filled out my details. Here's what it looks like:

Personal data is requested at a minimum: date of birth (to be filled in the contract), email address (a voucher will be sent to it) and a phone number for communication.

How to choose the time of receiving the car? See the orange-green sliders under the pickup location? This is it. The green zone is free of charge, and the orange zone is for an extra charge. We planned to rent a car at the airport, so we were guided by the time of departure. To be in Tivat in 3.5 hours.

Everything is ready! As soon as you make the prepayment, you will immediately receive a voucher in the mail. There will be contacts of the distributor and all the necessary information.
Search car on localrent.com
Requirements for renting a car
Driver's license of any country. First and last name in English.
Age from 22 years old.
Driving experience from 2 years.
Any card for making a deposit. Can be debit or credit.
SitnGo – solid Montenegrin rental company
Most of the adequate Montenegrin car rental companies offer their cars on Localrent.com. However, most are not all of them. I'll tell you about one of these "good, but not presented" ones.
They are called Sitngo.me. The office is very big. They have many of their own cars. New ones, in interesting configurations. In the summer they work with maximum efficiency.
Cool things about Sit&Go
Their rental can be described in one short phrase: "we give cars to almost everyone and without the slightest restrictions." The same "Sit and Go" from the title.
No prepayment is required, they do not ask to leave a deposit for the car, there are no mileage restrictions, they give a child seat for free, a green card for trips to neighbouring countries and a second driver into the contract for free. In general, there are a lot of various pleasant bonuses. They accept cash, any cards and even Bitcoins.
Why, then, do I rarely rent something from them? After all, they have so many benefits! The thing is, I don't need all of them. And the cost of any is already included. So it turns out that renting here is almost always more expensive.
I also want to note that these are local guys. And their site is a little "homemade". Not only is it not very convenient and understandable. It often happens that nothing opens at all. This is fine. It happens especially often in summer. Come back in half an hour or even the next day.
---
I plan to show Montenegro to my parents in August. But there is one caveat: my father got into a very serious accident 17 years ago (through no fault of his own). He went through a difficult rehabilitation and even returned to normal life. Since then, he has only driven a Volvo. Other brands are not acceptable for him. And he doesn't even use a taxi.
There is no Volvo on Localrent.com at the time of writing. But Sitngo.me has it. Yes, it will cost me much more. But the choice is between either I show my parents Montenegro on a Volvo, or they don't fly anywhere at all.
Update: Localrent.com added a 2016 Volvo XC 90 for 125 € ≈ 131.25 $, 107.5 £, 482.5 Dh, 2280 ₺ per day instead of 150 € ≈ 157.5 $, 129 £, 579 Dh, 2736 ₺ per day from Sitngo.me. To be fair, the latter have a 2-year-old "fresh" car.
Transfer to the airport – also only on Volvo. Therefore, the car is needed for the whole vacation. With pickup and return directly at the airport. This is from August 9th to 20th.
I will show how I booked a car on this site. Here is my instruction:
Choose a car. I go to the Sitngo.me website. There is a booking form, but it's better to scroll a little lower and immediately select the car I need. The list of cars and basic filters look like this:

The range of cars and filters on the SitNGo website.

As you can see, there are not many filters. But they are not really needed – the range of cars here is not very large. You can also manually find what you need.

Book the right car. I scroll to the very end and find a Volvo XC90, 2018 there. I click on the "Book" button. I see something like this:

Specifications of the car that I chose to rent.

I like the inscription "Four-wheel drive, top of the line" most of all. Volvo seems to have all the safety even at the minimum, but it's still nice to drive a car with a good package.

Reservation. I press the black button "Book a car". The site asks for an email address and rental dates. It will also show the price. Looks like this:

Booking a car at Sitngo rental.

Did you fill out everything? Now just click the "Book a car" button. That's all. Their manager will contact you by mail and clarify all your details. He will ask for the last name and first name (for the contract), phone number (for communication in case of something), the flight number that you are arriving with and other little things.

No prepayment required. Therefore, there is no need to enter card details.
Search for car on Sitngo.me
Requirements for renting a car through SitNGo
Driving license of any country. First and last name in English.
Age from 21 years old.
Minimum experience 2 years.
That's it. You can do without credit / debit cards. Prepayment is not required.
Other verified car rental companies
There are also branches of large international car rental companies in Montenegro. The easiest (and often cheapest) way to book is through brokers. Here they are: Rentalcars, Economybookings, Discovercars. All these sites are very similar in their core and differ only in assortment and prices.
But personally, I rarely use them. And the reason is not even that in summer it is almost always more expensive by 30-50%. Here it is also inconvenient to rent:
Large deposits. Here it's okay to leave

500 €

≈ 525 $, 430 £, 1930 Dh, 9120 ₺

for a small car or

1,000 €

≈ 1050 $, 860 £, 3860 Dh, 18240 ₺

for a decent car. For comparison, local deposit companies are asking for

100-300 €

≈ 105 $, 86 £, 386 Dh, 1824 ₺

. And there are even cars without collateral at all.
Need the right credit card. Debit is not suitable. A personalised credit card with embossed symbols is required. And even if you have one, it is not a fact that it will fit. For example, mine from some reason was not accepted. It's good that I had another card in another bank.
The deposit will be "frozen" on the card. And it won't be back soon. People say that sometimes it take up to a month to get your money back. In my case it was 9-18 days. And there was one case in Greece when the money was returned after two and a half months and only after a scandal in my bank.
Non-obvious rules. Prices on the site are not always final. And even multi-page conditions do not guarantee anything. For example, you can often find out how much a child seat or insurance costs only at the rental desk. If you do not like the price and decide not to pick up the car – this is already a fine and loss of prepayment. The most annoying thing is that different nuances are also constantly changing.
It's not clear what car you'll get. You book "car class". And what is included in it – decides the distributor. They can give you a new, cool car. Like in the picture. But I had much worse cars. Instead of a small car, they can give a large sedan or even a crossover. If you get lucky.
Does it matter what you ride? Of course not. I can have three suitcases and a baby carriage – so I want a car with a big trunk. My husband and I can take a small car to conveniently park in the city and not be nervous about the narrow streets. If you plan to travel a lot, you need an economical car. A large SUV may be more comfortable – but it's not convenient to drive on such mountain roads. And I don't want to overpay

100 €

≈ 105 $, 86 £, 386 Dh, 1824 ₺

for petrol.
High risk of losing money. I must say right away that my husband and I have never been unfairly fined for scratches and dents in Montenegro. Cars were taken from brokers only 3 times. Everything worked out.
However, fines are quite common. Just open reviews of any international distributor on Google Maps and read them.
So what are these companies for?
There are situations when renting from brokers is still more profitable than from local ones:
Off season. They are trying to do the plan and rent cars almost below cost. It is beneficial if you take the car very carefully and do not let yourself be fined. It will turn out 10-25% cheaper than in the local companies.
Hype. Last year, everyone went on vacation to Montenegro and the locals had almost no free cars "for tomorrow" or even "this week". Even Localrent.com found no more than 10 cars and they all cost like a small yacht. International companies were also expensive. But I managed to "pull out" a good option. Had to overpay, but at least not so much.
Papers. If this is a business trip, the company can compensate for the cost of renting a car. But it's not a fact that the local Luka or Stefan will be able to arrange everything correctly. Most probably not. That's why big companies is your choice.
---
Probably international companies has other advantages. But I don't know them. If you know, please leave a comment. This will help us to make the article even better.
How to view driver requirements?
International car rental companies do not have "standard" driver requirements. It all depends on the specific car, its owner, time of year, your age and driving experience, and other unknown factors.
You can only read a large legal document with numbers:
On Rentalcars, the "Terms and Conditions" button is under the name of the car rental company. There is a button "Full rental conditions" to find out the maximum information.
On Economybookings, there is a "Rental Conditions" button in the block below the brief description of the car. There is a lot of legal text in there, which is actually worth studying.
On Discovercars there is an inconspicuous button below the distributor name. There is also a lot of text, divided into tabs. We read everything carefully.
Where we don't recommend to rent a car?
Car rental advertisement is on every corner in Montenegro. It is popular here, and therefore there are a lot of different "offices". But they're not all good.
Three years ago, Valentine and I wanted to rent a car on the spot and walked around different offices and even called the phone numbers in the ad. Here's what happened:
Offices in the center. Renting premises in tourist areas is very expensive. That's why prices there are usually higher. There are also scammers who will try not to return the deposit under any legal pretext.
We rented cars in Montenegro 17 times. And not once we got it in a beautiful office in the center. Offices are always in some backyard and simply offer to drive the car to any parking lot.
Ads in the hotel. It's just 30-50% more expensive. And no one is responsible for anything.
Owner-drivers. It's like a lottery. Theoretically, you may be lucky and will be given a good car for adequate money. We're out of luck. The private owner will look everywhere to find something to complain about, so that the deposit of

300 €

≈ 315 $, 258 £, 1158 Dh, 5472 ₺

would not be returned. It was a shame, but our flight was in just 2 hours. There was no way to argue or call the police. We thought that we were just unlucky, but my boss had the same story.
Websites of local offices. In 70% of cases there is no up-to-date information and prices are simply inadequately overpriced. In 30% of cases, the prices are, on the contrary, low, but they will not give out the car that was promised. There is even a typical excuse: "Oh, we wanted to give you such a cool car, but the day before yesterday it had an accident. There is only this one." And they offer an old wreck at a price 1.5-2 times higher than the market.
How to rent a car without fines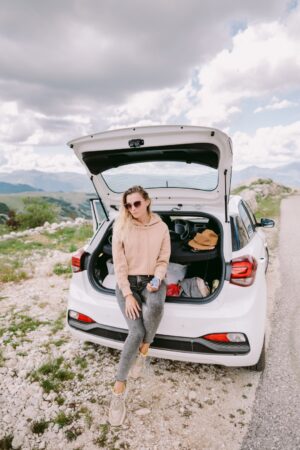 In any country, car rental is a risk. Not only in Montenegro. Kind of like driving your own car. You can punch a wheel or get a rock in your windshield, for example. If there is no SuperCDW, you will have to pay for damages from your own pocket.
I will try to tell you what and how to do in order to minimise all risks and get only positive emotions from the car rental.
I will assume that you rented a car from Localrent.com or Sitngo.me. They are more loyal to customers than international rentals and are more adequate than many private traders. If you take the car somewhere else, some nuances may differ. But in general, everything is plus or minus the same for everyone.
When to book a car?
Right now. You don't even have to finish reading the article, go straight ahead and book. I will duplicate links to reliable companies so that you do not have to look for them: Localrent.com, Sitngo.me, Rentalcars, Economybookings, Discovercars. Arrivederci and good luck with your travels in Montenegro!
And now seriously. The earlier you book a car, the cheaper the rental will be. Prices only rise in summer, and people first of all sort out everything that is cheapest and optimal in terms of price and quality. If you decide to look for a car "for tomorrow" – you will choose from the leftovers that more experienced travellers did not want to take. Do you need it?
It is optimal to book a car at least 2-3 months before the trip. Normal – for a month. Many good options are left 2 weeks before the holiday. If it's only a week before departure, hurry up. You've already lost the best options.
What car to take for trips around Montenegro?
It depends on where exactly you plan to go:
It will be most convenient to ride along the coast and go to the beach in an ordinary small car. It is not expensive, it is convenient to drive through the narrow streets and park where a normal car simply does not fit. 
But try to take a convertible at least once. Even if it's old. Riding along the sea with a breeze is just unforgettable emotions. For the first time, it felt like being in a movie. Then, of course, you get used to it.
For trips with a child, take a slightly larger car. To prevent the baby from clattering his feet into the back of the driver's seat.
For trips over long distances and in the mountains, it is also better to take a little larger car. So that the rear passengers can sit comfortably.
For large companies trips, minivans and even minibuses are often a good option. It turns out cheaper, but there is one caveat: you need to be 100% sure that the interests and pace of the whole company coincide. Otherwise, it turns out that some want to go to the beach, while others want to go to the mountains. And you have only one car…It is often more convenient to take two small cars instead of one minivan. It is more convenient to ride on such and to the supermarket, and in the case of a trip to the mountains it comes out more comfortable.
---
I'll also give some advice on which cars it's better not to rent if you don't understand exactly why you need them:
Very old and cheap. Cars made in 2002-2010 can't be in very good condition a priori . How many people have already drive it … If this is an expensive convertible, then all right. But if a cheap subcompact car or an ordinary car, then the interior will be very so-so.
But that's not even the downside. Spots on the seats can be tolerated. But the air conditioner barely working in the heat and enormous fuel consumption aren't acceptable. If you plan to travel a lot, then it is better to take a car of 2018 for

23 €

≈ 24.15 $, 19.78 £, 88.78 Dh, 419.52 ₺

per day with a real consumption of about 6 liters per hundred in the mountains than for

19 €

≈ 19.95 $, 16.34 £, 73.34 Dh, 346.56 ₺

car of 2005-2009 with a real consumption of 8-9 liters.
Car without any deposit. A cheap car without a deposit is, on the one hand, a dream, but on the other hand, it is almost always old junk, which other tourists did not treat very carefully because they thought they were not risking anything.
I've rented cars without a deposit through Localrent.com several times and almost always they were clearly worse than cars with a deposit for the same price.
If we talk about Sitngo.me, there really are all cars without a deposit and prepayment. And a lot of new and good ones. But all this is included in the price.
Cars under 2-3 years. If the car is new and expensive, any scratch or dent on it will play a big role. This means that repairs will be expensive, and the distributor will be more picky inspecting the car.
If you slightly scratch the bumper on a car that is 7-10 years old, they may not take anything from you. Or they will ask

30-50 €

≈ 31.5 $, 25.8 £, 115.8 Dh, 547.2 ₺

for repairs. And if you make the same scratch on a brand new car, you'll have to pay

200+ €

≈ 210 $, 172 £, 772 Dh, 3648 ₺

.
Are you ready for these risks? Then do not listen to me and feel free to take a new car. Driving it will be a real thrill. I love it myself.
---
Well, I will answer the most arguable question: "Manual or automatic?". Take what you are more used to. There is no need for engine braking (by the way, the car can do this). Personally, I prefer an automatic transmission. The legs do not swell so much for the whole day, and there is no need to be distracted by gear shifting.
But manual transmission have one cool advantage: such cars are cheaper!
Which insurance to choose?
More than 90% of car damage in Montenegro is scratches and dents in the parking lot and very small accidents. No insurance protects against both:
If some weirdo scratches the car in the parking lot and runs away, there is no one to  draw up an accident report with, and there will be no payments from the insurance.
If the accident is not serious, then usually the cost of repairs is less than the deductible + the price of CDW insurance (

200-300 €

≈ 210 $, 172 £, 772 Dh, 3648 ₺

). It also makes no sense.
As a conclusion – choose the car that suits you best. Many old cars comes only with TPL, but you can't buy CDW in addition. If the car is expensive, CDW is usually already included in price.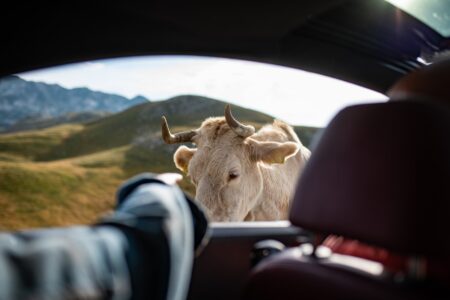 Yes, there are options when you have to pay extra for CDW or SuperCDW. Usually the amounts are quite large. Like one-third or half of the rent.
If this is your first car rental abroad, be sure to take it. If you drive for a long time and drive well, I see no reason to overpay. When you drive for 10 years without an accident, you are unlikely to seriously damage your car in Montenegro. Any person abroad is a little nervous and drives much more accurately than at home.
It is possible to take "Full Cover" insurance with a very small number of  vehicles on Localrent.com. Here it always works, except when you really mess up (drunk driving, a gross violation of traffic rules). But such insurance costs as much as half of the rental price.
Do I need a green card?
Yes, you need it if you want to travel by car to Croatia, Albania, Bosnia and Herzegovina, Serbia or other countries neighbouring Montenegro.
Localrent.com has a "Going abroad" filter. This is for the distributor to provide international insurance and make the correct note in the contract. It often goes for free, but sometimes you have to pay for it. However, the price is very different. For someone it is 17.5 € ≈ 18.375 $, 15.05 £, 67.55 Dh, 319.2 ₺, and sometimes it's 55 € ≈ 57.75 $, 47.3 £, 212.3 Dh, 1003.2 ₺ for the same car.
On Sitngo.me a green card is given for free with any car. But when ordering a car, you must warn that you want to travel outside Montenegro.
Everything depends on the specific car and the rental company on the other sites. Often it is generally impossible to find out in advance whether it is possible to leave Montenegro on the car you booked, where exactly you can go and how much it will cost. They will only tell you at the office when you receive the car.
Offline maps for a trip around Montenegro
Previously, many rental companies offered navigators. Now this makes no sense anymore – offline maps on any smartphone are no worse. And if you get something like DrimSim, then you can even go online.
I recommend downloading a map of Montenegro to your phone in advance from home. This is very simply to do. Open Google Maps, click on your account, select "Offline Maps", press the "Select your own map" button and select Montenegro in the box that appears. Try to make sure that both the north of the country and the immediate surroundings are inside the box. Then you press "Download" and that's it – you can build car routes in Montenegro even without the Internet. It's very convenient.
You cad download Google Maps in Google Play (Android) or in the App Store (iPhone).
Where is it better to get a car: Tivat, Kotor, Budva, Becici and other cities
There is such a thing as shipping charges. Most of the cars are in Tivat, Budva, Becici or Rafailovici. If you pick up or return a car in one of these towns, it's almost always free.
But what if you need a car in Kotor, Sveti Stefan, Petrovac or Herceg Novi? Then you have to pay for delivery. Usually it is 5-25 € ≈ 5.25 $, 4.3 £, 19.3 Dh, 91.2 ₺ for one way delivery. The farther from Budva and Tivat, the more expensive it is.
When you need a car for just one or two days, it can be very unprofitable. For example, you want to get a small car in Herceg Novi for 2 days. Rental price 60 € ≈ 63 $, 51.6 £, 231.6 Dh, 1094.4 ₺ + shipping cost 50 € ≈ 52.5 $, 43 £, 193 Dh, 912 ₺ (at 25 € ≈ 26.25 $, 21.5 £, 96.5 Dh, 456 ₺ for round trip delivery). Wow!
What can you do if you don't want to overpay and will spend a week relaxing in a resort where delivery is expensive? Take the car at the airport for the entire duration of the holiday. Save a lot on taxis. Here's what will happen:
Rent for 2 days. Pay

60 €

≈ 63 $, 51.6 £, 231.6 Dh, 1094.4 ₺

for a car +

50 €

≈ 52.5 $, 43 £, 193 Dh, 912 ₺

for delivery +

104 €

≈ 109.2 $, 89.44 £, 401.44 Dh, 1896.96 ₺

for a transfer from the airport and back. TOTAL:

214 €

≈ 224.7 $, 184.04 £, 826.04 Dh, 3903.36 ₺

.
Weekly rent. Pay

≈140-150 €

≈ 147 $, 120.4 £, 540.4 Dh, 2553.6 ₺

for a car and drive it all week. Yes, when renting for a week at once, the price per day will be significantly lower than when renting for several days.
As you can see, sometimes it is more profitable to take a car for the whole vacation. Then, due to savings on expensive transfers and car delivery, you will be in a big plus. Such a life hack works only if you live far from popular resorts.
How to rent a car at Tivat airport?
Well, just like anywhere else. I'll show you on the example of Localrent.com, since it's more convenient and understandable there than anywhere else. So, choose Tivat as the place to pick up the car. The website will guess that you want to pick up a car at the airport. If this is not the case, then you can change the place.
After you arrive at the airport, go through passport control and collect your luggage. Exit the airport (there is one exit). While your husband is busy with the suitcases, carefully look at those who meet you. One of them will have a piece of paper with your name on it. This is your distributor.
Meet him, say hello. He will lead to the car and then everything will be as usual. The only difficulty is that you have to pay for parking. But there will be a cashier who can explain everything, if you have questions.
All Montenegrin distributors have the same procedure. If you rent from an international company, you will need to go to their office at the airport. And then the manager will explain what to sign and where to go next.
How to take a car from a rental company?
Want two absolutely free tips on how to rent a car with minimal risk? Here they are:
Do not take the car anywhere. If you take a car in a safe place, no one will think to unfairly fine you or somehow deceive you. Reputation is much more expensive than "dishonest"

100-200 €

≈ 105 $, 86 £, 386 Dh, 1824 ₺

.
Get the car right. And this rule becomes especially important if you still violated the first one. It's less likely that the manager will decide to cheat somehow if you do a proper inspection of a car.
Checklist how to get a car in Montenegro
I'll tell very briefly and clearly about how to get a car from a rental company. If all this is done, then the probability of being cheat is reduced significantly.
What do you need to take with you?
Car inspection process
Take out your mobile phone, camera or camcorder. Turn on video recording. You shoot the manager and then go around the car several times in a circle. Try to get all the damage and shortcomings of the car into the camera.
Mark everything you found on the car inspection map. This is usually done by the manager, and you simply control him. If there are no hubcaps, this is also important to indicate in the contract.
We take a close-up shot of all the places where damage most often appears. Such as:
Now you need to inspect the interior and check the equipment of the car. It is important to note the most noticeable damage, such as cut chairs (if any).
Also, do not forget to look in the trunk, niches in the doors and glove compartments. Children's toys or things from previous customers may unexpectedly be found there. It is better to immediately give them to the manager and let it be his problem now.
Checking documents and insurance
All important things have been checked. Now get into the car (when picking it up at the airport) or at the table (when picking it up at the office). Read the contract carefully. Normal managers themselves talk about key things. But read the docs anyway. Especially small print, if there is one in the contract. Check with the manager for anything that remains unclear. Don't rush, it's in your best interest.
Make sure all damages are noted in the contract. If there are no hubcaps or mats, this should also be noted. The deposit must also be registered in the documents.
---
Scary? Then just print this checklist and take it with you. It would be very useful in the first 2-3 times. It only seems that you remember and know everything. But in practice, many things are forgotten and you sign papers without looking at them at all.
Why shoot a video? It has several functions at once:
On the one hand, it will be evidence of damage.
Seeing such a serious approach, some of the crooks will be afraid to deceive you. It's one thing to try to deceive tourists who do not understand anything, quite another – experienced, who have all the evidence in their hands. They are afraid of the police.
It's very convenient for you. If the car is 5-7 years old, it will have "battle scars". Remembering everything is impossible. In the evening, you will definitely find new ones. Watch the video and make sure that you are not to blame for anything, and  that this scratch has already been there.
How and where to travel in Montenegro?
I will tell you about the places that I advise my friends to visit. Without boring descriptions and stuff like that. I'll just add a photo of the coolest places on the route and a link to the map.
Montenegro Canyons
Classic route: you drive from the coast along the Moraca river canyon, pass the Tara river canyon and look at the Đurđevića Tara Bridge. Then you reach the Black Lake and return back by a short, simple road.
The route "Canyons of Montenegro in 1 day" on the map
It would be a good idea to split the route into two days with a stop in Zabljak. Then you can additionally see Biograd Lake, high-mountainous Durmitor, Piva Lake. The places are incredibly beautiful.
If you have spare time, you can drive along the Bay of Kotor and see the towns of Kotor and Perast on the way back. Or go to Ostrog as an option. This is such a very famous and important monastery.
The route "Canyons of Montenegro in two days" on the map
Bay of Kotor
The idea is to go around one of the most beautiful bays on the Adriatic. We get to Kotor, then we look at Perast and then we move towards Herceg Novi. You can stop by Tivat on the way back.
In order not to waste extra time, use the Kamenari-Lepetane ferry.
The route "Kotor Bay" on the map
It would be a good idea to stop at some beach after lunch. Kalaradovo, Island of Flowers, Zhanitsa. There are many in the bay. Choose the one along the way.
National parks near the coast
You leave in the morning and go to the town of Cetinje. There you can see the Lipska Cave, the Cetinje Monastery, historical buildings in the city. There is an interesting miniature map of Montenegro made by the Austrians.
Then you drive to Mount Lovcen. Park your car and go up the stairs to the mausoleum. There is a stunning observation deck with simply unrealistically beautiful views of the mountains.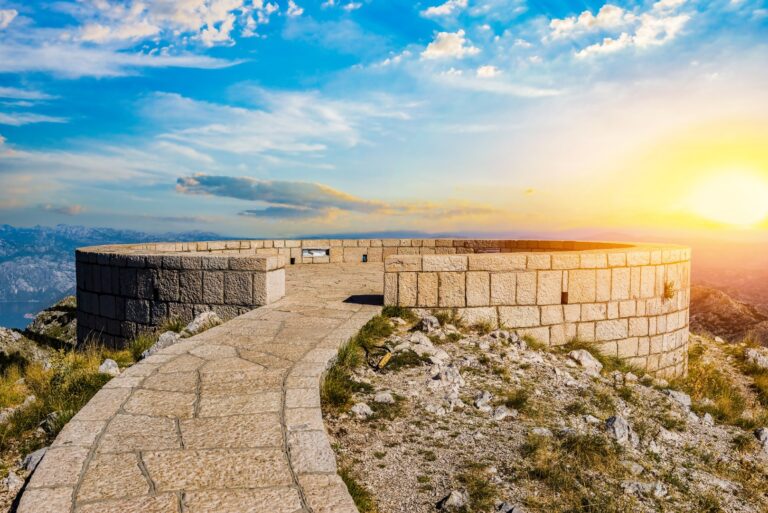 Then you go to Negushi. Have a lunch there. They make national cheese and prosciutto (something similar to Jamón). Drive along the old Austrian road above Kotor. Stop at every lookout. If there is time left, you can also go to Kotor. But you'll have to find parking…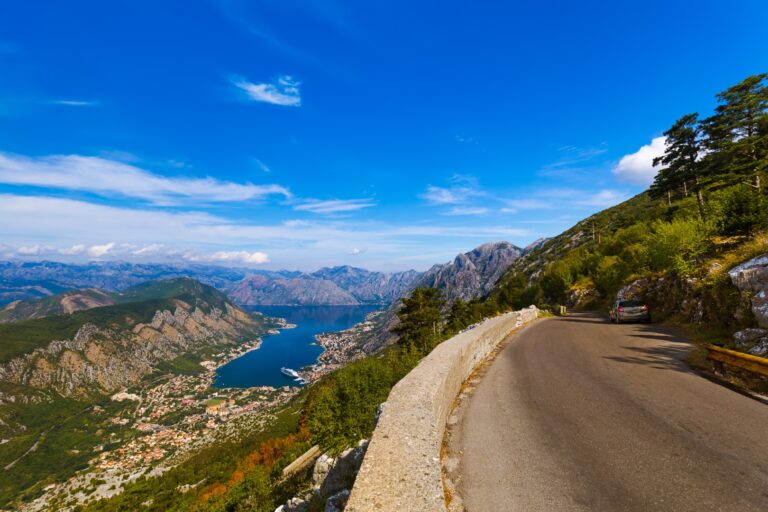 The route "National parks near the coast" on the map
Trip along the Montenegrin coast
The idea is to drive along the coast from Budva to Petrovac. You need to stop often. To walk, swim and see something interesting. Places to stop:
Old town and Mogren beaches in Budva.
Excellent sandy beaches in Becici and Rafailovici.
Park, beach and views of the island of St. Stephen.
The resort Petrovac and its health path.
The route "Beaches and towns along the sea" on the map
Skadar lake
Drive to the town of Virpazar. Hire a boat or canoe there. See the Skadar Lake and the Crnojevića River. If you have binoculars, be sure to take them with you.
This is a simple, relaxing trip. It will be especially cool to ride in August, when there is wild heat and crowds on the coast. It will be cooler on the lake, there are always few people there and the water is very clean.
The car route "Skadar Lake" on the map
trip to the beach
Montenegro has many great beaches outside the city. For example, next to Budva, I recommend Jaz and Ploce. See what beaches are near your resort. Perhaps it will be more interesting to rest there than in the city.
This "excursion" is especially relevant if you live in Petrovac. There is a catastrophic lack of beaches in the city. We were only saved by the car.
How to return the car to the rental company?
Returning a car is much easier than receiving it. Everything happens very quickly and conveniently. I'll tell you the two most common options:
Car return at the airport. Pull up to the airport parking lot. Take a ticket for parking (to raise the barrier). Write to the rental company. He will come, go around the car in a circle and return your deposit. That's it, you can fly home.
Return your car in the city. The hardest part is finding free parking. I often park on paid ones, because there may not be a free place in the center.
Then write to the car rental manager and explain where you are standing. He will come, just as quickly inspect the car and return the deposit.
---
If it so happened that you need to return the car much earlier, do not be too lazy to inform about it in advance. Otherwise, it may turn out that you rent a car in Tivat, and the distributor sits in Budva.
car rental in Montenegro Reviews
This article is one big review. However, it's cooler when you can get the opinion of different "experienced" people. Therefore, we wrote to all friends and acquaintances who were in Montenegro. Not everyone answered. But it's okay: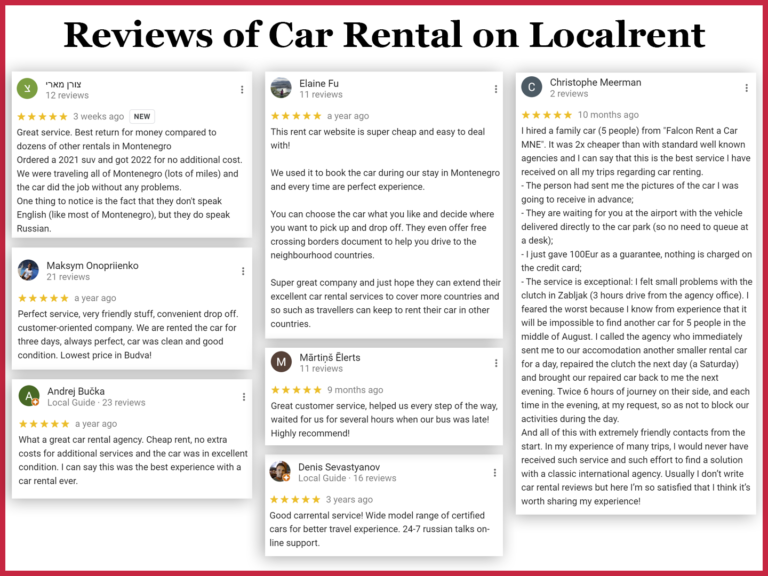 Did you take a car here? Don't be lazy and tell us how it went in the comments. This will greatly help other tourists to make the right choice.