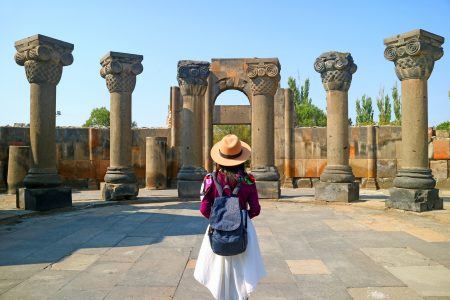 Hello. I am Alivia. I love Armenia, I fly there almost every year. So I decided to tell you how things are with taxis, transfers and trips out of town in this wonderful country.
Spoiler: taxi drivers are almost the only trouble that I constantly encounter there. You have to be very careful. Otherwise, they will deceive you!
All about taxis, transfers and transport in Armenia
Transfer or taxi is not the most important part of the trip. But this is the first thing we encounter upon arrival! You have to get there from the airport somehow. The transfer sets the mood for the whole trip. If you are deceived, then half the vacation will be negative.
The article is long and detailed. If you are in a hurry, read at least these short tips:
What is the best way to get from the Yerevan airport?
There is no ideal way. Some people value comfort, while others want something cheaper. The options are:
Do you want to rent a car for the whole holiday? Then it is better to pre-book a car with pick up at the airport. It's cheaper and faster this way. Websites, that are operating in Armenia: Localrent.com, Rentalcars.com and Economybookings.com.
Is comfort important to you? Book transfers on KiwiTaxi.com or Gotrip.ge. There is also Intui.Travel. They seem to be ok, but I haven't had time to ride with them yet.
Do you consider yourself an experienced traveler and know all the tricks of taxi drivers? Well, then you can take a chance and get a taxi at the airport. Maybe they won't deceive you.
Do taxi drivers cheat in Armenia?
Almost all of my acquaintances, when traveling to Armenia, faced deception from taxi drivers. It's almost the norm here.
What is the difference between a taxi and a transfer?
Taxis can be taken at the airport. The transfer is booked in advance and, in my opinion, is much more convenient. You will be met at the arrivals area, assisted with luggage and taken to the hotel. There is no cheating, no need to look for parking and bargain furiously to bring down the price to a more or less fair.
All the differences between taxis and transfers will be further in the article.
Where is the best place to book a transfer in Armenia?
I may only advise websites that I use. There are
KiwiTaxi.com
and
Gotrip.ge
. I checked them personally and they never let me down.
I am sure there are other services. But book there at your own risk.

Is an individual transfer expensive?
Not really. Taxis at the airport seem to be cheaper, but they deceive customers in almost 90% of cases. You will have to make a fuss and still pay more than a normal transfer would cost.

Is it difficult to book a transfer?
Of course not. Nothing complicated. You will do it in 5-10 minutes. I even prepared
detailed instructions
.
I have nothing against taxi drivers. In contrast, my best childhood friend works for Uber. But the Armenian taxi drivers just pissed me off. And not only once. So I will write as it is.
Yes, I will not show you such a rainbow picture as some bloggers. They focus only on the pros and present everything in a rosy light. I will write "as I see it". For which I apologize in advance if I suddenly offend anyone.
How are things with taxis in Yerevan?
There are a lot of taxi drivers in Yerevan. But there is no less deceit. You have to be very careful so as not to overpay 2-3 times in comparison with the fair rate. Inexperienced tourists are their first targets.
Airports and railway stations are almost entirely full of scammers. I had to take a taxi there several times. And I've always been deceived. I do not advise you to do the same.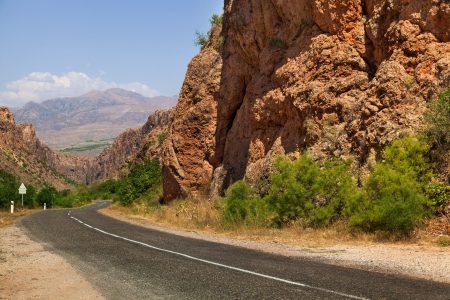 The easiest way to protect yourself is to pre-book a transfer. The price will be fixed, which means that it will not suddenly increase several times for some far-fetched reason.
I only use transfers and excursions in Armenia. It is not only more convenient and safer, but also purely psychologically more pleasant. I don't like being deceived. Especially as brazenly as it happens in Armenia, you know.
Where to book a transfer in Armenia?
A transfer is when you are met right at the airport, they immediately take you to the car and help with the suitcases along the way. It's much faster and more convenient than a regular taxi. The differences are here. I know following transfer services in Armenia:
Kiwitaxi.com is one of the most popular transfer services here. You can order a car from this service all over the world. I used it multiple times and I've always been satisfied. A well mannered taxi driver will come and take you wherever you want.
Gotrip.ge – I actively used their services in Georgia. And it was the best experience of such trips in my entire life. I don't know how they choose drivers, but the guys working there are simply amazingly sincere and cheerful. I am very satisfied.
In Armenia, this website is just started working. So there aren't many drivers. Let's see how it will be, I hope they will be successful. So definitely give them a chance.
Intui.travel – this website was recommended to me by a friend. But I haven't used it myself yet, so I can't really say. Looks decent.
Do Armenian taxi drivers cheat?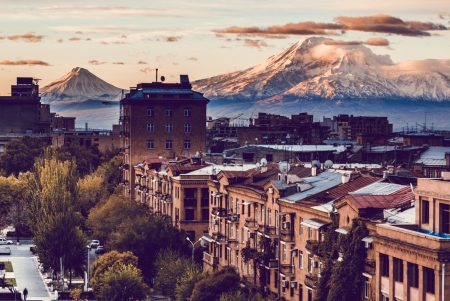 If this is your first time in Armenia, don't spoil your vacation and contact local drivers. You can try it later, when you start to see local map in your head and get a little involved in Armenian culture. They will deceive, but at least not so brazenly.
Do not start your vacation with a spoiled mood, book a transfer in advance. No matter what service you choose, Kiwitaxi, or Gotrip, it doesn't matter.
Here is the list of taxi drivers according to the "arrogance" degree:
Taxi drivers at airports. If you are flying to Yerevan or Gyumri, never take a taxi at the airport. These guys even manage to deceive native Armenians.
Taxi drivers at train stations. A similar situation. In impudence and bad attitude they can easily challenge taxi drivers from airports.
Taxi drivers off the street. Here, honest guys are already starting to come across. If they deceive, at least it wouldn't be so obviously and not for such a large amount.
Taxi drivers from mobile apps. They also sometimes inflate the price or roll in circles. But this happens much less frequently.
Taxi drivers from transfers. I have always ordered transfers on normal websites like Kiwitaxi.com and Gotrip.ge. I have never encountered cheating.
I saw reviews on the forums that if you order a transfer in an unknown place, they can deceive you. But still, this happens quite rarely.
---
Do you think I'm exaggerating? Not at all. It's funny, but even the Armenian prime minister raised the problem of deceiving taxi drivers at the official level. Can you imagine if we had something similar?
Of course, not all taxi drivers in Armenia are liars. There are decent people there too. But in my opinion they are clearly a minority.
One thing is good: taxi drivers are almost the only negative that tourists in Armenia will face. Otherwise, everything is very good here!
Why else not trust taxi drivers?
I also want to talk about another type of deception. This is not cheating with tariffs or a taximeter, but it's also interesting. And sometimes unpleasant. Examples:
Almost every taxi driver left a successful business abroad in order to return to his homeland and work here as an ordinary driver (sarcasm).
When traveling out of town, many will offer you to show you some unreal and amazing place nearby. You just need to pay a little more. In fact, they will bring you to an unremarkable church or river. I don't even know if this is a deception or just an Armenian tendency to exaggerate.
All Armenians have relatives around the country who make the best wine or cognac in the country, bake various tasty things, etc. In fact, there is nothing special in such places. Don't waste your time and don't buy anything there.
Most taxi drivers have a big business in Armenia. And they are working as taxi drivers just for the entertainment (also sarcasm).
---
Keep in mind that Armenians are generally love to exaggerate. Any taxi driver will tell you how he "threw out" three brand new Mercedes because they broke down, got into an accident, or he simply didn't like something. But at the same time, you will be driven in a car that is 15-20 years old. Well, such storytellers live here.
Do I need a taxi in Yerevan?
In fact, no. All the main sights, restaurants and shops are located in the city center. It is more profitable to pay a little more for good housing and not spend money on the local taxi drivers.
There are quite a lot of parks, monuments and sights in Yerevan. But almost all of them are in the center. And this is literally 2-3 kilometers from end to end. If you do not settle on the outskirts, than it's not a problem at all.
But if you want to see something outside the Armenian capital, then you can't do without a car. You can call a driver with Gotrip. This will be one of the cheapest and most comfortable options for tourists. But I would still recommend paying a little more and choosing an excursion.
Average taxi prices in Yerevan
As such, there are no fixed prices for taxis in Armenia yet. It all depends on the route, on the class of the car, on the greed of the taxi driver. But the average prices will be something like this:
0,2 €

≈ 0.21 $, 0.172 £, 0.772 Dh, 3.648 ₺

per kilometer. This is the price of a trip around Yerevan. There are already completely different prices for the drive to the airport or out of town.
Minimum rate is

1 €

≈ 1.05 $, 0.86 £, 3.86 Dh, 18.24 ₺

. Even if you drive five meters, you still have to pay

1 €

≈ 1.05 $, 0.86 £, 3.86 Dh, 18.24 ₺

.
Taxi drivers round up the cost of the trip quite often. Well, they almost never have change with them. In fact they might have, but they say it nonetheless.
---
Just something to say. The price above are viable "if you have not been deceived anywhere." But in fact, they try to deceive inexperienced tourists. Literally every second trip. Therefore, feel free to multiply the rates by two or even three. This way you will get just the real picture.
What is the difference between a transfer and a taxi?
The transfer is not really a taxi. It is more comfortable to use transfer, but this service also costs a little more. Now let's talk about the main advantages:
Fraud protection. If you book a transfer on any normal website (I personally prefer Kiwitaxi or Gotrip), then the trip will cost exactly as much as the website initially shows. This is very important in Armenia!
Even by calling a taxi through the application, there is no such guarantee.
It's as fast as possible. No need to look for a taxi on the spot or wait until the car that you order through the application arrives. Everything will happen instantly.
Meeting at the airport. They will meetyou  right at the airport arrivals area. Well, or under the doors of the hotel. No need to look for parking. It seems like a trifle, but when you need to drag a couple of suitcases and keep an eye on the children,it matters.
No need to bargain. To leave the airport for more or less adequate money, you will still have to bargain, get around about five cars, etc. Otherwise, pyou'll ay twice as much as for a good transfer.
No language barrier. Usually transfers are handled by taxi drivers who speak English at least a little. It's more comfortable to drive with such drivers.
Better drivers. In general, more interesting people came to me with a transfer than ordinary taxi drivers.
Delivery to the door of the hotel. Even if you have agreed on a price for a trip from the airport, it often turns out: "This is the price only to the center. And you want me to get you to a hotel? Well, then it'll be twice the price!" This isn't the case with transfers.
---
Now let's look at prices. If you are an experienced tourist and you can avoid all the "scams" of Armenian taxi drivers, then the transfer will cost about 30% more. If you are an ordinary girl like me, then the transfer, on the contrary, turns out to be 2-3 times cheaper than catching a taxi on the street.
How to get from Zvartnots airport to Yerevan?
Personally, I advise you to use taxis and transfers in Armenia only for trips from the airport and back. There is nowhere to go in Yerevan. And it is better to see the country with a normal tour or by car. You lose a lot without a guide.
How to order a transfer to Yerevan?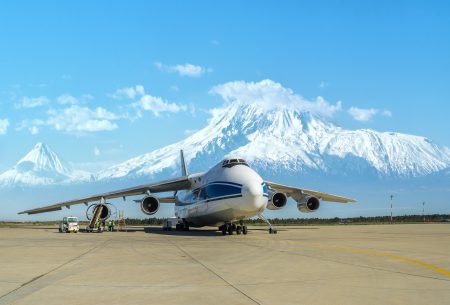 The easiest way is to go to Kiwitaxi, Gotrip or Intui.travel websites. There you can easily find the right car and route. The prices are final, which is convenient. This way you don't give taxi drivers a field for "fantasy".
I will show the process of booking a transfer using the Kiwitaxi.com website as an example. It is the most popular, and I used it most often. Well, I know how everything works there, so it's easier for me to show you guys with srceenshots and stuff like that.
Instructions for booking a transfer in Armenia
I'm just about to book my transfers for the summer, so I'll put on some screenshots. The only thing is that I won't show my personal phone number, I entered random numbers there. And you should enter yours.
And now a small illustrated instruction for booking a transfer from the Armenian airport Zvartnots to Yerevan and back:
First I go to the Kiwitaxi.com website. If you use this link, it will immediately show all routes from Zvartnots Airport in Yerevan.

Booking transfers in Armenia. Step 1: Where do you want to go?

If you need a transfer from other location, not from the airport, then follow this link and fill in where you want to go from.

Booking transfers in Armenia. Option 2: choosing the right direction

Let's say we need to get into the city. I think this is the most common route. You need to choose following: " Yerevan airport «Zvartnots» – Yerevan".
The website will immediately show which car you can choose. I usually choose Economy or Comfort. Although if you're without suitcases, then you can take Micro.
Then press the "Select" button and fill in all your data, as in the screenshots. The flight number is needed so that the driver meets you correctly, and the phone is needed so that you can definitely find each other.
If you want a return transfer, book immediately, so as not to waste time later. My bank once blocked an Internet payment from Armenia. Such a headache out of the blue… Since then, I have been trying to pay for everything from home.

Next, choose a payment method. You can immediately pay the entire amount via bank card, or you can only pay a small deposit. Then you will have to pay the rest in cash to the driver. Preferably already in Armenian drams.

Different methods of transfer payment on the website

I recommend paying for your order online. Then the taxi driver will not declare that he has no change. And where will you get local money on the first day? The exchange rate at the airport is disgusting. I would not advise anyone to change there more than 10 $ ≈ 9.5 $, 8.2 £, 36.7 Dh, 173.6 ₺ for urgent expenses. There are much more profitable exchange offices in the city.

Payment by card is like on any other website. Enter the card details, click "Pay" and that's it. You'll find a voucher and all contact information on your email. You can pay in euros or any other currency. Your bank will make the necessary conversions.

Payment for transfers via the bank card on the KiwiTaxi website

In the arrivals area of the airport there will be a driver with a sign in his hands. Usually this is a piece of paper with your first and last name written on it. Approach him, say hello and drive to your hotel. Nothing complicated!
It's approximately 12 kilometers, about 20 minutes if you don't get stuck in traffic and don't have to circle around the city for a long time in search of a hotel.
---
Seems like I told everything there is. Try it. It's not difficult at all. I manage to book transfers literally in 5-10 minutes. It's very simple and will save you up to an hour of vacation time. It is better to sit once again in a colourful restaurant than to stand in line at the airport exchange office, and then also bargain furiously with taxi drivers.
Car rental at Yerevan airport
The second option to get from the airport to the city is car rental. It is nice option if you still plan to take a car to travel around the country on your own and see everything. It's a good idea these days.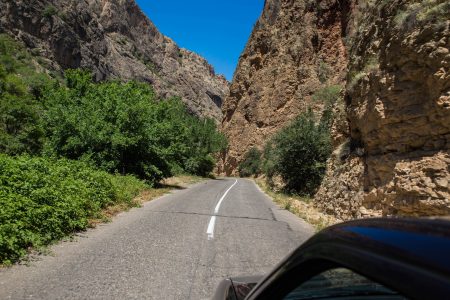 You can get a car right at the airport. I used the Localrent.com website. I additionally double-checked the prices on Rentalcars.com and Economybookings.com, but it was noticeably more expensive for my dates.
I am satisfied with the rent, so I can safely recommend the Localrent service. As for Armenia, they have very good cars and reasonable prices. The rental companies are also good, they aren't deceive tourists.
On the spot, especially at airports, it turns out more expensive. And the cars are not always good. If you are looking for a "cheaper" one, they will give you an old car with bald tires.
May come in handy: Amelia has a cool article about car rental in Armenia.
Is public transport worth it?
Yerevan is a big city. Capital. Of course, there are buses, minibuses and even several large bus stations. But it's better not to bother with all this. Everything is very chaotic. The schedule is constantly changing and no one knows it for sure. If the bus is on schedule, it is not certain that it will arrive. In general, there may be a lot of problems. The locals are used to it. But it will be hard for a tourist.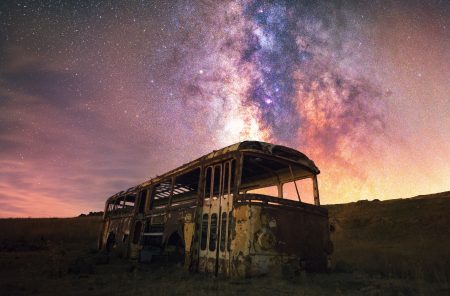 It will be very difficult for you to adapt. Even if you read the entire Internet, visit old and new forums and websites, you will still lose more than one hour here on the spot. If you come to Yerevan to live for a few months, there will be at least some sense. If you come here to rest for just a week, it's more profitable to overpay for a taxi and save time for sightseeing or going to that amazing cafe over there.
How to travel around the country by taxi?
I think that traveling around the country by taxi is not very profitable. The fact is that Armenian sights are not so impressive. You will see just a lake or the ruins of an old temple without historical context and an experienced guide. It's a little boring. Well, there is no such effect of novelty.
Therefore, I would arrange the ways to travel around the country something like this:
Excursions in Armenia. The best way to see the country. Such a trip costs a little more than the option from a taxi driver. But the difference in price is not so big.
But you will have an experienced guide with you, who will be able to show the country and its attractions in a much more interesting way. I have 100 times more good memories from excursions than from ordinary trips with taxi drivers.
Car rental in Armenia. Take a car and travel wherever and however you want. This is not much different from a taxi at a first glance. But your emotions will be completely different. There will be a feeling of a pioneer for the sake of which it is worth going to Armenia. You can plan an interesting route with overnight stays in picturesque places. Well, just stop by the restaurant you like, if you suddenly get hungry. In general, it is more interesting to travel by car than by taxi.
There are a couple of other pluses as well. Renting a car is cheaper than taking a taxi. Well, and it's good that you don't have to endure arrogant and obsessive taxi drivers.
Amelia has a good article about car rental in Armenia. It's interesting there.
Taxi and transfers. For me, this option is at the very end. I don't really like to drive even with good drivers from Gotrip. Well, with ordinary drivers "from the street" I will not go at all for any money. Travelling with most of them will only spoil your mood…
---
If you didn't like the options I suggested above, you can try another methods. Feel free to ask for the phone number of the taxi drivers you like. Got an airport transfer? Got a good driver? Take his phone number. Then you can call and arrange a trip out of town.
Why is a taxi expensive outside of Yerevan?
Roads in Armenia are in rather poor condition. In Yerevan and its environs, they have already been more or less patched up. But it is worth driving at least 50 kilometers from the city and real adventures begin.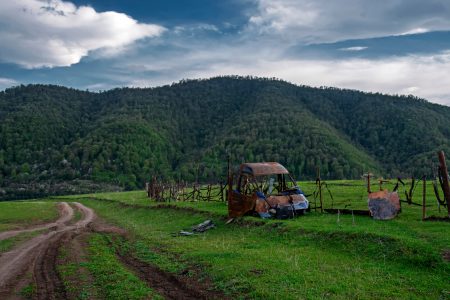 It goes without saying that cars are quickly dying on such roads. Taxi drivers sort out the suspension almost every couple of months. And all this is included in the price. Wow, how many complaints I have heard about Armenian roads. Every driver considers it his duty to discuss this topic…
Well, there are horses and other animals on the roads. They are also not always behave like expected. Sometimes cars get damaged. Again, repairs have to be included in the cost of the trip. That's why it's expensive.
My conclusions about taxis, transfers and transport in Armenia
Well, we briefly summarise the most important thing at the end of the article:
Tourists should not mess with a taxi. They may deceive you. It's not even about the money. It's just that the it spoils your mood and it's no longer possible to relax comfortably.
Book a transfer right away on Kiwitaxi.com, Gotrip.ge, Intui.travel or any other websites. It will be cheaper and more comfortable.
Public transport works more for the locals. It is quite difficult for tourists to understand it. Yes, and it makes no sense. All the sights are closer to the center in Yerevan. And you can't take the bus out of town.
Do you want to see Armenian sights? The best way to do this is with a normal excursion. You can also take a taxi. But the guide will show his country many times more interesting than the usual driver. Armenian sights are more about history and subtle nuances. I would only go with a guide.