Hello. My name is Garry. I often fly to Prague with my friends for business and leisure. I love the Czech Republic very much and travel around this country with pleasure. Since it is most convenient to do this on a rented car, I'll be happy to share with you the experience I gained over almost ten years. Would it come in handy?
Where and how to rent a car in Prague: the most important things
I have quite a lot of experience, I want to share all the nuances and subtleties. The article turned out great, but a bit long. Therefore, for convenience, I decided to tell as briefly as possible all the most important things at first:
What do you need to rent?
Driving license. An International Driving Permit (IDP) is not required. But if you have it, it's better to take it with you. Situations are different, you know.
Aboutto the age of the driver and his experience, each rental company may have its own requirements. Regular requirements: 2 years experience and age from 22 years. But even if this is not the case, there are options.

Where to tale a car?
I recommend
Localrent.com
. Usually it is cheaper there, and customers are treated better. I use this site the most.
If you want to save as much as possible, check the price on Rentalcars, Economybookings and Discovercars. Sometimes there are discounts and promotions..

Is it safe to rent a car?
Traffic in both Prague and the Czech Republic is quite calm. I don't feel here even the slightest discomfort.
Roads are good and drivers are friendly. On Localrent, which I recommend, all cars are insured under TPL+CDW. The franchise is also small.

When to rent a car?
It's better not to delay.
Book right now
. The sooner you start searching, the wider the choice and the lower the prices.
If you book literally 1-2 days in advance, there is a small chance to "catch" the promotion. But this happens only out of season and even then quite rarely. Usually prices go up.
Local or international distributor?
Not essential. Service and honesty depend more on the specific company. There is no such thing that locals lure with low prices and then cheat you somehow. Large companies also keep the brand.

Car rental alternatives.
If you don't drive a car, look towards excursions in Prague. Start your search with
Viator
or
GetYourGuide
.
Another good idea would be to rent a car with a driver. Then you don't have to sit behind the wheel all day and you can try all kinds of beer at the factories.
Where to go?
There are many stunning castles and national parks around Prague. Build the route depending on what you like best. That's the beauty of car travel.
For those who don't want to waste time, I give you a link to interesting routes in the Czech Republic from Localrent.com. There are some good ideas for a first trip.

Why do you need a car in Prague?
Renting a car is not always profitable. It all depends on why you are flying to the Czech Republic. Let's be as honest and clear as possible:
If you want to fly to Prague for 2-3 days and do not plan to leave the city, there is no point in renting a car. There is a problem with parking in the center. Traveling by taxi or public transport will be more convenient, faster and cheaper.

There is an exception: it is still better to take a car for a family with two small children. Finding a taxi with two child seats is not a trivial task.

If you plan to see the surroundings of Prague, then renting a car makes sense. It will be significantly cheaper and more convenient than a taxi. Even within an hour's drive from the city, you can find dozens of castles, interesting towns and beautiful natural places.
If you plan to see the Czech Republic in its all glory, then renting a car is more profitable than riding buses (I think for a family of 2-3 people).
We used FlixBus. For tickets to Karlovy Vary and back, we spent

14 €

≈ 14.7 $, 12.04 £, 54.04 Dh, 255.36 ₺

per person. You can rent a car for

20-25 €

≈ 21 $, 17.2 £, 77.2 Dh, 364.8 ₺

per day.
If the Czech Republic is only the starting point of the trip and then you go to Germany or Austria, it is better to take a car in the Czech Republic. It'll be 1.5-2 times cheaper.
There are many cars on Localrent.com with a free Green Card. Once I saved more than

500 €

≈ 525 $, 430 £, 1930 Dh, 9120 ₺

on the difference in rental prices between the Czech Republic and Germany.
What is the best place to rent a car?
It all depends very much on what you need to get from the lease. If you want a new cool car, then it's better to look at the offers of international companies. They can be found on Rentalcars, Economybookings and Discovercars.
And if you want to save money or a car with specific advantages that are important to you, such as: a large trunk, a lot of space in the back or fuel-efficiency, it's better to contact local companies. Their offers can be found on Localrent.com.
International rental companies and metasearch engines
Pros:
Large choice. International rentals probably have the largest and most diverse car fleet in the country. There is almost always something to choose from. Even if the vacation is in August and you need a car literally for tomorrow.
New cars. You may come across brand new cars with low mileage.
I rented a car in Prague through international companies about 10 times. Once I came across a practically new car from BMW with a range of  around 1000 km. In 4 cases, the cars were not older than 2 years.
You may return your car in another country. Since the companies are international, sometimes it turns out to take a car in Prague and return it somewhere in Berlin or Paris.
This makes it possible to plan large trips around Europe.
No mileage limit. I have never encountered mileage restrictions at the international company.
Some small local companies even have options with a limit of only 100 km / day.
Promotions and discounts. At the end of the reporting quarter, international rentals can offer really big discounts in order to complete the plan.
Well, or they give you full insurance with a zero deductible.
Cons:
Prices and deposits. Deposits and prices in international rentals are usually significantly higher than those of small local distributors like Localrent.com.
For example, when renting even an economy class, they may ask for a deposit of more than 500-1000 € ≈ 525 $, 430 £, 1930 Dh, 9120 ₺.
Unclear rules. I've rented cars from international car rental companies many times and have never been able to find out the full terms before making an advance payment. Something always had to be clarified on the spot. For example:
Will I be able to get a car at one o'clock in the morning?
What exactly will be the deposit for my car?
How much does it cost to rent a child seat?
Will I be able to pay with a debit card?
How much will a Green Card cost?
It also makes me mad that they can show me the promotional price without insurance at all, etc. In the meantime, when you get to the reservation, it suddenly 1.5-2 times higher.
Gotta be careful. You have to carefully read the contract and ask for each number in it.
Car class booking. Car class is a fuzzy thing. If you need a car for tall passengers or with a large trunk for 3-4 suitcases, there may be problems.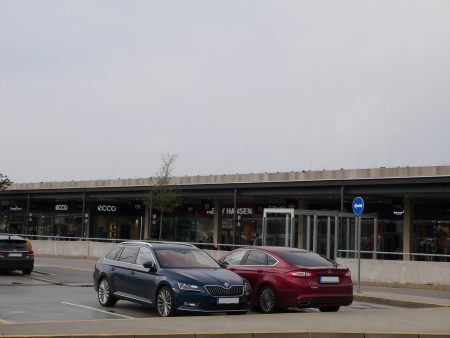 If you read these online-blogs, it seems that international companies are deceiving customers at every turn. I remember how I was really afraid to the point of paranoia after reading reviews 10 years ago.
Some international companies operate on a franchise basis in resort countries like Cyprus, Greece and Montenegro. These are just local companies who simply pay for the right to be called Hertz or Avis. They may not be very tightly controlled, so trouble does happen.
Everything is quite nice in Prague. No one is deceiving anyone. Most of the angry reviews are written due to the fact that people were too lazy to carefully read all the terms of the lease. They are not always obvious and are clearly written in the interests of the company, not the client.
The level of service, the quality of cars and the number of hidden conditions will directly depend on the company where you rent a car. Either cheap and with high risks of losing a deposit, or more expensive, but more reliable.
No one has objective statistics, but if you add up the experience of a dozen of my rentals with the reviews of friends, you'll get something like this:
Pricey but good: Europcar, Hertz. Lots of interesting cars, few hidden fees, good service and almost no queues.
Price / quality: Avis, Sixt. Also good distributors, but you have to be a little more careful and do not sign the contract without reading it from A to Z.
Economy class: Budget (from Avis), Green Motion. Good distributors with low prices. But you have to be careful with them.
The list includes only those distributors that I used myself. I can recommend them more or less, but I advise you not to carefully read the contract and ask for EVERY number-option in the contract. Otherwise, it's easy to lose a decent amount of money by purchasing medical insurance, luggage insurance or car upgrade for 300-500 € ≈ 315 $, 258 £, 1158 Dh, 5472 ₺.
Specifically, in Prague, I used the services of international companies more than ten times. They almost always gave out fairly new cars.
Once I was even lucky to get a restyled BMW X7 that had just come out at that time with a mileage of up to 1,000 km. Almost like new.
Small local distributors
Most of all I like to rent cars in small private companies. When I first started to go through all this, it seemed that Hertz or Avis should have the best service.
And then I noticed that small family firms, where they have up to 10 cars treat customers many times better than large businesses. Somehow everything happens more sincerely and more honestly. Because they are very interested in each client.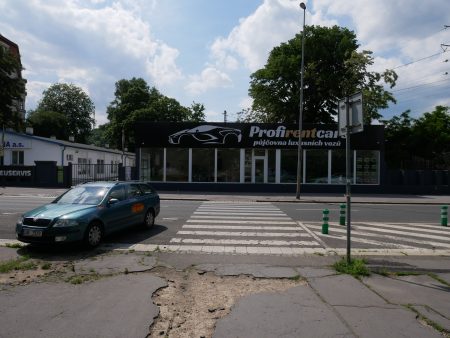 The problem is that finding such a rental is very difficult. It is difficult to distinguish a good company from scammers by a sign, website or reviews on the Internet.
I chose the Localrent.com website for myself, where offers are collected from just such family car rental companies. I don't know how the guys choose them, but I haven't had a single problem with them yet. And this is a very cool indicator. For example, in Germany I get  every 5th trip "with a surprise".
---
Advantages of small local car rental companies in Prague:
Prices. Everything is usually noticeably cheaper in small companies. You have to pay less for a car, pay less for insurance, the deposit is also more modest.
Service and attitude. When the owner of the company is personally engaged in business, he is selfishly interested to give the best experience to the client. And hired staff thinks only about how to make it faster and easier to reach the evening or weekend.
That's why small companies are ready to deliver the car to the door of the hotel or to any place hat is convenient for you. Sometimes for a fee, but even in the middle of the night. You can even ask for a local SIM card or a pack of water in the car.
There are some other benefits as well. For example, I once rented a premium car from Economybookings. The deposit was

50,000 czech koruna

≈ 2000 €, 2100 $, 1750 £, 8000 Dh, 37000 ₺

. It was frozen on my credit card and returned almost a month later. The next time we took Genesis with business partners on Localrent.com, the deposit was almost 2 times less. I gave it in cash in euros and got it back when I returned the car.
Conflict situations. They try to resolve them faster and more honestly. For example, if you got a small scratch, they can generally pardon you and wish a good flight. In case of serious damage, they will contact the car service and specify the price of the repair.
And if it's a large company, the manager will act strictly according to the instructions. It is said to calculate the total cost of replacing the bumper – so it'll be this way.
Honesty. Usually, the terms of lease for small companies are simple and intuitive. No hidden points and vague wording. The manager will always explain how everything works and remind you that insurance does not work on the dirt road. Or he'll make sure you're aware of mileage limits.
I'm not saying that the big companies are trying to cheat you at every opportunity. You just have to read all the conditions in small print. And sometimes very interesting things are written there…
Specific machine. You cannot book a specific car in large companies. Only "car class". And no one will say in advance which car will come to you.
It doesn't seem to matter until the moment you arrive with 3 suitcases and you'll get a car with a small trunk because "it's in the same class."
Localrent cons
The main disadvantage of Localrent.com is a small selection of cars. They have a very strict quality control: work only with trusted distributors, and there are not many of them.
For example, I prefer to rent good cars no older than 2-3 years. There are only 28 cars of 2018 and newer on the site. Of these, only 5-10 cars are really interesting. If you do not book anything in advance, then it's quite possible to be left without a car at all.
Well, or you have to take a car from the economy segment. For some reason, it is uncomfortable for me to change from the usual E-class to Sk0da Rapid. The feeling of vacation is different in economy class.
Exactly the same picture with premium cars. They all can be counted only with your fingers. And in the summer they are all already taken. Therefore, you have to book in advance.
How much does it cost to rent a car in the Czech Republic?
Our IT specialist said that it is most convenient to add prices from Localrent.com into our website. I also like this option: it's quite convenient interface and you can immediately understand how much which car will cost.
How to rent a car in Prague?
I will show you on the Localrent.com example. It is the most understandable and customer-oriented service. Best for first rental experience.
Only later, when car rental experience will not be some kind of unique event for you, you can start using Rentalcars, Economybookings and Discovercars, thoroughly read their conditions and information about surcharges, deposits and franchises hidden in the depths of site.
What documents and driver's license are needed to rent a car in the Czech Republic?
Each rental company may have slightly different requirements. Localrent has the following:
Driver's age: 22 and older.
Driving experience: from 2 years.
Driver's license: regular. But if there is an IDP (international driving permit), it is better to take it with you.
Credit card: part of the car is paid in cash, rest – by credit card.
Passport: take it with you when you pick up the car.
If you don't have something, you can write to the support. They'll pick up the car for you, all things considered.
---
Now about nuances that you will not always find on websites:
When renting a car at an international company, there must be a credit card in the name of the main driver. It is not always possible to pay from your wife's card. Better to have multiple cards.
Don't confuse a credit card with a debit card. The credit card should have three-dimensional letters and your first and last name. Not everyone accepts debit cards.
Each rental company has its own requirements for the age of the driver and his experience. Sometimes they are unreasonably tough. I even met once something like this: at least 30 years old and 7 years of experience. Otherwise, you'll have to buy expensive insurance.
How to rent a car without a credit card and prepayment?
You won't be able to rent without a card. The site asks for a deposit of 10-20% so that the rental company secures the car for you.
Renting without prepayment is not reliable. It's like a verbal agreement. It seems you have it, but it doesn't mean anything. If suddenly another client appears who is ready to make an advance payment, they will give him your car. And they'll tell you a fairy tale about a terrible accident.
IN CONCLUSION: you can rent a car without a credit card and prepayment. But usually such booking is not accepted by the most reliable companies. And there will be no guarantee that you will get your car.
Should I be afraid of prepayment?
I'm not afraid. If the trip fails, you can cancel the reservation and the deposit will be returned in full.
Specific cancellation conditions depend on the car:
Most cars can be cancelled within 24 hours (shield icon on the website).
Luxury cars and SUVs must be cancelled at least 30 days in advance.
For the rest of the cars, the standard rules apply: cancellation for at least 7 days in advance.
If the trip was canceled quite unexpectedly and you didn't have time to cancel the rental in advance, then you will most likely lose the prepayment. But this happens very rarely in life.
But it is not necessary to pay a deposit and the cost of car renting by card. Most Localrent.com car rental companies accept cash. The site writes about it even before the application is made. Here's what it looks like:
The payment method seems like a small thing, but in fact plays a huge role:
It's better to pay in cash if it's important that the deposit is returned as quickly as possible. I choose this option if I take a car in the first half of my vacation and then I plan only to walk.
It's better to pay by card if you plan to return the car at the airport. Otherwise, the deposit will be returned to you in Czech koruna. And you know about the exchange rate there. You'll loose at least 20-30% of the amount.
Why is it better to book a car in advance?
I always book a car as far in advance as possible. I've been taught by bitter experience. Let me share my arguments in case they'll help someone:
Choice and Prices. The earlier you book a car, the more choice you'll have. You understand that in the beginning people book the most profitable options. These are usually the cheapest cars and the cars with the best value for money. Booking a car 5-7 days before the trip is more profitable than 1-2 days. Well, if you delay, you'll have to choose from what is left.
Paradoxically, the same car on the Internet can cost significantly less than in the rental office. Because online people compare prices with other offers. In the office you're ready to take what they give to you.
No queues. Save a lot of time (especially when renting with a small company). Standing in line at the airport after a flight is not a good idea. Personally, I would not recommend starting your vacation like this.
If you're flying with your family, think about the children. If you arrive with a beautiful girl, it's better to quickly move to the hotel in order to "rest". Well, or at least take a walk in the center and sit in a colourful cafe.
Calm Choice. It is easier to choose a car at home than on the spot in the office. You are not in a hurry, you can check the prices on different sites and carefully read the conditions. As I said, they are very important: a car that is cheap initially can end up being incredibly expensive.
Usually there are an atmosphere of haste in the office. Yes, I don't want to waste time. Well, there's no vast comparison. Would you go around a dozen offices all day and read their contracts in search of the best price?
Pick up at the airport. By booking a car online, you can get it at the airport faster. Helps to save money on transfer to the city.
Early car pick up. You can pick up the car even at 5 am and drive early. Get ahead of traffic jams and save daylight hours.
Protection against fraudsters. You can check the reviews while sitting at the computer, make sure that the site was not created yesterday, carefully study everything. When booking through the sites that I've indicated, you may rely on their reputation.
But if you enter the first office with a beautiful sign you come across, it's easy to fall for the bait of not entirely honest managers. You may end up renting with not the most favourable conditions that will include a bunch of extra options and insurances in the contract.
---
If you decide to book a car now, here are links to companies that I personally checked:
Which car Would suit you better?
When choosing a car, you must first decide where you will go on it. It also important how many people will sit in the cabin and how much luggage you have. Having dealt with that it will immediately become obvious which car is better to take and why:
Small cars are ideal for short trips around the city: they are cheaper and easier to park. A large trunk is also not needed, because all things will be stored in the hotel.
If you plan to go to the mountains, with family and children, you need a powerful car. It's very difficult to overtake in a small car in relatively dense traffic. There are slow drivers even in the Czech Republic.
If you have a lot of luggage, then you need a large trunk in the car.
If you're planning long journeys, it is better to pay extra for a more comfortable car. It is comfortable to drive around the city in a tiny subcompact. But when traveling on a long distance it will no longer be convenient. Especially for passengers in the back. If there are children, they will kick the back of the chair with their feet.
---
Now a few subjective tips that I've made from my own experience:
Take a car of the same class that you drive at home. If you are used to driving a large comfortable car, you should not rent a small car for the sake of saving a few euros. It'll spoil your mood for the whole vacation.
Sometimes it makes sense to take a car a little better than you usually drive. This will give additional pleasant emotions.
Take or don't take Skoda. There are indeed many cars of this brand in the Czech Republic. Because it's their manufacturer. On the one hand, it's good – you don't stand out from others. On the other hand, finding a car in a parking lot in an unfamiliar place is more difficult.
Don't take old cars. The older the car, the more problems with it. Either the air conditioner does not work well, or the alarm is sometimes buggy. It's easier to rent a new car for almost the same money.
Two cars are better than a minibus or minivan. If you are traveling with two families, there is a desire to rent one big car. This is almost always very inconvenient in real life. You have to stop constantly. One child asks to go to the toilet, then another. Getting off the bus is a whole process.
The interests of a large group may not coincide. Someone wants to go to the mountains, someone to the brewery, and someone to see the castle. It's easier to please everyone with two cars.
I would say that minibuses are cheaper, but this is also not the case. Almost always for the same money you can rent two good cars.
Do not take premium if you're on a tight budget. An expensive car is also a big risk. For example, for the Genesis G80 I left a

1000 €

≈ 1050 $, 860 £, 3860 Dh, 18240 ₺

deposit. And if I got into an accident, I could lose all this money. Deposit for small cars only

200 €

≈ 210 $, 172 £, 772 Dh, 3648 ₺

.
On the other hand, if you get into an accident, it is better to have a reliable car with a bunch of assistants and airbags. Still, health is more valuable than any money.
car rental with children
It's important to consider a few things when renting a car with children:
Trunk size. Economy cars usually have very modest trunks. A couple of suitcases and a stroller do not fit. It's simply not comfortable.
Back seat. If you don't want your child to drum their feet on the back of your chair, take a bigger car. Small cars are uncomfortable.
Engine capacity. Economy cars normally go uphill with one passenger who only has a backpack in his luggage. When there is a family of 3-4 people inside and 3 suitcases in the trunk, you want a more powerful engine. Otherwise, you can stuck behind some kind of tractor for two hours, because it's impossible to overtake it.
Child seats. When renting a car, you can also take a child seat. It can be given free of charge, or it can cost up to

28€

≈ 29.4 $, 24.08 £, 108.08 Dh, 510.72 ₺

. They usually give out the simplest and cheapest ones. Because they are suitable for all children. If you want anatomical, bells and whistles – take your own.
Pills for motion sickness. Even if the child does not get motion sick at all at home, it is not a fact that it will be the same when driving through the mountains in a rented car. Car suspensions are different, roads too. So I take pills and bags.
Sun screens. If you leave the car in the sun, after half an hour it'll be hellishly hot. Adults will endure, but children will feel bad. The air conditioner will cool the air in just 5 minutes in premium car brands.
If you book an inexpensive car, it's better to take care of the sun screens on the windows. And no one will look inside your car at the same time.
Toys for kid. In order to your child has something to do on the road, take some toys with you. Well, or download fairy tales on your phone | iPad.
Stops en route. Driving 500 kilometers in a day is not a problem for adults. But children need more stops then adults. Therefore, it's better to plan a route based on 150-300 kilometers per day.
---
IN CONCLUSION: it's better to take a medium or large car with a roomy trunk and a powerful engine for a trip with children.
How to compare car prices?
Each we site has its own pricing and terms policy. For example, international car rental companies like Rentalcars, Economybookings and Discovercars don't like to immediately show the cost of insurance, deposits and various fees. Localrent.com, on the contrary, prefers to give the final price everywhere.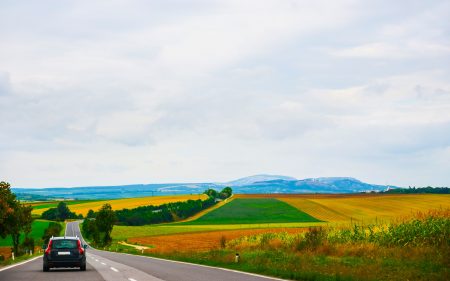 You must reach the last stage of booking when comparing options on different sites. The price can go up a lot for unknown reasons.
And do not forget to read everything that is written in small print and uncheck the extended insurance boxes. And even so, there are no guarantees that the chosen car will be the most profitable: they can easily ask for a surcharge on the spot.
Personally, I don't like to spend a lot of time searching. Therefore, I often use Localrent.com – they have very clearly defined all the conditions. It's immediately clear how much you have to pay for the car and which one is more suitable for me.
---
If the task is just to find an inexpensive car, I recommend you not to fall for marketing tricks. A small price per day does not mean that you will pay less (examples here). Everything must be counted. Here are some ways in which you can easily add a decent amount to the actual cost of rent:
Delivery charge. An inexpensive car costs

20-25 €

≈ 21 $, 17.2 £, 77.2 Dh, 364.8 ₺

per day. Some strange car rental companies charge up to

30 €

≈ 31.5 $, 25.8 £, 115.8 Dh, 547.2 ₺

to deliver a car to the airport. The price in

10-17 €

≈ 10.5 $, 8.6 £, 38.6 Dh, 182.4 ₺

for Prague is considered normal. Delivery to the city is possible too, but also paid. There are companies from which you can't take a car at all without paying for delivery.
And you can easily find a car for

25-30 €

≈ 26.25 $, 21.5 £, 96.5 Dh, 456 ₺

with free delivery.
Mileage limit. If the car is suspiciously cheap, it may have a mileage limit. Usually it is 100 km/day. It is comfortable for me to drive 200-300 km per day: you have time to see something and you are not in a hurry. For exceeding the mileage, you will have to pay extra about

19-40 €

≈ 19.95 $, 16.34 £, 73.34 Dh, 346.56 ₺

.
Child seats and options. Prices for child seats, the second driver in the contract, the navigator and other goodies depend on the car and the rental company. For example, one company gives child seats for free, while another asks for

14-28 €

≈ 14.7 $, 12.04 £, 54.04 Dh, 255.36 ₺

.
Insurance. The cost of insurance may also vary. Somewhere they are immediately included in the price, and someone gets a "surprise" when receiving a car: pay extra

50-300 €

≈ 52.5 $, 43 £, 193 Dh, 912 ₺

for insurance, otherwise we will not give you the car and will not return the prepayment.
Fuel consumption. Older cars are usually cheaper. But they also consume more gasoline. Even if you do not drive very actively, you can easily lose extra

5-15 €

≈ 5.25 $, 4.3 £, 19.3 Dh, 91.2 ₺

per day due to an uneconomical engine.
Taxes and fees. There is a phrase that goes something like this "local fees are paid locally". This makes it easy and perfectly legal to add up to

100-200 €

≈ 105 $, 86 £, 386 Dh, 1824 ₺

to the final price. And you'll find out about it only when you receive the car, so you can refuse to rent only by losing the prepayment.
---
Real life example: a cheap car is expensive!
I spent quite a lot of time studying the Czech car rental market and noticed that most of all different surcharges occur when renting initially "inexpensive" cars. Sometimes the real price of renting an old small car is even higher than that of a normal relatively new car. Let me show you with an example:
Last time I needed a car for four days. I showed the Czech Republic to friends with a child. It was necessary to get a car at the airport, go to Karlovy Vary and Český Krumlov, at the same time take a walk through the castles and mountains. Traveled approximately 850 kilometers.
Now let's compare prices. We will do it using Localrent.com. They do not cheat tourists, but even different conditions for distributors eventually lead to interesting results. Here are three options:
Supposedly "cheap" option. Honda City 2013 with manual gearbox. Price is

24 €

≈ 25.2 $, 20.64 £, 92.64 Dh, 437.76 ₺

per day. Delivery to the airport for additional

17 €

≈ 17.85 $, 14.62 £, 65.62 Dh, 310.08 ₺

. Child seat cost

8 €

≈ 8.4 $, 6.88 £, 30.88 Dh, 145.92 ₺

, co-driver

4 €

≈ 4.2 $, 3.44 £, 15.44 Dh, 72.96 ₺

. Overmileage fine is

86 €

≈ 90.3 $, 73.96 £, 331.96 Dh, 1568.64 ₺

or you can remove this limit for

76 €

≈ 79.8 $, 65.36 £, 293.36 Dh, 1386.24 ₺

.
Final real price with all overpayments:

218 €

≈ 228.9 $, 187.48 £, 841.48 Dh, 3976.32 ₺

.
Real cheap options. Up to

120 €

≈ 126 $, 103.2 £, 463.2 Dh, 2188.8 ₺

you can rent: Fiat Tipo 2017, Skoda Fabia 2018 or Skoda Rapid 2018. Because there is no airport transfer fee or other fees for these cars.
Interesting options for the same money. Now let's see what we can get for up to

218 €

≈ 228.9 $, 187.48 £, 841.48 Dh, 3976.32 ₺

that we would pay for a 2013 Honda City.
Here's what I found after a quick search: 2018 Hyundai i30 automatic (

144 €

≈ 151.2 $, 123.84 £, 555.84 Dh, 2626.56 ₺

), 2019 Citroen C4 Cactus automatic (

160 €

≈ 168 $, 137.6 £, 617.6 Dh, 2918.4 ₺

), 2015 Renault Megane GrandTour manual (

164 €

≈ 172.2 $, 141.04 £, 633.04 Dh, 2991.36 ₺

), 2018 Citroen Elysee automatic (

168 €

≈ 176.4 $, 144.48 £, 648.48 Dh, 3064.32 ₺

), 2017 Skoda Octavia automatic (

200 €

≈ 210 $, 172 £, 772 Dh, 3648 ₺

), 2019 Skoda Kamiq automatic (

204 €

≈ 214.2 $, 175.44 £, 787.44 Dh, 3720.96 ₺

) or 2017 Skoda Superb automatic (slightly more expensive,

240 €

≈ 252 $, 206.4 £, 926.4 Dh, 4377.6 ₺

).
As you can see, it's not always good to look for a low price per day. For example, a brand new 2019 Skoda Kamiq costs 51 € ≈ 53.55 $, 43.86 £, 196.86 Dh, 930.24 ₺ per day. At first glance, this is 2 times more expensive than the 2013 Honda City (24 € ≈ 25.2 $, 20.64 £, 92.64 Dh, 437.76 ₺ per day). And in fact, taking a Skoda will not only make your trip more comfortable, but also save 14 € ≈ 14.7 $, 12.04 £, 54.04 Dh, 255.36 ₺. Always count everything!
Personally, in order not to bother and not risk being deceived, I usually do this: first I go to Localrent.com and look for a suitable car there. In 90% of cases, it is cheaper there and the service is more pleasant.
If I have special requirements for a car and I need it for tomorrow or the day after tomorrow, sometimes I can't find anything suitable. Then I use Rentalcars, Economybookings or Discovercars. This services are usually more expensive, but they have more cars.
Choosing a place to pick up a car
If you rent a car from a large company, you don't have to choose the pickup location. There are only two of them: the airport and the office in the city. The renter himself will choose a car for you from those that are currently available. Or they'll show you free cars and leave the choice to you.
Most local distributors are more customer oriented. They allow you to choose where you pick up your car. It can be one of the recognisable places in the city or the airport. Many companies are ready to drive the car right to the door of the hotel, but sometimes they ask for a small surcharge for this.
Car rental at Václav Havel Airport
If I arrive in order to travel around the Czech Republic, I always rent a car with delivery to the airport. How does this work? Depends on how you rent:
Metasearch engines. These are Rentalcars, Economybookings and Discovercars. You find the rental office at the airport. Sometimes you have to stand in line. Then you give them a voucher, pay the rent and pick up the car. If the queue is long, then you'll have to look for a car in the parking lot. Not convenient.
On average, everything takes from 30 minutes to an hour.
The main disadvantage is that it will be difficult to get a car during non-working hours.
Local distributors. Picking up a car is the most comfortable when renting on Localrent.com. You'll be met in the arrivals area by a rental driver and he will lead you to the car. If you're a family with children, he also will help to carry suitcases. A small thing, really, but it's nice. Then just quickly inspect the car and sign the documents.
After 15-30 minutes you good to go.
Renting on the spot. The most expensive and inconvenient option. First, stand in line at the rental window. And it's only if they are opne, in the morning, in the evening or at night, it's generally empty there. Then choose from those cars that are left. Prices for rent and insurance are usually higher than on the Internet. The only plus is that sometimes you can see the car before you pay money. Sometimes there is even a choice of a couple of options.
Consider, that the whole process takes 1-2 hours. With a family, this is not a good option at all.
Car rental in Prague
Usually the car can be picked up at the office of the rental company. Then you don't have to pay for delivery. If you want the car closer to you, you'll have to pay extra 10-15 € ≈ 10.5 $, 8.6 £, 38.6 Dh, 182.4 ₺. Here are the average prices:
In the airoport

10-17 €

≈ 10.5 $, 8.6 £, 38.6 Dh, 182.4 ₺

.
At the railway station parking lot

10 €

≈ 10.5 $, 8.6 £, 38.6 Dh, 182.4 ₺

.
In the parking lot of Florenc bus station

10 €

≈ 10.5 $, 8.6 £, 38.6 Dh, 182.4 ₺

.
In the parking lot of the shopping center Galerie Harfa

7-10 €

≈ 7.35 $, 6.02 £, 27.02 Dh, 127.68 ₺

.
In the parking lot of the shopping center Novy Smichov

10 €

≈ 10.5 $, 8.6 £, 38.6 Dh, 182.4 ₺

.
In the centre of the city 

10 €

≈ 10.5 $, 8.6 £, 38.6 Dh, 182.4 ₺

.
Anywhere in Prague

10-15 €

≈ 10.5 $, 8.6 £, 38.6 Dh, 182.4 ₺

.
Many companies provide free delivery around the city and to the airport. Then the car can be picked up or returned at any place without paying extra. Sometimes it is good to take a car a little more expensive, but with free delivery.
The easiest way to pick up a car is at the parking lot of popular shopping centres or train stations. It is not always convenient to get it in the center or near the hotel. There are few parking spaces, it will be difficult to inspect the car and identify all the scratches.
What to do when receiving a car?
Ten or fifteen years ago, I rented my first car. I remember that I was very nervous, re-read dozens of forums, and still, at the most crucial moment, all the information somehow flew out of my head.
To prevent this from happening to you, I give a detailed checklist. You can check boxes right in the process of receiving the car so to be sure  that you don't suddenly forget something.
Getting the car right: checklist
I gathered the main points that should not be forgotten when receiving the car. There is nothing unusual here, but it helps not to get confused if you get a car for the first time. Almost every point is important and will help you to avoid misunderstandings and / or fines.
What do I need to take with me?
Car inspection process
You need to turn on video recording on your phone and shoot the whole car with one big video. Go around it several times in a circle, especially carefully filming scratches, dents and other imperfections. Remove the bottom and roof if possible.
You have to add all the imperfections in the vehicle inspection card. This is done by the distributor, and you simply control it. If there are no caps on the car, this should also be noted.
I usually film the manager as well. So I will have confirmation that the video was filmed upon receipt of the car. And the company will be able to quickly find out exactly who gave me the car.
Here is a partial list of items that must be filmed:
Now let's take a look at the interior. Film all obvious damage and stains. Check that previous customers have not forgotten personal items in the trunk, glove compartment or doors.
Here is a list of things I usually check:
Checking documents and insurance
Be sure to check the documents. When you receive a car at the airport or in the parking lot, you have to do it right in the car. Always read the contract carefully. Check the details that are not clear with the distributor. Don't rush, it's in your best interest.
Check that the inspection map shows all the shortcomings of the car. If the car does not have hubcaps or rugs, this should also be noted. If a deposit is requested as a security, it must be specified in the contract.
---
You can print the checklist before the trip and take it with you. Then you can mark checkboxes directly on a piece of paper. Well, or you can open website and check the boxes online.
While you are sitting at home in your chair, it seems that there is nothing special in inspecting the car. But in reality it is not surprising to forget something in an atmosphere of haste. The list is really helpful.
The video that you filmed upon receiving the car serves three purposes:
It will be solid proof of scratches. Even if for some reason they forgot to mark them on the inspection map.
The very fact that you are filming a video will protect you from unscrupulous distributors. Seeing a serious approach and knowing that in the event of a showdown you will have serious arguments, they will prefer not to get involved. They will "earn" on less experienced tourists who will sign everything without looking at all.
It saves your nerves. It is impossible to remember all the scratches and dents. After driving the car for 3-4 days, you will notice some new ones. In order not to think, am I guilty or not guilty, you can just watch the video.
Therefore, despite the great experience of renting cars in different countries, I always shoot such a video and check everything. Even if I take a car in a proven place.
How to return a car?
The process of returning a car depends on which company you took the car from:
Most of the small local car rental companies (Localrent.com) are very loyal: they walk around the car in a circle and that's it. The whole process takes 10-15 minutes.
International companies (Rentalcars, Economybookings and Discovercars) are usually more attentive: car return takes 30-50 minutes.
Personally, I like to return the car at the airport. I arrive an hour earlier, quickly return the car and immediately go to register. Saves both time and money: no need to call a taxi.
If you do not fly to Prague more or less regularly, choose cars with a "freeze" of the deposit on the card. Otherwise, the distributor will give you a pack of koruna, so it is not clear what to do with them.