Hi! We're Garry, Dasha and Mary. We was in Bulgaria many times. During these trips we have gathered a lot of experience. So you might say that we know the country.
This blog already has several useful articles to help tourists:
Do you want to know everything in detail? It is better to read these separate articles. Here we'll just give you all our experience, combined in one big article without details.
It turned out to be excellent material that will help you quickly and reliably organise an independent vacation in Bulgaria. Without problems, mistakes and troubles.
Step-by-step instructions on how to travel to Bulgaria
Let's start with a very short step-by-step guide. It will be enough for experienced travellers who already know everything and are just looking for useful links around Bulgaria:
What kind of vacation do you want?
Bulgaria is inexpensive, beautiful and quite calm country. There are sandy beaches and warm water. Here are some
tips for choosing a good resort
in Bulgaria.
Where to buy air tickets?
Airports on the coast: Burgas and Varna. Inland (for skiers): Sofia and Plovdiv. Tickets can be found on
Aviasales.com
.
How to book a hotel or apartment?
You have to search for accommodation immediately after purchasing air tickets. There are many comfortable apartments in the country. Most expensive hotels are located in Sunny Beach and Golden Sands.
You may find hotels on Booking.com. Look for apartments on AirBnB.com. It's a good idea to check the price on Hotellook.com. Sometimes it helps to save money.
Which insurance to choose?
There are no exotic dangers and rare diseases in Bulgaria. Just like any other resort. Regular insurance will be enough for most of the folks. If you prefer quiet rest, you can take the cheapest one.

How to rent a car in Bulgaria?
Which excursions to choose in Bulgaria?
Group tours in Bulgaria are unreasonably expensive. Individual ones are better, but the assortment is rather small. It is better to buy on the
GetYourGuide
or
Viator
websites.
What is the best way to get from the airport?
What else would you like to know about holidays in Bulgaria?
Well, if this short instruction was not enough for you, let's move on to a full-fledged travel booking. Here is the step by step plan:
There are many checkpoints, but they aren't scary. We will explain everything in detail.
When and why do you want to fly to Bulgaria?
Open any website that have some advices about organising a vacation. What it recommends to start with? Searching the flights, hotels, etc. This is a big mistake!
You need to start with an understanding of what exactly you want to get from your stay. Just try to answer yourself one simple question: "I want to go to Bulgaria to…"
… have a good and inexpensive vacation with the family.
… live in a quiet and peaceful place without fuss and noise.
… swim in the sea and get a beautiful tan.
… just relax. I've worked all year, I deserve it!
… take unusual photos to make all my friends jealous.
… find inspiration and strength for new bold achievements.
… Well, all fly abroad, and why am I worse? And Bulgaria is cheap.
… relax in silence from the crazy rhythm of the city.
… sunbathe with your loved one on deserted beaches.
… walk by the sea and along the beautiful promenade.
… escape from the cold and damp to a place where it is warm and beautiful.
Of course, this list of ideas is by no means complete. Just give your own answer. And only after understanding what exactly you would like to get from your vacation, you can start choosing a resort or planning something.
There is also another situation. You answered this question. And suddenly it became clear that Bulgaria does not suit you at all. Then there is no point in going. There are a lot of countries in the world. Even relatively inexpensive ones are enough. For example, for the price of a vacation in Bulgaria, you can fly to Georgia, Armenia, Prague or Poland. And if you add a little money, you can stay in Montenegro, Greece, Cyprus or Turkey.
It is normal and even reasonable to change the country at the stage of travel planning. It's better than spending a lot of money on a vacation and realising that there was not the slightest point in flying here: it's boring and there's no interesting places for you.
Which resort to choose for a vacation in Bulgaria?
Having decided what exactly you want to get from your vacation, you can start choosing a resort. After all, it has become at least a little clearer what exactly to look for: a big city, a tiny village with a couple of streets, or something in between.
Let's talk about the most popular resorts in the country with very brief and very subjective impressions of the authors.
Resorts in Bulgaria by the sea
Almost all of our friends visit Bulgaria just for the sake of seaside holidays. So, to begin with, let's talk about the most interesting, in our opinion, seaside resorts in the country. There are a lot of them. But in general, the rest here is calm, family-like type.
There are many more small villages that can be safely considered as resorts in Bulgaria. It is a pity, but we simply do not have the opportunity to tell about all of them. But if suddenly you didn't like any of the above, just open the map of Bulgaria. I'm sure you'll find at least something.
Ski resorts
Let's be frank, like in the living room with friends. What can we say about skiing in Bulgaria? Well, it exists. There are no particular advantages to name. Cheap, it'll cost you like in Poland. There is no super service.
In general, the ski resorts in Bulgaria tempt you with a low price and a common cultural code. You don't feel like a stranger here. If you want to ride cheap – that's it.
Bansko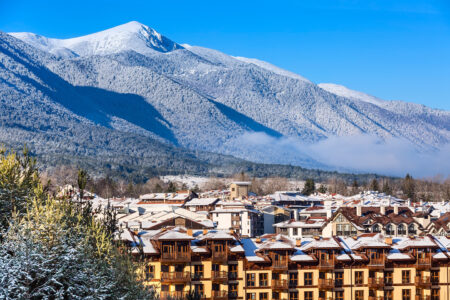 The most modern ski resort in the country at the foot of the Pirin Mountains. Very cool place. An old town + wild, pristine nature.
---
Nearest airports:
Sofia, 167 km (transfer)
Plovdiv, 168 km (transfer)
---
Borovets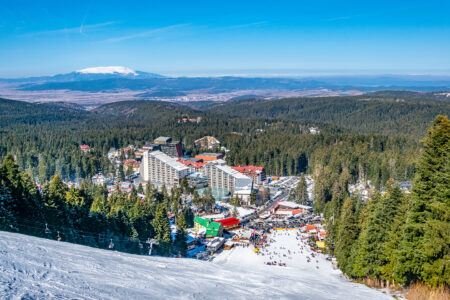 The largest ski resort in Bulgaria. A lot of different difficulty levels. Good infrastructure. Coniferous forest around.
---
Nearest airports:
Sofia, 71 km (transfer)
Plovdiv, 148 km (transfer)
---
Pamporovo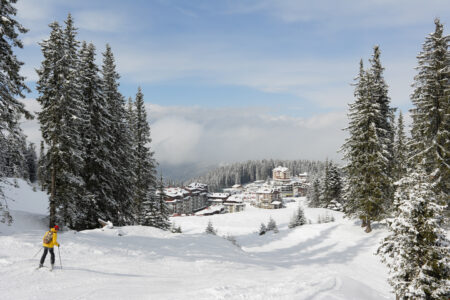 The most southern and sunniest resort. This is important for those who can hardly endure cold winters. It is warmer here.
---
Nearest airports:
Sofia, 229 km (transfer)
Plovdiv, 78 km (transfer)
---
The resort of Vitosha has a good reputation too, but it just so happened that none of the authors rested there. So it's impossible to say anything about it.
As a relatively experienced skier, I will give non-obvious advice. Almost everywhere on the Internet it says something like "Bulgarian resorts are an ideal place to learn how to ski. Good for beginners", have you seen this?
Now, this is all not true. It's better to learn to ride in first-class European resorts. Otherwise, you simply won't like the skis and just abandon this business. It is better to go to cheap resorts for those who already more or less know how to ride.
Sofia
Sofia is the capital of Bulgaria. In general, the city is interesting, there is something to do and what to see. But we can't really recommend it. There are many more interesting places in the world that you can see for about the same money. To be honest, we do not quite understand who and why decides to rest in Sofia.
As a conclusion: it's great to visit Sofia if you are passing by. But it's not worth it flying here purposefully. There is nothing outstanding in here, in our humble opinion.
Search hotels in Sofia | Transfer from the airport to Sofia
Flight tickets to Bulgaria
In short:
Search for flights through the Aviasales.com website. Buy them as soon as possible. Check different dates and airports.
The most reliable way to buy tickets to Bulgaria is to use the website of your favourite airline. But it's not always cheaper there. There are dozens of online travel agencies (OTAs) that sell discounted tickets. Sometimes the savings are cheap, but often they are very, very noticeable.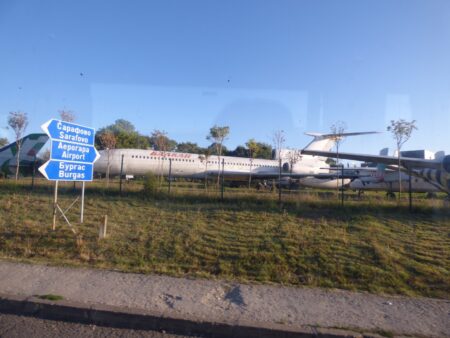 Going through 50+ sites  takes a long time. And how does an ordinary person know which agency is reliable, which one will go bankrupt, and which website is unsafe?
It would be ideal for professionals to do this. And you just compare by price, departure time and other important things. There is such a site! It's called Aviasales.com. You only need to specify departure point, destination and when you will fly. Then the website will check the prices all over the Internet and show them to you.
---
Too bad it's not that simple. Now you have to dig around to find a really good deal. What will we change:
Arrival airport: Varna or Burgas for holidays at sea and Sofia or Plovdiv for holidays in the mainland and in the mountains.
Departure and arrival dates: prices are very dependent on the specific date. It happens that by departing just one day earlier or later you save

100+ €

≈ 105 $, 86 £, 386 Dh, 1824 ₺

per family. This is not always the case, but often it is.
Play around with dates and airports to find the best deal for you. In the process, do not forget to take into account the cost of the transfer. For example, let's say that you want to relax in Golden Sands. We found tickets to Burgas for 250 € ≈ 262.5 $, 215 £, 965 Dh, 4560 ₺ and to Varna for 300 € ≈ 315 $, 258 £, 1158 Dh, 5472 ₺ per family. It is better to fly to Varna. Why?
Transfer from Burgas to Golden Sands costs from

105 €

≈ 110.25 $, 90.3 £, 405.3 Dh, 1915.2 ₺

and will take 2 hours and 10 minutes. And this is for an economy car! Total:

355 €

≈ 372.75 $, 305.3 £, 1370.3 Dh, 6475.2 ₺

.
Transfer from Varna to Golden Sands costs from

32 €

≈ 33.6 $, 27.52 £, 123.52 Dh, 583.68 ₺

and will take 20 minutes. Total:

332 €

≈ 348.6 $, 285.52 £, 1281.52 Dh, 6055.68 ₺

. Cheaper and much faster.
But there are other situations as well. For example, there may not be direct flights from your city to the airport closest to the selected resort. Or only one airline flies there, and it have bigger price tag.
There are two options in this case: either you get from the airport for a couple of hours, or you change the resort where you will rest. They are quite similar in Bulgaria.
Important: in 90% of cases, the earlier you buy tickets, the cheaper they will be. Don't delay. Start searching right now. And when you find a good option, immediately buy. Otherwise, it will be a shame later that the price has risen.
Search flights via Aviasales
Where to look for hotels and apartments in Bulgaria?
Let's start with the cost of housing. Of course, it will depend on the season, the resort and the website you book on. Let's say you want to relax for a week in the middle of summer at an average-priced resort:
Hotel: budget one is

20-30 €

≈ 21 $, 17.2 £, 77.2 Dh, 364.8 ₺

per day, average one is

50-70 €

≈ 52.5 $, 43 £, 193 Dh, 912 ₺

per day, good one is

60-100 €

≈ 63 $, 51.6 £, 231.6 Dh, 1094.4 ₺

, excellent for

200-300 €

≈ 210 $, 172 £, 772 Dh, 3648 ₺

per night.
Apartments: budget from

15-20 €

≈ 15.75 $, 12.9 £, 57.9 Dh, 273.6 ₺

per day, average from

20-35 €

≈ 21 $, 17.2 £, 77.2 Dh, 364.8 ₺

per night, very good from

40-70 €

≈ 42 $, 34.4 £, 154.4 Dh, 729.6 ₺

, excellent from

70-150 €

≈ 73.5 $, 60.2 £, 270.2 Dh, 1276.8 ₺

, villa from

150-300 €

≈ 157.5 $, 129 £, 579 Dh, 2736 ₺

per day.
The prices above are close to real. Sometimes, with great luck, you can find housing even cheaper. If you decide to relax at the peak of the season and look for a hotel literally 3-4 days before departure, it may turn out to be a little more expensive.
Now we will briefly tell you where it is easiest to look for housing in Bulgaria:
Hotels and guest houses. Here the undisputed leader is Booking.com. Almost 99% of all hotels in Bulgaria are listed there. The advantage of the website is a convenient filter system and a large number of reviews. You can see beautiful photos and find out what the people who rested here think about this place.
Apartments and flats. Here you can also use Booking.com, but it's better to search through the AirBnB.com website. There are many more apartments. And the choice of apartments is better. You can write to the owners and chat with them. Living in apartments is cheaper. The price is lower, and the kitchen goes as additional bonus.
Picked up 5-6 favourite options? Let's talk about ways to save more. The website is called Hotellook.com. Enter the name of the hotel you like with the dates, and they will look for a price from a variety of suppliers.
Discounts are different. The normal one is 5-10%. And you can find even 50-60%. In practice, you won't save much, but sometimes you can win 50-100 € ≈ 52.5 $, 43 £, 193 Dh, 912 ₺. The more expensive the hotel, the greater the savings. Once I paid 500 € ≈ 525 $, 430 £, 1930 Dh, 9120 ₺ less!
How to see Bulgaria?
As soon as you decide to go to Bulgaria, you can start planning where, how and with whom to go. There are two good options:
Car rental. Rent a car and drive wherever you want. You can visit any sights, go to excellent beaches outside the city and plan difficult routes with overnight stays in the mountains.
Pros: cheap, freedom. Cons: you have to plan everything and drive by yourself.

Tours. When you don't want to look for sights, build a route, drive, look for parking, restaurants and toilets. Let an experienced person drive, show and tell everything.
Pros: convenient, interesting. Cons: more expensive.
---
Have you chosen what you like best? Let's talk in more detail about each option.
Car rental in Bulgaria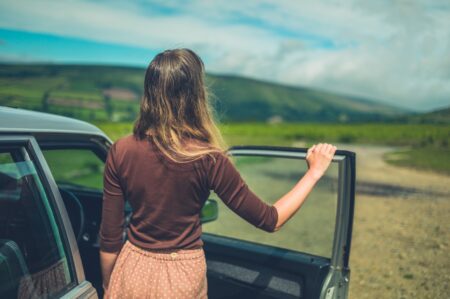 Car rental is the most profitable way to travel around Bulgaria. A small car in good condition can be rented for 20 € ≈ 21 $, 17.2 £, 77.2 Dh, 364.8 ₺ per day. A spacious car will cost 25-30 € ≈ 26.25 $, 21.5 £, 96.5 Dh, 456 ₺ per day. Plus gasoline. For 30-50 € ≈ 31.5 $, 25.8 £, 115.8 Dh, 547.2 ₺ you can travel with a group of up to 5 people.
For comparison, a guided tour in Bulgaria costs 125-200 € ≈ 131.25 $, 107.5 £, 482.5 Dh, 2280 ₺, and a group tour by bus 50-60 € ≈ 52.5 $, 43 £, 193 Dh, 912 ₺ per ticket or 150+ € ≈ 157.5 $, 129 £, 579 Dh, 2736 ₺ for a family of three.
You need to rent a car in advance. There are many websites, we recommend two:
Top Rent A Car. It is the largest Bulgarian distributor. They have about 2,000 vehicles and offices all over the country. New cars and good TPL + CDW insurance even at the lowest rate.
We wrote instructions with the nuances of booking through TopRentacar.
Localrent – Here are the offers of small distributors. You can find an old car for cheap price and with a minimum deposit. Something newer is also available, but it will cost you a little more.
We wrote instructions with the nuances of booking through Localrent.
---
Both aforementioned websites are very profitable, as for me. It's almost always cheaper there than at big international brokers. Deposits are lower, conditions for insurance are more transparent, you can do without a personalised credit card.
If you are used to renting from big companies, you can see their offers on the websites of Rentalcars, Economybookings or Discovercars. Theoretically, you can find very profitable offers there. Especially if you need a car out of season: in autumn, spring or winter. But in practice, we couldn't do this. We only read about this in reviews.
May be useful: detailed article about car rental in Bulgaria
How to get from the airport: transfers, taxis, buses
Arriving at the airport, you will need to somehow get to the hotel. We have already compared all the options on the example of a trip from Burgas to Sozopol. Here is the result:
🚶
5-10 min

Get to the parking lot

🚕
45-50 minutes

Getting to the hotel or apartment
Time: 50-60 minutes
Price:
from
32 €
≈ 33.6 $, 27.52 £, 123.52 Dh, 583.68 ₺
Best fit: you need comfort, value time, go with children
👍
5-10 min

Bargaining with a taxi driver

🚕
45-50 minutes

Getting to the hotel or apartment
Time: 60-70 min
Price:
from 85 €
≈ 89.25 $, 73.1 £, 328.1 Dh, 1550.4 ₺
Best fit: you need comfort, forgot to order a transfer
🚶
10 minutes

Get to the parking lot

👍
10-15 minutes

Check the car

🚗
50-60 minutes

Getting to the hotel or apartment
Time: 70-85 min
Price:
from
30 €
≈ 31.5 $, 25.8 £, 115.8 Dh, 547.2 ₺
Best fit: need a car, want to explore the country
🚶
10-15 minutes

Get to the stop

⌚
10-50 minutes

Wait for the bus

🚌
60-70 minutes

Get to Sozopol

🚶
10-30 minutes

Reach the hotel
Time: 90-165 minutes
Price:
≈ 3-5 €
≈ 3.15 $, 2.58 £, 11.58 Dh, 54.72 ₺
per person
Best fit: you're without suitcases and children
As you can see, transfers in Bulgaria are the most convenient. The bus is the cheapest, but very problematic option. Renting a car at the airport is also good.
A normal transfer can be ordered on the KiwiTaxi (instruction), GetTransfer websites.
It is best to rent a car at the airport through Top Rent A Car (instruction) or Localrent (instruction). It makes sense if you still need a car.
---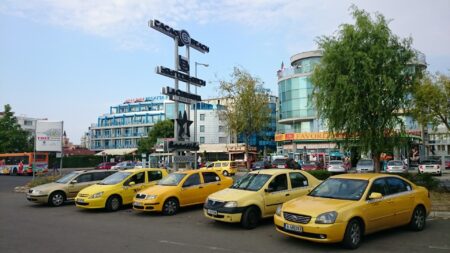 What about taxis at the airport? It's a pity, but the prices in Bulgaria are a bit inadequate. Well, they are just very expensive, as for such a "budget" country. Plus, there's a lot of cheating. It always happens when the locals have their own cars, and only tourists use taxis.
In any case, each car should have a price list. Always check it out!
We recommend booking a transfer in advance. Then it will be cheaper and more comfortable. You will be met in the arrivals area of the airport, driver will help you carry and load your suitcases, and you will be taken directly to the door of the hotel. And all this at a price 2-3 times cheaper than a taxi would cost. Experienced tourists may be able to negotiate with local drivers for an adequate price. But, to be honest, the authors did not succeed in it.
May come in handy: detailed article about transfers in Bulgaria
Mobile communications and internet in Bulgaria
In short:
In Bulgaria, you can easily do without mobile communications. But just in case, you can buy something like DrimSim.
Rest in Bulgaria is quite calm. You left the airport, get to the hotel using transfer, and then you go every day to the same cafe you like, buy groceries in the nearest shop and swim on the same beach. Why to use mobile internet here?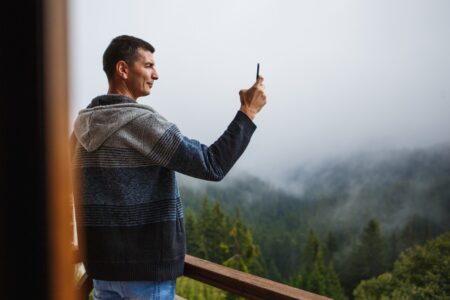 To communicate with relatives and solve some non-urgent, but important issues, Wi-Fi is enough in the apartment or in any restaurant. And somehow you don't even want to hang around 24/7 on your phone. The situation and the flow of time in Bulgaria somehow makes you ditch your smartphone.
Therefore, it is usually pointless to bother and buy a local SIM card. It will be easier to take some kind of travel-SIM or use roaming.
Because we travel a lot, we use DrimSim. For ordinary people who do not fly abroad 5-10 times a year, it is better to don't bother at all.
Or maybe go on a tour?
If you are a little lazy to organise your own vacation, you can always buy a ready-made tour. This helps to book more than half of the things you need on a trip. Such as:
What's included in the tour:
Flight to Bulgaria.
Hotel or apartment.
Basic insurance.
Group transfer to the hotel.
What is not included in the tour:
Car rental for trips around the country.
Excursions (both group and individual).
Mobile communications while traveling.
I honestly admit that the tour usually turns out to be not as high quality as a manually assembled trip. Sometimes a tour even allows you to save a little. But it often happens the other way around.
Let's talk very subjectively about the pros and cons of tours. To make it clearer when you can buy a tour, and when it's better to go on your own.
Cons of Tours:
"Deception" with dates. How many days will you spend in Bulgaria if you buy a regular tour for 6 days? That's right, only four.
How so? Where did a third of your vacation go? Tour operators save on flights and choose cheap charter flights. They have a late departure time. Yes, and a group transfer – a slow thing.
So you will check into the hotel in the late afternoon. Have supper and sleep. But the return flight is almost always scheduled before lunch. You need to arrive at the airport early. You go to the transfer immediately after breakfast. This is how two days are wasted.
Flight delays. Are you flying in summer? Mentally prepare yourself for a delay or transfer of a charter flight. Often you have to spend 15 hours at the airport. Sometimes the flight is postponed as much as a day.
Once I flew in August on a tour for 7 days. Due to problems with the airline, flights were rescheduled for me both there and back. It only took 3 full days.
Was there any compensation? Yes, I was taken to the hotel not on a big bus, but on a Mercedes-Benz Sprinter. Am I satisfied with this compensation? No comments.
Hotel replacement. Tour operators often settle tourists in a hotel that was not at all booked by you. They say it's because of overbooking, but often this is not the case.
It's just that instead of a very good and expensive 5 star hotel they settle you in the cheapest five-star hotel. I once even got into a decent four stars. A way to save money.
Arrival airport transfer. Are you flying with children and have chosen a resort closer to the airport? Charter flight rescheduling is not uncommon. Especially in summer.
You can easily land in Varna instead of Burgas. And then spend 3-4 hours to get to the hotel. Children fell sick. The start of a vacation is unforgettable.
No flexibility. Don't want to just spend a week at the beach? Are you planning to explore Bulgaria or live in different parts of the country? Do you have unusual requests? Ordinary tours offer nothing of the kind.
Tour operator bankruptcy risks. Every few years "completely unexpectedly" another crisis occurs and one of the largest tour operators goes bankrupt. Usually before that, they gives especially "delicious" prices and gains a lot of tourists.
And then, at best, people simply lose their money, and at worst, in Bulgaria they will find out that they will not be accommodated in a hotel and what to do next is not known.
In theory, there are many different mechanisms and funds to protect against this. In practice, they don't work. And tourists have to go to the courts to get their money back.
Bad attitude towards customers. Remember how tour operators treated tourists in 2020 and 2021? Strange conditions, bundles of documents needed, transfers with huge surcharges, tours that no one was going to conduct…
Is this what I need for my hard-earned money?
Overprice. Specifically in Bulgaria, the prices of the tour operator representatives are always too high. They offer tours, guides, car rentals, currency exchange and even sell restaurant vouchers.
This seems convenient for inexperienced tourists. Exactly until the moment when they understand that all this is much cheaper on the Internet or "on the spot".
Bad insurance. The standard tour package almost always includes the cheapest insurance. It won't help you in a really difficult situation. We advise you not to save money and buy an insurance on your own.
Cons of solo travel:
Often more expensive than tours. If you want a purely hotel holiday for minimal money, tours are often more profitable. Sometimes it is even possible to buy a full-fledged tour for the price of a flight with a promotion. Yes, it is a big risk, but you can't get such a price yourself.
Responsibility. Since you booked yourself, then any problems are up to you. When buying a tour, an illusion is created that the tour operator will solve all the difficulties, and a travel agent will select a good hotel.
But this is only an illusion … Their goal is to sell, not to make your vacation amazing and unforgettable. A manager in a travel agency might never have been in Bulgaria at all. And representatives of the tour operator do not really want to listen to your claims. They don't care. If you've been traveling for a long time, you've definitely come across something similar.
Gotta take the time. If you buy a tour, everything will be planned for you. The journey will be C grade, but you don't have to make any effort.
When booking on your own, you will have to figure everything out yourself. Scary? Actually it's not difficult! Our article is just written to help.
Better to book in advance. Good housing options sell out quickly. Sometimes even in winter. Therefore, when traveling on your own, it is better to plan everything at least a few months before departure.
---
Honestly tried to come up with more disadvantages of independent travel. But somehow it didn't work out. Can you advise what to add here?
What to do? Choose a tour or organise a holiday on your own? This is a rather difficult question. Everything can very much depend on the specific case. Let's try to describe everything in general terms:
Choose a tour if:
You need a cheapest vacation possible. Without any quality requirements. Ready to live in a tiny room a kilometer from the sea.
You're not ready to deal with online booking. You may have to overpay 20-50% for the rest of exactly the same quality.
There are no normal flights from your city, and you can't buy charter tickets at a normal price.
Plan your vacation yourself if:
You need an average or expensive vacation. Good accomodation, comfortable flight.
You want a regular flight and are not ready to put up with inconvenient (departure time) and unreliable charters.
You plan to see Bulgaria, and not just lie on the beach.
You rest with children who need comfort.
How much does an independent holiday in Bulgaria cost?
Bulgaria is best suited for two types of holidays:
The most cheap, so as not to spend extra money.
Long-term, when people come for a month or for the whole summer.
We decided to calculate both of these options and something in between. Here's what we got:
Budget vacation:
Budget vacation in Pomorie for two. 7 days and 6 nights.
Budget apartments:

90 €

≈ 94.5 $, 77.4 £, 347.4 Dh, 1641.6 ₺

.
By bus from the airport:

7 €

≈ 7.35 $, 6.02 £, 27.02 Dh, 127.68 ₺

.
Basic diet:

50 €

≈ 52.5 $, 43 £, 193 Dh, 912 ₺

.
Few cheap souvenirs:

5 €

≈ 5.25 $, 4.3 £, 19.3 Dh, 91.2 ₺

.
Basic insurance:

6 €

≈ 6.3 $, 5.16 £, 23.16 Dh, 109.44 ₺

.
Holiday cost:
158 € ≈ 165.9 $, 135.88 £, 609.88 Dh, 2881.92 ₺
excluding air tickets
Normal vacation:
Comfortable rest for two in Nessebar. 14 days and 13 nights.
Decent apartments:

300-400 €

≈ 315 $, 258 £, 1158 Dh, 5472 ₺

.
Transfer from airport:

42 €

≈ 44.1 $, 36.12 £, 162.12 Dh, 766.08 ₺

.
Regular diet:

200-300 €

≈ 210 $, 172 £, 772 Dh, 3648 ₺

.
Two tours in Bulgaria:

300 €

≈ 315 $, 258 £, 1158 Dh, 5472 ₺

.
Car rental for 3 days:

100 €

≈ 105 $, 86 £, 386 Dh, 1824 ₺

.
Few souvenirs:

50 €

≈ 52.5 $, 43 £, 193 Dh, 912 ₺

.
Regular insurance:

20 €

≈ 21 $, 17.2 £, 77.2 Dh, 364.8 ₺

.
Holiday cost:
1100 € ≈ 1155 $, 946 £, 4246 Dh, 20064 ₺
excluding air tickets
Comfortable vacation:
Calm and comfortable rest for two in Ravda for a month.
Nice apartments:

900-1200 €

≈ 945 $, 774 £, 3474 Dh, 16416 ₺

.
Transfer from airport:

52 €

≈ 54.6 $, 44.72 £, 200.72 Dh, 948.48 ₺

.
Good diet:

1000-1500 €

≈ 1050 $, 860 £, 3860 Dh, 18240 ₺

.
Two tours in Bulgaria:

300 €

≈ 315 $, 258 £, 1158 Dh, 5472 ₺

.
Car rental for a week:

200-250 €

≈ 210 $, 172 £, 772 Dh, 3648 ₺

.
A little shopping:

400 €

≈ 420 $, 344 £, 1544 Dh, 7296 ₺

.
Expensive insurance:

80-100 €

≈ 84 $, 68.8 £, 308.8 Dh, 1459.2 ₺

.
Holiday cost:
3300 € ≈ 3465 $, 2838 £, 12738 Dh, 60192 ₺
excluding air tickets
An important nuance. Airfare is not included in the price. Since their cost very much depends on where you live. It's one thing to fly from Germany, and another – from UK or Australia. It's a pity, but we can't guess a price for a flight you'll be able to buy.
We also tried to choose not the lowest, but average prices. For 20-30 € ≈ 21 $, 17.2 £, 77.2 Dh, 364.8 ₺ per day, you can easily find decent accommodation. Especially if you book in advance. You can find something even for 10 € ≈ 10.5 $, 8.6 £, 38.6 Dh, 182.4 ₺ per day or cheaper. But this is always a compromise and you need luck.
You don't have to compare these prices with tours. Our prices doesn't include air tickets, the tour never includes the cost of food, excursions, car rental and shopping.
What are the prices in Bulgaria?
The calculations above are helpful. But still, they don't give an idea of how much a holiday in Bulgaria will cost specifically in your case. We've collected indicative prices for various tourist things. Here they are:
Hotels and apartments. Prices depend on the quality of housing, distance from the sea and the resort you choose. They are more or less like this:

4-5* hotel or excellent apartments near the sea:

30-150 €

≈ 31.5 $, 25.8 £, 115.8 Dh, 547.2 ₺

.
2-3* hotel or cheap apartments:

10-30 €

≈ 10.5 $, 8.6 £, 38.6 Dh, 182.4 ₺

.
A bed in a hostel or the most primitive accommodation can be found cheaper than

10 €

≈ 10.5 $, 8.6 £, 38.6 Dh, 182.4 ₺

per person. But we didn't stay in hostel.

Prices can be viewed on Booking.com and then better to check on Hotellook.com. There are hotels and apartments. For apartments, we recommend a separate website: AirBnB.com.

Diet. As elsewhere, the cost of breakfast or lunch will depend on the level of the institution and the amount ordered. Approximate prices are:

Fast food in a normal place costs

1-3 €

≈ 1.05 $, 0.86 £, 3.86 Dh, 18.24 ₺

.
A budget snack will be

3-5 €

≈ 3.15 $, 2.58 £, 11.58 Dh, 54.72 ₺

per person.
A decent lunch will cost

5-20 €

≈ 5.25 $, 4.3 £, 19.3 Dh, 91.2 ₺

.
An excellent lunch in an expensive restaurant starts from

20 €

≈ 21 $, 17.2 £, 77.2 Dh, 364.8 ₺

.

Tours. The price will depend on the guide and the tour route. Walking tours and group tours are cheaper, individual ones are more interesting and profitable:

Group tours cost

40-80 €

≈ 42 $, 34.4 £, 154.4 Dh, 729.6 ₺

per person. It's obviously overpriced!
Individual walking tours cost

50-100 €

≈ 52.5 $, 43 £, 193 Dh, 912 ₺

per group.
Individual excursions by car cost about

125-150 €

≈ 131.25 $, 107.5 £, 482.5 Dh, 2280 ₺

for half a day or about

200 €

≈ 210 $, 172 £, 772 Dh, 3648 ₺

for a full day trip.

Car rental. The price depends on many factors: where you rent, season / off season, what kind of car you want, what kind of insurance and deposit amount, etc.
Renting a decent car starts from

15-25 €

≈ 15.75 $, 12.9 £, 57.9 Dh, 273.6 ₺

per day. You can rent a comfortable family car for

25-40 €

≈ 26.25 $, 21.5 £, 96.5 Dh, 456 ₺

. And you will find really cool options starting from

50 €

≈ 52.5 $, 43 £, 193 Dh, 912 ₺

.
Book in advance. There are few good deals on a spot. All decent cars are taken online. We recommend net websites: Top Rent A Car (instruction) or Localrent (instruction). Both are good and reliable, we use them all the time.
Want to know more? Here is a detailed article about car rental in Bulgaria.
Transfers. Have you arrived in Bulgaria? How will you get to your resort? Taxi drivers at the airport are usually overpriced. You can pay

100-200 €

≈ 105 $, 86 £, 386 Dh, 1824 ₺

for a short trip of half an hour or an hour.
Therefore, it is better to book a transfer in advance. Specifically in Bulgaria, it turns out not only more convenient, but also 2-3 times cheaper. I share a list of websites verified by the authors: KiwiTaxi, intui.travel, GetTransfer.
More useful information in Dasha's article about transfers in Bulgaria.
Souvenirs and gifts. Spending on souvenirs can vary greatly from person to person. Some buy Greek and Turkish fur coats, while others do not buy anything at all. We would recommend spend at least

50-100 €

≈ 52.5 $, 43 £, 193 Dh, 912 ₺

for various pleasant little things like Bulgarian rose cosmetics.
---
Our prices are not inflated. But still they are very different from what you can find on other websites. This is because there is a lot of outdated information on the Internet. It's a shame when bloggers promise excellent housing for 10 € ≈ 10.5 $, 8.6 £, 38.6 Dh, 182.4 ₺, but in fact even for 20 € ≈ 21 $, 17.2 £, 77.2 Dh, 364.8 ₺ the options aren't so great. Excellent ones generally only starts from 40 € ≈ 42 $, 34.4 £, 154.4 Dh, 729.6 ₺.
All prices above are as close to reality as possible. We usually buy everything the same way. It is clear that for the holidays or at the peak of the season it can be more expensive. But on average, the costs will be the same or even lower.
Important information about holidays in Bulgaria
And finally, we will answer a few popular questions about holidays in Bulgaria. We chose those questions, that our friends most often ask.
Is it safe in Bulgaria?
We have never noticed that it was dangerous in Bulgaria:
Banditry. Maybe somewhere it happens, but we have never heard that tourists were robbed on the street or something else like that happened. As elsewhere, the crime rate is far from zero. But even in terms of the number of murders it's not that bad here.
Robbers. If you read websites, you get the impression that there is simply a dominance of thieves, scammers and burglars abroad. In practice, we do not have a single acquaintance who would be robbed in Bulgaria.
We do not argue, this happens sometimes. But the risk will be minimal if you just lock the windows and doors of the apartment when you go to the beach.
Pickpockets and scammers. Pickpockets and all kinds of scammers come to any seaside resort during the season. But here it is almost as safe here as in Montenegro.
Car traffic. The country has decent roads, adequate police and generally calm traffic. There are many sidewalks in tourist places, and cars drive at a minimum speed. There are almost no speedy drivers.
In this regard, Bulgaria is very comfortable and safe.
Diseases and medicine. Here is the usual set of diseases for a seaside resort. Nothing exotic: ear infections, rotavirus, colds, sunburn, food poisoning. If you do not swallow sea water and wash your hands, everything will be OK.
Medical services in Bulgaria may not be the best in the world, but doctors cope with the usual problems of tourists very well. Just don't be greedy and buy good insurance. And you can rest easy.
Do they understand English there?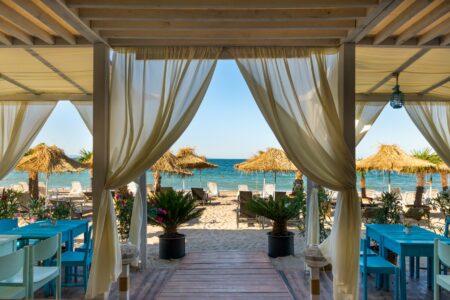 Although Bulgaria is part of the European Union, there is still a language barrier here. Let's start with the fact that a special alphabet is used here – Cyrillic. Therefore, it is very difficult to understand what is written on billboards and signs.
Most people in the tourism industry understand English. The older generation does not know the language, but young people are really trying: there are good salaries in tourism. It is not very good with work in Bulgaria . Especially on the coast. And without knowing the language, they don't even take you as a seller – after all, the clientele is 80% of tourists.
In what currency is it better to take money and how to change it?
The currency of Bulgaria is Lev. For 1 € ≈ 1.05 $, 0.86 £, 3.86 Dh, 18.24 ₺ they usually give about 2 Bulgarian lev. The exchange rate at the airports isn't good. They can give 1.5 levs, or even just one there.
It is best to take euros with you. If not, take dollars. It will be a little less profitable. But the difference is pretty small. Other currencies are not recommended to take here. you may lose 20-50% on a bad exchange rate.
It is profitable to change currency in banks (they have a commission) and in exchangers (some can cheat). They also accept credit cards almost everywhere. The exact conditions depend on your bank, but in most cases the rate is acceptable. In the most profitable exchanger it will be better, but in a fraudulent one it will turn out much worse. Keeping money on the card is both convenient and safer.
What is the sea in Bulgaria? Pros and cons
If you read the Internet, there are a lot of bad reviews because of the Black Sea. Well, it's not the cleanest. For the sake of hype, many call it one of the dirtiest in the world.
What do the facts say? In 2021, the European Union published a large-scale study of the cleanliness of beaches in 30 countries. Including in Bulgaria. They surveyed 96 beaches across the country. And here are the results:
58 beaches are recognised as excellent
37 beaches are recognised as good
No bad beaches were found here.
Which beaches are considered the cleanest? Look at the map: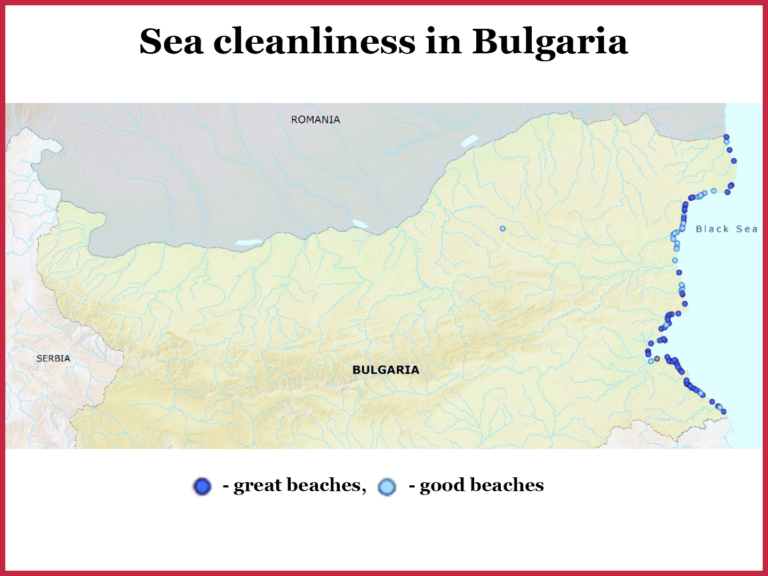 If you look at the dynamics (measurements have been carried out since 2007), you can see how much Bulgaria has invested in the cleanliness of the coastline. Previously, there were many bad and average beaches in the country. Now only the good ones are left. All thanks to new cleaning systems, etc.
---
What about subjective feelings? The descent into the water is very gentle almost everywhere. Depth is gained slowly, which is good for children. The bottom is sandy. Due to this, the water does not look so clean, but it is much more pleasant to enter the sea than on pebbles.
The water in Bulgaria is very warm. Just because of this, algae are often washed ashore. Usually this is a strip about a meter wide. You have to pass  it and then it is clean water and you can swim normally. In general, the authors like the sea.
The sea in Bulgaria and in other countries. Where is better?
Compared to other countries, the sea in Bulgaria is quite average. There are many better places. But the prices will also be different. You can only relax in Georgia (the sea is even worse there) at the price of Bulgaria. There are almost no beach holidays in Poland or Armenia. You can only get a completely dead room a kilometer from the sea in Turkey for this money.
You can, of course, go to Cyprus or Montenegro. But you will have to choose between doubling the budget or sacrificing something, like excursions or nice restaurants.
What conclusion can be made? The authors thought for a long time, but did not find places where it would be better than in Bulgaria. With the same level of comfort and at the same price. It looks like Bulgaria is the leader in terms of price / quality.