Hello everybody. My name is Dasha. I have been flying to Bulgaria for many years. I love this wonderful, original and comfortable country very much.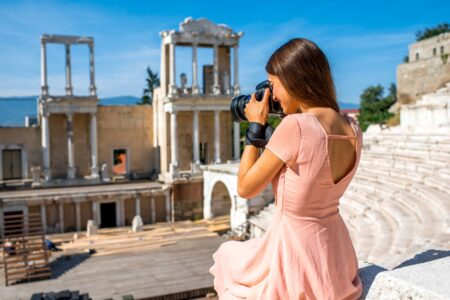 I used to buy package tours. But in the last 5-7 years I prefer to plan everything on my own: I search for flights, choose a hotel, book a transfer, buy an insurance, choose tours that I like or rent a car.
In this article I will try to talk about all the ways to get from the airport to your resort: public transport, taxis, transfers and other options. And how to choose the best one.
How to get from the airport in Bulgaria?
Time is money. And the choice of transfer is not so important. So, briefly about the main things:
All ways to get from the airport
Transfer,
car rental at the airport
, buses, taxis. Taxi drivers at the airports wants a lot of money. Other options are ok.
I compared all the options in terms of price, speed and convenience. Look here.
Where to book a transfer?
How is a transfer different from a taxi?
Price and comfort. Specifically in Bulgaria, taxi drivers are usually stand at airports. They are 2-5 times more expensive than a transfer. So you might say that tourists are deceived here.

How much does the transfer cost?
Most resorts can be reached for
25-50 €
≈ 26.25 $, 21.5 £, 96.5 Dh, 456 ₺
. The exact price will depend on the route, the desired car and the site where you book.
How to book a transfer?
I've already prepared detailed instructions for booking transfers. Step by step, in pictures, for beginners.
Want to know more? There is a lot more useful in the article! Well, if you suddenly forgot about something, you can always ask in the comments!
Who needs an airport transfer?
If you fly on a tour package, the tour operator will take care of the transfer. Usually they transport tourists in large buses designed for 40-50 people. To be honest, they are quite comfortable. But in light of recent events with the pandemic, it's a little unsafe. You never know what you may "get" on the way.
If you prefer a comfortable self-organised vacation in Bulgaria, you will have to get to your apartment or hotel yourself. Here are a few methods I know of:
Taxi. The most simple and familiar option. Go out of the airport, get into the first car you see, and you're on your way.

Yellow taxi cars in Bulgaria.

Cons of a taxi: You need to find a parking lot. Not all airports make it easy. Taxis in Bulgaria are usually very expensive. Overpaying for a trip 50-200 € ≈ 52.5 $, 43 £, 193 Dh, 912 ₺ is almost a common thing. There are many ways to absolutely legally deceive tourists. And Bulgarian taxi drivers know them all, so you need to be very careful.

Public transport. There are several buses that depart from most Bulgarian airports. And it is almost always the cheapest transport.
Cons of buses: you need to change money (the exchange rate is terrible at airports), then find a parking lot, wait for the bus and drag your suitcases to the bus stop. The savings are not very big. I don't take buses anymore.
I described in great detail my experience of travelling by bus from the airport.
Car rental at the airport. A great option if you plan to rent a car. You will save both on the transfer and on the delivery of the car to your resort. It is very convenient that you can go at your own pace.

I love driving around Bulgaria in rented cars. It is especially interesting if you don't choose the most popular roads.

Cons of renting a car: it is better to book in advance, you must be able to drive a car. It turns out profitable only if the car is needed at least for 3-4 days.
If you decide to use this option, be sure to take care of parking in advance. If you live in the center of a popular resort, you should consider housing options with free parking. It will be more comfortable.

There is an excellent article about all the nuances of renting a car in Bulgaria on this website.

Transfer. The most comfortable way that I use most often. My husband and I will be met in the arrivals area, escorted to the car with the help of carrying suitcases and bags. Then the driver will take you where you need to go.
It is very comfortable and safe. And it's cheaper than a taxi at the airport.Cons of transfers: must be booked in advance online.
Friends. If you have friends or relatives in Bulgaria, you can ask them to pick you up from the airport. It's more fun and cheaper. This is the method most often used by locals and expats. They don't even take buses.
---
There is no perfect way for everyone. I do this: if I still need a car, then I get it right at the airport. If the car is not needed in the near future, I order a transfer.
What is the best place to book a transfer in Bulgaria?
There are many different transfer websites. Some are reliable, others are created by scammers. I used only two in Bulgaria personally. I'm sure of them:
KiwiTaxi is very popular company with transfers all over the world. This website is very simple, even a beginner will understand it. It's quicker to book here.
May come in handy: my instruction in pictures for booking on KiwiTaxi
intui.travel – here it is often (but not always!) cheaper and there is a large selection of different cars. But the interface is a bit confusing. Book here takes longer.
May come in handy: my instruction in pictures for booking on intui.travel
---
I will add the GetTransfer company out of the rating. There you can bargain and knock out a price lower than somewhere else. My friend does this all the time.
I rarely use this website, as it takes a long time, and the savings are small. 5 € ≈ 5.25 $, 4.3 £, 19.3 Dh, 91.2 ₺ won't do much anyway. I'd rather spend this time looking for accommodation, choosing excursions or "hunting" for cheap air tickets.
Dasha, you are wrong! I want to bargain on GetTransfer.com
Why a transfer is more convenient and cheaper than a taxi?
Transfer is when you are met with a sign in the arrivals area, escorted to the car, they help you carry your suitcases and bring you right to the door of the hotel.
The main disadvantage of the transfer is that it must be booked in advance. This is such a secret way to save 2-3 times for advanced travellers. If you do not want to "feed" the owners of the exchange office at the airport, I advise you to book a transfer with 100% prepayment. It's so much more profitable!
---
You have to look for a taxi at the airport on your own. Even if you get an honest taxi driver with an acceptable fare, it will still cost 3-5 times more. But you can see the car in advance and talk with the driver before paying for the trip.
Please note that you must pay for a taxi in the local currency, Bulgarian lev. And the exchange rate at most airports is not profitable. The queues for the exchange are long. Exchangers often do not work at all in winter. Or make "breaks" for an hour or two.
There is another problem with taxis. There are usually no child seats. There can be one child seat, but what if you have two children with you and you are not ready to leave one of them at the airport? (just kidding). So you can either take two taxis or one transfer.
How much does a taxi cost in Bulgaria?
There are no fixed prices for taxis in Bulgaria. Everyone sets the rate that they want.
All official taxis must have a fare sheet on the back window. Usually there is a sign that says something like this:
Daily rate
Night rate
Price for 1 km. mileage (lev)
3,00 lev (

1,5 €

≈ 1.575 $, 1.29 £, 5.79 Dh, 27.36 ₺

)
3,50 lev (

1,75 €

≈ 1.8375 $, 1.505 £, 6.755 Dh, 31.92 ₺

)
Cost of calling a taxi (lev)
4,50 lev (

2,25 €

≈ 2.3625 $, 1.935 £, 8.685 Dh, 41.04 ₺

)
5,25 lev (

2,6 €

≈ 2.73 $, 2.236 £, 10.036 Dh, 47.424 ₺

)
Initial charge (lev)
4,50 lev (

2,25 €

≈ 2.3625 $, 1.935 £, 8.685 Dh, 41.04 ₺

)
5,25 lev (

2,6 €

≈ 2.73 $, 2.236 £, 10.036 Dh, 47.424 ₺

)
The cost of 1 minute of idle time (lev)
1,50 lev (

0,75 €

≈ 0.7875 $, 0.645 £, 2.895 Dh, 13.68 ₺

)
1,75 lev (

0,85 €

≈ 0.8925 $, 0.731 £, 3.281 Dh, 15.504 ₺

)
The cost of 1 km. out of town (lev)
3,00 lev (

1,5 €

≈ 1.575 $, 1.29 £, 5.79 Dh, 27.36 ₺

)
3,50 lev (

1,75 €

≈ 1.8375 $, 1.505 £, 6.755 Dh, 31.92 ₺

)
Please note: I wrote in the table the average prices for tourist places: Sunny Beach, Golden Sands, Nessebar, St. Vlas, etc. It will be even more expensive at most airports. Sometimes a lot. It was possible to find cheaper ones in small towns until 2022. I don't know how things are now.
You will see very different prices on the Internet. Something like 1 lev per kilometer and 1 lev initial charge. I've even seen cheaper prices. Those prices were actual ten years ago, now it's a joke. I don't know where they find them. Maybe in mountain villages or big cities? Because I have not seen such prices for a taxi for a very long time.
I looked for photos where taxi cars with prices accidentally got into the frame. Here's what you will see (sorry for the bad image quality).
Please note that these are mostly old photos. Many are over 5 years old. Since then, taxi rates have gone up. Especially at airports and resorts. A particularly noticeable jump in prices occurred just in 2022. The market has not levelled off yet and every taxi driver sets the rate he wants. And yeah, Bulgarian language is hard :)
The rates above are fair only if the taxi driver is honest, turns on the taximeter correctly and does not drive in circles. There are literally only a handful of such taxi drivers at the airports. In reality, tourists are still being deceived.
How do taxi drivers cheat in Bulgaria?
There is a pretty strong taxi mafia here. But even if you get an honest taxi driver who turns on the fare meter, it will still be expensive. What difference does it make if you are deceived or ripped off of your money according to the law?
There were cases when people paid 150 € ≈ 157.5 $, 129 £, 579 Dh, 2736 ₺ for 55 kilometers from Burgas airport to Obzor among my friends. With a transfer price of 56 € ≈ 58.8 $, 48.16 £, 216.16 Dh, 1021.44 ₺. I also know several cases when people overpaid "only" twice.
---
That's why even an honest taxi at Bulgarian airports is expensive:
Losses on currency exchange. Taxi must be paid in local currency. And the exchange rate at the airport is always very unfavourable. Sometimes they give 2 times less than they should. Usually 1.5 times. The price in euros in the table above is only a guide, provided that you change money in a good exchanger.
High taxi fare. For example, you need to get from Burgas airport to Sozopol. This is approximately 45 kilometers. The transfer costs from 33 € ≈ 34.65 $, 28.38 £, 127.38 Dh, 601.92 ₺.
Lets calculate the approximate cost of a taxi:
Initial charge is 4.5 lev.
Mileage fee – 3 * 45 = 135 lev.
Downtime and traffic jams – at least 10 levs. Usually more.
TOTAL: 149.5 lev. If you change money at a fair rate, it will be approximately 75 € ≈ 78.75 $, 64.5 £, 289.5 Dh, 1368 ₺. If you change money at the airport – from 100-150 € ≈ 105 $, 86 £, 386 Dh, 1824 ₺.
Purely theoretically, you have every chance to go for half this amount. But in practice, I would not count on such luck.
How to book a transfer in Bulgaria?
As I already wrote, there are many websites that offer reliable transfers in Bulgaria. For example: KiwiTaxi.com, intui.travel, GetTransfer.com.
I actively use only the first two. Because it is cheaper there and you can order transfers in different countries. Since I am confident in these websites and I have a lot of experience traveling through them, I wrote small instructions.
Step-by-step instructions for booking transfers from Intui
The first will be the instruction for the intui.travel website. It's a bit confusing and not always convenient, but it's often cheaper here. And who doesn't like saving money?
I will show you how to book a transfer from Varna to the Golden Sands resort through this website. Let's say that a family with one child is traveling.
Here is a detailed booking guide with pictures:
Who and where will go? The website meets you with a block where you can specify what kind of transfer you need: pick-up location, destination point, dates of travel, how many people is going.

Choose what transfer you need.

Choose right away whether you need a transfer from the airport to the city, round trip (optimal for holidays) or from the city to the airport.
I chose a transfer there on June 16, back on June 23 for 2 adults and 1 child.

What car do you want? The website will show the cars in stock. From the cheapest to business class and minibuses. Choose what suits you best.

Choosing transfer class (a car) in Bulgaria.

I recommend not to save money at least for long journeys, take a comfortable car instead. The price difference is usually not that big. But the trip is much easier. Especially if you have children with you.

Fill in all data. Now you have to work a little. You'll be asked everything that is possible: flight number, contact details, last name to write in on a plate in arrivals area and a dozen other little things. It took me 5-10 minutes to fill it all out:


The website offers two payment options. Either 100% now (convenient, because you don't have to look for a change), or 20% prepayment, the rest you will pay to the driver. Choose what is more convenient for you personally. I use 100% prepayment because it's easier. Well, if plans suddenly change, then the transfer can be canceled.

Pay for the transfer. Click on the "Save and Continue" button. Now you need to enter all the card details with which you will pay.
Check that you received a voucher. Check the mail that you indicated in step 3. There should already be a voucher. If it's not there, check your spam folder.
---
Well, is everything okay? Believe me, you can do it in 15 minutes. Do everything according to the instructions and you will succeed! Don't be afraid, start right now:
Step-by-step instructions for booking transfers on Kiwitaxi
I'll start with the KiwiTaxi.com website, which I often use because of its convenience. Here is how to book a transfer from Burgas Airport to Nessebar:
Where to go? Choose the departure and arrival address, then press the green button "Show prices".

Booking a transfer in Bulgaria. Choose a direction.

Please note that Burgas Airport and Burgas are different locations. Exactly the same situation with Sofia, Varna and Plovdiv. Choose carefully.

Which car will we take? Now the site will ask you to select a car class. The price difference between them is usually small, so you can book a better car. If you want to save money, be sure to check that all passengers and suitcases will fit in the car.

Booking a transfer in Bulgaria. Choose a car class.

Personally, I will choose the Minivan 4pax tariff for example to show how to book a transfer for a family with children. If you are traveling alone with your husband, you can book Comfort or even Economy.

When and who will go? Now you need to indicate exactly when you plan to go and how many people will be with you. Be sure to order a child seat, booster or car seat if you are going with a child.
It will also be very convenient to immediately order a return transfer. Then you don't have to do it all over again.

In line "Destination: address or hotel name" it is better to write the address of the apartment or hotel, if you know it. Because you know how many different "Ekaterina Apartments" and "Nessebar Studios" are in the city?
If you don't know the address yet, that's okay too. You can show him a point on the map when you'll meet the driver. He will figure it out.

How will you pay? Do you want to pay the full amount right away so as not to bother with the change, or do you want to make only a small prepayment?
Please note that free cancellation is selected by default. It's a oaid option! In my case they charge me

8 €

≈ 8.4 $, 6.88 £, 30.88 Dh, 145.92 ₺

.
If you choose any other option, you will already have free cancellation, just not at any time, only a few hours before departure.
Everything is ready! Now check your email carefully. It should have a voucher in it. No voucher? Check in the spam section.
You will be assigned a driver and his contact details about a day before the the transfer. Phone number, etc. Just in case.
---
Well, nothing complicated, right? Just 4 simple steps and the transfer is done! If you want, here is a big red button with a link to this website:
Other ways to get from the airport to your flat in Bulgaria
Of course, transfers are far from the only way to get from the airport. We have already talked about the terribly expensive local taxi. Are there normal options? Well, of course there is. I will tell about them now.
Buses and public transport
Bulgarian buses are quite decent. Not old and quite comfortable. Even air conditioners more or less work. It is quite an acceptable option for traveling between cities. But they are not very convenient to travel from the airport.
How did I get from Burgas airport?
Once I had to get from the airport in Burgas to Sunny Beach. I then read a lot of "real-travellers" who travel as far as possible and cheap. Also, I really wanted to save money for some reason. I even got my husband to do this.
Here's what it looked like in my case:
Currency exchange. Tickets for public transport may be bought directly on the bus from the conductor. For local currency called Lev. Usually they give about 2 lev for

1 €

≈ 1.05 $, 0.86 £, 3.86 Dh, 18.24 ₺

. But there is only one exchanger at the airport and it has its own rules.
I found the exchanger in 5 minutes. Then I waited half an hour for my money to be changed. The queue was long and I got a very slow cashier. They changed my euros almost 1 to 1. They cheated me almost 2 times! But there are no other exchangers nearby.
Searching for a bus stop. There is a bus stop in front of the airport. But you can only get to Burgas from there. It comes out more expensive with a transfer, and we needed to go the other way. Why to drive back and forth?
I read where is another bus stop (300-400 meters). We dragged our suitcases there with difficulty, dodging passing by cars. In the summer heat, it was a very mixed experience.
Waiting for the bus. The bus station looks abandoned. Does not protect you from the sun. The schedule is not correct. Two buses in a row did not stop because there were no seats in them. We waited for about 50 minutes.
Getting to Sunny Beach. After spending more than an hour in the heat and sweating, we finally got on the bus. With a good air conditioner, that blew cold air right in my back. I can not imagine how no one got sick.
We drove forty minutes. Tickets cost 8 lev. It cost me almost

16 €

≈ 16.8 $, 13.76 £, 61.76 Dh, 291.84 ₺

for two taking into account the unfavourable exchange rate at the airport. And we still had small suitcases. As far as I understand, they can demand money for big ones.
Get to the hotel. It was necessary to walk about a kilometer from the bus station to my hotel. Somewhere there were pavements, somewhere wasn't. Everything is so heavily parked in some places that we had to go out onto the road and dodge passing by cars.
BRIEF SUMMARY: I "saved" about 7 € ≈ 7.35 $, 6.02 £, 27.02 Dh, 127.68 ₺. It took me over 3 hours. We didn't even go to the beach that day. Well, we were very tired. I still remember that trip with a shudder and will never do that again.
Please note that the story is quite old. Public transport has become more expensive since then.
---
Now let's talk about the alternatives. How do I get to the hotel now:
Transfers. GetTransfer.com website promises cars from

18 €

≈ 18.9 $, 15.48 £, 69.48 Dh, 328.32 ₺

. But you need to create a request and there is a feeling that in fact you will spend more.
Intui website offers you a transfer for

31.88 €

≈ 33.474 $, 27.4168 £, 123.0568 Dh, 581.4912 ₺

. The KiwiTaxi website offers cars from

3 €

≈ 34.65 $, 28.38 £, 127.38 Dh, 601.92 ₺

.
Car rental at the airport. If my husband and I plan to travel around the country, we often just take a car at the airport. It is better to book a car in advance. You can rent a new car from the Bulgarian company Top Rent A Car for

33 €

≈ 34.65 $, 28.38 £, 127.38 Dh, 601.92 ₺

per day. Localrent has offers even for

18-30 €

≈ 18.9 $, 15.48 £, 69.48 Dh, 328.32 ₺

per day. But there are slightly older cars.
The whole process of getting a car usually takes me half an hour. Well, a maximum of an hour, if suddenly there are huge queues. But this is a rarity.
In details: good article about car rental in Bulgaria.
I think that any of the options above are better than traveling by bus. Look, if you take the cost of your vacation and divide it by the number of days, you usually get something like 100 € ≈ 105 $, 86 £, 386 Dh, 1824 ₺ if you travel on a budget. If you have a normal rest, that's 250 € ≈ 262.5 $, 215 £, 965 Dh, 4560 ₺.
It's stupid to waste half a day and an evening (I've already "paid" for them at least 50 € ≈ 52.5 $, 43 £, 193 Dh, 912 ₺) to save only 7-10 € ≈ 7.35 $, 6.02 £, 27.02 Dh, 127.68 ₺. What do you think? Write in the comments.
Scary, right? And I still knew exactly where the bus stop is and I never made a mistake anywhere. And after all there are also incidents. For example, my friends once got on a bus that was going the other way: "everyone went there and we followed them." Sometimes you can only get to the right place with a transfer.
But the most unpleasant thing is that there are often simply no seats on the buses. The Bulgarians know something and therefore buy tickets in advance. Then the bus just passes by and doesn't even stop. So you have to wait for the next one.
So is it possible to travel by bus in Bulgaria?
Yes. This is really a good option if you just want to go to a nearby town. For example, I rode like this to Nessebar, Pomorie or Sozopol. It turns out no worse than a taxi. And much cheaper, I must say.
But I wouldn't wish on my worst enemy to get from the airport by bus. It's tiresome and not much cheaper. Especially if you have heavy suitcases or children with you. In general, I would not take a bus with a child. If you arrived on a low-cost airline and only have backpacks with you, then you can still take a bus. But if you're travelling with suitcases – look for the other options.
It is better to get from / to the airport by transfer or by rented car.
Car rental at the airport
You can rent a car at any Bulgarian airport. Then you will not need to pay for the transfer and car delivery to your resort. If you are planning a holiday in a small village, you will save 25-100 € ≈ 26.25 $, 21.5 £, 96.5 Dh, 456 ₺ depending on the car you need.
The process is quite simple and takes about half an hour. It is very convenient if someone in your family gets sick on serpentines, and it is far from the airport to go. Taxi drivers often drive in a bad manner. This way you can go at your own pace.
If you pre-book a car via the Internet, it will turn out faster and cheaper than in the office. Here are the companies I have rented from:
Top Rent A Car is the largest car rental in the country. They have a lot of cars. Almost all of them new and in good condition. Cars are under the CDW + TP insuranse. I can recommend this service.
Localrent – here you will find offers from small car rentals and individuals. You can find a unique car. By the way, I find the lowest prices on this website most often.
Rentalcars, Economybookings or Discovercars are international brokers. Here you can find offers from world famous companies. These websites differ only in prices, assortment and user interface. I rarely book here as the prices are usually higher.
May come in handy: Article about car rental in Bulgaria with all the nuances.
What is the fastest / better way to get from the airport?
Everything is clear with "faster". You can always estimate how long it will take to travel. The transfer is the fastest, the bus is the opposite.
But everyone has their own "better". It is important for someone to get there as quickly and comfortably as possible, and someone is ready to endure any difficulties even for the sake of insignificant savings. It was like that when I was a student.
To make it easier, here are 4 different ways to get from Burgas Airport to Sozopol:
🚶
5-10 min

Get to the parking lot

🚕
45-50 minutes

Getting to the hotel or apartment
Time: 50-60 minutes
Price:
from
32 €
≈ 33.6 $, 27.52 £, 123.52 Dh, 583.68 ₺
Best fit: you need comfort, value time, go with children
👍
5-10 min

Bargaining with a taxi driver

🚕
45-50 minutes

Getting to the hotel or apartment
Time: 60-70 min
Price:
from 85 €
≈ 89.25 $, 73.1 £, 328.1 Dh, 1550.4 ₺
Best fit: you need comfort, forgot to order a transfer
🚶
10 minutes

Get to the parking lot

👍
10-15 minutes

Check the car

🚗
50-60 minutes

Getting to the hotel or apartment
Time: 70-85 min
Price:
from
30 €
≈ 31.5 $, 25.8 £, 115.8 Dh, 547.2 ₺
Best fit: need a car, want to explore the country
🚶
10-15 minutes

Get to the stop

⌚
10-50 minutes

Wait for the bus

🚌
60-70 minutes

Get to Sozopol

🚶
10-30 minutes

Reach the hotel
Time: 90-165 minutes
Price:
≈ 3-5 €
≈ 3.15 $, 2.58 £, 11.58 Dh, 54.72 ₺
per person
Best fit: you're without suitcases and children
What conclusions can be made from these graphs? Well, something like this:
The cheapest way to get there is by bus. But it's very long and hard road. Especially if you are travelling with suitcases or relax with children.
The best way is a transfer or car rental at the airport. They differ little in terms of price and level of comfort. Choose what suits you best in your case. If you still need a car, rent it. If you plan to spend your entire vacation in one place, book a transfer.
Where to book a car: Top Rent A Car or Localrent.
Where to book a transfer: KiwiTaxi.com, Intui.travel or GetTransfer.com.
The easiest way to get from the airport is by taxi. Get out of the airport, sit in the car, go to your resort. But you'll overpay 3-5 times. It's getting very expensive.
Time is money! A very simple moment, which everyone forgets for some reason. For example, let's say you spent

1000 €

≈ 1050 $, 860 £, 3860 Dh, 18240 ₺

on tickets + accommodation + insurance. You plan to rest for 7 days. Then an hour of rest will cost you about

12 €

≈ 12.6 $, 10.32 £, 46.32 Dh, 218.88 ₺

(there are about 12 active hours in a day).Saved

25 €

≈ 26.25 $, 21.5 £, 96.5 Dh, 456 ₺

, but arrived 2 hours late at the hotel? Well, you seems that you really don't save a penny this way. And if you fell on the bed and lay there until the evening after a difficult move, then you even spend more money than saved.
---
As for the bus to Sozopol, there is a nuance. You'll have to make a stop in Burgas most likely. If you plan to go to Sunny Beach, Ravda, Nessebar or Pomorie, you can also find a direct bus route there. Therefore, I decided not to show bus stops on the chart, since this is rather a rarity.
Other transfers in Bulgaria
You can get not only from / to the airport with the help of a transfer. You can even travel between resorts this way. I know people who even went to Sofia like that. Also an option, although they overpaid a little compared to public transport or car rental.
Look for routes that aren't included in the selections above on transfer websites. I'll repeat links one more time: KiwiTaxi.com, intui.travel, GetTransfer.com.
What else do you need to know about transfers in Bulgaria?
Friends often ask me to help them book a transfer. I travel a lot and have experience.
All questions are pretty much the same. I'll answer them here in case it will be useful.
How to find your driver at the airport?
After picking up your suitcases, you'll find yourself in the arrivals hall. There will be a lot of people with signs, sheets of paper and names on smartphones.
Just look closely and you will see your name among them. If you didn't notice the first time, walk along this crowd again. In my practice, it has never happened that the driver did not meet me. But it happens that they meet friends at the airport and are distracted for a couple of minutes.
Does the driver speak English?
Almost all the drivers who met me spoke English, at least basic. There were also people who knew the language very well, but this is rather a rarity. Transfer companies are trying very hard give you drivers with at least a minimum knowledge of the language.
How much does a transfer cost in Bulgaria?
The exact cost of the transfer will depend on three things:
Where you need to go? It is clear that the further you need to go, the more expensive it will cost. It's one thing to travel for 20 minutes, and quite another – through half of the country.
What kind of car do you need? There are cheap small cars, comfortable sedans, minibuses and business class cars. The prices are different.
Where do you book your transfer? The cost of transfers will also differ depending on the company you choose. Not much, within 10-15%.
---
Right in that order. The route affects more than the class of car. Prices on most adequate websites are comparable. If we talk about approximate figures, then you can get to most resorts on the coast for 25-50 € ≈ 26.25 $, 21.5 £, 96.5 Dh, 456 ₺.
But if you arrive in Burgas, and you need to go, for example, to Balchik, then you may pay even 135 € ≈ 141.75 $, 116.1 £, 521.1 Dh, 2462.4 ₺. Therefore, choose accommodation and the airport where you are flying carefully. Sometimes you can save 10-20 € ≈ 10.5 $, 8.6 £, 38.6 Dh, 182.4 ₺ on tickets or apartments, and lose 100-150 € ≈ 105 $, 86 £, 386 Dh, 1824 ₺ on transfers.
Find out the exact cost of transfers at: KiwiTaxi, intui.travel or GetTransfer.
Do they cheat on transfers? What about hidden fees?
If you book a transfer on a reliable and trusted website, you will not be deceived. I never had any problems. I didn't even hear about it.
Remember that "a cheapskate pays twice". As elsewhere, however. If you book on an shady local website or through contacts that you found on the forum, you will be fully responsible, there are enough scammers.
---
But the situation is ambiguous with hidden surcharges. On the one hand, they never took more from me than promised. But you still need to be careful when booking. Otherwise, they may include the water I do not need or the free cancellation of the transfer in the price. It seems that I overpaid only 1-2 € ≈ 1.05 $, 0.86 £, 3.86 Dh, 18.24 ₺, but it's unpleasant! I have never overpaid more than a couple of euros.
In what currency should I pay for the transfer?
Usually Bulgarian taxi drivers ask you to pay for the transfer in local currency. It's a Bulgarian lev. Most are ready to accept euros or dollars, but at an unfavourable rate. The exchange rate at the airport is also almost always bad, you'll lose a lot.
You can pay for the transfer in euros. No need to change money, which is very convenient. But still you have to prepare the amount without change or with a small tip. If you do not want to bother with small things, book a transfer with 100% prepayment. It's really very convenient.
Will there be air conditioning and child seats in the car?
Air conditioning will be in any car. Child seats can be requested when booking a transfer. This is very convenient, since taxi drivers at the airport never have two child seats. One at best.
When is the best time to book a transfer?
Most websites allow you to book a transfer a day before departure. To fly in, be horrified by the prices for a taxi and immediately order a transfer will not work. Even if you are willing to wait a couple of hours.
I usually book them immediately after buying air tickets, accommodation and excursions. Planning a good vacation is hard enough. It is necessary to foresee everything. Why to worry about the transfer as well?
What do you need to book a transfer?
Nothing special. A bank card of any bank for making an advance payment and some personal information for the driver:
When and where you arriving? So that the taxi driver can arrive in advance.
Which city to drive to? A specific hotel can be specified on the way. It is beneficial if you already know the resort, but have not yet found housing.
First and last name. For the taxi driver to prepare a sign with which he will meet you at the airport. Convenient thing. There are always dozens of those who meet  people at the airport and without such a sign you will not find each other.
Your phone number. For the driver to call you if he can't find you. Therefore, keep at least one phone constantly on.
Your email. A receipt, voucher, documents will be sent there.
---
I understand that it is simply impossible to tell everything in one article. Situations are very different. If something remains unclear, ask it in the comments. I'm pretty communicative and will try to answer.