Are you ready for amazing stories? Let's get to know each other. My name is Mary.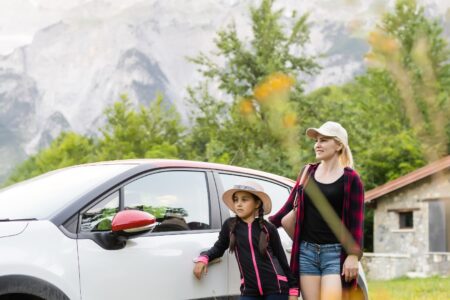 I've traveled to Albania four times and have always rented cars there. Once I even went with my little daughter, without a husband.
I don't consider myself an expert. Not at all But not so many people went to Albania. So my knowledge about car rental and local rental offices will be useful to someone.
In Albania, you can't go anywhere without a car! And there are only a few excursions.
Car rental in Albania: the essentials
Why is it mandatory to rent a car in Albania?
Because there is no alternative. Public transport isn't so developed and excursions are rare.
If I have to grade public transport, I will give C or even C-. If you've been living here for a long time, you'll be able to work with public transportation system. But it will be difficult for a tourist to understand it. And then it turns out anyway that a good half of interesting places cannot be reached by bus.
Where to book a car in Albania?
The most convenient and "profitable" website is called
Localrent.com
. They have a lot of cars for a different budget, clearly defined conditions and very responsive support. The prices are good too. Not always, but quite often, it will be 5-20% cheaper there.
Experienced travelers should also look at Economybookings, Rentalcars or Discovercars. You may come across good discounts there.
What car to take for travel?
Albania has good roads. You can drive any car on the most popular route along the coast. Even in a small one. It will be crowded and hot (the air conditioner may be cheap), but you will get there.
But you should  take an SUV or at least a crossover for a trip to the mountains in the north of Albania. The roads are noticeably worse there and such a car can be useful.
If you plan to rent through the Localrent site that I recommended, pay attention to the car's year of manufacture. The cheapest ones out there can be quite old. They are in fair condition, but if the car is 15-20 years old it means something. At a minimum, fuel consumption will be more than expected.
Who may get a car in Albania?
Each car has its own requirements for the driver. The standard requirements in most companies are as following: age from 22 years old and at least 2 years of experience.
They accept regular driver's license. But if your country have two types (local and international), take it with you purely just in case. Local car rental companies (Localrent) in Albania usually accept both car payment and deposit in cash without any problems, credit card works too.
Large companies (Rentalcars, Economybookings and Discovercars) usually prefer to charge money from a credit card. If there is no card, they will ask you to buy "Full Cover" insurance. It provides reliable protection, but it is not cheap either.
When to start looking for a car?
Well, start right now. Why not? There will be more options – you can pick up something cheaper and better.
High season is July and August. Then good cars are gone 2-3 weeks before. In spring or autumn you will easily find a car a few days before your vacation.
I do not recommend looking for a car on the spot. The choice of available cars in summer is usually not large. Yes, and prices are a bit higher too.
Features of car rental in Albania.
In general, it is very comfortable to rent a car here. Albanians treat tourists well. If you do not mess with very obvious crooks, then no one will cheat you.
In Albania, you can easily get a car at the airport. But if you plan to see Tirana first, this is not the best option. You may find traffic jams and a big problem with parking in the Albanian capital. I would prefer to take a taxi or transfer.
This is also good because in Albania, they usually have free delivery of cars around the city. There are a lot of such cars on the same Localrent.com, for example. We arrived in Tirana, walked around it for several days, picked up the car right at our hotel and went to travel around the country. Well, what could be better?
Is it dangerous in Albania?
No. It seems to me that these are all lies inspired by Hollywood action movies. I never once felt in danger here.
Well, once I had such an experience. I was lured to a store with cheap silver and I just felt that a little more and I could not stand it and start buying everything there.
The only thing I want to warn about is that Albanians drive in a specific way. Some kind of ordered chaos. It seems that everyone is going as and where they want, but a few days will pass and you will get to know the system. You begin to notice how they allow you to pass.
---
These were short tips for those who are too lazy to read. The rest of you may scroll on.
Where to rent a car in Albania without a driver?
I've been to Albania 4 times and rented a car there 6 times. How so? It's just that sometimes it's good to break a vacation into several parts: drive a car, return it, warm up on the beach, ride again…
I understand that my numbers is unlikely to impress anyone against the experience of some other Tip to Trip authors. But the car rental market is relatively new  here.
So, I'll tell you where I rented my cars and what conclusions I made. Here is my personal rating of the best car rental websites in Albania (subjective):
---
How do I do? If I want to rent quickly and without "troubles", I immediately open Localrent.com website and choose a car there. If I need to save as much as possible, I open all 4 sites, fill in the dates I need and see which service will offer better option.
And then I choose what I like more. I'm looking for some balance. So that the car is decent, and the price for isn't hard for my budget.
How much does it cost to rent a car? What are the prices in Albania?
Prices depend on what kind of car you need, when exactly and for how many days you plan to rent it. In short, it is really possible to find a car for 40 € ≈ 42 $, 34.4 £, 154.4 Dh, 729.6 ₺ per day even in high season. But it will be quite an old car.
Something decent in August already costs 50-70 € ≈ 52.5 $, 43 £, 193 Dh, 912 ₺ per day. These are the cars that you can safely rent. The price does not change much rental period. But from the month you rent – greatly. I'll show you with examples:
Rental month
Cheapest car:
2006 Mercedes-Benz E-Class, automatic transmission
Decent car: 2015 VW Jetta, automatic transmission
The cheapest crossover: 2007 BMW X3 or Toyota Rav4, manual transmission
Decent crossover: 2014 Mitsubishi Outlander, automatic transmission
April

22 €

≈ 23.1 $, 18.92 £, 84.92 Dh, 401.28 ₺

35 €

≈ 36.75 $, 30.1 £, 135.1 Dh, 638.4 ₺

30 €

≈ 31.5 $, 25.8 £, 115.8 Dh, 547.2 ₺

50 €

≈ 52.5 $, 43 £, 193 Dh, 912 ₺

May

22 €

≈ 23.1 $, 18.92 £, 84.92 Dh, 401.28 ₺

35 €

≈ 36.75 $, 30.1 £, 135.1 Dh, 638.4 ₺

30 €

≈ 31.5 $, 25.8 £, 115.8 Dh, 547.2 ₺

50 €

≈ 52.5 $, 43 £, 193 Dh, 912 ₺

June

22 €

≈ 23.1 $, 18.92 £, 84.92 Dh, 401.28 ₺

50 €

≈ 52.5 $, 43 £, 193 Dh, 912 ₺

30 €

≈ 31.5 $, 25.8 £, 115.8 Dh, 547.2 ₺

80 €

≈ 84 $, 68.8 £, 308.8 Dh, 1459.2 ₺

July

38 €

≈ 39.9 $, 32.68 £, 146.68 Dh, 693.12 ₺

50 €

≈ 52.5 $, 43 £, 193 Dh, 912 ₺

55 €

≈ 57.75 $, 47.3 £, 212.3 Dh, 1003.2 ₺

80 €

≈ 84 $, 68.8 £, 308.8 Dh, 1459.2 ₺

August

38 €

≈ 39.9 $, 32.68 £, 146.68 Dh, 693.12 ₺

50 €

≈ 52.5 $, 43 £, 193 Dh, 912 ₺

55 €

≈ 57.75 $, 47.3 £, 212.3 Dh, 1003.2 ₺

80 €

≈ 84 $, 68.8 £, 308.8 Dh, 1459.2 ₺

September

23 €

≈ 24.15 $, 19.78 £, 88.78 Dh, 419.52 ₺

45 €

≈ 47.25 $, 38.7 £, 173.7 Dh, 820.8 ₺

35 €

≈ 36.75 $, 30.1 £, 135.1 Dh, 638.4 ₺

55 €

≈ 57.75 $, 47.3 £, 212.3 Dh, 1003.2 ₺

October

12 €

≈ 12.6 $, 10.32 £, 46.32 Dh, 218.88 ₺

45 €

≈ 47.25 $, 38.7 £, 173.7 Dh, 820.8 ₺

30 €

≈ 31.5 $, 25.8 £, 115.8 Dh, 547.2 ₺

55 €

≈ 57.75 $, 47.3 £, 212.3 Dh, 1003.2 ₺

December

14 €

≈ 14.7 $, 12.04 £, 54.04 Dh, 255.36 ₺

45 €

≈ 47.25 $, 38.7 £, 173.7 Dh, 820.8 ₺

35 €

≈ 36.75 $, 30.1 £, 135.1 Dh, 638.4 ₺

55 €

≈ 57.75 $, 47.3 £, 212.3 Dh, 1003.2 ₺
* I calculate all prices when renting for a week.
** Car brands are given for guidance. Their prices change from month to month. Therefore, if it says "the cheapest car", then the price is for that car exactly. It will almost always be a 2006 Mercedes-Benz E-Class. But sometimes it isn't…
As you can see, the price "out of season" drops by almost 2 times. It is most expensive to rent in June and August, which is logical – the demand is high.
If you just want to see the country and do not plan to swim in the sea, you can come in May, June or September. The weather will still be good, there will not be so many people, which means prices will drop slightly.
Real car rental price
In addition to the cost of rent, do not forget to take into account the cost of fuel, insurance and parking. Here is an example of how much a week of renting a car in August cost me:
I paid

350 €

≈ 367.5 $, 301 £, 1351 Dh, 6384 ₺

for the car. It was a 2016 VW Golf VII with automatic transmission. Judging by the number plate, it came here directly from Germany.
I paid extra

49 €

≈ 51.45 $, 42.14 £, 189.14 Dh, 893.76 ₺

for SuperCDW.
I was charged

35 €

≈ 36.75 $, 30.1 £, 135.1 Dh, 638.4 ₺

for a child seat.
I paid another

20 €

≈ 21 $, 17.2 £, 77.2 Dh, 364.8 ₺

for the second driver in the contract. At that time, we were alone with my husband and wanted to drive in turn, since we planned to see a lot of things.
We paid

97 €

≈ 101.85 $, 83.42 £, 374.42 Dh, 1769.28 ₺

for diesel fuel. We drove almost 1200 km, so we were very lucky that we rented German car with low fuel consumption.
It took only

2 €

≈ 2.1 $, 1.72 £, 7.72 Dh, 36.48 ₺

for parking. There are enough free places in Albania.
IN TOTAL: we spent 553 € ≈ 581.7 $, 476.44 £, 2138.44 Dh, 10104.96 ₺ on car rental. I also had to wash the car for a couple of euros.
If the goal was to save as much as possible, I could rent a tiny 2004 Toyota Yaris or an equally old Mercedes-Benz E-Class for 266 € ≈ 279.3 $, 228.76 £, 1026.76 Dh, 4851.84 ₺. It is almost 100 € ≈ 105 $, 86 £, 386 Dh, 1824 ₺ cheaper.
But we felt cramped last time we drive in Yaris. And the old Mercedes will have much more fuel consumption than the modern Golf. I think that all the money saved be spent on refueling such a "beast".
What do you need to rent a car? What are the requirements for a driver?
To rent a car in Albania you will need:
International passport
Driver's license
Bank card
Also, each company may have its own requirements for the driver. "Standard" is from 22 years old and at least 2 years of driving experience. For example, Localrent.com has such requirements for any of their cars.
If you book through Rentalcars.com, Economybookings.com or Discovercars.comyou need to study the conditions for each specific car. For some, a young driver will not be allowed at all. Others will require you to the purchase the "Full Cover" insurance or for 10 € ≈ 10.5 $, 8.6 £, 38.6 Dh, 182.4 ₺ per day. For premium cars, the conditions are slight absurd, like "from 30 years old and 7 years of experience."
You can see what requirements for a driver specifically for your car by clicking the "Important Information" or "Rental Terms" button. There, you will find the required age and experience hidden among other text.
Do I need an IDP in Albania?
The situation with driver's license in Albania is mixed. Albania is a signatory to the Vienna Convention and legally you don't need an International Driving Permit or IDP. This is a translation of your driver's license into different languages of the world. Made by the police. The procedure is simple and usually inexpensive.
An IDL is NOT a replacement for your ordinary driver's license. This is exactly the translation. Therefore, you need to take with you both a driver's license and an IDL.
But in fact they sometimes require IDP. For most companies, ordinary national rights are sufficient. The car will definitely be given out on Localrent.com, and most rental companies from other sites are unlikely to be too "strict". But there were some bad precedents. Haven't come across it personally.
I even saw a review where people wrote that they were found guilty of a car accident only because they did not have an IDP. It doesn't look very believable. But in life this doesn't happen. I have an international license for a very long time. And I take them with me to any country. It doesn't matter if they are required or not. They're very small, after all.
Conclusions:
Even if you do not have an IDP, finding a car will not be a problem. Choose any on Localrent.com and you can definitely get it.
But if there is still time before the vacation, do not be too lazy to make an IDL and be sure to take it with you along with your driver's license. It certainly won't be a burden.
What about credit cards in Albania?
In order to get your car, you must somehow leave a deposit for it. "Standard" procedure – the deposit is "frozen" on the credit card. The money is not written off, but it is impossible to spend it either.
And after the end of the lease term, the money is usually "unfrozen" back.
Everything seems to be fine, but there are two nuances. I'll tell you about them:
Unfreezing money does not happen instantly. Tey say it takes from 1 to 7 days. In fact, it could take a month. That is, you have the money, but you cannot use it. Which is inconvenient if the vacation budget is small.
Not every bank card is working. Oddly enough, some tourists do not have credit cards that are suitable for rent.
The requirements are as follows: the card must be a credit card, issued in the name of the main tenant and with convex (embossed) characters.Most people use debit cards. And then the lottery begins. For example, my debit cards seem to work. But no one can give you 100% guarantees.You can check this type of card, for example, on на bincodes.com. Enter the first 6 digits of the number. The Card Type field must be CREDIT.
This is not a 100% guarantee that the card will work. But, most likely, there will be no problems with it. If the card does not work, the distributors usually require you to buy "Full Cover" insurance. And it is quite expensive.
---
So it turns out that many people want to leave a deposit in cash. This also has a drawback. Not all 100% offices accept and give a deposit in euros. Some may accept euros, but they will give your money back in Albanian leks (local currency). If you first take a car, and then you will spend time and relax on the beach, it does not matter.
But if you plan to return the car at the airport a few hours before departure, then spending even 300 € ≈ 315 $, 258 £, 1158 Dh, 5472 ₺ in the duty-free will be a problem. And changing money back to euros and dollars is not profitable because of the poor exchange rate at the airport.
Is it possible to find a car without a credit card and a deposit?
Yes, but only on the Localrent.com website.There you can set filters like this: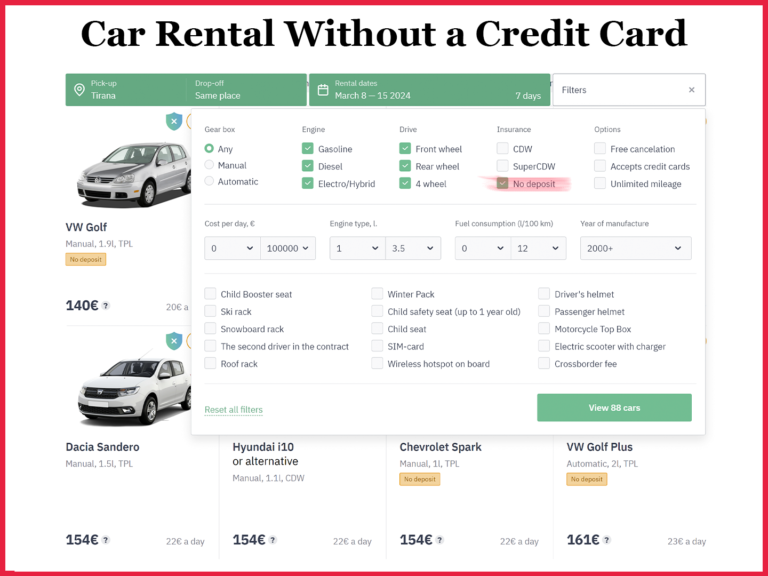 For cars without a deposit you can often buy CDW without a franchise at all. Such insurance costs 2-3 times more expensive, but it helps in case of emergency.
I used this option when I flew to Albania with a minimal budget. Well, I didn't have extra money to leave a 1000 € ≈ 1050 $, 860 £, 3860 Dh, 18240 ₺ deposit for a car as Economybookings offered me then. By the way, this is how I found out about Localrent.com, which I now use most often.
Why is it worth to rent a car in Albania?
This is almost the only way to see the country. There are so few high-quality excursions here. Public transport is poorly developed and it is completely unsuitable for tourists: you will travel for a long time, it's now convenient and not to the places you would like.
And you can see a lot of things by car. For example:
A complete list of the most interesting places in Albania will be further in the article.
---
It is also much easier to get a car in Albania than in other countries. For example, in Cyprus, Iceland or Turkey, deposits for even the simplest car can start from 1000 € ≈ 1050 $, 860 £, 3860 Dh, 18240 ₺.
It would seem, what difference does it make if the money is returned anyway? But the answer is no. It's one thing to find 150-200 € ≈ 157.5 $, 129 £, 579 Dh, 2736 ₺ to rent a car for a few days. And it's quite another thing to get the right credit card and freeze more than a thousand euros there for at least a month. It doesn't seem to affect the final vacation budget, but some tourists may simply not have "extra" money.
Cons of renting a car in Albania
The main disadvantage, I think, is a chaotic traffic. At first it was difficult to get used to, but then I get used to it or something. I'll tell you more about this later.
---
The second disadvantage for me personally is the availability of very cheap cars on Localrent.com. Why is that a disadvantage, you may ask? For example, I want to rent a car for a week in June. I open the website. And I see prices there from 135 € ≈ 141.75 $, 116.1 £, 521.1 Dh, 2462.4 ₺. Cool, isn't it? Only 22-23 € ≈ 23.1 $, 18.92 £, 84.92 Dh, 401.28 ₺ per day for Mercedes E-class or Audi A3. Well, just a dream, right?
Then I look closely and understand that these cars are 15-20 years old. They will be working and in good condition. But an old car is always an old car. It is worse in terms of handling, safety and fuel consumption.
A fresh comfortable car costs from 240 € ≈ 252 $, 206.4 £, 926.4 Dh, 4377.6 ₺ or 40 € ≈ 42 $, 34.4 £, 154.4 Dh, 729.6 ₺ per day. And it will not be a Mercedes or Audi, but "only" a Hyundai Elantra. Makes you feel sad… Or maybe it's just me.
It seems like here it is, the car is 2 times cheaper. But renting it is pointless. My caution begins to fight greed. Not the most pleasant feeling.
How to rent a car in Tirana: step by step instructions
Let's say you decide to rent a car in Albania for the first time. And it's not even clear for you how to start. In this case, check out these links to get started:
If you want to save as much as possible, search on all these websites. If you just want to rent a car quickly and comfortably and to be sure that some kind of "bureaucratic" problem does not come out later, just rent on Localrent.com.
It is very convenient service and almost always turns out to be the cheapest. Therefore, I will continue to explain, taking it as an example.
When to start looking for a car?
The earlier the better. It is the same in any country. And Albania is no exception. Now even the most small car rental office gives away their cars online in one way or another. Let's think together what people book first:
The cheapest cars. Well, everything is obvious here. Most travelers have a limited budget. People want to save money.
Good cars. These are comfortable, interesting cars that you may get without spending "all the money in the world". What you may call ideal in terms of price / quality ratio.
---
Personally, I book a car well, at least 2 weeks before the holidays. Last time I started looking for a car almost a month before and saved a little on it.
So it turns out that the sooner you start searching, the more choice you will have. And if you start looking just a couple of days before your vacation, you will be able to get only what more "thoughtful" travelers did not want to rent.
Also, in general, they rarely have something interesting to offer on the spot. Especially in summer. Albanian rentals do not have dozens of "extra" cars. They have exactly as many as they think they will be able to give out to tourists. That's why when you go to the rental you will not see anything "optional" there. Only more expensive cars. SUVs, for example. Or just relatively new cars.
There are rumors that rental managers understand that you still need a car, and when renting at the office, they overprice it a little. Assuming that you will not run around the city and compare prices. I don't know if this is true or not. But it sounds logical.
Which car to choose?
You can choose any car for trips around the country. The main roads in Albania are surprisingly good. Asphalt is smooth, without sagging. I don't remember pits or holes either. For example, you can get to the beaches in Durrës without any problems.
If you plan to go to the mountains on some "unique" route, consider the option of an SUV. So that you can move off the asphalt, if you suddenly need to. And the roads in the mountains are a little worse in general.
How do I choose a car for myself?
When renting a car in any country, I always start from what kind of car I have. I've become accustomed to a certain level of comfort. And my daughter is unlikely to be happy if I take some ancient and cramped small car. She will start to misbehave.
I have a Skoda Octavia. This is a fairly large, comfortable car with a large trunk and comfortable suspension. This is what I'm going to start from:
I immediately discard small cars. We are accustomed to a large space and it can be cramped for us in such a car. The air conditioner will not cope in the summer heat. You will not go to the mountains – the car doesn't have enough power.And where do you put your suitcases? Only grocery bags will fit in the trunk.
The middle class car — something like VW Golf or Passat, not very old Mercedes, Korean and French cars. This is what we are used to. If you take such a car, it will be optimal in terms of price / quality / comfort.
It makes sense to take an expensive car if you want to travel far. Do you plan to drive more than 5-6 hours a day? Take an awesome car. You will be much less tired and get a lot of cool emotions from such car.For example, last year I rented a Skoda Superb. Brand new, literally straight from the factory. With leather chairs and a full package of assistants. Yes, I overpaid (maybe even several times). But we have no regrets. It was interesting. And now I'm also motivated to work harder to "upgrade" my Octavia.
I can also advise you to focus on why you need a car. You can also go to the beaches outside the city in a small car: rent is cheaper, fuel consumption is lower, it's easier for a tiny car to find a parking space. But small cars are less suitable for long trips. It will be crowded, uncomfortable and very hot inside, believe me.
It is often said on the Internet that the country is mountainous and automatic transmissions are not very popular here. About 5-7 years ago it was like that. But now progress has gradually reached Albania. On the Localrent.com, for example, there are about 2 times more cars with automatic transmission than with manual transmission.
I would recommend to take the car with a gearbox that you used to. If you drive a car with the automatic transmission – well, take this one. If you fet used to the manual transmission and want to control everything – it's OK!
Any modern car normally drives in the mountains. "Engine braking" is also possible on the manual transmission. Yes, and it's not necessary in Albania, if you're not speeding.
Curious idea for car fans:
There are many very old Mercedes in Albanian car rentals. Cars that were made in 2000-2010s. They are inexpensive, in good condition and quite interesting. A completely different era of the automotive world. Cars are very interesting, but fuel consumption will be enormous!
You can find such cars, for example, on the Localrent.com website.
In general, there is a tale about Albania that everyone here drives Mercedes. Once upon a time, that's how it was. The country had terrible roads and very poor people. Only the wealthiest could afford a car. They bought Mercedes because of it's reliability and to demonstrate their status.
For more than 10 years this is not the case. But you may still want to rent Mercedes. Just to be as everyone else. But in fact just don't bother, take any car you like. Yes, there are a lot of Mercedes cars on the roads, but there are enough of other cars.
Car insurance: which one do you need?
Albania has a fairly standard insurance system:
TPL. It doesn't protect you at all. But if, through your own fault, you crash into someone else's car, the insurance will cover its repair. If someone crashes into you, then your car will be repaired at the expense of his TPL.
Such insurance is already included in the price of any car. You don't have to pay for it.
CDW and SuperCDW. Protects your car even if you are to blame for the accident. Regular CDW does not cover damage to wheels, windows, underbody, mirrors or headlights. SuperCDW covers it all.
The insurance would be good if it were not for the deductible of

1000-1500 €

≈ 1050 $, 860 £, 3860 Dh, 18240 ₺

. It protects only in the case of very large-scale accidents, which do not happen so often.
If you search on Localrent.com, you can find cars that give CDW for free with a deductible of

200 €

≈ 210 $, 172 £, 772 Dh, 3648 ₺

. This is already quite a useful option that can help in case of something. But it's about 20% more expensive.
How to find out what kind of insurance your car will have and how much it costs:

Insurance with a large deductible is inexpensive. But they only protect if you get into a serious accident. Scratches and dents you will have to fix at your own expense.

Full coverage. This is the most reliable insurance, which usually protects against everything and without a deductible. But it also costs almost more than renting a car itself. And you still need a police report.
---
Also, for each car you will need to leave a deposit. On Localrent, this can be a small amount of 100 € ≈ 105 $, 86 £, 386 Dh, 1824 ₺. But on Economybookings, Rentalcars or Discovercars they can ask for a deposit of more than 500 € ≈ 525 $, 430 £, 1930 Dh, 9120 ₺ even for a small car. This is more or less regular practice. It works like that all over the world.
What is a deposit and franchise?
I understand that the term franchise and deposit is not clear to everyone. I'll try to explain:
Deposit – the amount that will have to be left to the rental company upon receipt of the car. Usually it is "frozen" on the bank card. But on Localrent.com, you can leave a cash deposit for almost all cars. Convenient, as "defrosting" can take up to a month. And if you make cash deposit you take the money back after you return the car.
If you do not scratch anything, the deposit will be returned upon receipt. If you scratch the car, heavily soil the interior or do any other damage, the manager will deduct the cost of the repair from the deposit and return you what is left.
---
A franchise is something else entirely. Its size often coincides with the deposit, and therefore people often confuse these two concepts. But in fact, this is a word from the world of insurance. In general terms, this is the amount you risk, even if you have insurance. For example:
if you have

300 €

≈ 315 $, 258 £, 1158 Dh, 5472 ₺

franchise and damage the car for

100 €

≈ 105 $, 86 £, 386 Dh, 1824 ₺

— you will pay

100 €

≈ 105 $, 86 £, 386 Dh, 1824 ₺

.
if you have

100 €

≈ 105 $, 86 £, 386 Dh, 1824 ₺

  franchise and damage the car for 

500 €

≈ 525 $, 430 £, 1930 Dh, 9120 ₺

— you will pay

100 €

≈ 105 $, 86 £, 386 Dh, 1824 ₺

and insurance company will pay

400 €

≈ 420 $, 344 £, 1544 Dh, 7296 ₺

 .
That's why CDW and SuperCDW with a deductible of more than 500 € ≈ 525 $, 430 £, 1930 Dh, 9120 ₺ are not very useful. It protects only from serious accidents. And judging by the reviews, people most often just scratch the car in the parking lot or make a small dent in the bumper.
There are insurances without a deductible at all. It's great, but it's harder to find. Usually these are called "Full coverage" and cost almost more than renting a car itself.
Do I need to rent a child seat?
Every child should have a child seat. And how exactly you get it is your own business. You can buy if you want new.
But the easiest way, of course, is to rent a child seat along with the car. In Albania it costs 10-20 € ≈ 10.5 $, 8.6 £, 38.6 Dh, 182.4 ₺, which is not as expensive as in other countries. But there are also more "tricky" rentals that charge you 5 € ≈ 5.25 $, 4.3 £, 19.3 Dh, 91.2 ₺ per day. If you need a car for several weeks, then it is easier to buy a chair in a store.
What chairs are available for rent?
In most Albanian rentals you can find any chair:
Car seats for children up to a one year old.
Child seats for children under 4 years old weighing up to 18 kg.
Booster seats for older kids.
If we talk about quality, then only the simplest models are sold. So that the chair is inexpensive and more or less suitable for all children.
Where can I get a car: airport, office, hotel
If you rent from a large company through Economybookings, Discovercars or Rentalcars, then you can pick up the car at the airport or at the company's office in Tirana / another city. They usually do not want to deliver cars around the city. Even if you pay for it. To do this, you need to keep more staff, which is not profitable.
The business is built a little differently on Localrent.com. Most of the cars will be easily brought directly to the hotel. No need to go anywhere, look for an office, etc. By the way, in Albania it's free. They charge money for such a service in other countries.
How to get a car at the airport?
The most important thing is to book the car correctly:
You must first choose the place of pick-up and/or frop-off in the search as Tirana Airport (TIA) if you're using Rentalcars, Economybookings or Discovercars,.
You choose Tirana and specify where and when you want to pick up the car at the booking stage, if you're using Localrent.com.
If you booked a car on Localrent, a manager will meet you in the arrivals area of the airport. He will have a piece of paper with your first and last name in his hands. Then he will lead you to the car and explain everything. The whole process takes 15-30 minutes.
If you have booking experience on other sites, you'll have to find a rental office at the airport. And there you will find manager who will arrange everything. Usually all this fuss with papers takes a little longer than half an hour. Because sometimes there are queues.
No need to worry. Car rental has been around for a very long time. The process is well thought out to the smallest detail and you will definitely get your car in the end.
How to accept the car and sign up documents?
Suppose you've already booked a car. If you have at least some experience of online shopping, this will not be a big problem. The interfaces of all the sites that I advised are quite simple and understandable. Yes, I've already explained almost everything.
Now there is only one "responsible" moment – you need to properly accept the car and carefully sign up all the documents.
If you booked a car with a decent company, their manager will help with this: he will show you everything, tell you and point where to sign. But it will not be useful to know  what are you doing and why. To do this, I made a guide:
How to accept a car in Albania: instructions
Experienced travelers already know perfectly well what and how to do. But newbies could use a little help. I still remember very well the first time I picked up the car. I was very nervous and immediately forgot everything.
If I had a similar instruction, I would feel much more confident.
What do you need to take with you?
External inspection of the car
If you are flying with a family, accept the car all together. While the "main" driver is talking to the manager and transferring all the scratches and dents to the inspection card, the second person is filming the car. Just start the camera and go around the car several times in a circle, trying to get all the flaws of the car into the frame.
Pay special attention to bumpers, wheels, glass, headlights and doors. Feel free to take close-ups of them. The video usually takes 10-15 minutes.
Make sure you accurately check and film these elements of the car:
Checking the engine compartment
Not necessarily, but if the car is old, it's better to open the hood and see what's there. Of course, a detailed check is not needed. So, just take a look:
Inspection of the interior, checking the configuration
Let's look inside. I recommend you to check that people have not forgotten their things in the glove compartments, door cards and sunglass holder. A thorough inspection is not necessary, but if there are rips or tears in car seats or large stains, ask to note this in the contract.
Here is a list of places I usually check myself:
Quick car check
Turn on the engine. Then look at the dashboard and check that everything works:
Checking documents and insurance
You sit in the driver's seat (if you pick up the car at the airport or city) or at the table in the company's office. Read the contract carefully. You check the price, the size of the deposit, the conditions. See if there are any "staggering" fines.
All damage must be noted on the inspection card. If there are no mats or hubcaps on stamped wheels, there should be a record of this. The deposit must be specified in the contract. To make it clear exactly how much money you left.
---
Renting for the first time? Are you afraid to forget something? Print out this checklist and take it with you. Well, or you can bookmark the page and mark everything right in the process.
Yes, my instructions look scary. In fact, the process of obtaining a car is usually not at all complicated. It's just better to check everything well than to regret later and and face the consequences.
Returning the Car: what to look for?
Returning a car is always much easier than receiving it. Usually this process looks ridiculously primitive:
You drive up to the parking lot, where you promised to hand over the car.
Write to the distributor something like: "hello, I'm here"
He goes around the car in a circle and that's it.
If you left a deposit in cash, take it back. If they "frozen it" on the credit card, simply unload the suitcases from the trunk and give the keys with the documents.
There are no special tricks when returning a car. You can ask the manager for some piece of paper that you returned the car intact and there are no complaints against you. But not everyone agrees to issue it. You don't need the documents you have left with after a month or two.
The only important thing: if possible, try to arrange everything so that someone picks up the car from you. Don't leave it in the parking lot. Even if the company allows it. Anything could happen to this car, you know.
If you leave the car without inspection by a person (at night, for example), at least take a video of it. So that it can be seen that you left it intact.
Car rental scam in Albania: how is it really?
If you read the forums, you get the impression that in Albania almost every second someone is being deceived. But there is a nuance … You open a branch for any other country, and everything is the same there: crooks and deceivers are all around.
How is it really?
In reality, car rental companies can deceive tourists. You can't hide the truth. But this is quite rare. Tourists cheat more often.
What do you mean tourists cheat? How can it be? Here are some examples:
Scratches and dents. If you scratched the car, you have to pay for it. And many tourists don't want to. It starts like this: "it's not me" and "it was all scratched up."
Agreement conditions. People don't always read what they sign. And when "suddenly" it turns out that the car have a limited mileage or, for example, a CDW franchise of

1250 €

≈ 1312.5 $, 1075 £, 4825 Dh, 22800 ₺

, they begin to accuse everyone of cheating.
Guys, the car was cheaper because of the limited mileage. And they gave you insurance for free precisely because there is a franchise there. Such insurance costs a penny for a distributor, but it will save you in the event of an accident.
Misunderstanding of responsibility. Many people think that "if it's not your fault – you shouldn't pay". But it's not always the case. Let's say you are driving your car and catch a nail with a wheel. Or a stone in the windshield. Or some weirdo in the parking lot will scratch your car and drive away. And you couldn't find it. Who will pay?
And why do you think that it is different with a rented car? As long as it is in your hands, you are responsible for all damage. Including those that do not depend on you.
You get in touch with scammers. For example, they seduce you with the price of

10 €

≈ 10.5 $, 8.6 £, 38.6 Dh, 182.4 ₺

per day. You took the car from shady dealer. Or sent an advance payment to some crook. Some "Albanian" guy with perfect English.
Who is guilty? Well, such tourists were deceived by other people, right? But if they had restrained their greed and laziness a little, nothing would have happened.
---
That is, people are either trying to cheat "these scratches were here before me!" Or they just don't fully understand what they are signing up for.
If you rent a car on decent, trusted websites, you will not have any problems. For convenience, I will even duplicate the links:
P.S. When I first scratched the car, and even in an inconspicuous place, I also had a vile thought to blame everything on the company. Like, "this scratch was definitely there, I don't know anything." But my parents raised me very well and I didn't do that.
And sometimes it happens that you damage the car and you don't notice it yourself. Or in the parking lot someone will scratch it. During drop-off they show me a new scratch. I open the video, I look … Yeah, it really wasn't there when I get the car.
FAQ: answers to popular questions about car rental
I will answer the most popular questions about car rental in Albania. I got ideas for them from what friends usually ask me when they start to think about whether they should go to Albania.
Is it dangerous to rest in Albania?
There are a lot of horror stories about Albania on the Internet. But most of them are based on movies, where Albanians are often portrayed as "bad guys". Remember the movie "Taken" with Liam Neeson. The events may take place in Paris, but the bad guys in the film and sequels are from Albania.
Add some bad vibes guides from neighboring Montenegro. Especially if you buy excursions near the waterfront. They will tell you any fairy tale to make emotional impact. And since some people went to Albania as an excursion from Montenegro, these "horror stories" then begin to surf the Internet.
In fact, I did not feel any danger in Albania. The people are friendly, calm and treat tourists very well. No matter if they're from large cities or from small villages somewhere in the middle of the mountains.
Albania is among those countries where I didn't feel that they think of me as a "walking purse" and try to take out more money from me.
---
Interesting fact: Albania is NOT a Muslim country. A mosque can easily stand next to an Orthodox or Catholic church here. And you may find pretty and not too dressed girls in various ads.
And all sorts of ratings agree with me. For example, according to most ratings, Albania is considered slightly safer than neighboring Serbia, Montenegro and Greece. Albania is ahead of the UK, France, Cyprus, Moldova, Kazakhstan, Belarus, Georgia and Armenia in terms of security. Strongly ahead of Ukraine, Turkey and Russia.
As I see it, all these ratings are a rather arbitrary thing. But Albania is really safe. No one will rob you, girls are not molested, and in general everything is highly cultural.
Is it possible to get a car directly at Tirana airport?
Of course. Many people do just that. This is convenient and allows you not to pay for a transfer or taxi. The savings are small, but still they're nice.
If you arrive or depart in the middle of the night or early in the morning, when the offices of most rental companies are not yet open, I recommend booking through the Localrent.com website. They have a surcharge of about 30 € ≈ 31.5 $, 25.8 £, 115.8 Dh, 547.2 ₺ (the site will show it at the booking stage) even at 2 am a person will drive up and give you a car.
International brands aren't that flexible. It is usually not possible to pick up a car during non-working hours. But sometimes you can turn it in in the middle of the night if you leave it in the parking lot and throw the keys into a special box. I don't like this, because I always worry whether everything is okay. But my friends often leave the car.
Is it possible to travel abroad? To which countries?
To travel abroad, you need permission from the distributor and special insurance called a green card. Therefore, be sure to warn the distributor in advance where you plan to go. For example it may look something like this: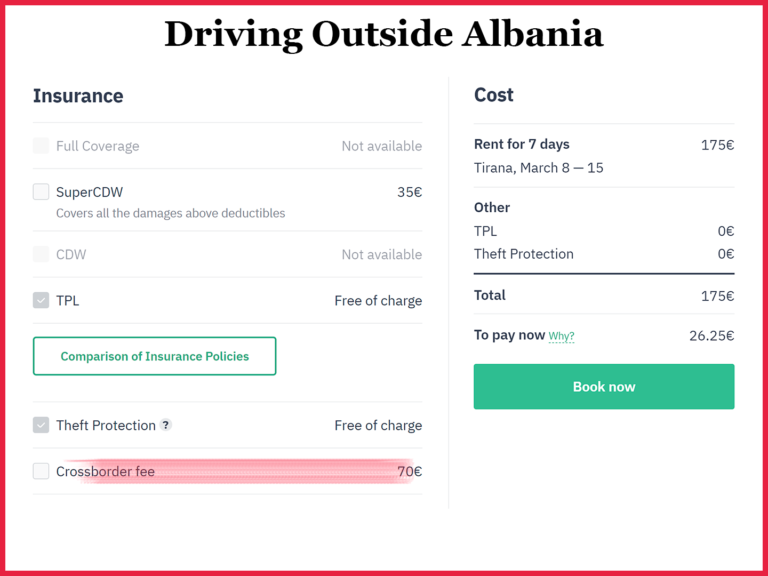 Rentalcars.com, Economybookings.com and Discovercars.com also have this option for you to travel abroad and it costs around 50-100 € ≈ 52.5 $, 43 £, 193 Dh, 912 ₺. You will need to write about this to the distributor after booking. Better 5-7 days before the start of the rental.
---
Greece is to the east of Albania and Montenegro is to the west. Both countries are interesting and theoretically you could go there from Albania.
In practice, I would not recommend doing this. That's why:
Insurance. In Albania you can have good CDW or even full coverage insurance. Abroad, "the carriage turns into a pumpkin" only a green card will be valid, that is an analogue of TPL.
Logistics. In both Montenegro and Greece, most of the interesting places are far from Albania. You can't see everything in a couple of days.
You can return the car only in Albania. That is, you first pass the border. Then you go to see something, and then you drive back for two days and go through the border again only to return the car. It comes out uncomfortable.
Prices. It's starting to get interesting. You can find a car in Montenegro for 10-20% cheaper than in Albania. The car will be newer and with good insurance.
That is, it is easier and cheaper to get to Kotor, Tivat, Bar or Podgorica by public transport and rent a car there. If you plan your trip wise, you even don't have to return to Albania. Buy a ticket home from Tivat airport. After you travel all over the country.On the other hand, car rental in Greece is more expensive. Prices there are at least 15-20% higher than for a similar car in Albania. So there is some sense in traveling abroad. But I haven't done it myself yet, so I can't say how great it is.
I would not go to Kosovo and North Macedonia. Even if the managers of the rental companies allow it, which is a common thing in Albania.
Personally, I'm scared (after Albania, yeah!) And I don't understand what to do there. Montenegro or Greece – yes. But Kosovo doesn't sound such tempting, I guess.
Kosovo is a partially recognized territory. Albania considers it a separate country. Serbia thinks of it as a part of its territory. Therefore, you cannot enter Kosovo from Albania, and leave through Serbia. They will punish you for that.
For how many days should you rent a car?
I would recommend renting a car for at least 3-4 days. In Albania, some cars will simply not be handed over to you for 1-2 days. And what's the point? The first day you get a car, but almost the next day you have to return it? It's kind of tedious.
Of course, you may find in Albania some "discounts", when the distributor sets you a lower price per day for a long rental period. But even in summer this is not as pronounced as in other countries. The same car may cost you 45 € ≈ 47.25 $, 38.7 £, 173.7 Dh, 820.8 ₺ for a 2-day rental and 40 € ≈ 42 $, 34.4 £, 154.4 Dh, 729.6 ₺ for a week or even two. Not at all like in neighbouring Montenegro, where the discount can be almost doubled!
How are the roads, parking lots, gas stations and traffic rules in Albania?
Roads are good. Asphalt is fine. Road surface markings are not everywhere. But there are almost no holes in the road. No need to constantly think about how to go around the next pothole on the way.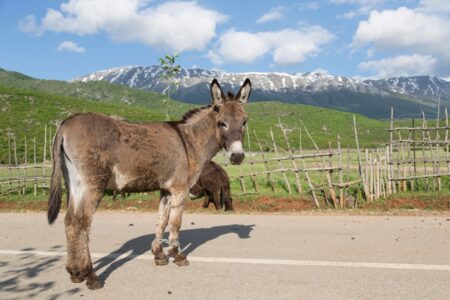 I noted that on the roads where cars drive, you can see beasts of burden walking around.
It was pretty cool to admire the donkeys right from the car window. Albanians are sociable. So if you are stuck in traffic together, it will be fun.
Therefore, one must be careful on Albanian roads. The movement is chaotic, and even at any moment you can be "cut off" by the most real donkey.
Is it worth driving at night?
Depends on the roads. I wouldn't risk it in the mountains. Not everywhere there are normal fenders and good road markings. You may not notice how you'll go into a ditch. But you can easily drive through the city and central roads at any time of the day.
There are no unique features in the traffic rules. In addition, not all Albanians know and follow the rules. Speed mode is simple:
In the city it's up to 50 km/h
Outside the city up to 80 km/h
On highways up to 110 km/h
There are many 40 km/h signs around the city. And on the roads, too, you may see a lot of speed limit signs. Better to follow them. They don't hang there without a reason.
Parking lots in Albania
I met paid parking only in Tirana, Pogradec (Lake Ohrid), Durrës and other resorts by the sea. The prices are decent: 0,5-1 € ≈ 0.525 $, 0.43 £, 1.93 Dh, 9.12 ₺ per hour.
In Tirana, free parking is a real problem. Paid ones are divided into two zones: "zone A" is more expensive and "zone B" is cheaper. How to pay is described on the signs. Send SMS from an Albanian number and park. Do not take free parking lots of other people. They are marked with a rope or some kind of chair.
As for me, specifically in Tirana you do not need a car. Rent a car and immediately drive out of the city. That way there are no problems with parking. And if you suddenly find a paid parking, then it will always have staff to whom you can pay.
Gas stations in Albania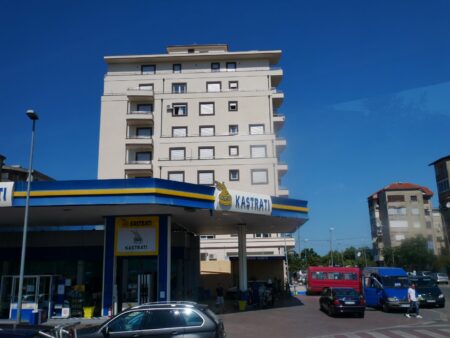 There are a lot of gas stations, from different brands. Usually they are managed by private owners. There are not so many networks. The most popular are Kastrati.
It makes no sense to memorize the names. If everything looks more or less decent, then the gasoline there will be good.
Fuel if of high quality here. It is the same on every gas station. It is cheaper at small gas stations simply because it is a purely family business with a small margin.
How much does fuel cost in Albania?
At Albanian gas stations, everything is usually quite simple. There is only 95-octane petrol, one type of diesel and gas. I didn't see any gas powered cars. Diesel cars are very popular, about 2/3 or even a little more. Petrol, respectively, about 30%.
Diesel fuel
Petrol 95
Gas (LPG)

1.65 €

≈ 1.7325 $, 1.419 £, 6.369 Dh, 30.096 ₺

1.62 €

≈ 1.701 $, 1.3932 £, 6.2532 Dh, 29.5488 ₺

0.65 €

≈ 0.6825 $, 0.559 £, 2.509 Dh, 11.856 ₺
Gas is not available everywhere. It goes without saying that at different gas stations, fuel prices are slightly different. But usually not very much, within 10-15%. There are refueling workers at gas stations. You don't even have to go out of the car, just open the gas tank hatch and that's all.
Bank cards are accepted only at large network gas stations. Yoy have to pay in cash in local currency at the small ones, which are the majority in Albania.
How do the police treat tourists?
Very friendly. They say that the police have an unspoken order not to touch the tourists, if they are not "badly behaved" and seriously violate traffic rules.
That is, it is still aren't allowed to exceed the speed limit, drive drunk or drive on a red light. But if you violate the little things somewhere or get confused on the road, the police will most likely help and let you go without a fine.
How do Albanians drive?
Many talk about the aggressive driving style of the Albanians. I didn't see it. They drive with disdain for traffic rules. But at the same time, they are not making you problems by such messy driving. I've never met "teachers" and "eccentrics" on the roads here, not did I hear screams and curse words.
Yes, here they can drive in the oncoming lane, almost never use turn signals, overtake in the wrong places, turn around through a solid line or even at a pedestrian crossing when people are walking along it.
But at the same time, there seems to be no rudeness or deliberate sabotage on the road in Albania. Here you will let a person through, then you will mess with the rules somewhere and they will let you through even breaking the traffic rules. It's accepted here. You just have to adjust.
In general, as you travel around Albania a little longer, you begin to understand that you have a lot to learn from them. They drive calmly. Nobody is in a hurry. And you won't be rushed either. They won't even honk if you suddenly stop in the middle of the road. Someone will go around, someone will ask if you need help.
What should you come to see in Albania if you have a car?
If you have already decided to go to Albania, then you know exactly why you need it. But I will still share a list and photos of places that I especially liked. Well, what if you missed something?
First, let's talk about the capital of the country, the city of Tirana. As I already mentioned, it is better to do without a car there at all. Finding free parking is a problem, traffic jams are big, and all the most interesting things will be in the center:
It is absolutely impossible to show the whole of Tirana with three photographs. It is necessary to write a separate article here: the city is large and interesting.
So I recommend you to see the bunkers, the monument to Skanderbeg, the painted Soviet skyscrapers and art objects when you get here. You will enjoy walking around Tirana for 2-3 days at least. It is such a pleasant city.
---
Well, now we can talk about routes that cannot be seen without a car.
"Beach" route in Albania
Distance: 600+ km
Time: 3-7 days
Attractions: beaches
We leave Tirana and get to the city of Durrës. This is the most famous resort in the country. That's because it is located not far from the capital, it have more than 10 kilometers of good sandy beach and there is something to see in the city.
We continue to drive south along the coast. Make a stop at the resorts of Vlorë, Borsh and Sarandë. If you have time, you can make overnight stays there.


If you're in a hurry, stay overnight at least once. There are several roads. Choose the one that seems more beautiful to you. I prefer to drive not in the way that the navigator propose by default, but through the mountains, closer to the coast.

If you spend the night in Sarandë for several days, you can go to the Butrint National Park. It's very close and you'll find something to see there.

If you have only 3-4 days, return back to Tirana using the same way. If you have more time, drive through the mountains. Use a route like this: Gjirokastër Castle → Fir of Hotovë-Dangëlli National Park → Tomorr Mountain National Park → Berat → Tirana.


I would go to Berat anyway. Even if you are just returning to Tirana along the coast, there is no need to make a big detour. And the place is worth it!

Berat is often called "the city of a thousand windows". This is in fact a very beautiful, atmospheric place that just asks me to take a photo.

---
Route to Skadar lake and mountains
The second most popular route is to the north of the country. It looks like this:
You leave Tirana and drive towards the town of Shkodër. On the way you see the Rozafa and Krujë castles, and after the city – the arched Mesi Bridge.

There will be the famous Skadar Lake nearby – the largest lake in the Balkans.

If you have an off-road car, then you may move to the northeast, to the Theth National Park. There are beautiful mountains and a great waterfall, but the road is so-so.


I would like to have some time in the Prokletije National Park and the Valbona Valley. But the navigator did not know the "direct" road. And I did not dare to search them for a long time. Maybe this road doesn't exist and you can't get there through Shkodar, and the only way to see them is to go by another road.

---
Show approximate route on the map
Is it dangerous to rent a car in Albania?
In short:
Renting a car in Albania is no more dangerous than in any other country. In some ways it's better, in some ways it's worse. But in the end, it comes out just fine.
They often say that Albania is an ideal country for the first car rental experience. I cannot agree with this. It's the same for me as any other country. No better or worse. Car traffic is very chaotic and it will be quite difficult for an inexperienced driver in the city. And in August there are often traffic jams outside the city.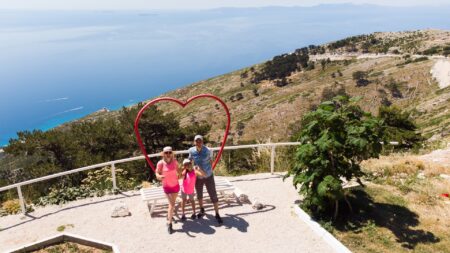 On the other hand, the main traffic jams are in Tirana. You can do without a car there. And the driving style of the Albanians, although rather chaotic, is generally friendly or something.
No one is trying to "teach" you by braking sharply right in front of the bumper, as happens in some other countries. There are almost no cases of reckless driving either.
Deposits in Albania are minimal. If we're comparing them to Turkey or Cyprus – we can assume that they do not exist. And distributors are loyal to small scratches and dents. If you do not take a car from crooks, no one will fool you.
What to pay attention to?
No one will deliberately deceive you. But this does not mean that you can take the first car that comes across and sign the contract without reading it. You should always be careful:
Limited mileage. These cars are rare, but they do exist. Usually the limit is 200 km per day. Are you renting for 3 days? You can drive up to 600 km. Exceeding the limit usually costs

0,3-0,5 €

≈ 0.315 $, 0.258 £, 1.158 Dh, 5.472 ₺

for each "extra" kilometer. The country is big. If you do not pay attention to this, you can easily get a

100 €

≈ 105 $, 86 £, 386 Dh, 1824 ₺

fine.
"Jack of all trades". There are enough stalls where you will see only one person. He deals with currency exchange, excursions, car rental. A small family business. It is unlikely that it is possible to keep up with everything in this case.
Fraudsters. There are not many of them in Albania. But some of them are here. As in any other country. Therefore, I do not advise taking a car in an office with a beautiful sign. You don't know what their reputation is.
Insurance. CDW with a franchise of

1000-1500 €

≈ 1050 $, 860 £, 3860 Dh, 18240 ₺

is cheap. But it will only help you in the event of a serious accident. That's how it's intended. Know exactly what you are buying.
Others say that cars are being stolen en masse in Albania and even people are being stolen for organs. It seems to me more like horror stories inspired by Hollywood action movies. I did not see anything terrible during my 4 trips to Albania.
In general, the Albanians seemed to me very polite and friendly people. A couple of times they rescued me in a difficult situation. Completely free, by the way.
Is it safe to rent a car with prepayment?
If you rent on Localrent.com, Rentalcars.com, Economybookings.com or Discovercars.com — it's 100% safe. They don't do cheap shots. Of course, in real life there are some "mess ups", but usually everything is resolved quickly and fairly.
On the contrary, prepayment is good. The company has an obligation to give you a car. And if you rent without prepayment, then your voucher is considered only a "notice" that you would like to take such a car on such a day and at such a price. If the car will be free – they will give it to you. If not, they will offer something else, more expensive.
My experience: I have rented cars from these sites many times. Both in Albania and in other countries. And I have never been deceived.
---
Rent at your own peril and risk through other services and "directly" from the distributor. I saw different reviews. Including those when people gave an advance payment and then they never received the car.
But still, more often than not, people complain that a deposit was confiscated from them on a far-fetched pretext. You will find such complaints in any country. The same Spain, for example, you may read the reviews. Usually they are connected with the fact that people either unknowingly took a car in the first place they came across and ran into scammers, or consciously thought to "cheat the system" and took a car at a suspiciously low price.
Do I need to wash my car after renting?
No need. In Albania, this is not very common. You can return the car in the dust after a trip. Nobody will say a word to you.
But there are car washes on almost every corner. They are called Lavash. It's like a national "feature". Therefore, if the car is very dirty, you can wash it to see another facet of the national color. It's very cheap here. They will wash your car both outside and even inside for 3-5 € ≈ 3.15 $, 2.58 £, 11.58 Dh, 54.72 ₺.
What to do if you scratched the car?
In this case, I have an ancient Chinese spell:
Stand up straight.
Take a deep breath in and out.
Wave your hand from top to bottom.
Say "Well, to hell with it."
Drive on like nothing happened.
But seriously?
Exhale, calm down. Think that it's okay. Everyone may scratch rented car. That's why they are given to you in "scars". No need to worry, walk in a bad mood and spoil your vacation for yourself and your loved ones.
Repair of a small scratch will cost up to 20-50 € ≈ 21 $, 17.2 £, 77.2 Dh, 364.8 ₺. This is not the money to worry about. Moreover, by renting a car you have already saved a couple of hundred euros compared to excursions. Your savings will be a little smaller, that's not a big deal.
Next we write to the distributor in WhatsApp or any other messenger. Send a photo and ask what to do. Most likely you don't need to do anything.
It happens that Albanians do not fine at all if the scratch is small, because they've already planned to take the car to the paint shop in the near future.
What should I do if I get into an accident?
To begin with, even in Albania you should not be too afraid of a car accident. I looked the statistics here: less than 1% of car rental customers get into serious accidents. Small scratches and dents are "made" by another 5-8% of drivers.
This is noticeably more than in other countries (Albanians drive strangely, yes), but still not that much. Most likely, you will not get into a car accident.
---
But what to do if you're still unlucky. Your actions will depend on what happened. It's one thing when the bumper was crushed, and absolutely another if you hit a man:
If there are no casualties in the accident, it is better to first write via WhatsApp or call the rental manager (his number is in the voucher) or write to Localrent support. For example, your bumper was scratched in a parking lot. Or you crashed into the back of another car.
It happens that it is more profitable for the distributor to resolve the situation through their own channels. Without papers, not involving the insurance and the police.
If the accident is really serious and there are people whose life and health may be in danger, first dial these numbers:

112 — SOS signal. They will immediately organize an ambulance and the police.
127 — an ambulance. Call it to rescue the victims. Call this number if suddenly 112 does not answer. Although that doesn't seem to happen.
129 — police. I give you the number, but I don't see the point in it. If the accident is serious, then they will come with a 112 call. If not, the distributor will solve the problem himself.

And only later, when you have taken care of saving a life, be sure to call the distributor anyway and report what happened.