Hello, my name is Mary and I know almost everything about car rental in Bulgaria. Okay, I exaggerated a bit. But still, I will have more experience than most bloggers and authors of similar articles.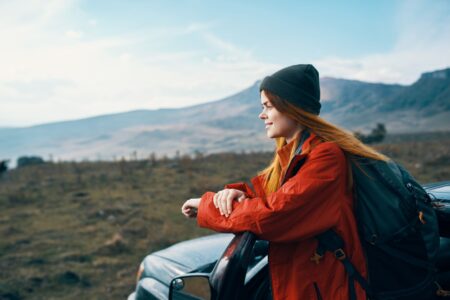 I read them before writing mine. Some have never been to Bulgaria at all, others have rented a car only once and are already giving advice to people. Why would you do that?
I've been flying to Bulgaria for more than 10 years. Rented a car 12 times from 7 different companies. Few people now have such experience: Bulgaria is not the most popular country among tourists. But we may change that! It's cheap, beautiful and interesting.
I will tell you everything that I learned about the Bulgarian car rental in this article. No internet rumours. Only personal experience and knowledge gained by me in real life.
Where and how to rent a car in Bulgaria?
My article is long. So I will appreciate your time and first I will briefly tell you the most important thing. Here is the minimum you need to know about car rental in Bulgaria:
Is it safe to rent a car in Bulgaria?
Quite safe. In my 12 rentals, I have never been deceived. None of my friends complained either.
Traffic in Bulgaria is calm. Roads are good. Drivers are generally good. My observations can be confirmed by statistics. For example, in USA there are 12.7 deaths in traffic accidents per 100,000 population, in Romania it's 10.3, and 9.2 in Bulgaria. Less is safer.
Where to rent a car in Bulgaria?
In which cities can you get a car?
If you want to rent a car without overpayments, it's better to take it at rental offices, that are located in:
Airports: Sofia, Burgas, Varna, Plovdiv.
Seaside resorts and cities: Sofia, Plovdiv, Burgas, Golden Sands, Sunny Beach, Nessebar, Varna, Sozopol, Obzor and Balchik.
If you want, you can get a car in almost any Bulgarian town, but usually for an extra charge. Someone has to drive a car there for you, right?

How much does car rental cost here?
The price depends on the chosen car, the rental period, the time of the year (more expensive in summer) and the rental company you have chosen. It is best to look at the websites that I wrote above.
More or less adequate prices for car rental in the summer will be as follows: an economy car from 20 € ≈ 21 $, 17.2 £, 77.2 Dh, 364.8 ₺ per day, a middle-class car from 25 € ≈ 26.25 $, 21.5 £, 96.5 Dh, 456 ₺, crossovers from 35 € ≈ 36.75 $, 30.1 £, 135.1 Dh, 638.4 ₺, premium cars from 50 € ≈ 52.5 $, 43 £, 193 Dh, 912 ₺.
But it is better to understand here that for this money the car will be quite old and not very comfortable. Cool cars are about 1.5 times more expensive.

Which car to choose?
For traveling around the country, a small car is enough. If you fit in it and don't bang your head on the roof like my brother, you can get the cheapest car. It's also easier to park.
But if the budget allows, it is better to take a comfortable car. When I started doing this, it became much better: you get tired less, your mood is good, etc.

What is needed for rent?
Driver's license, passport and payment card.
Economy car requires a driver from 21 years old and driving experience from a year.
Most of the cars requires age over 22 years old and with at least 2 years of experience.
To rent premium cars, it is better to be over 25 years old and have at least 5 years of experience. But here it is necessary to look at a specific car. Everyone has different rules.
When is the best time to book a car rental?
The closer to the holiday, the less free cars will be left. This means that rent will be more expensive. When renting in advance, there is more choice (it's relevant when renting through
Localrent
), and car rental companies often give discounts (for example,
Top Rent A Car
).
Personally, I start looking for a car as soon as I know vacation dates. It's cheaper this way. There are other tips for saving on car rental toward the end of the article.
Well, if you want to understand the nuances, read on. There are step-by-step instructions with pictures, and a checklist for getting a car from dealer, and the nuances of traveling with children. Lots of useful and interesting stuff.
Why rent a car in Bulgaria?
Rest without a car in Bulgaria is hard. Everything is small here. No matter where you live, you will get bored in 2-3 days. And you will want to see something interesting, swim on new beaches or arrange a little shopping.
In general, everyone will have their own reasons. Someone does not want to pay for expensive and low-quality Bulgarian excursions. Others want to visit some cool place (and there are many of them in Bulgaria), which is not covered in any excursion. For some it is important to have mobility and the ability to travel to stunning beaches outside the city.
The car gives you freedom on vacation! This is an indescribable feeling of a real journey. No matter how much I will write here, you will not understand until you try.
I think that car rental is the only way to normally drive around the country and see at least something. Let's run through the alternatives:
Excursions in Bulgaria are expensive and do not have any special quality.
Public transport does not go to tourist places. You can only ride between the cities.
Transfers and taxis are just expensive. As elsewhere, I don't use them much.
Is it scary to rent a car abroad?
When I was going to rent a car for the first time, I read the reviews. Then it was forums and blogs. The people wrote about a complete deception and that the distributors asked for a cosmic sums of money out of the blue.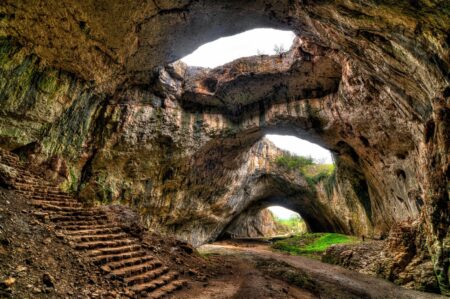 Negativity could be found about ANY distributor and in any country. It doesn't matter if it is Bulgarian, international or even a company in Germany. It seemed that only scammers work in this business. I was very, very scared.
It's actually not all that terrible. I won't lie: there are scammers too. And sometimes they even manage to deceive people for decent sums of 300-500 € ≈ 315 $, 258 £, 1158 Dh, 5472 ₺. But it's still rare.
In general, it's your fault if you've been deceived. For example, if you fall for a price that is too low, take a car in an unverified company or sign documents without reading them at all, then prepare yourself to loose 500 € ≈ 525 $, 430 £, 1930 Dh, 9120 ₺.
But if you do not mess with crooks, the risk of fraud will be minimal. Most distributors are very adequate and honest people. Why then so much negativity about any company? There are also enough inadequate and cunning customers. They scratched the car themselves, but they don't want to pay.
Let's share my opinion. I rented a car in Bulgaria 12 times. I have never been deceived. I scratched the car 4 times. The cost of repairs was considered honestly. I later found out it at home, that is costs more to fix such scratches.
CONCLUSION: do not read bloggers and forums. Book in verified places (I'll add a list of companies where I book). And don't be afraid, everything will be fine!
Where is the best place to book a car?
I rented a car in Bulgaria 12 times. And now 2 more bookings are made for the summer. I tried all sorts of websites and chose the five most favourite.
But five is a lot. How to choose? So here are my two best options:
Top Rent A Car (rented 4 times). The biggest and most reliable car rental company in Bulgaria. First of all, I'm looking for cars here.
Good prices, adequate service, the ability to take a car in one city and return it in another. Offices in 13 cities + car delivery to the right address.
I wrote step-by-step instructions for booking on Top Rent A Car.
Localrent (I rented here 3 times). This is an aggregator of proven local distributors. Top Rent A Car rents out its cars through them as well.
The guys have great support and prices are often lower than "directly" in the office. I don't know why, but it's true. I love this website. I also used it in Cyprus.
I wrote step-by-step instructions for booking on Localrent.
---
And there are three more international brokers, which are also normal. But on my dates it usually turned out to be more expensive. Specifically, I rarely use them in Bulgaria. But in other countries, especially in Europe, this is a good option.
Rentalcars (I rented here 1 time) is a broker owned by Booking.com. Probably the most popular car rental website in the world. I used it more than 10 times, but only once in Bulgaria. It was my first rental.
It seems like everything went fine. But the choice in Bulgaria is small. And the prices are quite high. So I don't use them anymore.
Economybookings (I rented here once) – another similar website. It is similar to the previous one. But the prices for the same car will be different. On my dates it's usually much cheaper here. And they have better choice.
This website has the largest range of distributors in Bulgaria so far.
Discovercars (I use this website in other countries) – a good company that I tried about two years ago. It is often cheaper here or the cars are interesting. I rented a car in Germany and Italy. I have not rented anything in Bulgaria yet, since the range of distributors they have is still quite modest. Nothing to choose from.
---
I also took the car "from the street" three times. But the experience was rather unpleasant. Maybe later I'll tell you about it in detail.
Car rental through a local company Top Rent A Car
Top Rent A Car is the biggest car rental company in Bulgaria. They have several thousand cars. From small to premium cars, trucks and even wedding cars. Here you can even rent a brand new electric car, which is a rarity in Bulgaria.
Why do I rent here?
Most often I rent cars on this website. There are several reasons:
Low prices. It's almost always much cheaper here than elsewhere. Sometimes I managed to save 2 times compared to the price from brokers.
Renting here is safe. Neither I nor anyone I know have ever had a problem with this company. They work honestly and responsibly.
Of course, you can find a car almost for free in Bulgaria. But almost always these are scammers who will then deceive you.
There is a choice. You can rent a cheap small car like the Renault Clio V, or you can rent a premium car like the Mercedes-Benz C-Class or VW Touareg. There are many middle class cars available. There are even electric cars.
Lots of new cars. Company vehicles are always new. When the car is a maximum of a couple of years old, it is both safer and more pleasant to drive.
The cars are old in most Bulgarian car rentals. A lot of cars are older than ten years. They are cheaper. You can find them, for example, at Localrent.
Adequate conditions for insurance and deposits. It is clearly stated what kind of insurance you can choose for each car and how much it will cost. If you want to save money – take CDW + TP. It's free here. Most rentals take money for such insurance.
For this money, you can buy SuperCDW (Tyre & Glass Cover). The price depends on the car class and starts from

5 €

≈ 5.25 $, 4.3 £, 19.3 Dh, 91.2 ₺

per day. The maximum insurance costs from

11 €

≈ 11.55 $, 9.46 £, 42.46 Dh, 200.64 ₺

and gives a lot of additional benefits.
This company has very good collateral conditions. If you do not buy additional insurance, the minimum deposit is

300 €

≈ 315 $, 258 £, 1158 Dh, 5472 ₺

, which is a penny compared to the conditions of international distributors. The more expensive the car, the more the deposit will be for it. When buying Top Protection, this deposit is reduced by 2 times.
If you have no extra money for a deposit, but you still need a car, look on the Localrent website. There are many cars there without collateral or

100-150 €

≈ 105 $, 86 £, 386 Dh, 1824 ₺

deposits. But usually these are quite old cars.
Many offices across the country. The car can be picked up at almost any airport or most tourist cities in the country. Such as:

Airports: Sofia, Burgas, Varna, Plovdiv.
Seaside resorts and cities: Sofia, Plovdiv, Burgas, Golden Sands, Sunny Beach, Nessebar, Varna, Sozopol, Obzor and Balchik.

For an additional fee, the company will deliver the car almost anywhere. Even in Romania or Greece. I have not even heard of most Bulgarian towns they have on the list.

Website in 17 languages. Their website supports, English, German and French.
The translation is not perfect. There are errors. But you can understand it, everything is clear in general. Even legal information have been translated, which on many websites are written only in English or Bulgarian.
You can go abroad. They have the lowest prices for driving a car abroad from all the Bulgarian car rentals I know. You can go, for example, to Greece, Romania or Turkey.
Details about leaving Bulgaria on a rented car are further in the article.
Good 24/7 support. Very handy in case of force majeure. You may got into an accident, smash glass with a stone or pierce a wheel. Call them and they will help you, give some advise.
I think I over-praised Top Rent A Car a little. It is not surprising! When you like something, it is easy and pleasant to talk about it. I will say briefly: I almost always rent cars here.
Let's talk about the booking process and various non-obvious nuances:
Choose the date and pickup location. In the form on the left, we indicate where and when we need a car. Please note that you can pick up a car both in the city and at the airport. For example, "Burgas – Airport" and "Burgas – Plaza Mall". These are different locations.

Here we choose dates, time and pick-up place of the car.

When everything is carefully filled, click on the "Search now" button.

Now we select a specific car. The range of Top Rent A Car is usually not very large. They just have a lot of the same cars. Therefore, the choice will be very simple. It is enough to decide which car you want and it will immediately be clear what to choose. Literally one, well, a maximum of two options.
For example: "I want a cheap small car", "I want a crossover with an automatic transmission" or "I want a comfortable sedan".
I decided for myself that "I want a cheap automatic car" The choice fell on Renault Clio V + NAVI for

175.56 €

≈ 184.338 $, 150.9816 £, 677.6616 Dh, 3202.2144 ₺

. Why is that? Well, you could also get a VW T-Roc for

388 €

≈ 407.4 $, 333.68 £, 1497.68 Dh, 7077.12 ₺

or a Mercedes-Benz C-Class for

592 €

≈ 621.6 $, 509.12 £, 2285.12 Dh, 10798.08 ₺

. But it's completely different money!

How to choose a car for rent: filters, preferred currency and class

Choose with the car? Press the "Book now" button.

---

But what if you suddenly want some unusual car, not like everyone else? Then I recommend looking at other websites. When I needed a convertible for my wedding anniversary photo shoot, I rented it on Localrent.

Quick check. After clicking on the "Book now" button, the website will show general information about the car, rental dates and cost. We are not looking at the price yet, it will still change depending on the insurance and the necessary options.
At this stage, it is worth checking the rental dates and whether you have chosen the right car. It happens that people wanted a car with an automatic transmission, but inadvertently choose a manual (it is often cheaper).
Also make sure that suitcases and bags will fit in the trunk. At the time of writing, all cars on Top Rent A Car have air conditioning. But it will wise to check this too.

Make sure the car is right for you. Check the options, dates and pick-up location.

Choosing insurance. If you scroll the website a little further you will see three insurance options. By default, the most expensive and fancy one is selected:

No coverage. In fact, this tariff already has insurance. And a very good one: an analogue of CDW+TP. You have to pay extra for in most Bulgarian distributors. Sometimes a lot.
The cons: even if you are not to blame for the accident, you still risk losing the deposit or part of it. In my case it is

500 €

≈ 525 $, 430 £, 1930 Dh, 9120 ₺

.
Is it worth taking? If you drive confidently, this insurance will almost always be sufficient. It is unlikely that your personal car is insured even at this level. But we all drive more carefully abroad than at home.
Tyre&Glass Cover. This is an analogue of SuperCDW. All the same + protection of wheels, tires and windows, which are not included in the usual CDW.
Is it worth taking? I think so. No one is safe from a stone in the windshield or a nail on the road. And the price

5 €

≈ 5.25 $, 4.3 £, 19.3 Dh, 91.2 ₺

per day is quite adequate.
Top Protection. The safest insurance. You do not risk anything even in the event of an accident (but a police report is needed). Plus, this insurance allows you to reduce the amount of the deposit by half. Makes sense if you rent a premium car like the VW Touareg. There's a

2000 €

≈ 2100 $, 1720 £, 7720 Dh, 36480 ₺

deposit!
Is it worth taking? I've decided this for myself. If the car is cheap, I do not overpay for insurance. But if I take an expensive car, for which I can't pay in case of emergency, then I always choose Top Protection.

What kind of insurance to choose when renting a car in Bulgaria?

Is it scary to rent a car? I guess not. I look at it this way. What if I came to Bulgaria in my personal car and got into an accident? What would be? That's right, repairs would cost me many times more than rent.

Additional options. Scroll through the website further and select the necessary extras. You can take nothing if you don't need to. But I usually take next options:

Additional options when renting a car from Top Rent A Car

Second driver in the contract. My husband and I love to take turns.
Baby chair. It costs

4 €

≈ 4.2 $, 3.44 £, 15.44 Dh, 72.96 ₺

per day. On the one hand, it is expensive, but on the other hand, what to do? No child can ride without a seat!
Mobile WiFi Hotspot. It is very convenient when there is unlimited Internet in the car. The kid watches cartoons, the husband uses Google Maps and checks business correspondence, and I look at reviews of restaurants and places along the way. Well, yes, I constantly post photos too.

Specify your contacts for communication. Nothing to explain here. We simply indicate our contacts for communication: first name, last name, phone number, email (a voucher will be sent here) and flight number if you take a car at the airport.
Important: all data must be on the person who will be driving. If the wife is booking a car, and only the husband will drive, write his first and last name.
Checking all data. We return to the very beginning and once again check that everything is in order. Take a close look at the cost of insurance and additional options. It will not be superfluous to check the size of the deposit.
Booking payment. Now you can choose one of two payment options. First: pay now only a small part, the rest – in the office. It is good if you are not sure that the trip will happen. If you know for sure that you will fly here on a vacation, you can immediately pay the full amount (second option). It's more reliable.
Important: if you rent a car for your husband, pay from his payment card. Be sure to take this card with you on vacation. Don't pay from the card of other person, there may be problems with it, so take this into consideration.
---
After making an advance payment, a voucher will be sent to your email. You can save it to your phone, but print it out if possible. Your phone may ran out of battery or you may drop it at the most inopportune moment.
Wow, it took me three days to write this manual. Is everything clear? If you have comments or questions, write them in the comments. Well, if everything is clear, you can start booking. The sooner you start, the cheaper it will be.
Rent a car on Top Rent A Car
Requirements for renting a car on this website
Top Rent A Car requirements for a driver depend on the desired class of car. For example, to rent an inexpensive small car, it is usually enough:
Age from 21 years old.
Driving experience from 1 year. If you over 30 years old, experience is not needed.
Having a bank card for making a deposit.
Do not forget to take your driving license, passport and voucher with you, which will be sent to your email immediately after making the prepayment.
---
The minimum driver's age is 23 years old for middle-class car rentals. If you want to take a premium car, you must be over 25 years old and have a driving experience of at least 5 years.
All these nuances are wrote in detail on their website, but everything is a little confusing there. Therefore, I have told you everything in a simple and accessible form.
Car rental through Localrent
Top Rent A Car is a Bulgarian rental company with hundreds of cars.
Localrent is a completely different story. They collect offers from small distributors on their website. All partners are very carefully controlled and must have at least 5 cars. This results in high-quality service at relatively low prices. As for me, they provide wider support in English.
In short, this is a website where small local rental companies exhibit their cars. Due to this, prices are lower and all customers are treated very well, almost like friends.
The main advantage of this website
I love Localrent for its incredibly good customer service. It cannot be described in words. But if any force majeure or misunderstanding with the distributor suddenly happens, they often help and really stand up for their customers. But only if you're right in terms of contract.
They can also pay compensation if the distributor somehow acts inappropriately, which still happens in Bulgaria. I have come across this only in Georgia. But in my experience, mistakes are very rare. Especially when compared to other websites. Booking here is much more reliable than anywhere else.
Remember the proverb that a friend is known in trouble? That's exactly what I'm talking about. In a difficult situation (the car is not available, you got into an accident, someone scratched the car in the parking lot, the distributor says that you stole hubcaps, but there were none, etc.) international brokers usually hardly help. I see bad reviews sometimes even about Top Rent A Car. But Localrent will always try to honestly resolve the situation.
The service works in many countries (at the time of writing, there are 12 of them). Personally, I used them in Georgia and Cyprus. A friend of mine rented a car through them in Montenegro, another one – in Armenia. Everyone was very pleased. Still, the manual screening of distributors really rules. It turns out cheap and of high quality.
---
Let's move on to a short step-by-step instruction in pictures? This will make it much clearer how to book. So, follow this link to Localrent. Specify where you want to pick up the car and when. Use filters if you wish. Then scroll a little lower and see a list of cars. For example:
In the example above, I want to pick up a car at Burgas airport (you choose the city or airport at the booking stage) for the dates from May 6 to 13 (the whole vacation). I chose to display only compact cars (filter "Economy class"). This is to make it clearer to you how to sort cars by class.
The second picture shows how to use filters correctly. They help if you need not just the cheapest car, but something specific. I have chosen the following filters:
Only automatic transmission.
No specific requirements to engine size. This filter is needed if there are 4 people in the car and you plan to go to the mountains. Then I advise you to set the minimum engine size to at least 1.5 liters. Otherwise, it doesn't go uphill at all (engine will overheat in summer) and it will be difficult to overtake.
I chose the year of manufacture from 2015. I don't really like old cars.
I chose next additional options: a second driver in the contract (so that my husband could legally let me drive) and a child seat.
After you specify all the necessary filters, just click on the "Show 31 cars" button. The website will show cars that clearly fit the selected criteria. It will be easier to choose.
---
After looking through, I settled on the Seat Leon ST. The Spaniards make such cars that will add a little positive to the vacation. This is what the description of the car I've chosen looks like:
When you open the car you like, carefully look at the characteristics. This is a description of a specific machine. Only Localrent has this feature. Let's see which car I picked for myself:
Automatic transmission and 1.6 liter engine. Will go well uphill, the automatic transmission is much more convenient. The car is very playful.
Mileage limit 1400 kilometers. This is not a big number, but we do not plan to travel far and much. So that should be enough. Cars without such restrictions are also available, but often they are more expensive.
Safety is literally non-existent. No airbags, ABS, EBD, ESP. This is bad. But since the husband drives carefully, I can live with it.
Interior: poor fabric, the minimum number of assistants, no panoramic roof, etc. But there is climate control.
Fuel consumption is only 4 liters per 100 kilometers. Even for a turbodiesel, this is a very good indicator. Let's save on oil.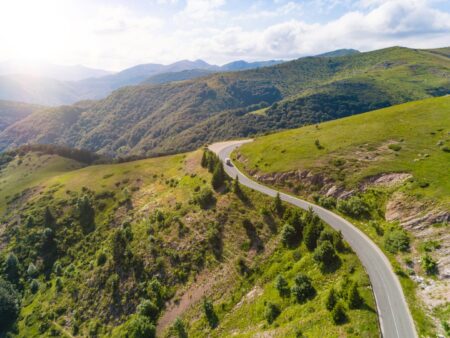 After such a description, it seems that I just picked up a disgusting car. There is nothing cool in it, solid restrictions. The car is not good at all. Why book it?
But all these inconveniences are offset by a low price – only 266 € ≈ 279.3 $, 228.76 £, 1026.76 Dh, 4851.84 ₺ for a holiday with all the extras. The car is also relatively fresh and quite comfortable inside. It is in the same league as Volkswagen Golf, made by the same manufacturer.
A good individual tour or a couple of group tours (they are not of the best quality in Bulgaria) will cost the same. But we get a car for the whole week and we can use it as we want: from trips and attractions to relaxing on different beaches.
---
Now let's look at the second picture. There are conditions for insurance and additional options. We decided not to buy CDW, but took a second driver (so that I could replace my husband at the steering wheel) and a child seat.
The website will immediately calculate the exact cost of rent. If everything suits you, press the green "Book now" button.
---
Then the website will ask you to choose where you want to receive and return the car. It can be either an airport or an office in a city. You will also need to specify your contacts: phone number, instant messengers installed on it, etc.
When you fill it all out, click on the yellow "Request" button. The site will start to check if this car will be available for your dates. During working hours, the whole process takes about 30 minutes. As soon as they make sure that the car is definitely free, a letter will come to your email. They sent it to me within 10 minutes.
If you do not want to wait for confirmation (you need a car literally for tomorrow), see options with an orange lightning. They are confirmed instantly. But in Bulgaria there are not so many such cars.
Got the letter? They say that the car is definitely free? Well, now you can pay the deposit. There will be a link in the email. Click on it, fill in your card details and that's it. They will send a voucher and you will definitely be sitting behind the steering wheel.
---
Well, did I explain everything clearly? If not, you can ask questions in the comments. And if so, then you may proceed to the booking:
Search for car on Localrent.com
What do you need to rent?
Localrent has one of the most allowing driver requirements:
Age from 22 years old.
Driving experience from 2 years.
Payment card availability for making a deposit.
You need to take your driving license and passport with you. If suddenly you are a little younger or lack a couple of months of experience, write to support. Sometimes they will help you out with this problem.
Car rent through international brokers
To be honest, I do not know who can choose this option. The previous two more or less cover all possible scenarios. For example:
If you need a new car, the easiest way is to rent it through Top Rent A Car.
If you need a cheap car, then there are many of them on Localrent.
Aggregators like Rentalcars, Economybookings or Discovercars are not very developed in Bulgaria. The assortment there is usually modest, and prices are often higher. It is beneficial only if you are used to renting cars through the Sixt or Thrifty.
I will not write instructions for all international brokers. To be honest, my experience of renting through them (specifically in Bulgaria) is relatively small, and I don't see much benefit for readers in this.
How to find out the requirements for the driver?
The main problem of renting through international brokers is that they have very different conditions depending on the specific car. One can be taken with a minimum driving experience, and another similar one – only if you have five years of experience and a couple of additional conditions like buying expensive insurance.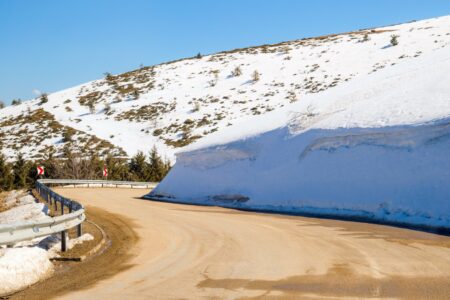 Also, these websites sometimes not showing the final price. For example, there is no way to know in advance how much the second driver in the contract or a child seat will cost. But what can I say, if sometimes in the end you even find out about the need to pay a tax or parking at the airport…
What can I recommend? Websites always have an information block with booking conditions. There will be at least some minimal information to read.
These sections are called differently. Namely:
There is a little button "Rental conditions" under the name of the car rental company on the Rentalcars website. There you must click on the "Full rental conditions" button to find out the maximum information.
There is a noticeable button "Rental conditions" in the block under a brief description of the car on the Economybookings website. There is also a lot of dry legal text, which you may study.
There is an inconspicuous button on the Discovercars website. There is also a lot of text, divided into separate tabs. Read everything carefully.
---
Pay attention: Driver requirements and deductibles are often much higher for international car rental companies than for local ones. There are cars that simply will not be given to people under 35 years old, without 10 years of experience and a deposit of 1000+ € ≈ 1050 $, 860 £, 3860 Dh, 18240 ₺. Be sure to have a credit card with a name and embossed symbols on it.
But you can still book these cars, even if you are an 18-year-old guy. It's just that you will either be refused a lease at all (the prepayment will burn), or they will force you to buy maximum insurance, which often costs 2-3 times more than the car rental itself.
How to make a correct booking?
So, we sort of figured out the nuances of booking on different websites. But there are a few more general tips and rules that I would like to share with you. Don't read them too carefully. Perhaps something will be useful.
Why is it better to book online?
For the last 5 years I have been booking cars exclusively online. I have many reasons for this. Let me share the top five:
Cheaper. I love to save money. No matter how much I tried to find a car in Bulgaria on the spot, it was always cheaper on the Internet. Especially if you book early. Sometimes the same car is cheaper online than directly in the office. This can not be understood even by my female logic. But it's a fact.
I got the most profitable cars in terms of price and quality from small distributors. They either do not have offices at all, or they are located very far from tourist locations. You understand that a large and beautiful office in a tourist area is expensive. And this should be included in the price.
Wider choice. Most distributors "on the spot" can literally offer 2-3 options in the peak season. And the cars are described there with the phrase "well, that's what left, either this car or no car at all." Nobody took them online or in advance, that's saying something about their quality. You go from office to office and try to find a good car in a pile garbage.
In comparison, you can choose from thousand of cars on the Internet. Even if you are looking for a car for the next dates, there will be more than 100 options.
Easier and faster. Finding a good car locally takes time. If you take not the first one that comes across, you will have to bypass at least 5 offices. It takes half of the day to find a car. And there is no guarantee that I will find something.
Instead of running around the rental offices on vacation, I'd rather lie on the beach. And you can book a car from home. In general, I often do all this while there are no urgent tasks at work.
More reliable and safer. A beautiful office and bright advertising do not at all guarantee that you will not be deceived and everything will be in order with the car.
By booking the car on trusted websites, the experience of thousands of travellers is at your side. You can read reviews, you can see articles.
I can say for sure that I had three to four times fewer problems with the cars booked online than with those found on the spot.
Less stress. For me, looking for something on the spot is always scary. First, you run through dozens of rentals. I think I found a car that I like. Now we need to sign the documents. The contract is long. I start reading. The manager "presses", they say why are you slowing as down, why do you read all this, just sign it.
It's better to lie at home calmly with a tablet and study everything carefully. To know all the conditions and not take unnecessary risks.
---
You can search for a car on the spot if you arrive in early spring or late autumn. There will be some choice. Although this point is also debatable. Some of the cars are transported to the Sofia, where the demand is greater.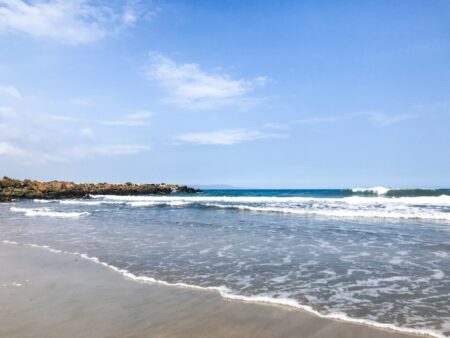 Others are "on conservation". No one takes special care of them, does not change tires in winter, does not clean the interior and does not do maintenance until the start of the summer season.
I tried doing this twice. Prices are the same as online. Or even higher. I've never been able to negotiate for cheaper price. Just my personal experience.
I have seen reports of travelers who allegedly succeeded. So in theory the method is working, but for some reason I could not confirm it in practice.
Don't forget child seats
Are you traveling with children? You will need child seats. They can either be booked from a car rental company (on Localrent and Top Rent A Car you choose this option when booking) or ask for a chair at the company's office on other websites.
There is a nuance here. Almost all distributors give out the simplest and cheapest child seats that are more or less suitable for all babies. If you use something cool and fancy at home that you have been choosing for a long time, sometimes it makes sense to take it with you on a trip. So the daughter or son will be more familiar with it.
I also want to clarify that a child seat from a distributor is paid. The average fee will be 2-10 € ≈ 2.1 $, 1.72 £, 7.72 Dh, 36.48 ₺ per day. The spread is huge! If you rent a car for 1-2 weeks, sometimes it makes sense to buy your own seat, rather than rent it from a car rental company. This often works out cheaper.
Travel to neighbouring countries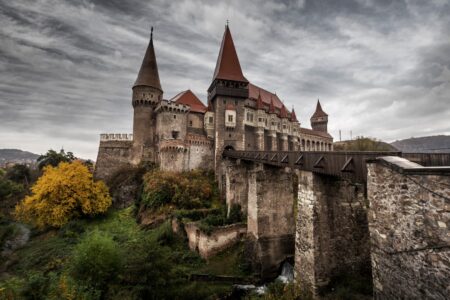 It would be great to see one or two neighbouring countries during a vacation in Bulgaria. Most often, people travel to Greece and the European part of Turkey. Romania is also quite popular. The terrible castle of Dracula and all of that.
I also drove in cars rented in Bulgaria to Serbia and Macedonia. On the one hand, it's convenient. On the other hand, it would be easier by plane.
Not every car is suitable for a trip abroad. Let me tell you more:
You need a green card and permission from the distributor. Both are paid. A green card is an international insurance, like TPL. It costs 10-20 € ≈ 10.5 $, 8.6 £, 38.6 Dh, 182.4 ₺ per day, depending on the distributor.
Not every distributor allows you to travel abroad on their cars. And everyone's conditions are very different. I'll tell you what I know:
Small local car rental companies, such as those found on Localrent, usually don't allow their cars to go out of the country at all.
The easiest way is to rent through Top Rent A Car. For an economy, it costs

60 €

≈ 63 $, 51.6 £, 231.6 Dh, 1094.4 ₺

per country. Each additional one costs

30 €

≈ 31.5 $, 25.8 £, 115.8 Dh, 547.2 ₺

. On expensive cars, the tax reaches

120 €

≈ 126 $, 103.2 £, 463.2 Dh, 2188.8 ₺

for 1 country and

60 €

≈ 63 $, 51.6 £, 231.6 Dh, 1094.4 ₺

for additional ones.
You will also need a credit card to freeze a deposit on it. The deposit in this case is doubled. For example, if it was

400 €

≈ 420 $, 344 £, 1544 Dh, 7296 ₺

, everything will become

800 €

≈ 840 $, 688 £, 3088 Dh, 14592 ₺

.
Too expensive? These are the most cheap conditions of those that I found in Bulgaria.
The other way is to rent through international brokers. These are Rentalcars, Economybookings, Discovercars and others. You need to carefully read the conditions for each car. There can be big differences. On some cars you can go abroad. On others, you can't.
Prices are usually higher than Top Rent A Car. Sometimes the full terms and exact prices can be found only when signing the contract at the rental office. Something did not suit you – well, then you refuse the car and lose the prepayment.
Why am I considering this option? Only international distributors allow you to get a car in one country and return it in another. Not always and not every time, but it is still incredibly convenient to get a car in Burgas, drive through all of Europe and return it somewhere in Germany. To be honest, this is quite rare and costs like a lot bridge. But it's a cool option.
About the right credit card
In any case, you will have to pay a deposit upon receipt of the car. There are also cars without deductible, but there are literally a few of them. And to be honest, they are usually far from perfect. When people think they're not risking any money at all, they're a bit careless about the car.
So, how can you make a deposit:
In cash. The most understandable way at first glance. But there are many pitfalls. For example, the deposit is indicated in euros or dollars on all websites. But in 90% of cases it will be accepted only in Bulgarian lev. When you return the car, the deposit will be returned in local currency in 99 cases out of 100. And then what to do with it at the airport? If you change back to euros or dollars, you will lose 20-25%.
Cash deposits are accepted mainly by small local car rental companies with a small amount of cars. There are many of them on Localrent.
Credit card. Upon receipt of the car, give the rental car your credit card. He "freezes" a certain amount (deposit) on it. The money remains on the card, but it cannot be spent in any way. If suddenly something happens to the car, the distributor will be able to take that money off the card. The whole amount or just a part of it.
There are many downsides here too. You need the right type of card with a large amount of money on it. At the end of the lease, the money is not "unfrozen" immediately. Sometimes it takes a couple of days, and sometimes a couple of months. On average, I waited 3-7 days.
How do you know if your card is eligible? There are several criteria. Here they are:

It's a credit card. Debit cards are definitely not suitable. Even if they have option to take a loan or they have an overdraft.
There are written name and surname on the card. On the front side. Check that the spelling exactly matches what is in the passport. Does not match? It's better to reissue the card. Otherwise, there may be problems.
Symbols are embossed. These are such letters that protrude above the surface of the card. Card number, last name, validity period. The requirement is not very strict.
The card is designed just for you. You can't book a car for your husband, and freeze the deposit on your wife's card.

Many advise before booking a car to check with their bank whether their card is suitable and whether it will be possible to block a deposit on it. You know, I even tried it once. In fact, ordinary bank employees themselves are not aware of it.

Those 4 criteria above are pretty reliable anyway. Although ideally it is better to have several cards from different banks with you. Sometimes it helps a lot.
Benefits of renting a car for the whole holiday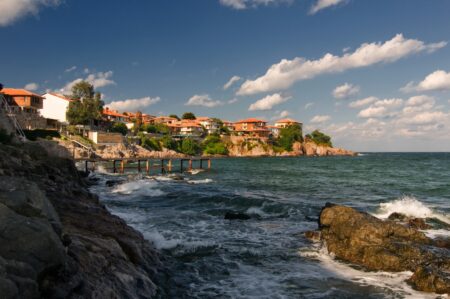 About a month ago I bought tickets to Bulgaria. This time we are flying for just a week in August 2022. My husband needs to talk to someone there at work, but my daughter and I will have a little rest at the seaside and sunbathe.
Now I will rent a car for my own vacation. At the same time, I will show two completely different ways to save some money.
Option #1: Minimum rental period
We arrive at Burgas airport, we will live in Sunny Beach. We've planned three big trips around the country. I want to walk around the botanical garden in Balchik, go to the mountains and take a ride on one cool beach.
In order not to overpay for rent, we will take the car only for three full days. I looked on Renault Clio 2021 for 170 € ≈ 178.5 $, 146.2 £, 656.2 Dh, 3100.8 ₺ on Localrent. I liked the car and their child seat costs only 15 € ≈ 15.75 $, 12.9 £, 57.9 Dh, 273.6 ₺.
I chose this car because I prefer to drive fresh cars. So you can get a 2007 Ford Fiesta for just 81 € ≈ 85.05 $, 69.66 £, 312.66 Dh, 1477.44 ₺. But it will be a completely different car. Although you can ride in such a car too.
I plan to "hit" about 1200 kilometers. This is approximately 70 liters of gasoline. It will cost me about 80 € ≈ 84 $, 68.8 £, 308.8 Dh, 1459.2 ₺. Plus parking and car wash. Let's add 10 € ≈ 10.5 $, 8.6 £, 38.6 Dh, 182.4 ₺.
IN TOTAL: renting a car for 3 full days will cost me about 260 € ≈ 273 $, 223.6 £, 1003.6 Dh, 4742.4 ₺.
Option #2: take a car for the whole vacation
What's wrong with the previous option? I've done this before. But now I'm experienced and I will take the car for the whole vacation. Here are my arguments and calculation:
It's cheaper to rent a car for a week. The same car for 7 full days will cost

266 €

≈ 279.3 $, 228.76 £, 1026.76 Dh, 4851.84 ₺

. As you can see, the lease term has increased by 133%, while the price has increased by only 56%.
Weather. If you rent a car for only 3 days, you will be very dependent on the weather. We flew to Bulgaria, the sea is warm, the sun is shining. But instead of swimming, you have to travel around the country. The car is already booked.
You drive around the country. But the weather suddenly deteriorates sharply. And the sea is not so good anymore. Storm. So you don't get a quality time in sea.
If you take a car for the whole vacation, you can look at the weather. If it's good, you'll swim. And if the sea is stormy – you'll go to see some sights.
You may get tired quickly. The option of a day on the beach, then a day of traveling, then again relaxing on the beach will be more pleasant.
If you travel around the country for three days in a row, everyone is very tired. The driver, and the mother, and, especially, the child. This is no longer a vacation, but some kind of mockery.
Transfer fees. Renting a car for the whole vacation, you can pick up and return it at the airport. This is a decent savings on transfers.
Do you think it's not worth it? Even a small taxi from Burgas to Sunny Beach and back will cost

64 €

≈ 67.2 $, 55.04 £, 247.04 Dh, 1167.36 ₺

. And this is if you order in advance.
You'll have the mobility. Sunny Beach has great beaches and hotels, but it's a little expensive. If you have a car, you can go to a beautiful, inexpensive restaurant with pleasant service. I know such in Nessebar and Pomorie.
You can go to the fruit market, do some shopping, etc. Well, or go to a cool beach outside the city. There are plenty of ways to make your vacation better and at the same time even save a little. I consider such a "benefit" is around

100 €

≈ 105 $, 86 £, 386 Dh, 1824 ₺

. In fact, even more will come out.
---
Well, let's count again, shall we? Taking into account all the additional expenses and savings due to the presence of the car. That's what I have:
Car rental for 3 days:

260 €

≈ 273 $, 223.6 £, 1003.6 Dh, 4742.4 ₺

+

64 €

≈ 67.2 $, 55.04 £, 247.04 Dh, 1167.36 ₺

(transfers) +

100 €

≈ 105 $, 86 £, 386 Dh, 1824 ₺

(overpayment for expensive restaurants and shops in Sunny Beach). Total:

424 €

≈ 445.2 $, 364.64 £, 1636.64 Dh, 7733.76 ₺

.
Car rental for 7 days:

266 €

≈ 279.3 $, 228.76 £, 1026.76 Dh, 4851.84 ₺

+

80 €

≈ 84 $, 68.8 £, 308.8 Dh, 1459.2 ₺

(gasoline) +

10 €

≈ 10.5 $, 8.6 £, 38.6 Dh, 182.4 ₺

(car wash). Total:

356 €

≈ 373.8 $, 306.16 £, 1374.16 Dh, 6493.44 ₺

.
It turns out that by taking a car for the whole week I will not only win in quality (it is better to have a car than not to have one), but also save 68 € ≈ 71.4 $, 58.48 £, 262.48 Dh, 1240.32 ₺!
Which car to choose?
The most honest answer would be: "Take the one you like best." Seriously. No matter how wisely you choose a car, if you don't like it, then you will get less pleasure from traveling on it than you could.
Well, for those who are used to choosing wisely, there are a few tips:
Automatic or manual? Automatic is more convenient, manual is usually cheaper. "Engine braking" is not necessary in Bulgaria. Yes, and automatic transmission have been able to do this for a long time.
What is the best manufacture year? Depends on budget and personal preference. The year of manufacture will be an indirect indicator of the car condition.

Over 15 years old is usually already in poor condition. But they are cheap.
Younger than 2-3 years are more expensive and any scratch will cost you a lot.
Cars aged from 3 to 10 years, I think the most optimal choice.

It is also worth considering that the older the car, the higher its fuel consumption will be. If you plan to travel a lot, sometimes it is more profitable to take a fresh and economical car. More expensive rent, but cheaper gas.

Which vehicle class to choose? I prefer to take cars of a little higher class than our family car. Then there will be a "wow" effect. But if it is important to save money, you can take the cheapest car. Also an option.
Vehicle dimensions. If you plan to drive around small towns and often park there, take something not very big. If you drive more on the highway, you can take a large comfortable car.
Do I need an SUV? To be honest, not really. Almost everywhere you may normally drive even in a small car. The crossover is convenient if you plan to drive off-road. An SUV is worth taking only if you know exactly why you need it.
Keep in mind that it is not very convenient to drive in the mountains on a Land Cruiser, for example. Because the car has a lot of mass and inertia.
How to get a rented car?
The exact process of receiving a car will depend on which car rental you chose and where exactly you will receive your car. It is one thing to take a car at the airport, and another thing – at the rental office.
However, most of the steps are the same. Here I will try to tell you about it. So, after booking, you received a voucher in the email. Take the documents with you and go to the rental office. If you pick up a car at the airport from a small local company, you should be met with a sign in the arrivals area and taken to the car.
I will describe all further actions in the form of a small checklist. You can open this page and mark all the actions. Helps you not to forget anything.
How to get a car: checklist
I chose the main points that are worth checking when receiving a car. Almost all of them are very important and will help to avoid misunderstandings and / or fines.
What do you need to take with you?
Car inspection process
Turn on video on your phone or camera. Then go around the car several times, filming damage, scratches and dents. All shortcomings should be noted in the vehicle inspection map. If there are no hubcaps – note it. Usually the manager makes all the marks, and you just shoot the video.
It is better to shoot one long video. Try to get the manager in the frame – there will be confirmation that the video was filmed when you received the car. It is better to take a close-up of all problem areas so that even small dents and scratches can be seen.
Particular attention should be paid to the elements where damage most often occurs:
Next is to inspect the interior and check the configuration of the car. I will list most of the items that may be in the car, but not the fact that you'll have all of them.
In the boot and glove compartments, see if previous customers have left their things there. Believe me, if a child has forgotten his favourite toy, sending it by mail is not cool at all.
Checking documents and insurances
Get in the car (when picking up at the airport) or at the table (when picking up at the office). Read the contract carefully. Normal managers usually talk about the key nuances themselves. But read the docs anyway. Even small print. Check with the manager for anything that remains unclear. Don't rush, it's in your best interest.
Make sure all damages are noted in the contract. If there are no hubcaps or mats, this should also be noted. The deposit must also be registered in the documents.
---
Print out the checklist before your trip and take it with you. You can mark points directly when inspecting the car. When we rented a car for the first time, I was very worried. Everything immediately flew out of my head and I completely forgot what and how to do. The checklist will help!
I advise you to shoot such a video when you receive the car. It helps in a variety of situations. Let me explain:
Less chance of being deceived. Seeing such a serious approach, even in "doubtful" rentals, they decide not to deceive such a client. Nobody needs a circus with calling the police. Why bother if there are dozens of people who sign documents without reading them at all?
Dispute with the rental company. A car can be delivered by one person and received by another. Sometimes the new manager is just not aware that the previous clients have put a dent in a car. The video will help you figure it out.
Contacting the police. If suddenly the distributor behaves completely inadequately, then the video will serve as an argument when talking with the police. But in practice, I never got to that point. They cheat in Bulgaria far from as often as they write about it on various forums.
For your comfort. There are a lot of scratches and dents on rental cars. On the third day, you "suddenly" discover some kind of damage that you don't remember at all. You can worry about "they will fine / not fine me", or you can watch the video and know for sure whether you're guilty or not.
Return of rental car in Bulgaria
Returning the car is even easier. At the appointed time, drive up to the airport parking lot or to the rental office. Send message or make a call to a distributor. Then literally in 5-10 minutes you return the car and get your deposit back (it will either be unfrozen or returned in cash).
What you should take into account when returning a car? A few useful tips:
Take your things. If you suddenly forget something in the car, it will be quite difficult to return these things. Especially if other tourists are already driving the car.
Check the amount of fuel in the tank. The car must be returned with the same amount of fuel with which it was received. It could be a full tank. Missing gasoline is usually goes with a fine.
Don't forget to wash your car. If the car is dirty, it is better to wash it. Otherwise, you can pay much more as a fine.
Check the cleanliness of the salon. They usually do not complain about the cleanliness of the interior. But I saw reviews when people were not returned part of the deposit because of this.
---
As a final piece of advice, I recommend that you prepare yourself to the fact that distributors can fine you for something. Usually it's fair. But it also happens that they start "inventing" jambs so as not to literally return 5 € ≈ 5.25 $, 4.3 £, 19.3 Dh, 91.2 ₺. It seems like a trifle, but unpleasant.
How much does it cost to rent a car in Bulgaria?
For fun, I'll show you how the price for similar cars can differ depending on the website where you book and the specific car rental company. Keep in mind that the article is being written in February, and I'm looking for a car for May. On the one hand, the cars have not yet been taken and there is simply a huge choice. But the other thing is that not all options may be in the search results.
I will search for Renault Clio for dates from May 6 to 13. In addition, I will show just the cheapest car in the search results, if it is a different car. Let's compare: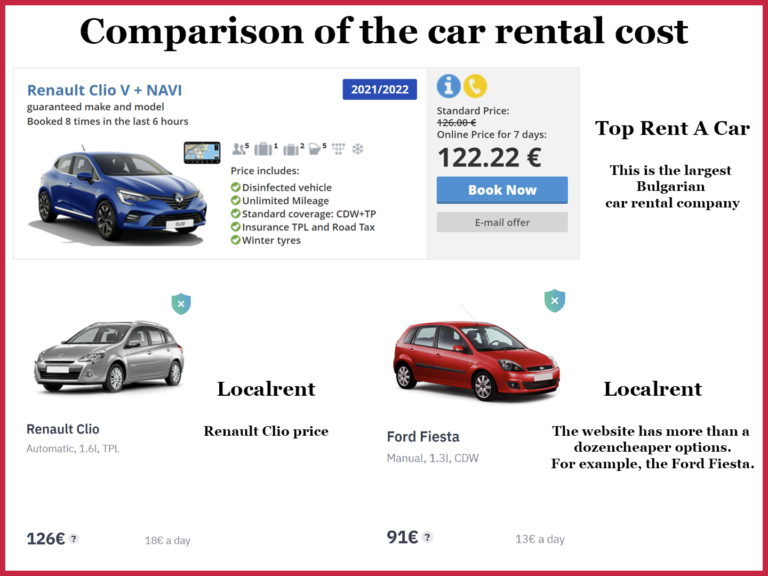 I want to warn you right away that this comparison is not correct. And that's why:
Hidden fees and surcharges. The low price on the website does not mean anything. Distributors know dozens of relatively honest ways to increase it. For example, they might display a price without insurance.
They can easily "add" to the rental price

10-20 €

≈ 10.5 $, 8.6 £, 38.6 Dh, 182.4 ₺

per day on the spot, too. Just use the phrase "local taxes and fees to be paid locally". If suddenly you do not meet the requirements of the distributor (for example, an age of 35 years, and experience of 10 years, nonsense like this), they will force you to buy expensive insurance. Exactly the same story if you haven't correct credit card.
Insurance. Somewhere the maximum SuperCDW insurance is already included in the price of the car, somewhere they give you only the mandatory TPL. There are websites that initially show the price without insurance at all. And they add it during the booking process, when you have already spent half an hour entering data.
Total rental price. The price in the voucher is not yet the final cost of the rental. Somewhere there is a higher probability of getting a "fine for scratches", in other places they cheat with a car wash or gasoline.
Also, do not forget to take into account the cost of fuel and parking. After all, there are small economy cars, and there are big SUVs that are far from being able to park normally everywhere.
It all depends on dates and cars. Online prices are changing. Constantly. If at the time of this writing Top Rent A Car, Economybookings and Localrent turned out to be the most profitable options, this does not mean that tomorrow everything will not change.
I was looking for Renault Clio because it is a popular car in Bulgarian car rentals. It's easy to find for everyone. But if you want a different car, it may turn out that it is cheaper on Rentalcars or Discovercars.
Different level of service. Somewhere delivery of the car around the city is free, and in other places it's only paid. Prices for child seats and various additional options are different. Someone search for smallest scratch to fine you, while others just wish you a happy flight.
---
What am I trying to say, in the real world it is impossible to find out which website is actually more profitable. Today one is better, and tomorrow the other one. And it's not a fact that the cheapest option won't actually turn out to be more expensive due to surcharges, fines or a bad manager. Life as it is.
Therefore, it makes sense to focus only on reviews. My article is one of those. Perhaps other people will write in the comments about their experience, so read them too.
How can you save?
I've read tips on saving on car rental. Some of them made me laugh. For example: "do not book a car in the high season, it is cheaper in winter." Well, yes. I will specially fly to Bulgaria in winter instead of summer. I just love to swim in ice water (just kidding).
And now I will give three really good + two situational car rental tips that really work:
Book in advance. The sooner you start searching and booking a car, the more profitable the price will be. There will be more choices and prices are often lower.
You need to understand that other tourists first of all choose inexpensive or better cars in terms of price / quality. The closer to the rental date, the faster these cars will be taken. And you have to choose from what is left. In August, 1-2 days before receiving the car, sometimes only bad cars remain in stock, which no one wanted to take.
There are also last minute discounts. But this is rather an exception to the rule and is more likely to occur in late autumn, winter or early spring.
Check all websites. Prices change constantly. At the end of the season, one or another distributor announces promotions in order to hand over illiquid cars or bring the number of bookings up to the plan.
That's why I indicated as many as 5 websites in the article, because each really has very profitable options. Sometimes 20-50% cheaper than others.
Deal with the insurance. It is good to have the maximum insurance that will protect against almost everything except your own mistakes. But it usually costs half or even the entire cost of renting a car.
Do you need such insurance? If you drive at home for ten years without an accident, and you will be even more careful in a foreign car abroad. Maybe save money?
Take your child seats. When renting a small car, you can pay only for a child seat around

50 €

≈ 105 $, 86 £, 386 Dh, 1824 ₺

. Some distributors have very inadequate prices and conditions.
If you need two child seats, you can really save up to

100 €

≈ 105 $, 86 £, 386 Dh, 1824 ₺

. Sometimes it's even more than what you pay for the car.There are situations when it is more profitable to buy chairs in a store, rather than rent. For example, if renting a chair from a distributor costs

50 €

≈ 52.5 $, 43 £, 193 Dh, 912 ₺

, it is cheaper to buy a simple model in a store. I saw one for

40 €

≈ 42 $, 34.4 £, 154.4 Dh, 729.6 ₺

. You will save money, and at least the chair will be new. Then either give it to someone or take it home.
Renting for a long time will be more profitable. If you need a car for only 3 days a week, it is still often more profitable to rent it for the entire vacation.
The fact is that when renting for a day, the price will be higher than when booking a car for the whole week. Sometimes many times more. Also, each time you have to pay for child seats, a Wi-Fi router, a navigator, a second driver in the contract, etc.
If you calculate everything, it turns out that it is more convenient and more profitable to take one car from Monday to Sunday than three different cars: on Monday, Wednesday and Saturday.
Also, when renting for the entire vacation, you can receive and return the car at the airport. And this is a very noticeable savings on the transfer.
---
Well, now I'll give you several factors that seem to influence the price, but they won't give much savings or will force you to break your plans:
Rent in low season. It is clear that in the summer it will be more expensive. If you are going to Bulgaria to see the sights, will it be wise to move your vacation to April-May or September-November? Funny, yeah.
Return in another city is paid. Picking up a car in Sofia and returning it in Burgas may cost you additional money. Or maybe not. It depends on the rental company and the specific car you choose.
Sometimes it even happens that taking a car in Nessebar and returning it at Burgas airport will cost even less than picking up and returning the same car in Nessebar. Check it out if you want to save.
Going abroad will cost you extra. At a minimum, you have to pay for a green card. This is insurance. Like TPL, but it also operates abroad. It costs

10-20 €

≈ 10.5 $, 8.6 £, 38.6 Dh, 182.4 ₺

.
You also need to get permission to leave the country from your distributor. This is also paid. Price – from

60 €

≈ 63 $, 51.6 £, 231.6 Dh, 1094.4 ₺

.
---
All the tips above seem to be useful, but in my opinion a little stupid. Well, you won't transfer your vacation to a rainy autumn for the sake of saving on car rental. And if you plan to take a car in Sofia and return it in Burgas, then you are unlikely to want to change the route for the sake of saving 50 € ≈ 52.5 $, 43 £, 193 Dh, 912 ₺.