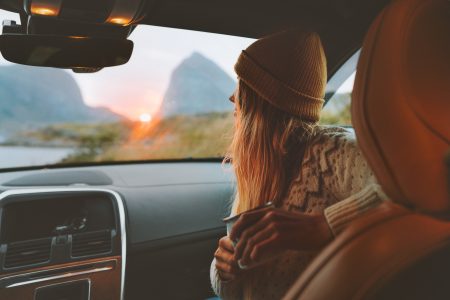 Hi everyone. My name is Amelia. I love to travel, not only to Armenia, but to other countries as well. I rented a car in Armenia three times through different companies and websites. So I have some kind of experience that I could share with other tourists.
I think car rental is the best way to travel around countries that not yet full of tourists like Armenia. Now let me tell you why I think so.
Where and how to rent a car in Armenia?
A detailed article with all the nuances turns out to be very long. Does everyone really need these details? If suddenly you are in a hurry, just read the text in this block. Learn all the most important things that you need on vacation:
What do you need to rent?
Driving license: all are suitable. An IDP (International Driving Permit) is not required here, but better too have it, just in case.
Each company has its own requirements for the driver's age and experience. The most adequate on the Localrent.com website: 22 years old and experience from 2 years.
You can even find a car if you're an 18-year-old guy who got his driver's license just yesterday. But then they will ask you to buy a very expensive insurance with full coverage.
Where to rent a car in Armenia?
I've tried following websites:
Rentalcars.com
,
Economybookings.com
and
Localrent.com
.
I liked Localrent the most. They got me hooked on the low price, good service and the choice of car. I mean, you can choose a specific car, not just "car class". I don't like to play roulette with a class reservation and a postscript "or similar". I know from my own experience that they often give out not a beautiful car from the picture but a cheaper analogue.
But if you want to save money, you need to check prices on all 3 websites.
It is difficult in Armenia without a car.
The country is very interesting. But the tourist infrastructure is not yet developed. What can I say, if there are even roads with such big pits and potholes around 100 km from Yerevan.
Traveling by bus is not an option. And excursions and taxis are expensive.
Is it safe to take a car?
During my three trips around Armenia, I have never been deceived with a car rental. Of course, there are negative reviews on the Internet. But there aren't too many of them either. So I wouldn't worry too much.

When is the best time to rent a car?
Like any product, it is better to book a car in advance. Ideally, right now. The earlier you start looking, the bigger choice and lower prices there will be. It's generally difficult to find something interesting in summer if you book the same day, and not at least 3-4 days in advance.

Local or international company?
Both options are pretty good. I can't say that I didn't like renting through
Rentalcars
or
Economybookings
. Everything was good and the cars were decent.
But local companies, which can be found on Localrent.com, have lower prices and some kind of sincere attitude. It's better to book there.
Well, if you are still interested in the details and nuances, then I tried to tell literally everything that I learned during my 3 trips to Armenia.
Is it safe to rent a car in Armenia?
I flew to Armenia for the first time 4 years ago. I wanted to spend a vacation together with my best friend and we were a little afraid of how two decent girls would be treated in the Caucasus. And then her plans changed and I had to fly alone. It was very scary. But it turned out that there were no reasons to be afraid!
So I will quickly answer the questions that worried me then:
Is it safe for a girl in Armenia? I flew to Armenia alone, I was very worried. I think any girl may be worried in a situation like this.
During my 3 visits to Armenia, there were no troubles and I did not feel in danger. Increased male attention and attempts to get in touch with me were, of course. I'm a rather pretty blonde, so it's not surprising. But if you do not react or let the man know that I am "not one of these", there are no problems.
Do they scam tourists? Judging by the reviews on the Internet, this happens sometimes. As in any other country. But it is not of a mass character. As long as you don't fall for the startlingly low prices and dubious offers, you'll be fine.
I have never been deceived in Armenia, even in small things. I will tell you what and how I did later. What if my experience and advice will help you avoid being deceived?
What about the roads in Armenia? The roads are quite decent near Yerevan. But if you drive 50 km from the capital, the asphalt deteriorates sharply. That is why I would not advise renting a small car – it is very difficult to drive such a car through the pits. Especially on the mountain serpentine.
How do Armenians drive? Specifically and fearlessly. It's like they're all immortal. Their driving style is terrifying. Moreover, half of the cars run on gas, not petrol.
But this is the case everywhere in the Caucasus. Georgia is no better. I got used to it very quickly and after 3-4 days I felt comfortable. The main thing is not to adapt to the locals and not start driving like this and speeding for no reason.
Is it worth renting a car? Of course it's worth it! There are no other ways to see Armenia in its beauty. It is expensive to take a taxi or excursions, and you will not see all sights and attractions when travelling by public transport.
Where did I rent a car for myself?
I rented a car three times. I used next services: Rentalcars.com, Economybookings.com and Localrent.com. Here's how it was:
I flew in Armenia alone. I was afraid, I booked through the most popular car rental website: Rentalcars.com. There was a Kia Picanto from Hertz company (good reviews about them). I paid

180,35 $

≈ 171 $, 147.6 £, 660.6 Dh, 3124.8 ₺

for 7 days (there was a promotion)
I picked up the car at the Yerevan airport. The whole process took about an hour. The manager was very friendly. He helped me with everything. I got  Nissan Micra, but not the old car. It looked to be 2-3 years old. Car was in a good condition, it did not let me down even once.
Everything went well, no complaints. But I obviously overpaid.
Arrived with friends. Since I was already "experienced", I was dealing with rent. This time I tried Economybookings.com. The company name promises savings. I booked a Kia Sportage from Alamo distributor. We paid

368,29 $

≈ 349.6 $, 301.76 £, 1350.56 Dh, 6388.48 ₺

for a week. On Rentalcars, the same car from the same distributor cost

398,09 $

≈ 378.1 $, 326.36 £, 1460.66 Dh, 6909.28 ₺

. Looks like I saved some money.
They gave us a Hyundai Tucson. I liked the car, it was relatevily new. But a friend who seems to know a lot about cars says it's at least 4 years old. We get the car somewhere in 2 hours – the queue was big, but there were no problems.
Came here with my husband for honeymoon. I decided to take a chance and rent a car at a local rental company through Localrent.com. It only appeared in Armenia back then, but I already used this service in Cyprus and it was very cool.
We wanted something special and we took the 2018 Honda Accord. This website immediately says exactly what kind of car they will give you. We paid

482 $

≈ 457.9 $, 395.24 £, 1768.94 Dh, 8367.52 ₺

. At that time, analogues on Rentalcars and Economybookings cost at least

100 $

≈ 95 $, 82 £, 367 Dh, 1736 ₺

more.
The service turned out to be very good. The renter himself met us at the airport. I did not have to look for an office and wait in line. Half an hour later we left the parking lot. This is faster than when renting in large companies.
The car was very good. White, fast and comfortable. It looked brand new and it was comfortable inside. Lot of space. Ideal for honeymoon! The pictures turned out great, but I won't show them to you. It's quite personal.
The renter is friendly and always ready to help. We asked him something via WhatsApp for almost the entire vacation. He answered our questions and helped.
---
I don't know how significant my three rental experiences in Armenia are. Some people write reviews as if they have already taken a car 100 times, compared all possible options, checked every company and found the best one.
It seems to me that this is unrealistic. Looks like a regular ad. I can't imagine a person who flies to Armenia almost every month and always takes a car to a new place. Readers should decide whom to believe. So write in the comments what you think about such "experts".
Which website did I like the most?
I tried three of the most popular car booking websites in Armenia. I liked Localrent.com the most. It's cheaper there and you don't have to play Kinder Surprise wondering what kind of car you'll get. Especially since I'm kind of unlucky. Almost always I come across a car clearly worse than in the picture.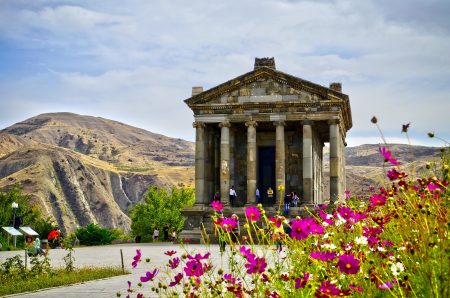 It just seems that it doesn't matter what kind of car they will give you in a car rental. In fact, they are very different in the size of the boot, space for rear passengers, engine power, handling and comfort level. And if you plan to travel a lot around the country, then fuel consumption plays a significant role. It's nice to save 30-100 $ ≈ 28.5 $, 24.6 £, 110.1 Dh, 520.8 ₺ out of the blue, isn't it?
You can immediately decide what kind of car you want and whether it is worth to overpay so the car would be new. I love when everything is nice and comfortable. Friends don't care at all. It is more important for them to be cheaper, even if the car is a little older. It's nice to have a choice!
How much does it cost to rent a car in Yerevan?
There are no fixed prices for car rental. Not in any country. The same car in summer can cost 5 times more than in spring, autumn or winter.
You should not look for prices in blogger articles, but on car booking websites. At the same time, do not forget to indicate the dates when you are planning a vacation.
Here are links to web services that I used: Rentalcars.com, Economybookings.com, Localrent.com. There are also Discovercars.com, but I've never used it, so I can't recommend it.
I saw this widget from Localrent.com on some other websites (I asked the programmer to figure out how to insert it). It shows exact prices but I prefere to book direct. I think it's more reliable that way.
What documents are needed to rent a car in Armenia?
Conditions very much depend on where you will rent a car. If you use the Localrent.com website, then they have following conditions:
Age of the driver: from 22 years old.
Minimum experience: 2 years.
Driver's licence: any. Even if it's not International Driving Permit, still works.
What else is needed: passport, credit or debit card.
---
If you are booking on Rentalcars.com or Economybookings.com, you must read the terms and conditions for each car. Some cars can be given even to 18-year-old drivers, while others require age over 30. Likewise with experience. Somewhere it takes as much as five years, and somewhere it is possible without it at all.
Keep in mind that if your age or experience does not meet the requirements, then at the rental desk they may force you to pay extra for full insurance. And it's expensive. If you refuse, you will lose the reservation and no one will return the money.
What is the best car to rent in Armenia?
The choice of car depends on where exactly you plan to drive:
If you want to see Yerevan only and its surroundings, a small car is enough. You'll save on gas and it will be easier to park your car.
For trips across the country, it is better to take a real SUV. Because the local roads are a bit strange:
They are of poor quality: it is better to take a crossover, SUV or a large car. It shakes very much in an economy car and in general it's not comfortable.
They are narrow and quite busy: you need a car with a powerful engine to make it easier to overtake tractors, carts and other slow-moving vehicles. I once drove behind a truck for 20 minutes and could not overtake it.
Which insurance to choose?
There are three main insurance options:
TPL comes with any car free of charge, which works only if another driver is to blame for the accident and he did not ran out from the traffic accident scene.
The next level of protection is CDW. It works even if the accident is your fault. Does not protect wheels, glass and the bottom of the car.
SuperCDW is an "improvement" of the usual CDW, which also protects the wheels, windows and the bottom of the car.
Should I pay extra for insurance or can I save money?
To clear things up a bit, I wrote to Localrent.com and asked for some stats. They did not have data specifically for Armenia, but there are general figures for all 11 countries where they are present:
95.7% of clients receive their entire deposit back.
2.8% lose less than

50 €

≈ 52.5 $, 43 £, 193 Dh, 912 ₺

.
1.3% lose

50-200 €

≈ 52.5 $, 43 £, 193 Dh, 912 ₺

.
0.2% lose more than

200 €

≈ 210 $, 172 £, 772 Dh, 3648 ₺

.
The CDW deductible for most Armenian cars is clearly more than 200 € ≈ 210 $, 172 £, 772 Dh, 3648 ₺. That is, if you do not consider the cheapest small cars (there is even 100 $ ≈ 95 $, 82 £, 367 Dh, 1736 ₺ deductible for such cars), then insurance will really help only 2 people out of 1000.
Whether it is worth overpaying about 100 $ ≈ 95 $, 82 £, 367 Dh, 1736 ₺ for CDW, let everyone should decide for himself. Personally, I just choose from cars where such insurance is free.
Receiving and returning a rented car
I will describe the process of getting and returning the car using the example of the Localrent.com website. Because it is very easy to understand there. All the important information is given, it's clearly written. No need to read multi-page "conditions" written in the most confusing legal language.
You can book anywhere else. For example, through Rentalcars.com or Economybookings.com. These are also normal websites. But for the first rental experience, Localrent will be better – it's easier to choose there, and the support team are great with customers.
How to choose and book a car?
Localrent has a convenient filter system. It is enough to indicate the rental dates and the city where the car should be picked-up and dropped off to see all the cars.
For example, if I want to rent a car for a week in August, pick it up in Yerevan and return it to Tbilisi, the settings would look like this: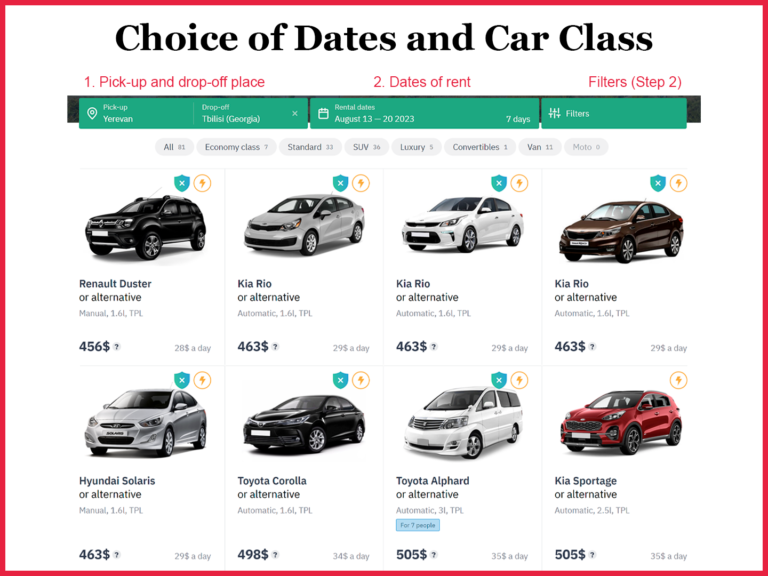 But if you don't want to choose from hundreds of cars, you can narrow down your search criteria. To do this, click on the "Filters" button. For example, I want a car with automatic gearbox, no older than 2015, and with a powerful engine. And we also plan to drive with my husband in turn, so we need "The second driver in the contract."
Here is an instruction that will help you filter only these cars: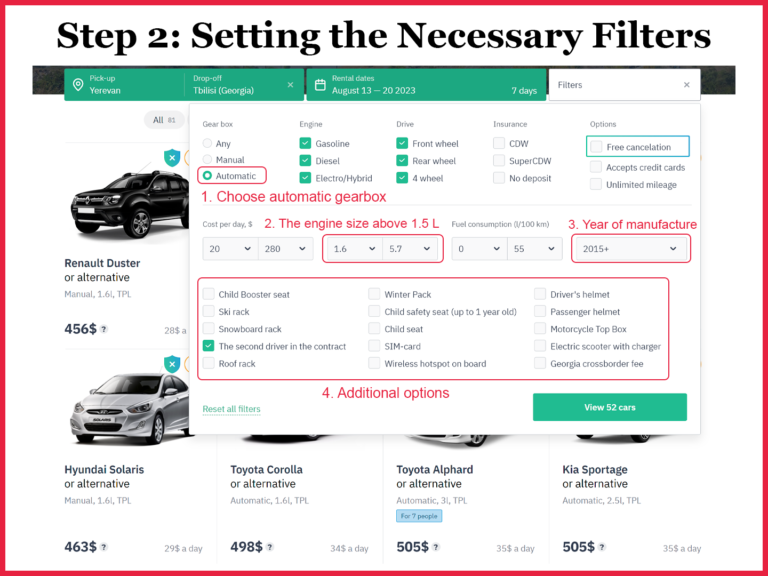 Each car has a detailed description. You can find out the year of manufacture, color, interior material, engine size and around 10 more different indicators. This helps a lot in finding the right car for you.
When you decide on the car you like, you need to book it. To do this, you need to specify the options that are important to you, select the pick-up and drop-off place. The website will clarify your contact details and ask for an advance payment.
Some cars are booked without confirmation. They are marked with the Instant Booking sign (orange lightning bolt). The rest of the cars can be paid only after confirmation from the website (usually an hour or two).
Booking without prepayment will not work, so you still have to use the bank card. Good thing the down payment is small. Only 10-15% of the rental price. But thanks to this, you get guarantees that the car will definitely be provided.
Well, if suddenly the trip is cancelled, you can cancel the reservation too. You just need to do it in advance. Each car has its own conditions. SUVs and luxury cars must be returned 30 days in advance, most ordinary cars in a week.
Part of the cars are marked with a green shield. This means that the reservation can be canceled even 24 hours in advance and you will get a refund. If you are not sure whether the trip will actually take place, it is better to choose from such cars. To do this, there is a filter "Free Cancellation".
How to find your rental agent?
All contacts of the distributor will be in the voucher, which will be sent to your email immediately after making an advance payment on the website. The easiest way to communicate is through messengers. Viber is popular in Armenia. You may use WhatsApp. It will not be a bad decision to take care of the mobile connection. You can buy a local sim card or international, DrimSim for example.
If you pick up a car at the airport, they will be wait for you in the arrivals area with a sign. Just come, get acquainted with the manager and he will lead you to the car.
In addition to the airport, most car rental companies make delivery around the city or offer to pick up the car at the office. This can be selected at the second stage of the booking. Sometimes this service may be paid.
Important: many car rental companies have a price for car delivery around the city or to the airport. If you take a car for 1-3 days and want to save as much as possible, check this moment. The exact price is always written here: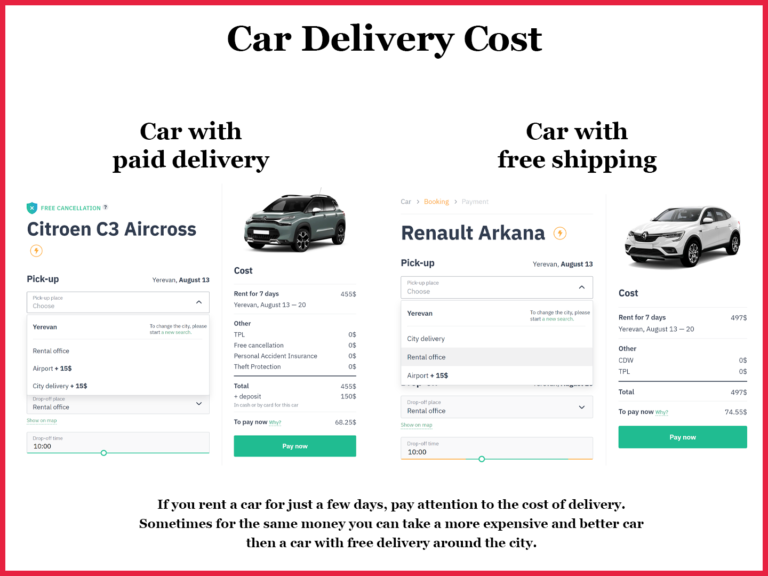 How to properly inspect a car?
Mary, who wrote an article about car rental in Cyprus, has developed a very good guide for inspecting rental cars. It would be very useful to me in the past. So with the permission of the author I add it here:
How to get a car: checklist
I chose the main checkpoints that are worth checking when getting a car. Almost all of them are very important and will help to avoid misunderstandings and / or fines.
What do you need to take with you?
Car inspection process
Turn on the video on your phone and go around the car several times, recording damaged elements, scratches and dents. All identified shortcomings are better to be noted in the vehicle inspection map. If there are no hubcaps – note it. This is usually done by the manager.
It's better to shoot one long video. Try to get the manager in the frame – there will be confirmation that the video was filmed when you received the car. It's better to take a close-up of all problem areas so that even small chips and scratches can be seen.
Particular attention should be paid to the elements where damage most often occurs:
Proceed to the interior inspection and check the configuration. I'll list most of the items that may be in the car, but not the fact that you'll have all of them.
Look if previous customers have left their things in the boot and glove compartments. Believe me, if a child has forgotten his favourite toy, sending it by mail is not the best option.
Checking documents and insurance
Get in the car (when picking up at the airport) or at the table (when picking up at the office). Read the contract carefully. Don't rush, it's in your best interest.
Check that all damage is marked in there. If there are no hubcaps or mats, this should also be noted. If there is a deposit, it must be specified in the contract.
---
Print out the checklist before your trip and take it with you. You can mark points directly when inspecting the car. When we rented a car for the first time, I was very worried. Everything immediately flew out of my head and I completely forgot what and how to do. The checklist will help!
Shooting such a video is useful as evidence in controversial situations. Most even not entirely honest distributors will not try to deceive you seeing that you are serious about renting. What is the point if there are many people who take any car and sign documents without looking.
Also, such a video takes your worries away. It's unrealistic to find and remember all the damage when inspecting the car. Over time, you'll notice new scratches and dents. You can either to worry, or to open the video and see if you are guilty or not.
How to return the car?
Returning a car is even easier and faster than picking it up. Choose the time and place where you would like to return the car when booking on the website. It will not be a bad idea to write to the distributor that you are already approaching.
Our distributor's name was Armen. He just went around the car in a circle and immediately returned the deposit to us. He didn't even look at the fuel level in the tank and inside the cabin. And all this despite the fact that we returned the car in Tbilisi. A man traveled almost 300 km to pick up the car, and accepted it in just 3-5 minutes!
How to combine a trip to Armenia with Georgia?
As I already wrote, our last rental was not quite ordinary. We rented a car in Yerevan, I quickly showed my husband my favourite places in Armenia and we set off to explore Georgia together. It turns out that you can get a car in one country, and return it in another. And it's very, very simple:
Book a car in Armenia with a return to Tbilisi. The website will immediately show those cars that you can drive to Georgia. If suddenly you don't understand what and how to set up, here is a ready-made link. Pick-up: Yerevan, drop-off: Tbilisi.
Please note that returning a car in another country is usually paid. After all, the rental company needs to come to Tbilisi to pick up your car. And these are all expenses.
You travel around Armenia, see all the most interesting things, cross the border and return the car already in Tbilisi (this is the capital of Georgia).
It's convenient! You will see almost half of Armenia on the way from Yerevan to Tbilisi. That is, you will pass through places where you would have gone anyway.
If you plan to travel around Georgia by car, you can order it with delivery to the same place where you will return the Armenian car. Then everything will happen very quickly and easily. They took out the suitcases from one car, transferred them to another and you are back on a track.
Here is a link to an article about car rental in Georgia from Michael, and here is a link to the Localrent.com section where you can book a car in Georgia.
Why rent a car in Georgia?
In the algorithm above, it is not always obvious why to rent a separate car in Georgia. After all, you can continue to drive a car with Armenian numbers and not bother at all. But in fact, I have a couple of good arguments in favour of changing the car:
Price. The same car in Georgia will cost significantly less than in Armenia. Because the roads in Georgia are much better. And distributors include much smaller amounts for repairs in the cost. Easy money saving.
Insurance. Even if you rented a car with SuperCDW in Armenia, only a green card will be valid in Georgia. This is a kind of analogue of TPL. That is, by simply shifting the suitcases from one car to another, you will protect yourself.
More vehicles available. At the time of this writing, Localrent.com offers 10 times more cars in Georgia than in Armenia. You can find quite interesting options among them.
Local plate numbers. Many people think that it is much more pleasant to drive a car with local numbers. They don't get that much attention. I don't know if it's true or not.