Hello everyone. I'm Mary. And today I'll talk about car rental in Cyprus, local roads, traffic and much more. It will be useful!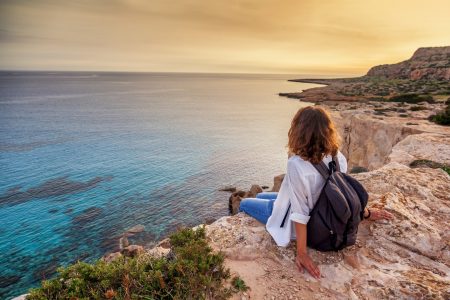 We've been living in Cyprus for three years now, but we still haven't bought our car. My husband works in IT: at any moment there may be a "dream job" and we will move to the other end of the Earth. There will be no time to mess with selling a car, and it's a pity to lose a lot of money on this.
That's why we often use car rental and have already managed to try out a variety of companies and options.
I must say right away that car rental is the best way to see Cyprus: cheap, convenient, reliable. I'll explain why and tell you how to rent a car further in this article.
Where and how to rent a car in Cyprus?
The article turned out to be incredibly long: I wanted to tell all the nuances. When I started writing, I didn't even think that I would be so "carried away". Therefore, I will tell you the most important thing right away:
What do you need to rent? Driving license or International Driving Permit (IDP).
About driver's age and experience, each company has its own requirements. The minimum that I met: 21 years without a requirement for experience or 18 years with a minimum 1 year of experience and an additional payment of

8 €

≈ 8.4 $, 6.88 £, 30.88 Dh, 145.92 ₺

per day. But the deposit for these cars is from

1000 €

≈ 1050 $, 860 £, 3860 Dh, 18240 ₺

. Average conditions for companies: age from 25 years and experience from 3 years.
Where to rent a car? We've tried quite a few companies. Our favourite is Localrent.com. Almost always there are favourable conditions and the attitude towards customers. There are even options without a deposit and deductible.
If it's important for you to save as much as possible, you shouldn't use only one website. Always check prices on Rentalcars, Economybookings and Discovercars. There are also often discounts and promotions.
Large deposits in Cyprus. Most international companies ask you to make a deposit of

550-800 €

≈ 577.5 $, 473 £, 2123 Dh, 10032 ₺

even for a small car. And for a comfortable family car they want

1000-3000 €

≈ 1050 $, 860 £, 3860 Dh, 18240 ₺

deposit. You can buy a car with this money.
Conditions of local companies are generally better. For example, on Localrent deposits are

300-600 €

≈ 315 $, 258 £, 1158 Dh, 5472 ₺

, there are even options without a deposit, but they usually cost more.
It is very important to read all the conditions before making an advance payment.
This is the best way to see Cyprus. The island is just amazing. But you need to somehow get to the most of the sights and beaches. Renting a car here is several times cheaper than excursions: only

13-20 €

≈ 15.75 $, 12.9 £, 57.9 Dh, 273.6 ₺

per day.
Is it safe to take a car? In Cyprus, people drive on the left side of the road and use right-hand drive cars. But the traffic is very calm. All rental cars have red numbers – locals are understanding.
By the way, Cyprus is considered one of the safest countries for drivers. During the year there are only 305 accidents involving cars and this number is constantly decreasing. Check it here if you want. The chance of getting hurt is low. If you count tourists, about one person in 5,000 is involved in an accident.
When to rent a car? Best time to book is right now. The sooner you start looking for a car, the more choices you'll have. In the summer all the most profitable options have been booked for the next 2-3 weeks, you'll have to overpay to get at least something.
Local or international distributor? Both options are good. Service and honesty depend more on the specific company. There is no such thing that local companies lure you in with low prices and then deceive. Large international companies also have good customer service.
Car rental alternatives. If you don't drive a car or afraid of left-hand traffic (in reality everything is simple), you can look towards excursions in Cyprus. Start your search with Viator.com, for example.
In the article I'll tell you everything that I managed to learn about car rental in Cyprus. And I've a lot of experience. We live here and rent cars quite often: 1-2 times a month.
If you want to learn more about what car and insurance to choose, how to find the best price, how not to run into a scam, how to take a car, where to go on it and what are the specifics of local traffic rules, read on.
Why rent a car here?
Car rental is the only way to see Cyprus inexpensively. Excursion prices here are clearly overpriced, and public transport cannot reach the most interesting places. Let me tell you more, with pros and cons:
Reasons to rent a car in Cyprus:
It's profitable. If you want to see something, this is the cheapest type of transport. Even in summer you can rent a car for 13-20 € ≈ 13.65 $, 11.18 £, 50.18 Dh, 237.12 ₺ per day on Localrent.com. It's even cheaper in winter.
It's necessary. The island is very interesting, there are many amazing beaches, cool sights and just amazing views: Instagram will be jealous.
But you need to get there somehow. And car rental is really the cheapest and most convenient way.
Only a car gives you freedom. Even good individual excursions are squeezed into fairly typical programs. I'm not even talking about group tours.
Minibuses and intercity taxis do not stop in the most interesting places. And you can't get to popular beaches in this way either.
It's safe. The traffic is calm here, the probability of an accident is small, and you quickly get used to the right steering wheel.
What are the alternatives?
Tours. A good group tour costs 65 € ≈ 68.25 $, 55.9 £, 250.9 Dh, 1185.6 ₺ per person. This is 130 € ≈ 136.5 $, 111.8 £, 501.8 Dh, 2371.2 ₺ for two or 170 € ≈ 178.5 $, 146.2 £, 656.2 Dh, 3100.8 ₺ for a family with a child (a child ticket is cheaper).
Individual tours are more expensive. For example, good routes cost 250-300 € ≈ 262.5 $, 215 £, 965 Dh, 4560 ₺ on Viator.com.
Taxi. Taxi prices are also quite high.
4.36 € ≈ 4.578 $, 3.7496 £, 16.8296 Dh, 79.5264 ₺ for arrival, daytime kilometer price is 0.73 € ≈ 0.7665 $, 0.6278 £, 2.8178 Dh, 13.3152 ₺, waiting is 15.71 € ≈ 16.4955 $, 13.5106 £, 60.6406 Dh, 286.5504 ₺ in hour. A more or less regular "excursion"  via taxi will easily cost 100-200 € ≈ 105 $, 86 £, 386 Dh, 1824 ₺.
Minibuses. Suitable only to see the neighboring city. A ticket from Larnaca to Limassol, for example, costs 9.9 € ≈ 10.395 $, 8.514 £, 38.214 Dh, 180.576 ₺ per person. It's almost 40 € ≈ 42 $, 34.4 £, 154.4 Dh, 729.6 ₺ for a round-trip trip for two.
You can rent a car and fill it up for the same money. You'll see much more and it will be more interesting.
Information: article about transfers in Cyprus.
I would compare car rental only with excursions. Still, taxis or minibuses will not even come close to providing such memories. Let's count money:
Group tours cost from

50 €

≈ 52.5 $, 43 £, 193 Dh, 912 ₺

per person and I cannot say that they offer any special service for this money.
A good private tour on Viator.com costs

150-300 €

≈ 210 $, 172 £, 772 Dh, 3648 ₺

. No worse than renting a car, but not everyone can afford it: 10 times more expensive.
You can get for

13-20 €

≈ 15.75 $, 12.9 £, 57.9 Dh, 273.6 ₺

per day a really nice car on Localrent.com even in July-August (peak season). In autumn and winter there are options for

8 €

≈ 8.4 $, 6.88 £, 30.88 Dh, 145.92 ₺

per day. And this is not some dead garbage, but decent cars (2015-2016).
It seems obvious which option is cheaper? But let's still count. Renting a car for 2 people is about 5-10 times more profitable than excursions.
How much does it cost to rent a car: let's compare prices
The most common class of cars in Cyprus are ordinary small cars. Because they are not expensive and for 90% of cases they are good enough. You can rent a decent car even for 15-25 € ≈ 15.75 $, 12.9 £, 57.9 Dh, 273.6 ₺ per day. Out of season – even cheaper.
I will talk a little further about which cars are better to take for traveling around Cyprus. And now let's compare prices on different sites to understand which one is more profitable. I chose dates for the summer everywhere (the article is being written at the end of spring, now it's just a good choice), the rental period is 7 days.
Localrent
Rentalcars
Economybookings
Discovercars
Search on the spot
Economy

Price: 13-20 € ≈ 15.75 $, 12.9 £, 57.9 Dh, 273.6 ₺
Deposit: 300-600 € ≈ 315 $, 258 £, 1158 Dh, 5472 ₺

There are options without a deposit from 25 € ≈ 26.25 $, 21.5 £, 96.5 Dh, 456 ₺.

Price: 15-25 € ≈ 15.75 $, 12.9 £, 57.9 Dh, 273.6 ₺
Deposit: 500-1350 € ≈ 525 $, 430 £, 1930 Dh, 9120 ₺

It is very rare to find cars with a

200 €

≈ 210 $, 172 £, 772 Dh, 3648 ₺

deposit.

Price: 13-30 € ≈ 13.65 $, 11.18 £, 50.18 Dh, 237.12 ₺
Deposit: 800-2500 € ≈ 1050 $, 860 £, 3860 Dh, 18240 ₺

Conditions are confusing, there may be surcharges.

Price: 11-25 € ≈ 11.55 $, 9.46 £, 42.46 Dh, 200.64 ₺
Deposit: 500-900 € ≈ 525 $, 430 £, 1930 Dh, 9120 ₺

Lots of hidden surcharges.

Price: 30-50 € ≈ 31.5 $, 25.8 £, 115.8 Dh, 547.2 ₺
Deposit: 300-600 € ≈ 315 $, 258 £, 1158 Dh, 5472 ₺

There are options without a deposit from 40 € ≈ 42 $, 34.4 £, 154.4 Dh, 729.6 ₺.

SUV

Price: 50-245 € ≈ 52.5 $, 43 £, 193 Dh, 912 ₺
Deposit: 500-2000 € ≈ 525 $, 430 £, 1930 Dh, 9120 ₺

Lots of cars without a deposit.

Price:

35-280 €

≈ 36.75 $, 30.1 £, 135.1 Dh, 638.4 ₺


Deposit:

500-1800 €

≈ 525 $, 430 £, 1930 Dh, 9120 ₺

It is very rare to find cars with a deposit of 300 € ≈ 315 $, 258 £, 1158 Dh, 5472 ₺.

Price:

54-95 €

≈ 56.7 $, 46.44 £, 208.44 Dh, 984.96 ₺


Deposit:

1000-2000 €

≈ 1050 $, 860 £, 3860 Dh, 18240 ₺

It is not clear what will be the deposit for your car.

Price:

27-515 €

≈ 28.35 $, 23.22 £, 104.22 Dh, 492.48 ₺


Deposit:

800-15000 €

≈ 840 $, 688 £, 3088 Dh, 14592 ₺

Price:

80-110 €

≈ 84 $, 68.8 £, 308.8 Dh, 1459.2 ₺

There are cars without a deposit.

For a family
Price:

21-45 €

≈ 31.5 $, 25.8 £, 115.8 Dh, 547.2 ₺


Deposit:

600-900 €

≈ 630 $, 516 £, 2316 Dh, 10944 ₺

Lots of cars without a deposit from 32 € ≈ 33.6 $, 27.52 £, 123.52 Dh, 583.68 ₺.

Price:

25-50 €

≈ 31.5 $, 25.8 £, 115.8 Dh, 547.2 ₺


Deposit:

800-3000 €

≈ 840 $, 688 £, 3088 Dh, 14592 ₺

Price:

25-230 €

≈ 26.25 $, 21.5 £, 96.5 Dh, 456 ₺


Deposit:

650-2000 €

≈ 682.5 $, 559 £, 2509 Dh, 11856 ₺

Price:

16-80 €

≈ 16.8 $, 13.76 £, 61.76 Dh, 291.84 ₺


Deposit:

150-2000 €

≈ 157.5 $, 129 £, 579 Dh, 2736 ₺

Price:

60-120 €

≈ 63 $, 51.6 £, 231.6 Dh, 1094.4 ₺


Deposit:

600-900 €

≈ 630 $, 516 £, 2316 Dh, 10944 ₺

Lots of cars without deposit from 70 € ≈ 73.5 $, 60.2 £, 270.2 Dh, 1276.8 ₺.

Cool cars

Price: 60-990 € ≈ 105 $, 86 £, 386 Dh, 1824 ₺
Deposit: 500-5000 € ≈ 525 $, 430 £, 1930 Dh, 9120 ₺

There are cars without a deposit.

Price:

120-360 €

≈ 126 $, 103.2 £, 463.2 Dh, 2188.8 ₺


Deposit:

1000-3000 €

≈ 1050 $, 860 £, 3860 Dh, 18240 ₺

Price:

97-350 €

≈ 101.85 $, 83.42 £, 374.42 Dh, 1769.28 ₺


Deposit:

1250-3000 €

≈ 1050 $, 860 £, 3860 Dh, 18240 ₺

Price:

95-515 €

≈ 99.75 $, 81.7 £, 366.7 Dh, 1732.8 ₺


Deposit:

150-15000 €

≈ 157.5 $, 129 £, 579 Dh, 2736 ₺

It is almost impossible to find.
There are single options at a price of

200 €

≈ 210 $, 172 £, 772 Dh, 3648 ₺

.
Go to the website
Go to the website
Go to the website
Go to the website
Gotta walk on foot
In comparison, I tried very hard to select similar car options. But this is not realistic: cars are very different everywhere. For example, the cheapest crossover on Rentalcars.com turned out to be 35 € ≈ 36.75 $, 30.1 £, 135.1 Dh, 638.4 ₺, and on Localrent.com it's 50 € ≈ 52.5 $, 43 £, 193 Dh, 912 ₺.
This is because for 35 € ≈ 36.75 $, 30.1 £, 135.1 Dh, 638.4 ₺ you'll have Nissan Juke. It's even hard to call it a crossover. It's a bit cramped inside, there is almost no space in the back, the trunk is tiny: neither suitcases nor a baby stroller will fit. It's better not to drive off the asphalt at all. But this car looks and drives pretty cool. For two – a decent option.
And for 50 € ≈ 52.5 $, 43 £, 193 Dh, 912 ₺ there will be Suzuki Jimny. It's a bigger car, and shouldn't be afraid to drive off-road: it's quite possible to drive to the Blue Lagoon or to the baths of Adonis. A very cool car if you plan to drive, including unpaved roads.
The same story with taxes, deposits and other "hidden surcharges". They can be very different for each car. The only site where the conditions are clearly spelled out and we have never paid more than we should've been called Localrent.com.
If you carefully calculate everything, then the lowest price does not seem so low. Usually just the opposite – if the price is suspiciously low, then it does not include taxes, fees, insurance and a bunch of everything. I'll explain how it works.
Why you shouldn't go after the cheapest option?
I'll say right away: it's wrong to compare only by price. Sometimes the cheapest option ends up being much more expensive than the rest. Here's how it happens:
Cheating with scratches. One of the most popular "schemes". When accepting a car, you make all damages and scratches on the car to the contract. Well, the ones you notice. And upon acceptance, the manager "finds" new ones. Somewhere under the bottom or in the most unexpected places. They know their cars very well.
That's it, part of the deposit may no longer be returned. The fine can be more than the rental price.
Insurance cheating. Booking a car on aggregators like Rentalcars.com, people do not always read the conditions carefully. And they don't notice the paragraph about the deposit in

800-3000 €

≈ 1050 $, 860 £, 3860 Dh, 18240 ₺

. Or a requirement for age or driving experience. Sometimes it is from 35 years old and the minimum driving experience is 5-7 years. I saw this happening myself.
This paragraphs is clarified at the rental desk at the airport. Such money may not be on the credit card. And then they give you a hard choice: either you pay extra

300 €

≈ 315 $, 258 £, 1158 Dh, 5472 ₺

for extended insurance, or you don't get a car, they won't refund the prepayment either.
That's how, simple and quite legal, rent can rise in price by 2-3 times.
Car class upgrade. Very similar to the previous one. You may be told that there are no cars of the reserved class now: either take something obviously worse, or pay significantly more for a regular option.
Once in Berlin, the manager of a major international brand just silently upgraded our class and added

300 €

≈ 315 $, 258 £, 1158 Dh, 5472 ₺

into the bill. Since then we've been checking everything twice.
Cheating with taxes and fees. Few people carefully read the contract before making an advance payment. And often there is a lot of interesting things.
For example, the phrases like "Local fees to be paid on a spot" or "Local taxes may be required" easily allows to add

from 15 to 150 €

≈ 105 $, 86 £, 386 Dh, 1824 ₺

to the price (tax rate in Cyprus is 19%).
If you refuse to pay, you'll lose the advance payment, as a penalty for late refusal.
In the case of booking through small local sites, the situation is complicated: some do not describe the full rental conditions with which you agree anywhere at all. Or they may be written, but only in Greek or Turkish.
Car is not available. This is what small companies do sometimes. You arrive in Cyprus, go to the counter at the airport, and they say: "Oh, the previous client just crashed your car. We can't help with anything".
You are tired after the flight, standing at the airport with suitcases and family. The children are crying, the husband or wife is nervous. Prices from other companies are many times higher than yours. For example, you booked a car for

30 €

≈ 31.5 $, 25.8 £, 115.8 Dh, 547.2 ₺

, and they had one for

70 €

≈ 73.5 $, 60.2 £, 270.2 Dh, 1276.8 ₺

. The manager negotiates with colleagues, so you pay "only"

50 €

≈ 52.5 $, 43 £, 193 Dh, 912 ₺

.
Cheating with fuel. There is no established practice for paying for fuel in Cyprus. Some distributors give out a car with a full tank and ask to return the same one. Others ask you to pay in advance for gasoline (the price may be a little high) and return the car with an almost empty tank. Many write down how much gasoline was in the tank and ask to return with the same amount.
If you don't control this moment, you can easily spend extra

50-100 €

≈ 52.5 $, 43 £, 193 Dh, 912 ₺

for gasoline (the price will be calculated 2 times higher than at a gas station) and car refueling service. If you rent a car for several days, such a fine often turns out to be more than the rental itself. Unpleasant…
---
And I have listed only the most common methods of cheating tourists, which are used by dishonest companies. Therefore, I advise you to collect a list of verified places and compare prices only with them. And no matter what "delicious" conditions advertising offers, do not fall for this lure.
To make it easier for you, I will share a list of websites where my husband and I booked at least 1-2 times. These are more or less proven and reliable options.
Where to book a car in Cyprus: verified places
My husband and I quite often use car rental services in Cyprus. At least once a month. Plus, sometimes we help friends who fly here to rest. We've been living here for three years, so the experience is rich.
I know three decent ways to find a car in Cyprus. Each has its pros and cons, prices are constantly changing. You need to choose according to the situation:
METHOD #1: Rental on the spot
At any resort along the waterfront there are always a lot of advertisements for various tourist services. Car rental is no exception. You can choose the most solid-looking rental office and hope for good luck.
But in the summer almost all the cars have long been taken and prices "on the spot" are constantly climbing up. The same car on the Internet can cost about 15-20 € ≈ 21 $, 17.2 £, 77.2 Dh, 364.8 ₺, and while renting at the office everything starts from 30-50 € ≈ 42 $, 34.4 £, 154.4 Dh, 729.6 ₺. If you want to rent a car for less than 4-6 days in the summer, they may refuse. Not good for their business.
Several times, due to inexperience, we booked a car in offices near the house. I must say right away that it was a bad experience: they gave out very old cars, it broke down at the most unfortunate moment, some deceived us, charging fines for everything.
But who cares about such whining? Just don't be like me, don't fall for such a trap.
You can at least somehow check the reliability of a local company if you carefully study reviews from various sources: maps, travel forums, social networks. But even this does not guarantee anything, because the information is very contradictory. Personally, I try not to even consider companies with a rating of less than 3.7-4*, no matter how tasty the price is. Life taught me a few lessons.
I do not understand the logic of local distributors. Prices on their websites or in the office are almost always noticeably higher than if you rent the same car for the same dates through Localrent.com or Rentalcars.com. Such a paradox…
Proof that local distributors are expensive
In order not to be unfounded, I went through the websites of local companies and made a comparison. I tried to find identical cars, a small car and something of a family-type.
P.S. I don't need to remind you that Localrent always has a fixed price tag, and local websites (including my screenshots) usually show an advertising price: "starting from…". In real life you'll be charged even more for these cars. It's necessary to write to each distributor and negotiate individually. I know. Even so, they're clearly lose in this comparison.
What's the point? Since inexperienced tourists came to your office or website, you should make the most of them?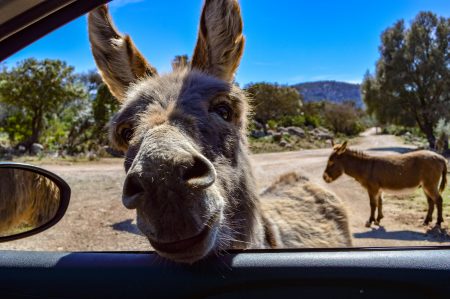 I would understand if only small firms with an assortment of 3-5 cars behaved like this. But in the same way international brands impose services and inflate prices. Sometimes it seems that this is their main income..
There are a couple of advantages renting a car on the spot. You can chat with the manager and bargain for better conditions. For example, some local companies may give you a car without a deposit.
Ask about options, negotiate. Often you don't have to pay extra for the second driver in the contract (my husband and I like to drive one after another) or for a child seat. You can see it live before renting a car.
True, local prices are 1.5-2 times higher, so it still doesn't turn out to be profitable. In summer, you'll even be offered a choice … of one or two options. Like, take what we have and don't show off, other cars has been taken long ago.
METHOD number 2: Alliance of Trusted Local Companies
As I said, not all local distributors are bad. There are really very good guys who treat customers almost like friends. Or, at least, in a human way. In case of any problems, this becomes very important.
But finding them is not easy: not everyone has websites or cool offices on the main tourist streets. Usually it's just the opposite. An office, a large parking lot in the center and a modern website cost a lot of money.
It's rather difficult to search for such companies: you have to check dozens of forums, ask your friends, etc. And this doesn't guarantee that in a year or two a small company hasn't changed the owner or the service quality . Well, reviews are also custom-made. You can't 100% trust them.
It's good that now there is an easy way to combine reliability and low prices with a good attitude towards you. Have you read carefully and already guessed that I will advise Localrent.com? That's right!
This is my favourite car rental site. They have been operating in Cyprus since 2018, but they gained momentum very quickly. The secret of success is simple: they are very tough in selecting small companies with which they then work. And control them even more tightly. It good for me: I get excellent service at a very low price. Looks like advertising, but they are really good.
Prices and conditions: you can rent a car in winter for 7 € ≈ 7.35 $, 6.02 £, 27.02 Dh, 127.68 ₺ per day, in summer from 13 € ≈ 13.65 $, 11.18 £, 50.18 Dh, 237.12 ₺. Many cars are given without a deposit at all, but this is not always profitable. Often you can find about the same car with a deposit of 300 € ≈ 315 $, 258 £, 1158 Dh, 5472 ₺, but 2 times cheaper.
I almost always book on Localrent now. Only sometimes big brokers (read method No. 3) can offer better prices (promotions are rare but do happen). Then I take from them, if the conditions for the deductible and deposits suit me.
I will talk in detail about the main pros and cons of the company and even give step-by-step instructions for car rental a little further, about receiving it and returning your vehicle.
METHOD #3: Big car metasearch engines
You can use one of the specialised websites to search for a car. The most popular is Rentalcars.com (owned by Booking.com). You can double-check the price on Economybookings or Discovercars.
This method is good because works more or less in all countries. It's enough to work with some site once and then you'll definitely not be left without a car.
If you rent a car through one of the international aggregators, I advise you to read all the conditions very carefully: look at the size of the deposit, information about unexpected fees, whether the final price includes 19% tax or not.
I'll give you an example. Once we took a car for a week at Larnaca airport. Subcompact Kia Picanto. It should have cost us 137 € ≈ 143.85 $, 117.82 £, 528.82 Dh, 2498.88 ₺, deductible 650 € ≈ 682.5 $, 559 £, 2509 Dh, 11856 ₺. We were additionally charged 20 € ≈ 21 $, 17.2 £, 77.2 Dh, 364.8 ₺ airport tax, 4.5 € ≈ 4.725 $, 3.87 £, 17.37 Dh, 82.08 ₺ for the second driver and 19% tax. It turned out 192 € ≈ 201.6 $, 165.12 £, 741.12 Dh, 3502.08 ₺, almost 30% more expensive. Since then, we always read the contract.
What is the best website to book a car?
If almost all  websites that I recommend simply collect offers from various international and local companies, then in theory the prices and level of service should be the same for them. This is not true in real life. They are very different!
Let's share a personal rating of car rental sites in Cyprus and at the same time talk about the pros and cons of all the presented options:
Why do I like Localrent the most?
I try to use all the sites from the selection. I choose the one that offers the most favourable conditions for my dates. In about 90% of cases, this turns out to be Localrent or Rentalcars.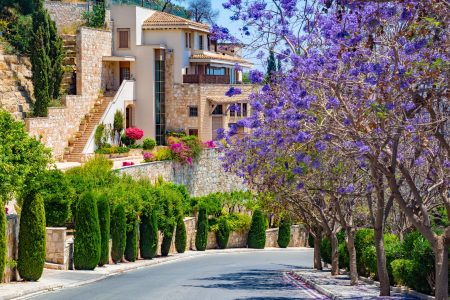 There are quite a few articles about Rentalcars on the Internet. Not surprising, because this is the largest and most hyped website. A good, proven option. They are quite usable. Especially if you rent a car not for the first time.
But Localrent is quite new, not everyone knows it yet. It appeared in Cyprus, it seems, in 2018, but somehow it quickly became the main one for me.
For the last year, I've been starting my search from this website, and if I find a good price, I don't look any further: there is no point in risking for the sake of 5-10 € ≈ 5.25 $, 4.3 £, 19.3 Dh, 91.2 ₺ savings.
Let's talk about the benefits that are important to me. I'm not saying it's all advantages. It's just that these are the things why I use the service myself:
Safety and reliability. I like that the website immediately shows the final rental price. And it will remain so. If I need additional insurance, a navigator, a second driver or a child seat, I'll add these options myself. And the price is immediately visible.
When renting on Localrent, I'm sure that they will definitely provide me with a car. Even if the distributor has force majeure, it'll no longer be my problem. The company will fix it. On the contrary, they'll give me a better car for the same money.
Human attitude. We are all only human and sometimes we make mistakes. You can scratch the car or puncture the tyre. Even if you drive ten times cooler than my husband and I, no one is safe from a stone flying into the windshield.
And here's the difference between Localrent and some other companies . The first will quickly and honestly calculate the real price of the repair, while the second will gladly charge much more for the same damage: they'll say that they will change the entire bumper due to a simple scratch.
Prices, deposits, prepayment. I'm not going to show off. It's just cheaper here. Approximately 10-30%. For me, this is good money. Conditions for prepayment, deposits, insurance, child seats are also more profitable.
Lots of information about the car. I do not like to take a pig in a poke. It's clearly described what kind of car they will give you on Localrent, what year and color it is, is there air conditioning, how many airbags, etc.

Description of the car on Localrent.com. It does not fit into one screen, so I divided it into 3 pieces. It is clear what kind of car you book and what is in it. And the competitors offer only the choice of a car class, even the brand and model are not guaranteed.

This is not the case on other sites. They offer to choose only class of a car. Everywhere there is a postscript "or similar." And what is included in this class is known only to their managers.

Easy to search for a car. The site has the most convenient filter system. You can choose cars from 2015 with an engine over 1.5 liters, priced up to

30 €

≈ 31.5 $, 25.8 £, 115.8 Dh, 547.2 ₺

and without a deposit with a couple of clicks. This saves a lot of time.
A little further I'll tell you in detail how to use filters and what they give. It's unrealistically convenient thing that helps to choose a car.
Clear terms. No need to read a huge contract in small print. All conditions are very simple, fair and intuitive.
The price, deposit, prepayment, the cost of insurance can be seen immediately. The website shows whether it's possible to pay in cash or the distributor accepts only credit cards.
You can pick up the car at the airport. A very handy option. You arrive, pick up the car and drive to the hotel. Saves both money and time.
But you can ask to leave the car in any convenient place for you. For example, right at the door of a villa or hotel. Sometimes you have to pay extra for it, sometimes you don't. The site will immediately show how much such a service will cost.
Nice customer support. The level of service is shows best in trouble. Unfortunately, in non-standard situations, support on many websites responds with standard phrases and doesn't help in any way. You're only wasting your time.
On Localrent it's different. There are great guys who are trying to help and advise you what to do.
There are child seats and boosters. I don't have children yet, but friends and family often come to visit. The ability to quickly and inexpensively order a car with a child seat or a booster is very important for them.


---
Have I convince you? Then here is the link to Localrent.com. Go ahead and choose a car. Don't delay with booking – it'll turn out more expensive.
What's about disadvantages?
I like this site and I don't see any special disadvantages here.
If you start "digging", you can probably find something. But usually these will be far-fetched arguments like "you will pay a lot more for a small advantage that you will not use later."
I even searched the Internet for what other bloggers usually point out. It seems to me that there is such nonsense … Judge for yourself:
Website requires prepayment. Well, yes, any decent company requires an advance payment. All these bookings without prepayment are such garbage… They mean nothing and no one will be obliged to give you a car. If there is a suitable car available, they will give it to you. If they don't have a car, they'll send you away. With an advance payment, at least some obligations and guarantees appear.
You can't see the car before booking. And who gives you such a service? The rest of the websites don't even promise to provide a specific model. Do you think that if you book a Ford Focus and the picture shows a new car of the latest model, they will give it? No way! They can give you anything at all.
The local companies are no better. There may be some photos of cars, but often they are made 5 years ago, and sometimes they are even taken from the Internet.
Localrent in this regard is very advanced: there is a detailed description of the car, often with photographs. You can roughly judge the condition by the year of production.
Not always possible to pay by card. Well, sometimes it happens, that's true. But if someone is ready to overpay one and a half to two times more or freeze a lot of money on the credit card just to not bother with cash – your choice.
Small companies are not reliable. This is where I want to argue. Everything is just the opposite. The company is reliable, and they treat every customer very well. I have a lot of experience. There were different situations. I have always been listened.
For example, if a rental car got into an accident or broke down, they offered to choose another one for the same price, with the same deposit. Of the options that are much cooler and more expensive than the originally booked car is.
Is it possible to book a car without a deposit and a deductible?
There are two ways to rent a car without a deposit at all:
Option number 1: choose a car on Localrent. Click Filters -> No deposit. It'll show only cars without collateral.
Option number 2: local search. Go around all the rental offices on foot, see all offers, negotiate. Spend all day on this. And the price is likely to be much higher than if you book in advance via the Internet.
Is it worth taking a car without a deposit?
It would seem cool not to pay a deposit. More money can be spent on vacation. But in fact, I don't really like these cars. I have three reasons for this:
These cars are more expensive. A car without a deposit costs more. Approximately 15-40%. You can usually find exactly the same with a small deposit, but much cheaper or newer. Yes, and the options will be better. What's the point of paying more?
Bad car condition. People who take a car without a deposit treat it a little carelessly (without SuperCDW, you still have to pay for damage). Therefore, on such machines there are more scratches, dents and damage.
Small choice. Approximately every 4th car is offered without a deposit. If you book in advance, there will still be plenty to choose from. But if the vacation is literally in 1-2 weeks, it's better to take a car with a deposit.
---
I must say right away that all this applies to cheap small cars, which are the majority in Cyprus. If you are looking for a good SUV or an exclusive car, you should look not so much at the size of the deposit, but at the price to quality ratio.
Step-by-step instructions for car rental in Cyprus
Since Localrent.com turned out to be the cheapest in our comparison, I'll write the car rental instructions using it as an example.
When to book a car?
It's better to book a car immediately after buying tickets. I've never seen distributors cut prices. Even if the machines are idle. Only the tsunami or something like that will help, but it has not yet been in Cyprus, as I recall.
Usually everything is quite the opposite: you can find options for 30-50% cheaper a month or two before the vacation in comparison with booking just a couple of days before.
Therefore, since you're already reading the article, it's better to start looking for a car right now. I will duplicate the links: Localrent.com or Rentalcars.com.
How to use filters?
First of all, it's worth deciding on the parameters of desirable car. I ask friends and found out the most common "Wishlist". Let's look how you can find the car you need on Localrent.com. It's very easy and can be done in just 5 minutes.
What insurance to choose?
For the most part, you don't need insurance. The fact is that high deposits in Cyprus make insurance almost useless. I'll explain why.
Localrent.com published an interesting statistic recently:
Two interesting conclusions can be made:
Renting a car in Cyprus is safe. Only 0.23% of clients have to spend a really big money (more than

200 €

≈ 210 $, 172 £, 772 Dh, 3648 ₺

). This is one person out of 500.
Insurance with a deposit is useless. Every insurance company has a deductible. Usually it's clearly more than

200 €

≈ 210 $, 172 £, 772 Dh, 3648 ₺

. So, for 99.77% of tourists insurance will not help.
Of the 0.23% of the remaining people, not all of them damaged the car for an amount greater than the deposit. Let's assume that the insurance comes in handy in half of the cases. Seems like only one person out of a thousand is will get a payout!Is it worth paying extra for CDW or SuperCDW 30-50% of the rental price if this insurance is unlikely to be useful, and the probability of getting into an accident is low? Decide for yourself. Personally, I usually don't pay for insurance.Insurance without a deposit makes sense, because it will also protect against scratches in the parking lot. And this is the most common case in Cyprus. But for such insurance you have to pay the same amount as the rent.
P.S. If you rent a car from unreliable distributors, and even very cheaply, it makes sense to overpay for the most reliable insurance without a deductible.
What kind of insurance is available in Cyprus?
You can choose from three insurance options in Cyprus. TPL is mandatory, it's included in the price by default and cannot be refused. CDW or SuperCDW are usually bought as option, but with some cars they go "as a gift."
TPL. If you're not at fault for the accident, you don't have to pay anything at all. Guilty – pay only for the repair of your car.
CDW. The same as TPL, in case of your fault in an accident, insurance will pay the difference between the deductible and the repair. Except the wheels, bottom and windshield.

Example #1:

deductible

500 €

≈ 525 $, 430 £, 1930 Dh, 9120 ₺

, repairs cost

700 €

≈ 735 $, 602 £, 2702 Dh, 12768 ₺

. They'll take the entire deposit, the insurance company will pay

200 €

≈ 210 $, 172 £, 772 Dh, 3648 ₺

.

Example #2:

deductible

500 €

≈ 525 $, 430 £, 1930 Dh, 9120 ₺

, repairs cost

200 €

≈ 210 $, 172 £, 772 Dh, 3648 ₺

. You'll be refunded

300 €

≈ 315 $, 258 £, 1158 Dh, 5472 ₺

from the deposit, but

200 €

≈ 210 $, 172 £, 772 Dh, 3648 ₺

will be taken away. The insurance didn't help.

SuperCDW. The same as CDW, but in case of damage to the wheels, bottom or windshield, insurance will cover these damages.
No deposit. There will be no deductible in insurance. You don't have to leave a deposit. Beneficial for CDW or Super CDW. Examples:

Example #3:

CDW insurance without deposit. The repair costs

1000 €

≈ 1050 $, 860 £, 3860 Dh, 18240 ₺

, including a broken windshield for

200 €

≈ 210 $, 172 £, 772 Dh, 3648 ₺

. The insurance company will pay

800 €

≈ 840 $, 688 £, 3088 Dh, 14592 ₺

, but you will have to pay for the windshield.

Example #4:

SuperCDW insurance without deposit. The repair costs

1000 €

≈ 1050 $, 860 £, 3860 Dh, 18240 ₺

, including the windshield for

200 €

≈ 210 $, 172 £, 772 Dh, 3648 ₺

. The insurance company will pay

1000 €

≈ 1050 $, 860 £, 3860 Dh, 18240 ₺

, you – nothing.
How to rent a car at Larnaca Airport
If you arrive on your own, it's very profitable to rent a car right at the airport. This way you can save a lot on a taxi. For example:
Instead of taking such an expensive taxi, you can book a car with delivery to Larnaca International Airport. It's free and very convenient. Even if you rest in Larnaca, the first day of the rental will be free. Well, if you choose Paphos for your vacation, you can take a car for 5-6 days instead of a taxi.
How to rent a car with delivery to the airport?
Let me write down the step-by-step instructions about renting a car at the airport:
Booking. When searching for cars on Rentalcars, Economybookings or Discovercars, you need to select Larnaca Airport (LCA).
If you book through Localrent.com, choose the place of receipt as "Larnaca". It'll be possible to request delivery to the airport at the time of booking.
Search for a rental company. When booking with an international company, you need to go to their counter at the airport and, most likely, stand in a short queue.
If booking with a local company, they'll meet you with a sign at the exit of the arrivals hall. A trifle, but still nice not to stand in line for an extra half hour.
Getting to the car. Larnaca Airport has two parking lots for rental cars. One is located on the second floor, and to the second one you have to go by a special shuttle. This is such a free bus.
When booking a car with small companies (option from Localrent), the distributor will take you to the car and show you everything. When booking with large rental companies (Rentalcars, Economybookings or Discovercars), sometimes they simply explain how to get to the parking lot and find your car.
Car inspection. Carefully inspect and shoot your car on video (see the checklist below), adjust the seats for yourself and go for a drive.
---
If you still plan to rent a car in Cyprus, I strongly advise you to take it at the airport. It's very convenient, fast and allows you to save some money.
How to inspect the car upon receipt?
I made a small instruction on checking the car before signing the papers. If you've already rented a car abroad many times, feel free to skip this chapter, there is nothing extraordinary there.
But if this is your first rental, I advise you to take it carefully or even print out my checklist for yourself. Perhaps these simple tips will help a lot.
How to get a car: checklist
I chose the main checkpoints that are worth checking when getting a car. Almost all of them are very important and will help to avoid misunderstandings and / or fines.
What do you need to take with you?
Car inspection process
Turn on the video on your phone and go around the car several times, recording damaged elements, scratches and dents. All identified shortcomings are better to be noted in the vehicle inspection map. If there are no hubcaps – note it. This is usually done by the manager.
It's better to shoot one long video. Try to get the manager in the frame – there will be confirmation that the video was filmed when you received the car. It's better to take a close-up of all problem areas so that even small chips and scratches can be seen.
Particular attention should be paid to the elements where damage most often occurs:
Proceed to the interior inspection and check the configuration. I'll list most of the items that may be in the car, but not the fact that you'll have all of them.
Look if previous customers have left their things in the boot and glove compartments. Believe me, if a child has forgotten his favourite toy, sending it by mail is not the best option.
Checking documents and insurance
Get in the car (when picking up at the airport) or at the table (when picking up at the office). Read the contract carefully. Don't rush, it's in your best interest.
Check that all damage is marked in there. If there are no hubcaps or mats, this should also be noted. If there is a deposit, it must be specified in the contract.
---
Print out the checklist before your trip and take it with you. You can mark points directly when inspecting the car. When we rented a car for the first time, I was very worried. Everything immediately flew out of my head and I completely forgot what and how to do. The checklist will help!
Shooting such a video is useful as evidence in controversial situations. Most even not entirely honest distributors will not try to deceive you seeing that you are serious about renting. What is the point if there are many people who take any car and sign documents without looking.
Also, such a video takes your worries away. It's unrealistic to find and remember all the damage when inspecting the car. Over time, you'll notice new scratches and dents. You can either to worry, or to open the video and see if you are guilty or not.
How to travel around Cyprus? What to be afraid of?
In general, there are no problems or dangers in a car trip in Cyprus. But still, several times a year, tourists encounter troubles that I consider necessary to warn about.
Don't leave the car anywhere and anyhow. Cyprus is quite safe and very relaxing. But even here there can be problems:
Hubcaps. If the car is on stamped disks (usually small cars), then they are often covered with hubcaps for beauty reasons. So, very, very rarely they can be stolen. A set of hubcaps can cost up to

50 €

≈ 52.5 $, 43 £, 193 Dh, 912 ₺

.
Broken glass. If you leave the car unattended, it is better to remove handbags, wallet, phone, camera or any valuable items from the inside, so they can't be seen through the glass. Again, trouble is rare, but someone can break glass to steal your things.
Convertible must be closed. Never leave a convertible with open top anywhere. Something can be stolen from it, animals can get in there or birds fly in and take a shit. And yes, people are different.
Park carefully. Do not huddle in the parking lot close to other people's cars. Not the fact that they have experienced drivers: they can scratch your car and not even notice. If the car has good insurance, it will cover all this. But you need to worry about it, call the distributor, draw up an accident report…Not worth it.
How to return a car?
Returning a car is much easier and faster than receiving it. Most distributors accept it literally in one minute: they walked around in a circle, saw that there is no new damage and immediately give you the deposit.
But if you book not on my tip, but in some unfamiliar company, it's better not to leave the manager when returning the car and not leave him alone with the car until you receive back either your deposit or a no-claims document.
Q&A: what you need to know about car rental in Cyprus?
Since I often help friends to organize their holidays in Cyprus, I constantly have to answer the same questions. I decided to collect them all in one place so as not to repeat myself.
What do you need to rent a car: age, driver's license, documents
Each company have its own conditions. Somewhere they require an age of 30 years and 7 years of experience, and in another place they will hand over a car even to 18 years old guy with no experience at all.
More or less average conditions for the companies I checked are as follows:
Minimum age: 25.
Driving experience: 3 years.
Driver's license: Any. The main thing is that there should be a name and a surname in Latin (English) letters.
International passport: as proof of identity.
Cash and/or credit card: you need to read the terms of the lease for a particular car. Some companies accept cash payments, while others only take cards.
Please note: usually a credit card is required. The first and last names should be in large letters. Debit or prepaid cards will not work here – they are not accepted.
Rental voucher: if you booked a car online, a confirmation in the form of a voucher will immediately come to your email. Don't forget to take it with you.
What is the difference between traffic rules in Cyprus?
Traffic rules in Cyprus almost the same as in other countries, but there are some features:
Left side traffic. You have to drive on the other side of the road. But the "interference from the right" rule does not change. At an equivalent intersection, skip those on your right.
Speed limits. Up to 50 km/h in the city, up to 80 km/h outside the city, up to 100 km/h on highways. It is possible (but not necessary) to exceed those limits by 10-15 km/h.
Circle Priority. Pass those who are already in the circle. Drive clockwise unless the sign says otherwise.
STOP signs instead of "Give way". May be a sign, may be a drawing on the pavement. If there is a STOP (in Northern Cyprus DUR), you should give way.
Tell us about the police, cameras and fines in Cyprus
The police in Cyprus are quite professional. They don't sit in the bushes and don't look for breaking the rules with binoculars.
Fines in Cyprus are quite high. Therefore, buckle up and watch your passengers (save 85 € ≈ 89.25 $, 73.1 £, 328.1 Dh, 1550.4 ₺), don't talk on the phone while driving (also 85 € ≈ 89.25 $, 73.1 £, 328.1 Dh, 1550.4 ₺), don't litter and don't drive while drunk (fine is 200 € ≈ 210 $, 172 £, 772 Dh, 3648 ₺, a bottle of beer or a glass of wine is already a risk).
All over Cyprus there are signs threatening video recording of violations. They are for tourists. In the territory of Southern Cyprus, I found only 2 working cameras in 3 years, both in Nicosia. Lots of old ones, but they don't work.
But there are radars and cameras on almost every corner in Northern Cyprus. Be careful.
What are the roads in Cyprus?
The roads in Cyprus are very good. I like them even more than German ones. The asphalt may not be the newest, but it's well made – there are no holes. You can easily drive to almost all tourist attractions.
There are also unpaved roads here, but quite rarely and they are of good quality.
The traffic is very calm, there are not many cars. Even in cities it's not scary to drive. Traffic jams in Cyprus are rather an exception to the rule and occur only in big cities during peak hours.
Driving style in Cyprus: safe and easy?
All rental cars in Cyprus have red numbers. The locals are aware about it, they immediately see such cars and treat them with caution and understanding.
For example, no one will be particularly surprised if a car with red numbers suddenly turns into an oncoming lane. It happens. They will just signal you and warn.
You get used to the left-hand traffic pretty quickly. My husband and I adapted in just a couple of days. The turn signals were sometimes confused (they work otherwise), there was a feeling that I'm driving on the "wrong" side of the road.
I advise you to go slowly the first time. You can't quite feel the dimensions of a new car from a start. And if the steering wheel is also on the right, it may take a couple of days to get used to it. Just don't plan a big and complicated trip on the first day and you'll be fine.
What cars should be taken for Cyprus?
I have made some tips that will help you choose the right car from my friends' experience. Turns out it's not that easy:
Automatic transmission. Shifting gears with the left hand is unusual. Over the past couple of years I somehow got the hang of it, but at first it was very difficult. You'll have to get used to driving on the left anyway, so it's better to take an automatic transmission even if you drive at home with a mechanic one.
Powerful engine. There are many cars on the market with low-power engines up to 1.3 liters. They drive acceptable on flat terrain but such a car isn't comfortable in the mountains. Especially if you turn on the air conditioner, which "eats" another 0.2-0.3 liters of power. A weak car not only does not goes uphill, but also overheats. Getting stuck in the mountains isn't a memory you want to have.
I recommend you to take cars with at least 1.3-1.5 liters engine.
Air conditioning or climate control. It's very hot in Cyprus in summer, but not all cars are equipped with air conditioners. Check this moment.
Choose for yourself. There is no universal advice, choose according to the situation:

If you're travelling as a couple or even on your own, it's quite possible to take a tiny runabout like Mazda Demio (aka Mazda 2) or Suzuki Swift.

For a company of 4 people with suitcases, its better to take larger and more powerful car. For example, Nissan Cube or VW Golf.

You can take a convertible or a luxury car for a honeymoon trip, a birthday or an important holiday. Believe me, a good car doubles not only the income of the distributor, but also your emotions.

Instant booking. If you need a car for tomorrow or the day after tomorrow, you should look first at options with instant booking. They are indicated by an orange lightning bolt on the top right on Localrent.com.
Cars without this option can be on hold for a full day. It's not a fact that the car you have chosen is actually available.
Is it hard to drive a right-hand drive car?
I can't speak for everyone, but my husband and I got used to it pretty quickly. After 1-3 days it felt quite comfortable.
Just be careful at least the first hour while getting used to the car.
How much does petrol cost in Cyprus?
Fuel prices are not fixed and differ depending on the gas station and season. Here is something in between:
95 gasoline costs

1,20 €

≈ 1.26 $, 1.032 £, 4.632 Dh, 21.888 ₺

per liter,
diesel costs 

1,25 €

≈ 1.3125 $, 1.075 £, 4.825 Dh, 22.8 ₺

/liter.
It makes no sense to take a diesel car in order to save fuel in Cyprus. You'll be driving mainly outside the city. The consumption of both diesel and gasoline cars is approximately the same there.
Please note that many gas stations are working autonomous in the evening. Everything is automated: pay by card, get gasoline. If you feel like you need help, it's best to refuel during the day.
Is it possible to go to Northern Cyprus?
Most car rental companies do not allow driving to Northern Cyprus. But tourists ignore this ban. I have never heard of a fine for this.
If you decide to go, I'll give some useful tips:
Docs. Don't forget your passport, car rental agreement and driving license. Almost every time I travel to Northern Cyprus, I see how people are turned around because someone does not have a passport or even forgot their driver's license.
Visa issue. A visa is not required to visit Northern Cyprus. The Turks do not put any stamps in their passports, and the Greeks do not recognize the Turkish Republic of Northern Cyprus. From their point of view, you did not leave the country at all.
Insurance. The insurance that comes with the car is not valid here. You have to buy a local one for

20 €

≈ 21 $, 17.2 £, 77.2 Dh, 364.8 ₺

for 3 days. There is another option for

35 €

≈ 36.75 $, 30.1 £, 135.1 Dh, 638.4 ₺

for a month. If you have two drivers, you'll have to pay extra. But we never took insurance for two, so I don't know how much.
Checkpoints. The "border" is crossed at checkpoints. There are checkpoints for cars and pedestrians. The ones for cars are located in Nicosia, Pergamos, Pyrgas, Derynia, Strovilia and Astromeritis. You can enter in one place and leave in another. Helps to plan an interesting and not too long route.
Currency. They are using the Turkish lira in Northern Cyprus. Exchangers give about 5 lire for 1 euro.
Money saving. Gasoline in Northern Cyprus is significantly cheaper. Approximately

0.85 €

≈ 0.8925 $, 0.731 £, 3.281 Dh, 15.504 ₺

per litre. If you pour at least 30 liters, save

12 €

≈ 12.6 $, 10.32 £, 46.32 Dh, 218.88 ₺

. Pleasant trifle.
Keep in mind that a trip to Northern Cyprus is a risk. Any accident here can result in serious problems or a fine. Subjectively, driving in the northern part of Cyprus is more difficult than in the south. The movement is kind of chaotic, no one follows the rules. Reminds me of Asia.
Can I take a car with white numbers?
Some dubious persons may offer you to rent a car with white numbers. It's not exactly a cheat (just tax evasion), but it's forbidden by law. In the event of any accident, you'll get problems out of the blue. I advise you to take only official cars with red numbers.
How to find a car for a young driver with little experience?
I know three ways to take a car with a minimum experience:
Just a beautiful street of Limassol to understand the local flavour.

International distributors. Choose a car rental company on Rentalcars.com that is not very meticulous about the age of the driver. Sort through all the cars  and read the conditions. Alamo or Enterprise has this. Sometimes you have to buy expensive insurance, but there's nothing to be done about it.

Local car rental companies. Go to Localrent.com, select the desired car and write to them in the chat. Try to explain that the car is suitable for you, but you don't have enough experience. They'll tell you which cars you can take with little experience.
By foot. Go around the rental offices closest to your hotel and negotiate. The method is expensive, but also quite working.
What are the activities for children in Cyprus?
It's best to travel with children to Protaras (family resort) or Larnaca (just stay away from the airport).
There is a fairly large (as for Cyprus) choice of children's entertainment in Larnaca:
Children's amusement park Wow Adventure – animation and attractions for children. It'll be interesting for kids up to 8 years. Entrance costs

5 €

≈ 5.25 $, 4.3 £, 19.3 Dh, 91.2 ₺

.
Camel Park – a small zoo in the nearby village of Mazotos. There are kangaroos, llamas, porcupines, peacocks and pelicans. The main feature – you can ride a camel, pony or donkey. Or to feed to the animals. An adult ticket costs

4 €

≈ 4.2 $, 3.44 £, 15.44 Dh, 72.96 ₺

, a child ticket costs

3 €

≈ 3.15 $, 2.58 £, 11.58 Dh, 54.72 ₺

.
Donkey Farm in the village of Skarinu. You can ride a donkey and see how citruses grow. The price (if I'm not mistaken,

35 €

≈ 36.75 $, 30.1 £, 135.1 Dh, 638.4 ₺

) includes a traditional dinner.
I can recommend these entertainments in Protaras:
Oceanic Aquarium. Located in the very center of the city. There are fish, birds and even penguins. Beautiful territory. Nothing extraordinary, but might be interesting. A ticket for children aged from 2 to 12 costs

7 €

≈ 7.35 $, 6.02 £, 27.02 Dh, 127.68 ₺

. For adults and older children –

13 €

≈ 13.65 $, 11.18 £, 50.18 Dh, 237.12 ₺

.
Magic Dancing Waters Fountains – paid, but interesting show. Lasts about an hour. The main feature is a volcanic eruption and fire. Price per child

15 €

≈ 15.75 $, 12.9 £, 57.9 Dh, 273.6 ₺

and

26 €

≈ 27.3 $, 22.36 £, 100.36 Dh, 474.24 ₺

per adult.
Historical Museum – worth a visit if your child is interested in history. There is a rather rich collection of various artifacts here. Tickets, if I am not mistaken, costs only

2 €

≈ 2.1 $, 1.72 £, 7.72 Dh, 36.48 ₺

.
There are a lot of entertainment in Ayia Napa, but you need to look for a quiet area there. I like the places east of Nissi beach and the area of Ayia Thekla beach. Here are the ideas:
Water World Aquapark – 18 attractions, cool pools, a green area with palm trees. The ticket costs

38 €

≈ 39.9 $, 32.68 £, 146.68 Dh, 693.12 ₺

.

24 €

≈ 25.2 $, 20.64 £, 92.64 Dh, 437.76 ₺

for 3-12 years old children.
Parko Paliatso Luna Park – carousels, various attractions and other entertainment. There are height restrictions depending on the attraction. Most attractions can be visited by children over 130 cm tall. A child ticket (2-7 years old) costs

16 €

≈ 16.8 $, 13.76 £, 61.76 Dh, 291.84 ₺

, for older children and adults they ask for

35 €

≈ 36.75 $, 30.1 £, 135.1 Dh, 638.4 ₺

. You can buy tickets only for individual attractions. The price is

1-4 €

≈ 1.05 $, 0.86 £, 3.86 Dh, 18.24 ₺

for "children's" rides and up to

8 €

≈ 8.4 $, 6.88 £, 30.88 Dh, 145.92 ₺

for adults.
Thalassa Maritime Museum – fun for older kids. It's located on the first floor of the City Hall. The museum is an exact copy of the ancient Greek merchant ship. A child ticket costs

1.5 €

≈ 1.575 $, 1.29 £, 5.79 Dh, 27.36 ₺

, an adult ticket costs

4 €

≈ 4.2 $, 3.44 £, 15.44 Dh, 72.96 ₺

.
Why we haven't bought a car
We live close to work, we don't need our own car every day – we walk. We ride around the island only on weekends, a couple of times a month.
Buying a car, its maintenance, repair, parking are big expenses. If we have to move, we will lose even more on the urgent sale of the car.
With such rental prices, it's simply not profitable for us to buy our own car. Just yesterday we returned from trip to Paphos. The car for 3 days cost 60 € ≈ 63 $, 51.6 £, 231.6 Dh, 1094.4 ₺. What is the point of investing thousands of euros in the purchase of a thing that can be rented literally for a penny?
By the way, renting a car is much more interesting: for these three years we have driven everything: from budget small cars to very expensive cars.
Car rental reviews in Cyprus
I left my review and gathered the opinions of other tourists: my friends who at least once rested in Cyprus and rented a car here.
---
Let's try to collect here the largest database of honest reviews about car rental in Cyprus? I'm sure many tourists will find it useful.
After the rental, do not forget to spend 3-5 minutes and describe your experience in detail: what kind of car you rented, how much it cost, where you went, etc.
---
Well, that's the end of the article. I told absolutely everything I know about car rental in Cyprus. If something is not clear, you can ask in the comments.
Well, the best gratitude to the author is your feedback. If you took the car based on my tips, be kind to spend 2-3 minutes and tell how it went.