Hi, my name is Christie. Ten years ago, I met my husband while on vacation in Cyprus. Since then we fly here every year. And never broke the tradition!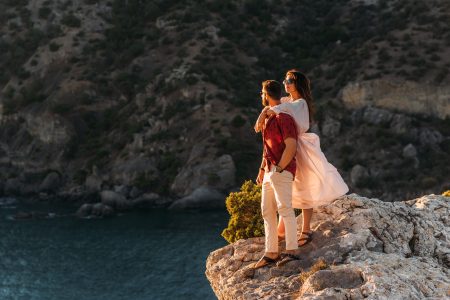 We prefer to fly to Cyprus on our own without buying a package tour. So I had to deal with taxis, transfers and other ways to get from the airport to my hotel.
Everything seemed confusing and complicated at first. But I delved into it, checked every bit of info myself and now I can share my experience with other tourists. To make it a little easier for you.
Everything about taxi, transfer and transport in Cyprus
Transfer is not the most important part of the trip. If you don't have extra time to read the entire article, use these short tips:
Where to book a transfer in Cyprus?
If you arrive in Cyprus with a tour package, the transfer is already included in the price. Usually this is a large bus that slowly takes tourists to hotels. Slow, not very comfortable. But free of cost!
If you are going to Cyprus on your own, it's better to think about transport in advance. There are many options: taxi, transfers, bus, car rental at the airport. I tried all these methods and chose a transfer.
I share links to websites where I book transfer for myself:
KiwiTaxi.com – I use this site the most. It is simple and understandable. Here you can choose a class of car and even order a bus. Drivers always speak English, which is important if you are traveling far.
Intui.Travel – sometimes it's cheaper here. There are also a lot of transfer options. I ordered some premium Mercedes cars here several times. Quite a choice.
---
In fact, there are many more companies that offer transfers. But the options above are personally verified and 100% reliable. I can't vouch for other options as I haven't tried them myself.
What is the difference between a transfer and a taxi?
A taxi and a transfer are the same at first glance. But no. Each option has its pros and cons. I'll try to show you:
Benefits of transfers:
Usually cheaper. A transfer is cheaper than a taxi in most cases.
I've already compared prices in the table below.
It's safe. The transfer is safer and more enjoyable.
As in any country, taxi drivers often deceive tourists. Not all of them, and only for

10-20 €

≈ 10.5 $, 8.6 £, 38.6 Dh, 182.4 ₺

. But why start a vacation with an unpleasant story?
Fixed price. The price that you see on a website is the amount you pay. But according to the taximeter it turns out differently. Sometimes they drive in circles to get more money from you.
No tip needed. Taxi drivers often do not return change up to

5-10 €

≈ 5.25 $, 4.3 £, 19.3 Dh, 91.2 ₺

. Kind of like a tip.
If you pay for the transfer on the website, the driver does not need a tip. And this is 5-10% savings.
No cash needed. I always make 100% advance payment through the website. But taxi drivers often don't have

1-10 €

≈ 1.05 $, 0.86 £, 3.86 Dh, 18.24 ₺

change.
They'll meet you at the airport. You'll be met at the airport with a sign and they they'll take you to the car.
No need to look for a taxi or worry if there is a free car at night.
English-speaking drivers. Whenever possible, they try to send English-speaking drivers. But even if the driver doesn't speak English well, he still has an address to deliver you.
This is convenient, because it's hard explain to the taxi driver where your apartment or small hotel is located.
Help with suitcases. They'll help you carry your suitcases from the airport to the door of the hotel. A small thing, but after the flight it's a very nice gesture.
Forgotten things. One day my husband forgot his phone in the car. He just slipped out of his pocket and remained lying on the seat.
If you took a taxi at the airport, it would be difficult to find a driver. But this way I had all the contacts and the opportunity to write to the support service.
Advantages of a taxi:
No need to rent in advance. You left the airport, got into the first taxi that came across, and that's all.
You can choose a car and driver. If you are severely seasick, you can try to choose a more comfortable car and a phlegmatic driver.
Dive into the country. It's controversial, but many people really like to look for a taxi on their own, fight off the driver's suggestions "let's go for a fixed price", check that the taximeter is not set to a night rate during the day and make sure that the driver does not drive in circles.
---
I honestly tried to come up with some other advantages of a taxi. But I couldn't. Can you advise some in the comments?
For me, the cons (they follow from the pros of transfers) clearly outweigh. Therefore, I no longer use a taxi at the airport. It's unpleasant, more expensive, and not at all so convenient. Why would you suffer if you pay your own money?
As you may see, the transfer is not exactly a taxi. And it has quite a lot of advantages.
Taxi fares in Cyprus
Taxi is the easiest way to travel around Cyprus. You left the airport, chose the car you liked and are already on your way. I often used it until I found out that you can order a transfer. Or maybe it wasn't so popular before.
As you may understand, taxi drivers are far from being the most honest people in any country. Tourists are being cheated. This applies to taxi drivers at airports in the first place. After all, they perfectly understand that tourists have nowhere to go.
I won't scare you with horror stories. But honestly, I've paid 10-40 € ≈ 10.5 $, 8.6 £, 38.6 Dh, 182.4 ₺ more than it should be for a taxi several times. It's not much, but it's very annoying. Especially at the beginning of the holiday.
---
Let's try to compare the cost of taxi and transfer in Cyprus. Here are the fares for the most common taxi:
Daily rate (from 6:00 to 20:30):

0,73 €

≈ 0.7665 $, 0.6278 £, 2.8178 Dh, 13.3152 ₺

per km.
Night rate (from 20:30 to 6:00):

0,85 €

≈ 0.8925 $, 0.731 £, 3.281 Dh, 15.504 ₺

per km.
This rate is valid during the day on holidays.
Taxi start fee:

3,42 €

≈ 3.591 $, 2.9412 £, 13.2012 Dh, 62.3808 ₺

during the day and

4,36 €

≈ 4.578 $, 3.7496 £, 16.8296 Dh, 79.5264 ₺

at night.
Taxi surcharges:
Baggage surcharge:

1,2 €

≈ 1.26 $, 1.032 £, 4.632 Dh, 21.888 ₺

per suitcase.
Additional payment during a holiday:

1,96 €

≈ 2.058 $, 1.6856 £, 7.5656 Dh, 35.7504 ₺

.
Additional charge for 5 passengers: 20%.
Additional charge for 6 passengers: 40%.
* Taxi fares are constantly rising. I don't promise that I will promptly update them. Now I've looked it up on the internet. They say that is because of the gasoline price surge, a taxi services are up by 20-30%. I don't know if it's true or not. Haven't had time to check.
---
Let's compare the price of a taxi ride and transfer to the most popular routes from Larnaca Airport. I assume that you'll be traveling during the day, with two suitcases, and the taxi driver will be perfectly honest (although there are not many of them):
Route
Taxi
KiwiTaxi Transfer
Intui Transfer
Larnaca Airport ⇒ Ayia Napa

47 €

≈ 49.35 $, 40.42 £, 181.42 Dh, 857.28 ₺




50 €

≈ 52.5 $, 43 £, 193 Dh, 912 ₺

with tips.

46 €

≈ 48.3 $, 39.56 £, 177.56 Dh, 839.04 ₺

44,65 €

≈ 46.8825 $, 38.399 £, 172.349 Dh, 814.416 ₺

Larnaca Airport ⇒ Limassol

58 €

≈ 60.9 $, 49.88 £, 223.88 Dh, 1057.92 ₺




65 €

≈ 68.25 $, 55.9 £, 250.9 Dh, 1185.6 ₺

with tips.

52 €

≈ 54.6 $, 44.72 £, 200.72 Dh, 948.48 ₺

51,15 €

≈ 53.7075 $, 43.989 £, 197.439 Dh, 932.976 ₺

Larnaca Airport ⇒ Protaras

57 €

≈ 59.85 $, 49.02 £, 220.02 Dh, 1039.68 ₺




60-65 €

≈ 63 $, 51.6 £, 231.6 Dh, 1094.4 ₺

with tips.

52 €

≈ 54.6 $, 44.72 £, 200.72 Dh, 948.48 ₺

45,30 €

≈ 47.565 $, 38.958 £, 174.858 Dh, 826.272 ₺

Larnaca Airport ⇒ Paphos

117 €

≈ 122.85 $, 100.62 £, 451.62 Dh, 2134.08 ₺




120-130 €

≈ 126 $, 103.2 £, 463.2 Dh, 2188.8 ₺

with tips.

114 €

≈ 119.7 $, 98.04 £, 440.04 Dh, 2079.36 ₺

94,74 €

≈ 99.477 $, 81.4764 £, 365.6964 Dh, 1728.0576 ₺

Larnaca Airport ⇒ Larnaca

14 €

≈ 14.7 $, 12.04 £, 54.04 Dh, 255.36 ₺




15-20 €

≈ 15.75 $, 12.9 £, 57.9 Dh, 273.6 ₺

with tips.

21 €

≈ 22.05 $, 18.06 £, 81.06 Dh, 383.04 ₺

19,6 €

≈ 20.58 $, 16.856 £, 75.656 Dh, 357.504 ₺
The prices in the table are real. Taken from personal experience. Well, or found out how much my friends paid. You can roughly calculate the rates yourself. But keep in mind that it always turns out a little more expensive in fact. I don't know why.
I took prices for transfers from Larnaca airport on the KiwiTaxi website. Somehow I ended up using it more often. But there is also Intui.Travel. Also decent. And the prices are lower there. Check out both if you want to save money.
I compared the price of car transfers. There are shuttle buses on Intui.Travel. They're much cheaper. But I've never took it, so I don't know how it works.
---
As you can see, almost always a transfer is cheaper than a taxi. And there is no risk that you will be deceived. An exception is the route Larnaca Airport ⇒ Larnaca. But here everything is logical. For the sake of such a short route, it's not profitable for the driver to specially come to the airport and wait for you there in the arrivals area.
Tipping taxi and transfer drivers
In Cyprus, it is customary to tip taxi drivers. Usually it is 5-10% of the bill. Just round up the amount to the nearest integer. For example, if you have to pay 47 € ≈ 49.35 $, 40.42 £, 181.42 Dh, 857.28 ₺, it is customary to give 50 € ≈ 52.5 $, 43 £, 193 Dh, 912 ₺. If you don't have change (a couple of twenties and coins of 1 and 2 €), the taxi driver will by default assume that you left him a tip and will not give you a change.
Taxi drivers are experienced people and immediately see tourists who are in Cyprus for the first time. For example, if you give 50 € ≈ 52.5 $, 43 £, 193 Dh, 912 ₺ for a ride worth 43 € ≈ 45.15 $, 36.98 £, 165.98 Dh, 784.32 ₺ you can easily miss the change. They usually don't allow such tricks with expats and locals.
You may or may not tip. But then stock up on coins and give the taxi driver money without change. Otherwise, he may not found it. Well, there is a chance to hear something not entirely pleasant about yourself.
But when booking a transfer, especially when paying 100% online, tips are somehow not implied. If you liked the taxi driver, you can give him 1-5 € ≈ 1.05 $, 0.86 £, 3.86 Dh, 18.24 ₺. But this is purely your choice. Nobody forces you. So much nicer.
Car rental at the Cyprus airport
If you plan to travel a lot around the island, it makes sense to rent a car at the airport. Save your time on getting a car and your money on a transfer.
We did this twice. If you book everything in advance, then after 30-40 minutes upon arrival you'll be sitting in your car. Have a rest, nice ride and return to the airport in the same car.
Small cars cost from 13-15 € ≈ 13.65 $, 11.18 £, 50.18 Dh, 237.12 ₺ per day. Deposit of 300-600 € ≈ 315 $, 258 £, 1158 Dh, 5472 ₺ if using Localrent.com or 500-2500 € ≈ 525 $, 430 £, 1930 Dh, 9120 ₺ if you book on Rentalcars, Economybookings or Discovercars.
Localrent.com has cars without a deposit, but they are more expensive and, judging by the reviews, their condition will be worse. Lots of scratches, dents, etc.
Renting a car "at the counter" will be noticeably more expensive and time consuming. Because managers are well aware that you have nowhere to go. And if you arrive in the morning, in the evening or at night, then the distributor's office will generally be closed.
Renting a car is beneficial if you arrive in Larnaca and live far from the airport: in Ayia Napa, Limassol, Protaras, Paphos, etc. Car rental for a week will cost from 91-200 € ≈ 95.55 $, 78.26 £, 351.26 Dh, 1659.84 ₺ + petrol (30-60 € ≈ 31.5 $, 25.8 £, 115.8 Dh, 547.2 ₺). A transfer from the airport and back will cost 92-228 € ≈ 96.6 $, 79.12 £, 355.12 Dh, 1678.08 ₺. But it'll be possible to travel all over Cyprus: see the beaches, sights and other resorts.
Details: Mary knows everything about car rental in Cyprus. She has great tips!
Why it's not convenient to travel by bus ?
You can get from the airport to your place by public transport. There are bus shuttles to Paphos, Limassol and Nicosia, there are regular buses to Larnaca. It's cheap, definitely not convenient, a little risky and not profitable at all.
Looks unclear? I'll explain now. Let's count money!
Entertaining mathematics with Christie
Let's say you flew as a family of three to Larnaca Airport. You will stay in Limassol. You decided to "save money" and go by bus. Let's count your time and money:
Find a bus stop. You need to take suitcases (and a couple with a child has at least two) and go in search of a stop. It is on the second floor of the airport, you have to cross the bridge and walk another 100-150 meters.
Wait for the bus. When you get to the stop, you suddenly discover that the nearest bus will arrive only in 1.5-2 hours.
You're still lucky. You can wait even three hours. Or find out that today is a bummer – bus drivers are on strike. And no one knows if they will work at all.
Risk of catching a cold. You stayed 1.5-2 hours at the bus stop. Outdoors, in the heat and next to an asphalt road. Getting a sweat, they burned. The child is already hysterical. He's bored. And the flight was not that easy.
Here it is, the long-awaited bus. In Cyprus they are good. With air conditioning. The chance of catching a cold is quite high. Especially for a child.
Travel isn't free of cost. A ticket for an adult costs

9 €

≈ 9.45 $, 7.74 £, 34.74 Dh, 164.16 ₺

. For a child –

4 €

≈ 4.2 $, 3.44 £, 15.44 Dh, 72.96 ₺

. Your budget will lose

22 €

≈ 23.1 $, 18.92 £, 84.92 Dh, 401.28 ₺

. What's good, you don't have to pay for luggage.
Getting to the hotel. The bus will bring you to a stop in Limassol. Then you need to take a taxi to the hotel. Or carry your own suitcases. Sometimes far.
It goes without saying that after such heroism, there is no question of any rest. The rest of the day you'll most likely relax in a hotel room and put on sunscreen. Then crawl out to one of the nearest restaurants to have dinner.
IN CONCLUSION: minimum 22 € ≈ 23.1 $, 18.92 £, 84.92 Dh, 401.28 ₺ expenses and 5-6 hours of wasted time.
---
Didn't like the option? Let's compare it with a transfer. Maybe everything is also not as good as it seems at first glance? Let's see:
Meet the driver. A man with a sign is already waiting in the arrivals hall. Usually it's just a piece of paper with your last name written on it. He will help with the suitcases, and you can pay attention to the child. After the flight, this is simply necessary.
Get to the hotel. The driver will guide you to the car. Load your suitcases and take you directly to the door of the hotel. Air conditioning can be adjusted according to your wishes. You no longer run the risk of catching a cold and spending half your vacation in bed.
The last time I paid

52 €

≈ 54.6 $, 44.72 £, 200.72 Dh, 948.48 ₺

for a transfer from Larnaca airport to Limassol.
Enjoy your vacation. Check into the hotel, change clothes and go for a walk. After all, you still have half a day at your disposal! You can swim, see the sights or have fun as your heart desires.
IN CONCLUSION: minimum 52 € ≈ 54.6 $, 44.72 £, 200.72 Dh, 948.48 ₺ expenses and half a day of saved time.
---
A meticulous reader noticed that it is more profitable to travel by bus. 30 € ≈ 31.5 $, 25.8 £, 115.8 Dh, 547.2 ₺ savings! But think about it, is it? How much is 5 hours of your vacation worth?
For example, my husband and I spend about 3,000 € ≈ 3150 $, 2580 £, 11580 Dh, 54720 ₺ in a week in Cyprus. This is approximately 90 hours of active time. Excluding sleep, hygiene procedures, etc. Or 33 € ≈ 34.65 $, 28.38 £, 127.38 Dh, 601.92 ₺ per hour.
It is foolish to lose the rest of the first day (approximately 150 € ≈ 157.5 $, 129 £, 579 Dh, 2736 ₺) for the sake of being able to save only 30 € ≈ 31.5 $, 25.8 £, 115.8 Dh, 547.2 ₺. Even if you win only 1 hour of time thanks to the transfer, it's already profitable!
I'm not going to blame all the buses. It's also a good way to travel. It just doesn't work for most tourists. If you arrived for a month, and only a couple of backpacks from your luggage, you can go by bus. Save some money. Yes, and there is no need to rush anywhere. But for a normal vacation for 7-10 days, it's better to take a transfer.
Step-by-step instructions for booking a transfer
I thought that not everyone is computer savvy. Many will need help and tips. Therefore, I have prepared for you instructions for booking transfers in Cyprus. Hope they come in handy.
Instructions for KiwiTaxi (easier) | Instructions for Intui (cheaper)
I tried to pay attention to important nuances and added tips directly on the pictures in burgundy text. If something is not clear, you can fill it directly according to my example. Just don't book a transfer in my name!
---
We will book a transfer from Larnaca to Limassol. This is a very popular resort among tourists, which is also suitable for families with children.
Initial data:
07/22/2022 a transfer from Larnaca airport to Limassol.
07/29/2022 return transfer from Limassol to Larnaca.
Family with one child.
You need a comfortable car and a car seat.
How to book a KiwiTaxi transfer in Cyprus?
I'll show on the example of KiwiTaxi.com, the site I usually use myself:
Choosing a direction. You need to choose where you are going, thr city and how many people there will be. Then click the green Get Prices button.

Booking a transfer in Cyprus. Step 1: choosing a direction

A little below the search form there are popular destinations. You can choose there Larnaca Airport – Limassol. Well, or the route you need.

Choose a car class. Now you need to decide which car you will drive. It can be cheaper, but it can be more comfortable. I advise you to choose comfortable cars at least for long distances. After a hard flight, this is important.

Booking a transfer in Cyprus. Step 2: choose a car class.

As an example, I chose the Business class, which I usually use. But they have everything from small cars to buses or premium cars.

Filling in the data. Now you need to provide information about the flight, your contacts and choose a seat for the child (you can take your own, then it's free).


If you live in an apartment or a small hotel, just enter the name. Then show it to the driver so that he knows where to take you.

Enter the phone number that you don't plan to turn off while traveling.

Choose a payment option. How will we pay? You can deposit only part of the amount on a website. Usually 20-30%.

Booking a transfer in Cyprus. Step 4: choose a payment option.

Or you can immediately pay the full price and not bother with cash. This is how I do it, it's actually very convenient.

Make a payment. Everything is simple from this point. You just need to enter your card details and website will accept payment for transfers. Here is an example:
Checking your mail. Within a few minutes, you should receive a confirmation of payment with information about the transfer.
Don't see email? I had this only once. Try checking your spam folder first. There is a 99% chance that it'll be there.
---
Well, it wasn't all that difficult, was it? Ready to book? Then I give you a big noticeable button so that don't have to look elsewhere.
How to book Intui transfer in Cyprus?
Now I'll tell you all the same on the example of the site Intui.Travel. When I went in the last couple of years, the prices were better there. Booking instructions:
Choose which transfer you need. Choose from where and where you want to order a transfer, dates and times, when you need it and how many people there will be in a single form.

Ordering a transfer in Cyprus. Step 1: choose what you need.

Choose a car. Then everything is simple. The site shows which cars can send for you, reviews and price. Choose what suits you best.
Additional data. Now you'll be asked everything that wasn't asked before: flight number and arrival time, what kind of child seats you need, phone and email, name and surname and payment method.
Such a huge checklist, that nevertheless has to be filled. Actually, it only took me 3 minutes to do this.
Payment. When you click on the "Save and next" button, a payment form will appear, where you need to specify all the card details. Here's how I filled it out:
Checking your mail. You should receive a letter with a voucher immediately after a payment. Sometimes it ends up in spam, but this happens very rarely.
---
Website is not so convenient and understandable, I suppose. But it's cheaper. In any case, my instructions should help. Here is a  button to make a booking, if you need it.
How to rent a car at the airport?
If you have a right and are not afraid of right-hand traffic, you can book a car with pick up at the airport. It turns out more profitable. For the price of a transfer from the airport and back you can take a car and drive around the island for a week.
Where to rent: Localrent.com, Rentalcars, Economybookings or Discovercars.
Yes, you'll find only a small car for this money. Yes, quite old. But if you pay a little extra, you can pick up quite a decent car. Resting in Cyprus with a car is much more interesting than without it!
Mary has a very detailed step-by-step instruction on car rental. I'll not repeat it here. I just want you to be aware of such a possibility.
What's the best way to get from the airport?
Everyone understands "the best" in their own way. When my husband and I were poor students, we wanted to save as much as possible. Now we prefer to get there quickly and comfortably. Let's compare price, speed and convenience as an example.
Take for example the route from Larnaca Airport to Limassol. I calculated everything and asked the programmer to draw graphs:
🚶
5-10 min

Get to the parking lot

🚕
45-50 minutes

Getting to the hotel or apartment
Time: 50-60 minutes
Price:
from
52 €
≈ 54.6 $, 44.72 £, 200.72 Dh, 948.48 ₺
Best fit: you need comfort, value time
👍
5-10 min

Bargaining with a taxi driver

🚕
45-50 minutes

Getting to the hotel or apartment
Time: 60-70 minutes
Price:
58-65 €
≈ 60.9 $, 49.88 £, 223.88 Dh, 1057.92 ₺
Best fit: need comfort, forgot to order a transfer
🚶
10 minutes

Get to the parking lot

👍
10-15 minutes

Accept the car

🚗
50-60 minutes

Getting to the hotel or apartment
Time: 70-85 min
Price:
from
20 €
≈ 21 $, 17.2 £, 77.2 Dh, 364.8 ₺
Best fit: need a car, want to explore the country
🚶
10-15 minutes

Get to the bus stop

⌚
10-150 minutes

Wait for the bus

🚌
60-70 minutes

Get to Limassol

🚶
10-30 minutes

Reach the hotel
Time: 90-265 minutes
Price:
9 €
≈ 9.45 $, 7.74 £, 34.74 Dh, 164.16 ₺
per person
Best fit: without suitcases and children
Let's see what we did and what conclusions can be made:
The fastest and most convenient way to get from the airport is a transfer. No wonder I use it. You'll be met in the arrivals area and got help everywhere and with everything.
Where to order: KiwiTaxi.com or Intui.Travel.
I would place a car rental next. It's a little less comfortable, but cheap. If you're travelling as a family with a child, this is the most profitable option in terms of money.
Where to order: Localrent.com, Rentalcars, Economybookings or Discovercars.
Then, with a small margin, there is a regular taxi at the airport: a little longer, a little more expensive and generally not so convenient. You have to carry your suitcases yourself, look for parking and make sure that you are not deceived anywhere.
Well, there are ordinary buses in the last place. This is a very unpredictable way to travel. You'll get there in an hour and a half even in the best case. Well, if you're not lucky, get ready to spend 4.5 hours on the road.
Most of this time you'll be idle at the bus stop. It took us so long to get there that we had to draw the graph out of scale. Didn't fit in.
I would say that the bus is cheaper, but it's not. A family with a child will spend

22 €

≈ 23.1 $, 18.92 £, 84.92 Dh, 401.28 ₺

. And car rental starts from

11 €

≈ 11.55 $, 9.46 £, 42.46 Dh, 200.64 ₺

per day + petrol.
---
It's clear that the graphs and figures above are valid only for the route from Larnaca Airport to Limassol. In your case, the numbers may differ slightly, but the overall picture is unlikely to change much, right?
Transfers from Larnaca and Paphos airports
I've collected links and prices for popular routes from the airports of Larnaca and Paphos for you. May save you a couple of minutes.
Taxi from Larnaca Airport (LCA):
Taxi from Paphos airport (PFO):
Q&A: all about transfers in Cyprus
And finally, I'll answer very, very briefly about transfers and taxis that my friends ask me most often. Maybe something will come in handy for you?
How would I recognize my driver?
The driver will be waiting in the arrivals area. This is the hall that you enter after picking up your suitcase. There is always a crowd of people meeting someone.
The driver will have a sign or piece of paper with your name on it.
Does the driver speak English?
The drivers spoke English in 90% of my orders. Some may freely understand you, but have a thick accent, so answers will be in basic English.
In any case, the driver will know the address you gave when booking. There is no language problem, as is the case with "incomprehensible" taxi drivers who "accidentally" take you to the wrong place.
How much does a transfer cost in Cyprus?
Depends on the route and car class. Look at KiwiTaxi.com and Intui.Travel. Usually a transfer is cheaper than a taxi, but more expensive than a bus. I don't recommend using public transport though. The reasons are here.
Are there hidden surcharges?
I've never encountered hidden fees when ordering transfers on KiwiTaxi.com and Intui.Travel. But I read reviews of tourists about cheating when booking through local sites. I don't know how true they are.
Be aware that taxi drivers at airports definitely like to raise prices.
Prepayment for transfer in Cyprus
You can fully pay for the transfer online on KiwiTaxi.com and Intui.Travel. This is convenient if you don't want to pay the driver in cash and wait for change. I almost always do so.
You can pay only 20% of the price in advance. The rest is in cash to the driver. This is a good option if the trip can be cancelled at the very last moment.
There is free cancellation in both cases. If plans change, the money will be returned.
Some local sites offer transfers without prepayment. I wouldn't book there. If there is no advance payment – there is no guarantee that you'll be met at all.
In what currency should I pay for the transfer?
If you pay 100% by card, you can pay in any currency. Your bank will convert it to euros. If you've chosen the option with partial prepayment, you'll need to pay the taxi driver in euros. Other currencies are not accepted.
Does the price depend on dates and times?
The cost of the transfer does not depend on travel dates or time of day.
The cost of a regular taxi depends on the dates (more expensive on holidays) and on the time of your arrival – there is a night rate.
Does the car have air conditioning?
Of course. I've never had a car without air conditioning.
Why book a transfer?
To save money and get more comfort. Taxis at the airport are almost always more expensive. And the transfer is much more convenient than just a taxi.
When should I book a transfer?
It's recommended to book a transfer at least a day or two before departure. But I recommend doing this at the same time as buying insurance, right after booking a hotel or a car.
Where to book a transfer in Cyprus?
I use KiwiTaxi.com and Intui.Travel. So I recommend them to you too.
What do I need to book a transfer?
You need to know the flight number and arrival time. Website will also ask where to take you exactly. Therefore, the transfer is booked after the purchase of air tickets and the choice of a hotel.
You'll also have to share personal information:
First and last name. They'll be written on the sign that driver will meet you with. I once wrote fictional. Nobody checked.
Your phone number. It's needed so the driver can call / write in case he cannot find you. Useful if you book transfer to the airport.
E-mail. A voucher, receipt and other documents will be sent to it.
---
Please leave your questions, feedback and advice in the comments. So they will help other readers, and it'll be interesting for me to read. This is my first as detailed and, I hope, useful to people article.
You were with Christie. Travel more often, because it's worth it!