This article is written by our team of Cyprus holiday experts:
The article was written by a team, so opinions may vary. In this article, everyone will talk only about what they know much better than others.
Cyprus on Your Own: step by step instructions
If you don't have a couple of hours to thoroughly understand all the nuances of organising a holiday in Cyprus, here is a short step-by-step instruction:
---
If you're already an experienced traveler, then even such a short instruction will suffice. But for beginners who want to try a vacation without a tour operator for the first time, it's better to read the entire article: there are a lot of useful tips and life hacks!
How to go to Cyprus on your own: instruction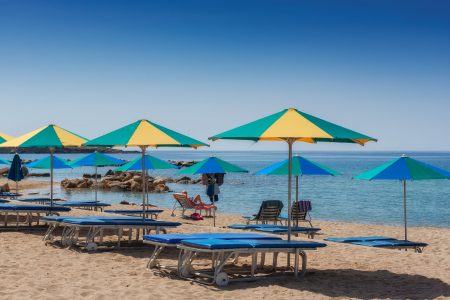 We will talk about self-made stay in Cyprus. It is more expensive, but much nicer, more comfortable and more interesting. By organising everything yourself, you'll make your trip unforgettable. All your friends will be jealous!
Package tours are bought so as not to worry about the organisation of a vacation. Everything is fine, not perfect, but quicker and a little cheaper.
Comparison of package tours and self-guided travel towards the end of the article. Not everything is so clear there, so we recommend you to check the information on your own.
---
Have you decided to go to Cyprus on your own? Do you know where the right journey begins? No, not with the purchase of air tickets, a good vacation starts with an idea. It is necessary to clearly decide what do you want to get from the weekends. And only then you can start looking for something and booking. Let's start with a plan.
Intimidated by the amount of work? With the help of our advice, all this can be booked in just 3-4 hours. Without even leaving your laptop. Or from a smartphone. And then you can go have a good rest, knowing that you planned and organized everything.
Why people fly to Cyprus: what kind of vacation is there?
Cyprus is, first of all, stunningly beautiful beaches and an incredible azure sea. People choose the island because it's relatively inexpensive and comfortable here.
English is well understood in Cyprus and, in general, the Cypriot mentality is quite close to ours. There is no culture shock when you are forced to spend a lot of effort and energy adapting to local customs. So you wouldn't just sit in the hotel. In general, the atmosphere of coziness, comfort and safety reigns on the island. A lot of people come here because of it.
Rest here is different. There is something for everyone . Do you want discos and entertainment? Go to the party city Ayia Napa. Well, if you prefer a relaxing family vacation, you can choose Limassol, Protaras or Polis.
First of all, it's all about beach and family holidays. There are many water parks, eco-farms, where children can ride donkeys, and entertainment. The infrastructure of the island for tourists is very well developed. There are excellent roads, hotels, restaurants and taverns. The beach is also clean and comfortable.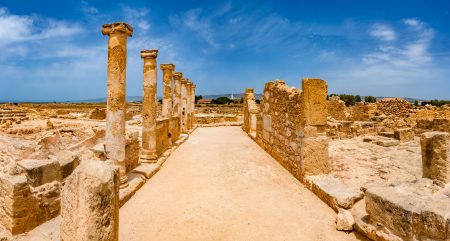 There seems to be a lot of historical monuments, but for the most part they are monotonous – for 1-3 days. Greek ruins, ancient monasteries and small fortresses. You should not count on serious historical tourism in Cyprus. But you can walk for a couple of days with great pleasure.
Exactly the same thing with nature. It looks beautiful, but it's worth driving at least a little from the coast, and it becomes a little boring. Land scorched by the sun, plains and green mountains. The first day or two is very beautiful. But somehow it quickly gets boring. This is the case in many other countries.
If we compare Cyprus with countries of similar cost, then in terms of beach quality it can outrace Georgia, Montenegro, Bulgaria and even Turkey. But in terms of picturesque, diverse nature or interesting sights, it still loses slightly to them.
Another important plus of the island is that it is very easy to rent a car and journey through the unknown. This allows you to diversify a purely beach holiday with something interesting. The coolest beaches are also located outside the city, so it's worth taking a car for at least 3-4 days.
when and why to fly to Cyprus
A good trip starts with an idea: "I want to go to Cyprus for…"
For what? Deciding honestly what you want out of your holiday ahead of time will go a long way in making it truly incredible. You may try to:
… have a nice swim and get a great tan.
… relax. You've worked all year and deserve a week or two in paradise.
… take a lot of amazing photos for you Instagram account.
… arrange a spree in nightclubs, discos and bars.
… see the sights, visit museums and old ruins.
… find inspiration and strength for new achievements.
… take a break from the crazy rhythm of the city and feel closer to nature.
… sunbathe with your loved one on deserted beaches.
… work in a place with beautiful nature and walk along the sea every day.
… escape from the cold and damp somewhere where it is comfortable and beautiful.
Of course, this list will not be complete. Each has its own goals. I think that most of us combine several options. I want to swim in the sea and take a break from the frantic rhythms of megalopolis. Yes, and I will not refuse to ride through the island, with car stops for sightseeing.
Only after deciding what you want from your vacation, you can choose a resort, vacation time and roughly plan your budget. Sometimes, having honestly answered such a question, it becomes easy to understand that Cyprus does not suit you. Some choose Turkey with its unlimited food, or Georgia for it's, beautiful mountains and low prices. You may even fly to Thailand with its exotics. This is fine. And even right.
Resorts of Cyprus: which one to choose for a holiday?
The resorts of Cyprus are famous for their diversity. Here you can choose a place for every taste: from noisy and cheerful Ayia Napa to calm, family-oriented Protaras. Well, or from budget Larnaca to elite Paphos.
Before choosing air tickets, it would be great to decide about the resort. So that it does not turn out that the flight flies to Paphos, and then you go to Larnaca for 2-3 hours. Why to overpay 150 € ≈ 157.5 $, 129 £, 579 Dh, 2736 ₺ for transfers out of the blue?
How to choose flights to Cyprus?
In short:
Look for tickets on Aviasales.com. Buy in advance. Check nearby dates to save some money.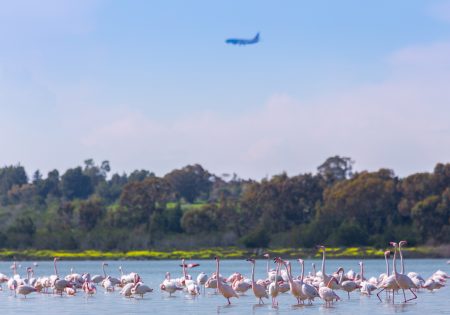 The first step is to buy air tickets. Housing, excursions or cars for rental will be enough for your dates. But there are only few convenient and inexpensive flights.
Often it's better to shift your vacation 1-2 days forward or backward so that the departure time is more convenient and the ticket is cheaper.
That's why people book flights in the first place. Without knowing exactly when you arrive, it will not work to book accommodation or to rent a car.
Ticket prices are not fixed. It changes constantly, literally every day, and depends on many factors:
Competition. If only one airline flies from your city to Cyprus, the price will be higher than from the neighboring one, where there are 3-4 carriers.
How far in advance you buy. Usually, the closer to the departure date, the more expensive the tickets. Simply because there are few of them left and the airline is trying to earn the maximum.
Departure date and time. Flights with convenient departure time are more expensive. Similarly, the price depends on the date. Summer is more expensive than autumn or spring.
Demand. If tickets for the dates you need are sold out, the price will go up. Conversely, if the airline sees that the plane is poorly filled, it will reduce the price. Sometimes it's quite noticeable.
Charter or regular flight. Regular flight is more reliable. Charter is cheaper.
Place you buy from. Think the cheapest tickets are on airline websites? Most often this is not the case. Check on Aviasales.com.
If you want to save money, it is important to "catch" cheap tickets. Why overpay out of the blue? It's better to spend this money on vacation.
Flight Search Strategies
If you're strictly tied to dates:
Book your tickets as early as possible. If you buy an air ticket six months or a year before the trip, it is almost guaranteed to cost less than a day before departure.
Of course, there are exceptions. For example, charters. The schedule is usually drawn up a month before the start of the season. And some cheap tickets go on sale literally a week before departure! But there is already a double-edged sword: you will save on the flight, but cheap hotels have already been taken. You'll have to pay more for the rent…
If dates are not important:
Not satisfied with the price? Don't plan your vacation for the holidays. Try looking for tickets for nearby dates. Move your search 1-2 days forward or backward. Or even look at the price for the next month. Try to extend or shorten your vacation.
Prices will vary. Sometimes such manipulations can reduce the cost of air tickets up to two times. But it takes a lot of time to find a cheap flight.
Ready to tune in and fly when it's cheap? Then take a look at the calendar of low prices. There are some very good deals out there. But, to be fair, most of them are not in the season.
Check Both Airports:
There are two main airports in Cyprus: Larnaca and Paphos. You can choose the closest one, or you can check both. Prices can vary quite a lot.
If, for the sake of savings, you take tickets to an airport that is remote from your resort, check out the price difference of more expensive transfer, so it will not block all the benefits. Sometimes it is more profitable to take a more convenient and expensive ticket, but save on a taxi.
Links to search for tickets to the main airports in Cyprus:
There are many good websites on the Internet that sell flights to Cyprus, from airline sites to travel agencies. If you value your time and do not want to manually check the cost on hundreds of sites, I recommend you to use Aviasales.com.
We're using this site because of the following benefits:
Direct purchase from an airline or travel agency. Aviasales is not really an intermediary. They give you a link to the company's website where you can buy directly.

Protection. There are no scammers in Aviasales search who will steal money from your card. And there are a lot of such sites on the Internet. They lure people in with low prices.
The guys also know the air ticket market. And almost the first to be removed from their search are agencies and airlines that may go bankrupt.
Honesty. If you go to the airline website or travel agency through Aviasales, they will not quietly add meaningless insurance and other unnecessary options to your ticket. This saves at least 20 minutes when buying a ticket.
We will tell you all about the advantages and disadvantages of Aviasales in a separate article.
They also have a very handy feature that helps if you are not particularly attached to dates and are ready to fly on a day when tickets are cheaper. It's called "Low Price Calendar":
* Before comparing prices, do not forget to select the city of departure, if it is not determined automatically. You can also set the duration of your vacation.
Where to book hotels and apartments?
As soon as you bought tickets and found out the exact dates of your vacation, start looking for accommodation. Good options sell out quickly, so it's best not to slow down the process.
There are many sites on the Internet that offer hotels and apartments for rent. We talk about the ones we use ourselves. Here are the tested options:
Booking.com – the most popular website for accommodation search in Cyprus and around the world. Hotels, apartments, villas and even hostels. It has the most reviews and a huge range of accommodation from very budget to five-star hotels.
Here you can book accommodation even without prepayment.
AirBnB.com – this site is designed primarily for apartments. The range is very large. Some options are not even on Booking! Pros: here you can chat with the owner before paying.
Please note that this site requires 100% online prepayment.
Hotellook.com – it's a metasearch engine. Here we check the price of the apartments we like. Sometimes it happens that Booking.com does not show the lowest price and somewhere you can book cheaper.
---
These are not all sites where you can book accommodation. There are a lot of other options: from girls on Instagram to popular bloggers or travel agencies. The quality depends on the source you chose.
But be aware, that housing fraud – almost the most popular one. If you've found some cool place for super cheap, think about whether you may being deceived.
What to do in Cyprus?
Spending your entire vacation on the beach is not the best idea. Already after 3-4 days it'll become boring. Even if you just adore the sea, do not deny yourself the pleasure of visiting the stunning beaches outside the city. There you will find cleaner sea and fewer people. And almost no people on some secluded beaches!
Cyprus is far from being the most tourist-rich country. It does not shine with a variety of natural landscapes. But there are many interesting places that are really worth visiting.
Plan your leisure time in advance. So that when it gets boring, it suddenly turns out that all the good guides or cars are already taken. You'll have to rent a car at exorbitant prices – cheap options are sorted out in advance.
---
There are people who have worked hard all year and now want to spend the whole holiday without leaving the hotel. Lay on a sun lounger, eat delicious food and finally get some sleep. We would recommend them to go to Turkey instead of Cyprus. There such type of vacation is more developed. And it'll be cheaper.
Excursions in Cyprus
In short:
If we consider the cost for the whole family, then individual excursions in Cyprus are much more profitable and interesting than group ones.
The most convenient way to see Cyprus – excursions. It is more profitable to buy individual excursions. Here are approximate the prices:
Half day tour –

100-150 €

≈ 105 $, 86 £, 386 Dh, 1824 ₺

per group.
Full day excursion – around

200 €

≈ 210 $, 172 £, 772 Dh, 3648 ₺

per group.
City walking tour –

50-65 €

≈ 52.5 $, 43 £, 193 Dh, 912 ₺

per group.
These are the prices from Viator.com, where I bought mine. Both my family and I really enjoyed their tours. So I strongly recommend it. The children were just delighted!
There is also GetYourGuide, this site have somewhat different excursions, so choose not only based on a website, but also on what excursion you like most.
Car rental in Cyprus
In short:
The cheapest way to see Cyprus normally is to rent a car here. At least a small one. It'll save you money on transfers and excursions.
There are right-hand drive cars in Cyprus, good roads, calm traffic, low car rental prices, but high deposits and clearly expensive insurance.
Subjectively the best website in Cyprus: Localrent.com. Other options: Rentalcars, Economybookings and Discovercars. Compare prices and conditions.
Don't like the limits that even the best individual excursions put you in? Do you want to be alone with your loved one? Or do you just think that spending around 200 € ≈ 210 $, 172 £, 772 Dh, 3648 ₺ for a day trip is expensive?
Then car rental comes to the rescue. Even during the season it is really possible to take a small car for 15-20 € ≈ 15.75 $, 12.9 £, 57.9 Dh, 273.6 ₺ per day! True, it has to be refueled and must be booked in advance. But still, the cost of the trip is lower: you can ride around the island all day for only 30-40 € ≈ 31.5 $, 25.8 £, 115.8 Dh, 547.2 ₺!
WHERE TO LOOK FOR CARS: I usually use website Localrent.com. This is the best option in terms of price and quality. There is also Rentalcars, Economybookings and Discovercars. They are also decent, butoften more expensive and the deposits are large. Although you can catch a good discount. So always check the price!
---
Let's now answer the most key questions about car rental in Cyprus:
What are the requirements? In general the age of 25 years and a driving experience of at least 3 years. You can also take a car at the age of 18 with a year of experience. Or at 21 with no experience at all. But then the deposit will be higher or you'll have to buy expensive insurance.
Is it difficult to drive in Cyprus? Left side traffic. Steering wheel on the right. But I wouldn't say it's a big deal. Get used to it quickly.
Cypriots have done a great work to make tourists feel more comfortable. The roads here are good and not particularly difficult. Each rental car has red numbers. And the locals treat them very well. They are mentally prepared for the fact that the driver can suddenly go on the wrong side of the road.
What to take? If you've never driven a right-hand drive car before, take an automatic transmission. At first, changing gears with a left hand is really not convenient.
About the class of car, focus on your habits and capabilities. Just remember that the cheapest car is unlikely to be comfortable. I don't like small cars, it's a bit cramped in here. And the air conditioner doesn't work well in the heat.
---
There are some downsides in car rental. Compared to other countries, insurance here is expensive. And the deposits for cars are very high. Even for an old small car you may be easily asked for a 300-600 € ≈ 315 $, 258 £, 1158 Dh, 5472 ₺ deposit.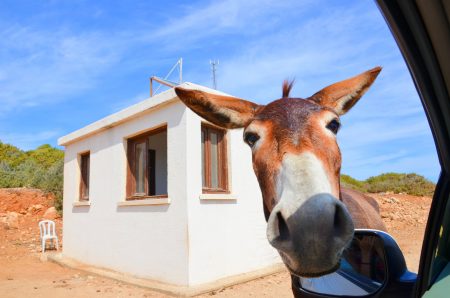 There are cars without deposits. But they are significantly more expensive.
The chance of getting in an accident is not that high. According to Localrent.com statistics at least part of the deposit is withdrawn from only 4.3% of customers. Only 0.2% of customers are paying more than 200 € ≈ 210 $, 172 £, 772 Dh, 3648 ₺ . That's 2 people out of a thousand. So decide for yourself whether you are lucky enough to be among these guys?
Personally, I don't buy CDW or SuperCDW in Cyprus at all if they come with a large deductible (from 300 € ≈ 315 $, 258 £, 1158 Dh, 5472 ₺). You have to pay a lot for such insurance, and the protection is very doubtful. Rather, the risks are minimal.
See prices on Localrent.com
Alternatives: Rentalcars, Economybookings and Discovercars
How to get from the airport?
There are many ways to get from the airport to a desired resort. The most convenient, in our opinion, are personal transfer and car rental with pick up at the airport.
Let's talk about both to make it easier for you to choose:
Transfer. A car will come for you. The driver will meet you in the arrivals area of the airport, help you to carry your suitcases and take you directly to the door of the hotel or apartment. Almost always it turns out faster and cheaper than taking a regular taxi at the airport. And it'll come out cheaper in most cases.
Where to take one: KiwiTaxi.com or Intui.Travel.
When to book: 2-3 days before departure.
What to read: detailed article about transfers and taxis in Cyprus.
Car rental. It is not profitable to take a car from the counter at the airport. Car rental companies often impose bad conditions. Prices are usually high there. But you can pre-order a car with pick up at the airport. This is beneficial if you still plan to travel a lot around Cyprus and in any case you will rent a car.
Where to take one: Localrent.com, Rentalcars, Economybookings or Discovercars.
When to book: the sooner the cheaper.
What to read: car rental instructions in Cyprus from Mary.
---
We've already compared different transport options on the example of a popular route from Larnaca Airport to Limassol:
🚶
5-10 min

Get to the parking lot

🚕
45-50 minutes

Getting to the hotel or apartment
Time: 50-60 minutes
Price:
from
52 €
≈ 54.6 $, 44.72 £, 200.72 Dh, 948.48 ₺
Best fit: you need comfort, value time
👍
5-10 min

Bargaining with a taxi driver

🚕
45-50 minutes

Getting to the hotel or apartment
Time: 60-70 minutes
Price:
58-65 €
≈ 60.9 $, 49.88 £, 223.88 Dh, 1057.92 ₺
Best fit: need comfort, forgot to order a transfer
🚶
10 minutes

Get to the parking lot

👍
10-15 minutes

Accept the car

🚗
50-60 minutes

Getting to the hotel or apartment
Time: 70-85 min
Price:
from
20 €
≈ 21 $, 17.2 £, 77.2 Dh, 364.8 ₺
Best fit: need a car, want to explore the country
🚶
10-15 minutes

Get to the bus stop

⌚
10-150 minutes

Wait for the bus

🚌
60-70 minutes

Get to Limassol

🚶
10-30 minutes

Reach the hotel
Time: 90-265 minutes
Price:
9 €
≈ 9.45 $, 7.74 £, 34.74 Dh, 164.16 ₺
per person
Best fit: without suitcases and children
Do I need to take care of mobile communications?
In theory, you can do without mobile data. You'll constantly encounter small problems, but almost all of them can be solved. Let's try to explain with examples. Mobile connection is needed if:
You need to contact the owner of the apartment you've booked.
Can't find a car rental company, guide or transfer driver.
The rental car has been scratched or broken.
You have a large group, but you don't want to constantly walk together.
Want to check out the rating of the restaurant before you go in.
There is something interesting nearby (for example, you saw a sign). You need to decide whether it's worth going in there.
You want to keep in touch with your family even while on the beach.
Another 1001 similar options.
We recommend you to take care of mobile data in advance. Let at least one person from the group have the Internet. You can buy a local SIM card, international ones, like DrimSim and OnlyInternet. Or read in advance what roaming packages your operator has, if you don't plan to use a lot of mobile data, it's a great option.
Why is it better to go on your own than to buy a package tour?
With the easy go of travel agents, independent travelers are sometimes dismissively called "savages" or "self-tourists". So, this is all bullshit! Solo travel is like a custom-made suit. It usually costs more than a "factory" tour, but it fits perfectly.
Let's talk honestly about the pros and cons of tours and independent vacation.
Tour Disadvantages:
"Deception" with dates. How many days in Cyprus will be in an inexpensive tour for 6 days? That's right, only four.
How so? Where did a third of the expensive vacation go? The fact is that tour operators save on flights and take charter flights. Their departure time is usually later. You check into the hotel in the late afternoon. Have supper and then go to sleep. But the plane flies back before lunch. This is how two days are wasted.
Flight delays. Flying during peak season? Then prepare yourself for a delay of a charter flight. Often you have to spend 15 hours at the airport. Sometimes the flight is postponed as much as a day.
Once I flew on a 7 days tour in August. Due to problems with my flight company, flights were rescheduled for me for 3 full days.
Was there any compensation? Yes, I was taken to the hotel not on a big bus, but on a Mercedes. Am I satisfied with this compensation? Well, how would you react?
Hotel replacement. Everyone has a friend who has come across the dreaded word "overbooking". This is when for some reason there are no places in the hotel you booked. They will settle you in another. Sometimes it doesn't fit at all.
Sometimes replacement hotels are better ones. But the opposite also happens. My colleague was accommodated in a 4* hotel, despite the fact that he paid for a five star one. No compensation.
Arrival airport reschedule. Are you flying with children and have chosen a resort closer to the airport? Flight rescheduling is not uncommon. You can easily land in Paphos instead of Larnaca. And then get 3-4 hours to the hotel.
No flexibility. Don't want to just spend a week at the beach? Are you planning to see the island and live in different places? Do you have unusual preferences? Ordinary tours offer nothing of the kind.
Tour operator bankruptcy risks. Every few years "completely unexpectedly" another crisis occurs and one of the largest tour operators goes bankrupt. Usually before that, he gives especially "delicious" prices and gains a lot of tourists.
And then people simply lose their money in the best case, and in the worst one they find out only in Cyprus that they will not be accommodated in a hotel and what to do next is unknown.
Bad attitude towards customers. Remember how tour operators treated tourists in 2020 and 2021? Strange conditions, demands of bundles of documents, transfers with huge surcharges, etc. Is this what I need for my money?
Bad insurance. The standard tour package almost always includes the cheapest insurance or no insurance at all. It won't help you in a really difficult situation. We advise you not to save money and buy an insurance yourself.
Cons of solo travel:
May be more expensive than tours. If you want a purely hotel holiday for minimal money, tours are often more profitable. Sometimes you even manage to buy a full-fledged tour for the price of a flight. You can't get that price yourself.
Responsibility. Since you're booking, then any problems are up to you. When buying a tour, an illusion is created that the tour operator will solve all the difficulties, and a travel agent will select a good hotel.
But this is only an illusion … Their goal is to sell, not to make your vacation amazing and unforgettable. A manager at a travel agency might never have been in Cyprus at all. And representatives of the tour operator do not really want to listen to your claims. They don't care. If you've been traveling for a long time, you've definitely come across something similar.
It's will take your time. If you're buying a tour, everything will be planned for you. The journey will be "standard", but you don't have to put any effort at all.
When booking on your own, you'll have to figure everything out yourself. Scary? Actually it's not difficult! Our article is just written to help.
Better to book in advance. Good housing options sell out quickly. Sometimes even in winter. Therefore, when traveling on your own, it's better to plan everything at least a few months before departure.
---
We honestly tried to come up with more disadvantages of independent travel. But somehow it didn't work out. Can you advise what to add here?
What we do: if you want to lie on the beach for a week, we buy a tour. Well, if we want something more interesting – we organize everything ourselves.
How to relax safely and comfortably?
And finally, we have collected more tips that can help you organize your vacation in Cyprus. Things are obvious at first glance, but we somehow didn't think about them before. So let's share them with you. Would it come in handy?
Language in Cyprus: do they understand English?
The official language in Cyprus is Greek. Many here speak Turkish, which is especially common in northern Cyprus. The language is not very clear. And they have their own writing – the letters are completely unfamiliar.
But don't be afraid. Almost every tourist worker speaks English more or less. And taxi drivers understand it too.
There is no sense of a language or cultural barrier in Cyprus. The country seems to be different, but everything is familiar. Cypriots try very hard to surround tourists with a sense of comfort and care. But of course it's not free…
In what currency should I take money with me?
There are euro ≈ 1.05 $, 0.86 £, 3.86 Dh, 18.24 ₺ in Cyprus. So, take them with you. The exchange rate of dollars and other currencies will not be pefrect. It's better to buy currency in advance, while still at home.
We advise you to take part of the money in cash, and keep the rest on a credit card. This will save you from unexpected problems:
Situations where your bank suddenly completely blocks the card for security reasons (even if you warned them 100 times that you are going to Cyprus) happen quite often. In order not to spend the night on the street or not to be hungry, you need to have cash at least for a few days while you solve this problem.
But cash is not an answer too. Walking around with a thick stack of bills and constantly being afraid to leave them in a hotel room or on the beach is not a good idea. What kind of vacation is it if you constantly keep yourself in tension?
Here are five tips to help you avoid financial trouble:
Book everything in advance. If you pay for car rental, hotel, excursions or transfer from home, you can take much less money with you.
And in general, you want to relax on vacation, not to waste your time on endless showdowns with the bank on the subject of "why the SMS confirmation does not reach me" or "you must personally come to the branch of a bank to unlock the card."
Pay with your smartphone. There is such a thing as Google Pay or Apple Pay. Paying with your phone or smart watch is more convenient and even a little safer. It is less likely that scammers will steal your card details.
Pay by card. If you can't pay with your smartphone, then try using a card. It's a paradox, but in some places in Cyprus there is no Pay Pass. Well, you can freeze a deposit for a rented car only with a credit card.
Take cash. Take at least a small amount of cash with you. It can also be shown at the airport as confirmation that you have money. Small stalls and some taverns do not have terminals.
Take cards from different banks or payment systems. We advise you to take several cards from different banks with you and keep them in different places. Even if they don't have money. If suddenly the "main" card is stolen or the bank blocks it, you can ask your friends to send you at least some money to another card.
---
Reading everything written above, you may get the impression that it is dangerous in Cyprus and "horror, horror, money will be stolen." This is not true. In 99% of cases, nothing bad will happen to you. But life is complicated. My husband and I once sat all night in the lobby of the hotel, convincing the bank robots that we know what we're doing and we don't need them to block our card. Unlocked only by lunchtime of the next day…
That's why I like to play it safe, which I advise you to do too.
A few nuances about Northern Cyprus
During the military conflict, Cyprus was divided into two parts. The so-called Northern Cyprus is actually under the control of Turkey. Which, of course, is not recognized by the authorities of the Republic of Cyprus. It is also quite safe and even cheaper. But the tourist market is more chaotic. There is no stable service.
Considering all of this, there are a few limitations:
You can not fly to the southern part of the island with most hotel reservations in Northern Cyprus. In general, do not tell the border guards that you are going to Northern Cyprus.
They are using the Turkish lira On the territory of Northern Cyprus, not the euro.
You can go to Northern Cyprus quite officially. But only through checkpoints from the southern part of the island. Don't forget your passports.
You can also take a ferry from Turkey or just fly to Ercan Airport, but this is not legal. Who knows how it will come out in 5-10 years?
If you go to Northern Cyprus, beware of cameras and radars.
Car (and often travel) insurance is not valid on the territory of the Northern Cyprus. Therefore, be as careful as possible.
How much does an independent holiday in Cyprus cost?
Let's say right away that holidays in Cyprus have never been considered particularly budget. This is a very beautiful and comfortable place with stunning beaches and big demand among tourists. Let's count three options:
Budget vacation:
Holidays in Limassol for two. 7 days and 6 nights in late autumn / spring.
Room in a cheap hotel:

100 €

≈ 105 $, 86 £, 386 Dh, 1824 ₺

.
By bus from the airport:

32 €

≈ 33.6 $, 27.52 £, 123.52 Dh, 583.68 ₺

.
Budget diet:

100 €

≈ 105 $, 86 £, 386 Dh, 1824 ₺

.
A couple of souvenirs:

10 €

≈ 10.5 $, 8.6 £, 38.6 Dh, 182.4 ₺

.
Minimum insurance:

12 €

≈ 12.6 $, 10.32 £, 46.32 Dh, 218.88 ₺

.
Holiday cost:
254 € ≈ 266.7 $, 218.44 £, 980.44 Dh, 4632.96 ₺
excluding air tickets
Regular vacation:
Holidays for two in Limassol. 7 days and 6 nights off tourist season's peak.
Room in 3* hotel:

400-600 €

≈ 420 $, 344 £, 1544 Dh, 7296 ₺

.
Transfer from airport:

104 €

≈ 109.2 $, 89.44 £, 401.44 Dh, 1896.96 ₺

.
Regular diet:

300-400 €

≈ 315 $, 258 £, 1158 Dh, 5472 ₺

.
A couple of excursions in Cyprus:

300 €

≈ 315 $, 258 £, 1158 Dh, 5472 ₺

.
A couple of souvenirs:

100 €

≈ 105 $, 86 £, 386 Dh, 1824 ₺

.
Decent insurance:

20 €

≈ 21 $, 17.2 £, 77.2 Dh, 364.8 ₺

.
Holiday cost:
1350 € ≈ 1417.5 $, 1161 £, 5211 Dh, 24624 ₺
excluding air tickets
Comfortable vacation:
Rest for two in Limassol for 14 days and 13 nights with comfort.
Room in 4* hotel:

2000-3000 €

≈ 2100 $, 1720 £, 7720 Dh, 36480 ₺

.
Transfer from airport:

104 €

≈ 109.2 $, 89.44 £, 401.44 Dh, 1896.96 ₺

.
Decent diet:

800-1000 €

≈ 840 $, 688 £, 3088 Dh, 14592 ₺

.
Two excursions in Cyprus:

300 €

≈ 315 $, 258 £, 1158 Dh, 5472 ₺

.
Car rental for a week:

300-400 €

≈ 315 $, 258 £, 1158 Dh, 5472 ₺

.
A little shopping:

500 €

≈ 525 $, 430 £, 1930 Dh, 9120 ₺

.
Expensive insurance:

40-50 €

≈ 42 $, 34.4 £, 154.4 Dh, 729.6 ₺

.
Holiday cost:
3900 € ≈ 4095 $, 3354 £, 15054 Dh, 71136 ₺
excluding air tickets
Why is there no air tickets in the price? Everything is simple! Their cost very much depends on which country and city you will fly from and how cheap the flight you buy.
By the way, comparing these prices with tours is pointless. Because air tickets are not included in the price, but we calculated the costs of food, excursions, car rental and shopping with souvenirs, which are not included in any tour package.
A little about Cyprus prices
In the blocks above, it's not entirely clear how much your holiday in Cyprus will cost. So that you can calculate everything yourself, we'll give approximate prices:
Hotels and apartments. Prices depend primarily on the class of the hotel, resort and distance from the sea. Approximate rates are:

4-5* hotel or apartments near the sea will cost

120-500 €

≈ 126 $, 103.2 £, 463.2 Dh, 2188.8 ₺

.
2-3* hotel or cheap apartments cost

50-90 €

≈ 52.5 $, 43 £, 193 Dh, 912 ₺

.
Bed in hostel seems like you can find for

10-20 €

≈ 10.5 $, 8.6 £, 38.6 Dh, 182.4 ₺

per person. But none of the authors had not such a rest in Cyprus. And there are few hostels on the island.

You can view prices on Booking.com and check them on Hotellook.com. There are hotels and apartments. For apartments we recommend a separate site: AirBnB.com.

Diet. As elsewhere, the cost of breakfast or lunch will depend on the level of the restaurant and the ordered amount. Approximate prices are:

Fast food in a decent location costs

3-5 €

≈ 3.15 $, 2.58 £, 11.58 Dh, 54.72 ₺

.
Budget snack is

5-10 €

≈ 5.25 $, 4.3 £, 19.3 Dh, 91.2 ₺

per person.
A regular lunch will cost

10-20 €

≈ 10.5 $, 8.6 £, 38.6 Dh, 182.4 ₺

.
An excellent lunch in fancy restaurant starts from

25 €

≈ 26.25 $, 21.5 £, 96.5 Dh, 456 ₺

.

Excursions. The price will depend on the guide and the tour route. Walking tours and group tours are cheaper, individual ones are more interesting and profitable:

Group tours are

65-95 €

≈ 68.25 $, 55.9 £, 250.9 Dh, 1185.6 ₺

per person. It's clearly too expensive!
Excursions in a mini-group on a minibus cost

45 €

≈ 47.25 $, 38.7 £, 173.7 Dh, 820.8 ₺

per person.
Individual walking tours will cost

50-65 €

≈ 52.5 $, 43 £, 193 Dh, 912 ₺

per group.
Private car tours cost approximately

100-150 €

≈ 105 $, 86 £, 386 Dh, 1824 ₺

for a half a day or

200 €

≈ 210 $, 172 £, 772 Dh, 3648 ₺

for a full day trip.

Car rental. The price depends on many factors: where you rent it, during the season / off season, what kind of car you want, what kind of insurance and deposit amount, etc.
Renting a decent car starts from

20-25 €

≈ 21 $, 17.2 £, 77.2 Dh, 364.8 ₺

per day. A comfortable family car can be rented for

35-50 €

≈ 36.75 $, 30.1 £, 135.1 Dh, 638.4 ₺

. And for

70-200 €

≈ 73.5 $, 60.2 £, 270.2 Dh, 1276.8 ₺

you will find really cool options.
It's better to book a car in advance. It is unlikely that you will find any better offer on the spot. Rather, you will be offered "leftovers", but at clearly inflated prices. There's nowhere to go. I usually book cars on this websites: Localrent.com (my favorite option in Cyprus), Rentalcars, Economybookings or Discovercars. I've rented cars from all these sites, they are fine.
All the details and dozens of useful tips for car rental in a separate article.
Transfer. Arriving in Cyprus, you will need to somehow get from the airport. If you'll take an ordinary comfortable car, the price will be

20-120 €

≈ 21 $, 17.2 £, 77.2 Dh, 364.8 ₺

depending on where you're coming from and where you are going.
I always book transfers online on KiwiTaxi.com or Intui.Travel. It's cheaper than taking a taxi at the airport. Here is my article about transport in Cyprus.
Souvenirs and gifts. You understand that souvenirs are a purely individual thing. Someone brings home clothes worth

1000 €

≈ 1050 $, 860 £, 3860 Dh, 18240 ₺

, others limit themselves to a couple of magnets. But I would plan for this expense at least

100 €

≈ 105 $, 86 £, 386 Dh, 1824 ₺

per person.
---
There is one small nuance. Have you noticed that we've indicated prices higher than you may see from other bloggers and travel portals? That's because we have no goal to write a beautiful lure. If you approach things wisely, you can really buy everything for this money, if you arrive in Cyprus in the summer.
It goes without saying that for the holidays or at the very peak of the season prices can rise a little. And in the off-season, they fall on the contrary. Sometimes even 3-4 times!