Hi. My name is Max. It has been 7 years since my parents moved to live in Albania. I visit them several times a year.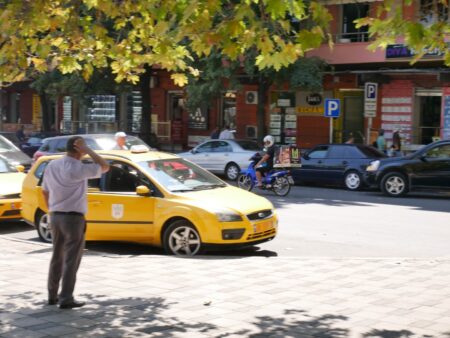 My father did not dare to drive anymore after a severe accident. I thought about it, but after looking at the traffic jams in Tirana, he said that he doesn't need a car, a taxi would be enough. It is inexpensive, he often say.
There is no one to meet me at the airport. I had to deal with public transport: buses, transfers, taxis.
Drivers here almost do not cheat, as it happens in neighboring Montenegro and indeed everywhere in the Balkans.
But still there are some tricks and nuances here. If you are not the most experienced traveler, then my advice should come in handy.
Taxi, transfers and transport in Albania: essentials
What are the features of holidays in Albania?
There are not much group tours in Albania. Public transport works poorly and is not suitable for tourists.
Even a taxi is really popular only in Tirana. In other towns there may be only a few taxi cars. But they obviously do not make the weather.
Conclusion: If you want to see the country, you need to rent a car. You can get it right at the airport and thus bypass all traffic jams in Tirana.
I usually use the Localrent.com website. I advise you to read the instructions for car rental in Albania. If you take a car, then taxis or transfers will not be needed. You will immediately drive to the sea or to the mountains.
How to get to Tirana from the airport?
If you want to see the capital of Albania (a rather curious city), then you can rent a car at the airport only if your hotel have parking.
Free parking spaces in Tirana are very rare. Especially in the center. If the hotel does not have parking, you have three ways to get there:
Transfer. The driver will be waiting at the airport. He will meet you at the arrivals area and take you directly to the hotel. At a fixed price. Here are the links:

The disadvantage of the transfer is that it is slightly more expensive than a taxi. But it's also more convenient.

Regular taxi. You can get it at the airport, you can call it by phone or via WhatsApp. There are no mobile apps yet.
This option is good. But only if you are an experienced traveler.
Bus. Only if you want to spend as little as possible. It drives once an hour. It's called Rinas Express. You'll have to pay on the spot in leks (local currency). Cards and euros are not accepted, and the exchange rate at the airport is usually not very good.
Therefore, it is a good idea to book your ticket in advance on on 12go website.
After walking around the city for 2-3 days, we pick up a car that was rented in advance and go somewhere further. My favourite resort is called Vlorë. But everyone has their own preferences.
How to get to the resorts by the sea?
 I recommend pre-booking a car with pick up at the airport (on the spot is usually much more expensive).
All car rental sites allow you to do this: Rentalcars.com, Economybookings.com, Discovercars.com and Localrent.com, that I mentioned earlier.
Whatever resort you go to, you still need a car to see something interesting in the surroundings. And a car without a driver or a taxi will cost much more than in Tirana.
If I plan a big trip around Albania, I usually get the car at the airport immediately upon arrival and return it there 3-4 hours before the flight home.
Transfer, taxi or car rental?
There is no "best" option. As well as "worst" one. It all depends on the specific situation and your experience:
Car rental is the best option if you know how to drive a car.
Transfer is good if you're here for the first time and have not traveled 10+ countries.
Taxi is suitable for experienced travelers.
Bus is okay if your budget is very tight and you fly without suitcases.
Is it dangerous in Albania?
I wouldn't say that. The country has a bad "prejudice" about its security. But I can't even say for sure where it came from. From the movies? Whatever indicator you take, Albania is way ahead of many other countries.
For example, there are 2.1 murders per 100,000 population. For comparison:
It is clear that the lower this figure, the safer it will be in the country. I have never felt in danger during my years of traveling in Albania. What can not be said about many other countries I visited. Anything has happened to me: from stray dogs to "muddy" people on the street. But in Albania I've never had such bad experience.
How do Albanians treat tourists?
Amazing. I have been to many places, but it is difficult to name a country with a better attitude. The same Georgia or
Armenia
were about the same. But it was 10 years ago, not now.
They do not deceive tourists in Albania. The locals are friendly and always helpful. They will help you to call a taxi, tell you the way or give you a lift. You can pay for many goods and services in euros. And a miracle, but the exchange rate will be normal!
The most important thing has already been said above. Further there will be all sorts of nuances and subtleties. If you don't have much time to organize a vacation, it's better to spend it planning a trip or finding a suitable car.
Well, if you still have free time, I advise you to read my article to the end.
Transport in Albania: taxi, transfer, bus
Public transport in Albania is poorly developed. There is no demand for it
The locals have their own cars and buses, so they don't really need a taxi.
There are not so many tourists in the country, the launch of buses will not pay off.
Even taxis are about 10 years behind what we are used to. There are many taxi cabs only in Tirana (the capital). And there are almost no applications in which one could order a taxi. Their development is expensive – it will not pay off.
How do tourists travel around Albania?
Of my friends who were in Albania, everyone either flew on a package tour or rented a car to have a freedom of travel:
In the first case, the tour operator will take care of all the problems: they will drive a large bus, on which you will go to your resort.
Or you need to book a car in advance, for example on Localrent.com. And then you pick it up in the city or the airport and go wherever you want.
The "I'll take the bus" option is almost non-existent. You won't get to most of the interesting places this way. Seeing the rest of them requires careful preparation and, well, very meticulous route planning. An option only for the most advanced travelers who have already traveled half the world.
How does a taxi work in Albania?
Taxi in the usual sense exists only in Tirana. There are really a lot of cars and dozens of popular taxi companies.
Gasoline is quite expensive here, about 1,65 € ≈ 1.7325 $, 1.419 £, 6.369 Dh, 30.096 ₺ per liter for the petrol 95 (there is no other). Therefore, the cheapest taxis will be electric cars. For example:
Yes, they don't have mobile apps. But you can call them or write on WhatsApp.
The rest of the taxi companies are just as good. For example, there are a lot of orange cars from Radio Taxi or Speed Taxi on the streets. But they are on gasoline, and therefore a little more expensive.
How to call a taxi?
In Albania it is still normal to "catch" a taxi on the street or call for one. There will always be a few cars parked along popular streets.
How to pay for a taxi?
Both Albanian leks and euros are accepted. The exchange rate is not the best, but you can't call it dishonest either.
How much does a taxi cost?
There are day and night rates, the price depends on the distance you want to travel. Short trips are slightly more expensive. Prices are always hidden somewhere.
I always calculate like this: 1-1,5 € ≈ 1.05 $, 0.86 £, 3.86 Dh, 18.24 ₺ per km. Considering traffic jams, that's about it.
What is a personal transfer?
In fact, this is the same taxi as everywhere else. But the car will definitely pick you up at the right time, and the driver will already know where to take you. For example, they can meet you with a sign right in the arrivals area of the airport. This is convenient if you do not know languages, you do not travel much, but you still need to get to a place.
There are many transfer websites, but I will recommend only two:
They differ in prices, cars and web interface. KiwiTaxi.com is much more convenient in my opinion, but there are large buses on intui.travel. Prices are about the same and they are changing frequently. Compare them at a time of booking.
The disadvantage of transfers is that this service in Albania costs more than a taxi. But I still used their service when my wife's mother came to visit my parents.
City buses in Albania
There are only a dozen or two routes for the whole of Tirana. Only buses. The ticket costs about 0,5 € ≈ 0.525 $, 0.43 £, 1.93 Dh, 9.12 ₺. You will buy it from the conductor. Pay in cash in local currency. They don't accept cards or euros.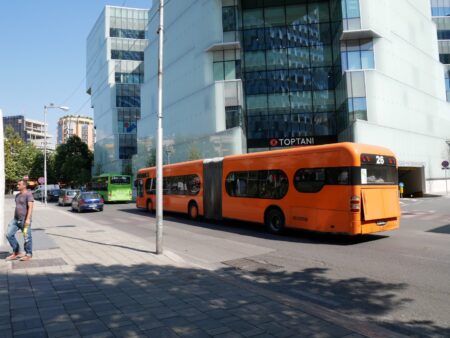 Tourists don't need buses. Almost all interesting places are in the center. "Driving" and saving time will not work because of traffic jams – you will get there faster on foot.
5-6 kilometers from the center there is only a cable car (show on the map) and Enver Hoxha's bunker (a former dictator and tyrant, now there is a museum there, show the location on the map).
But I would take a taxi there. Both places are nearby, the trip will cost about 5 € ≈ 5.25 $, 4.3 £, 19.3 Dh, 91.2 ₺.
I don't see the point in wasting time and dealing with buses for the sake of one trip.
How to get from Tirana Airport to…
I have a feeling that most readers are interested in transportation from the airport. Well, it's not hard for me, I'll tell you.
…the resorts on the coast?
Here the undisputed leader will be car rental. I use the Localrent.com website myself, but I know that Rentalcars.com, Economybookings.com, Discovercars.com also work well in Albania.
You can book a car with pick-up directly at the airport on any of these sites. The process is very simple. We finished with the documents and took the keys in 20-30 minutes, so you can already drive anywhere you want.
This is a good option, because sightseeing in Albania without a car is almost like walking without legs – you won't get anywhere. Public transport is in a deplorable state and is designed purely for locals. It is unlikely to be of any use to tourists.
May come in handy: detailed instructions for renting a car in Albania
… the city of Tirana?
And here you have different options:
Bus. It's called Rinas Express. Now it's working 24 hours a day. Rides once an hour. The last time I paid something like

3 €

≈ 3.15 $, 2.58 £, 11.58 Dh, 54.72 ₺

. But it was a long time ago.
You can see current prices and timetables on 12go website.
Taxi. You can catch it right at the airport, you can call it in advance using the links that I gave. It costs

20-30 €

≈ 21 $, 17.2 £, 77.2 Dh, 364.8 ₺

depending on where you are going. The main problem is to explain to the taxi driver exactly where you want to go.
As for me, a taxi is suitable primarily for experienced travelers.
Transfer. Book it in advance. They will meet you at the airport, carry your suitcases to the car and comfortably take you directly to the hotel. At a fixed price.
Transfers are especially recommended for couples with children. Well, every taxi driver has a child seat. If there are two children, there are no options at all, only a transfer. Traffic in Albania is quite dense, I would not save money on baby chairs.You can make a full prepayment by bank card, you can pay the driver in euros, dollars or Albanian leks of your choice. Here are some links, in case you need them:

The disadvantage of transfers is that such a service is slightly more expensive than a taxi. It's convenient, because they're already waiting for you: you do not need to look for a car and negotiate with the driver. But still, you pay a little more for this comfort.
---
There is no "best" or "worst" way to get to your destination. Choose according to the situation. If it's necessary to get there for the minimum money – take a bus. Feel like a confident traveler – take a taxi. If you want comfort and a baby seat – get a transfer.
Do taxi drivers in Albania cheat?
In many tourist countries, taxi drivers often cheat tourists. This is not the case in Albania. Of course, you can always find horror stories on the Internet where someone was cheated by 50-100 € ≈ 52.5 $, 43 £, 193 Dh, 912 ₺. And I can even believe it.
But in reality, all this is not of a mass nature. The vast majority of Albanian taxi drivers work honestly. They ride using a taximeter or for a fixed fee. Tariffs are always shown in a prominent place.
---
However, this does not mean that the trip cannot suddenly rise in price:
Traffic jams. If you agreed to go according to the taximeter and got into a big traffic jam, the trip may cost more than expected. Considering that there are every day traffic jams in Tirana. And you can stay in them for a long time.
How to avoid this? Negotiate a trip for a fixed price. Then "standing" in a traffic jam will be a taxi driver's problem.
Language barrier. You may not know English well. The driver is also hardly a Cambridge graduate. Yoy couldn't clearly explain exactly where you want to get – you left in a completely different location.
In this case it's even hard to find the culprits. You explained poorly, the driver understood you even worse, and now the car is God knows where, and you lost

30 €

≈ 31.5 $, 25.8 £, 115.8 Dh, 547.2 ₺

according to the taximeter.
Intercity buses in Albania
Intercity buses run at best once an hour or two. And that's just in big cities. In small towns there can be only one bus per day. Or none at all – then you've to go by minibus.
Albania is not for buses
Buses are purely local transport. They are not in a hurry and do not go to most of the seesights. The schedule is not convenient either.
Tourists in Albania need to rent a car. You can't see all the sights you want without it. I recommend the Localrent.com site where I book cars, and Mary's article about renting a car in Albania. There is a lot of useful information and advice there. Even I didn't know everything…
The bus is moving slowly. No, let me rephrase. The bus is going very, very slowly. If the average speed is at least 40 kilometers per hour, you are very lucky.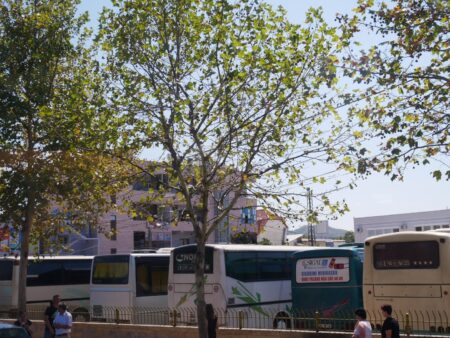 The main bus station in Tirana, from which most buses depart, is located at the intersection in the north-west part of the city (see map).
It's quite far from the center. You have to take a taxi, which is also not free.
There is just an asphalt platform, where under the scorching sun you will wait for your bus. There is a toilet and a small restaurant: good enough to drink coffee.
I traveled this way several times. Did not like it. It fits only the most hardy people.
Pay attention:
You cannot pay for the bus in euros, just like for a taxi, transfer or car rental. If you plan to use public transport, find the currency exchanger. You pay for the ticket directly on the bus. Only in cash and only in Albanian leks.
You can see the schedule on the travel.gjirafa.com website. It supports both English and Albanian. The timetable is not always accurate. As are the prices. But I just do not know any service in Albania that is better. I recommend only what I know.
You can find out the exact price and 100% up-to-date schedule only when you are already sitting on the bus at the bus station. Not online yet, unfortunately.
Minibuses in Albania: how does it work?
Public transport between small towns is developed very poorly. It is generally useless for tourists – you won't get to most of the sights. Locals prefer to buy their own cars and drive them, so no investment is made here.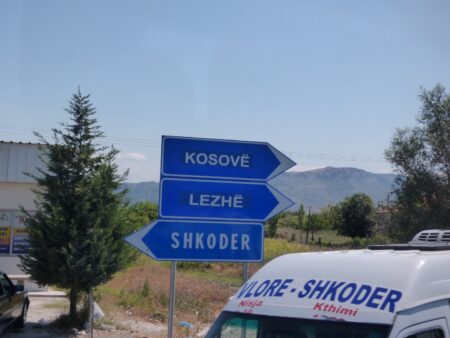 If you can get at least to resorts on the coast from Tirana, then from other cities any long trip quickly turns into a kind of "quest".
The most "common" option is an analogue of a minibus. They don't have websites or a fixed schedule. Just minibuses that travel between cities. They usually leave when they are full. Got a whole bus – it's time to go.
Since all buses are private, the prices for different drivers may vary slightly. This is fine. There are no "standard" rates.
Curious fact: Albanian minibuses are sometimes referred to as "transfer", but this is a minibus, not "personal transfer" in the common sense.
Finding a bus is not difficult. Just ask the owners of the hotel where you live. And they will do their best: they will call the driver and arrange that you'll be picked up right at your house. And all this without any benefit for themselves. You'll drive for the same money as the locals. Albanians are very friendly people, yes.
Taxis in small Albanian towns
It exists. But it's not very popular. Therefore, there are only a few drivers. Their cars are old, and the price tags are impressive.
It is better to look for a car on the street or ask the owners of the hotel where you live.
You can use their service and they'll even take you to see the sights nearby. The driver will show everything and will behave adequately.
But you'll pay five times more for this than for a trip in a rented car. Therefore, it is better to rent a car on Localrent or any other website that I recommended above.
If you do not drive a car and want to take a taxi, I recommend that you immediately agree with a driver on a fixed price. Talk to the driver about where you want to go, how long he will have to wait and how much money he will get for this.
Railway in Albania
It's more of a joke. The station in Tirana was closed more than 10 years ago. The nearest station is 10 km from the city (see map). The trains are terrible, it's almost impossible to get anywhere. The only cities available are Shkodër, Durrës or Vlorë.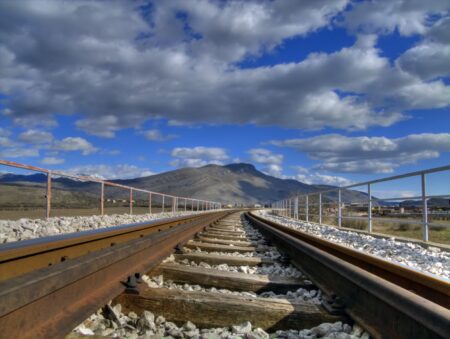 The state of the tracks is not exactly dangerous, but you can't call it exemplary either. It can be seen that the railway is not very popular here and they does not pay much attention to it.
The only advantage is its price. It costs 1,5 € ≈ 1.575 $, 1.29 £, 5.79 Dh, 27.36 ₺ to Shkodër, less than 1 € ≈ 1.05 $, 0.86 £, 3.86 Dh, 18.24 ₺ to Durrës, 2,5 € ≈ 2.625 $, 2.15 £, 9.65 Dh, 45.6 ₺ to Vlorë. But do not forget to add some money for a taxi to the train station itself in the final check, and for a taxi from the train station to your destination point.
It makes sense to take a train only if you crave for extreme and unique experiences.